It is quite common for iOS users to face the iPhone activation lock problem at one point or another. But don't worry, there are several tools, like iBypasser, that can effectively bypass the activation lock. In this article, we are going to review a tool named iBypasser, it's best alternative, and see how to use it to get access to your iPhone again within a short span of time. So, without further ado, let's start!
Part 1. What is iBypasser?
iBypasser is a software that is able to bypass the iCloud Activation lock screen on some of the Apple devices, whether it is an iPhone, iPod, or iPad. iBypasser makes sure to let you access your device without using your actual Apple ID or passwords. This way, you can access the device by creating a new Apple ID and password extremely quickly.


Part 2. Is iBypasser Legit?
Maybe yes! You can successfully bypass any iPhone lock with the help of iBypasser because it works efficiently. Although Apple can bypass any iCloud activation lock itself if you give proof that the Apple device is yours, iBypasser is still a great option and can be extremely helpful.
Part 3. Goods and Bads of iBypasser
iBypasser is an new software to bypass the lock on iOS devices. It comes with a totally free trial that can help you decide before making its purchase. It holds some very vital and resourceful features that represent it as an effective software. The key features of iBypasser are as follows:
You don't need to be a tech-savvy person to use this software.
It works on all kinds of iDevice. It will successfully bypass any iCloud activation lock within moments without using your original Apple ID or password.
It's extremely easy to use and works effectively.
After bypassing your activation lock, you can easily access your device without any trouble or hassles.
However, sometimes you need to be cautious about this product while using it. Ask their customer service whether you have to purchase another product or not.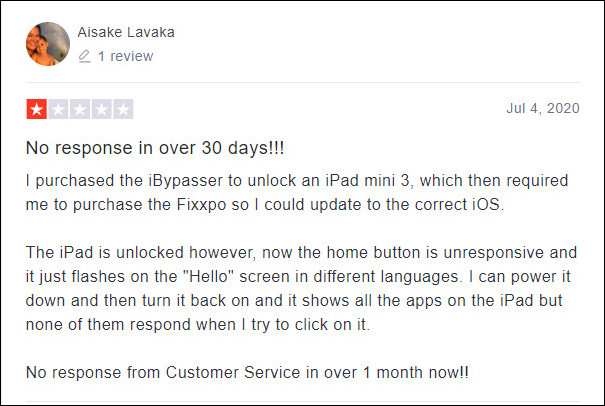 Part 4. How to Use iBypasser on iPhone
A locked phone can leave any mobile phone user completely stressed out. But it is finally time that you stop worrying about it. You can bypass the iPhone lock quite simply with the help of iBypasser. Just make sure you follow these instructions in a step-by-step manner and do not miss out anything:
1. The first and foremost step is to launch iBypasser software on your Mac and run the program. Then click 'start.'
2. The second step is to make sure that your iDevice (in this case, iPhone) is perfectly connected to Mac or any computer system via a USB cable.

3. Once your iPhone is successfully connected, it is time to jailbreak your iPhone.

If you have Mac, it will automatically download the correct jailbreak package for you. Once the package is downloaded, click on 'Start Jailbreak' to initiate the jailbreaking process.

If you want to avoid any unnecessary errors, just do accurately what you are told in accordance with your specific device. And once the jailbreak is completed, click 'Next.'

There is no jailbreak tool for Windows. So, you can follow the jailbreak tutorial to jailbreak your iPhone on Windows. Once you have successfully jailbreaked your iPhone, click on 'Finished jailbreak.'

4. You will see some details related to your device (device model, iOS version, IMEI, etc.) on the program's interface. Confirm these details and then select 'Start Bypass.'
5. Now, the program will initiate the bypassing process, and you would be able to track its progress on the screen. Do not disconnect your device and make sure to keep the program running.
6. Congratulations! You have successfully bypassed your iPhone lock screen using iBypasser. Now you can easily use a new Apple ID.
Part 5. Does iBypasser Really Bypass iCloud Activation Lock?
If we review the functionalities of iBypasser, it can surely bypass the iCloud activation lock. However, it comes with a few limitations. Although it is a great alternative when nothing is working out for you, it has some downsides that you should be aware of.
It is like a temporary unlock because as soon as you factory reset, you will be having the iCloud activation lock on your iDevice once again. The features that are linked to iCloud will not work or can even get blocked. At times, phone calls also cease to work. The software supports only a few iOS devices. It does not give access to cellular data when the lock is bypassed. So, that's the complete review of iBypasser.
Part 6. Alternative to iBypasser – PassFab Activation Unlocker
If you are not quite satisfied with iBypasser, then we would suggest you take a look at PassFab Activation Unlocker. It is a highly recommended tool that can help you bypass Activation lock on any iDevice. This software is definitely a brilliant tool that successfully meets all your demands and unlocks your iDevice in a secured way and that too within minutes. Here is a complete guide to using PassFab Activation Unlocker:
1- First of all, download and install the PassFab Activation Unlocker on your computer to run this program. Select Remove iCloud Activation Unlocker.

2- A pop up will appear on your screen. Click on 'Start' to initiate the process.

3- Read the agreement and the terms thoroughly, and then click on 'Next.'

4- Now, you need to connect your iDevice via a USB cable.
5- Once your phone is successfully connected, it will start downloading the jailbreak tool for you.

6- Now, insert a USB and burn the jailbreak environment into it. Follow the guide to jailbreak your iPhone.

7- After the jailbreaking process is finalized, click 'Start Remove' to remove the activation lock on your iPhone.

8- Lastly, click 'Done.' Congratulations on unlocking your activation lock!!
Final Words
I sincerely hope that this article helped you in understanding about bypassing of the iCloud Activation lock in iDevices. We have provided you with a detailed review of iBypasser and how to bypass the activation lock on the iPhone with this tool. Also, if you are looking for an alternative to iBypasser, then make sure to check out PassFab Activation Unlocker as it is one of the best software available. Best of Luck!