What Should You Do If You Forgot Microsoft Account
"I cannot log in to my laptop because I have forgotten the password. If I click on 'I forgot my password', the system requires me to enter email address that I used to create Microsoft account but it is no longer in use. I don't remember it either. So I am in a deadlock"
Microsoft accounts are very important to you because you use it to log into your computer if you are using a Windows PC. If you have chosen to log into your computer with your Microsoft account when setting up for first time, you'll have to remember your account credentials. But many people face a common issue and it's common to find on the internet that someone is saying – I forgot my Microsoft account.
The most common reasons user may encounter are:
Changed the password and forgot it.
Virus attack prevents Windows to function properly.
Lost both username and password.
Sudden power failure causes your computer to dysfunction and you are unable to log in.
The difference between recovering Microsoft account and Administrator account is, Microsoft account is a different online account that you may or may not use to log into your compute but administrator account is the main account that runs your computer and help you to make changes in your PC like an administrator. This is really frustrating to forget Microsoft account but if you are reading this article you have come to the right place. You will learn the best ways to recover forgotten Microsoft account username and password from here. So without wasting anymore time, let's get into it.
Part 1: Official Way to Recover Your Forgotten Microsoft Account
The most common way to recover your forgotten Microsoft account id is by using the official method first. It's easy and it comes from Microsoft so if anything goes wrong you can take their support also. Here is how to reset your forgotten Microsoft account.
1. First you need to visit Microsoft Account Forgot Password page. Now type in your email address that you need to reset the password for and click on the "Next" button.

2. On the next page, you'll have to choose how do you wish to receive your security code. You can choose your alternative email address or phone number that you have used on your account and click on the "Next" button.

3. Then you need to type in the code that you received in your email and click on the "Next" button.

4. One the next step, you need to type in your new password and confirm the password. Then click on "Next".

5. You will see that you have successfully reset the password of your Microsoft account. Now you can easily login with your new password.

PassFab 4WinKey – The Best Way to Recover Microsoft Account Password
If you have set Microsoft account as your computer login password then you should reset the password first, and then start using PassFab 4WinKey to reset the Microsoft account password. It's common to forget Microsoft account but a professional tool can solve your problem in a short time. Passfab 4WinKey is one of the most professional and successful tool that can recover Microsoft Account, Local Admin Password on Windows 10/8.1/8/7/Vista/XP/Server 2019.
This amazing tool will give a 100% guaranteed successful result to recover any Windows account password. It allows users to recover Windows password in only 3 steps. Here is how you can use this program to recover Microsoft account password.
Step 1. First you need to download and install PassFab 4WinKey in a computer or laptop. Then launch the program, connect a USB drive or insert a CD/DVD in your computer. Select the USB drive or CD/DVD as your boot media from the main interface. Then click on the "Burn" button.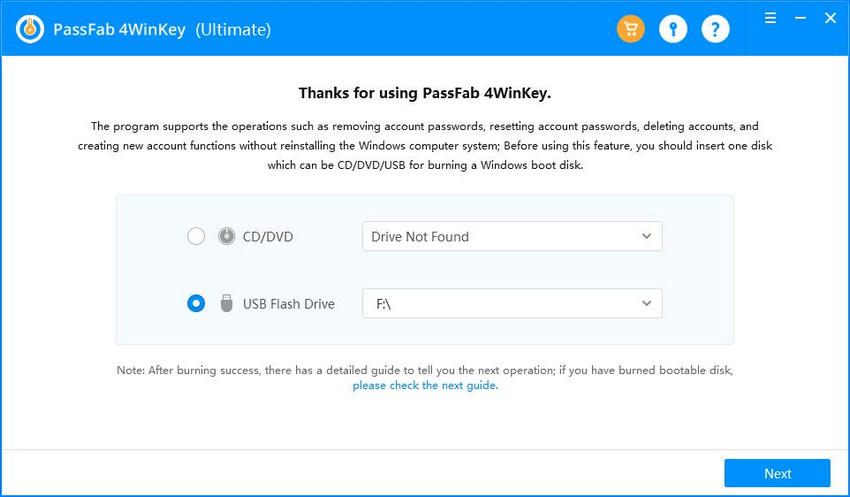 Step 2. Wait for a while till the burning process is finished and then eject your USB drive or CD/DVD. Then you need to connect that drive into your locked computer.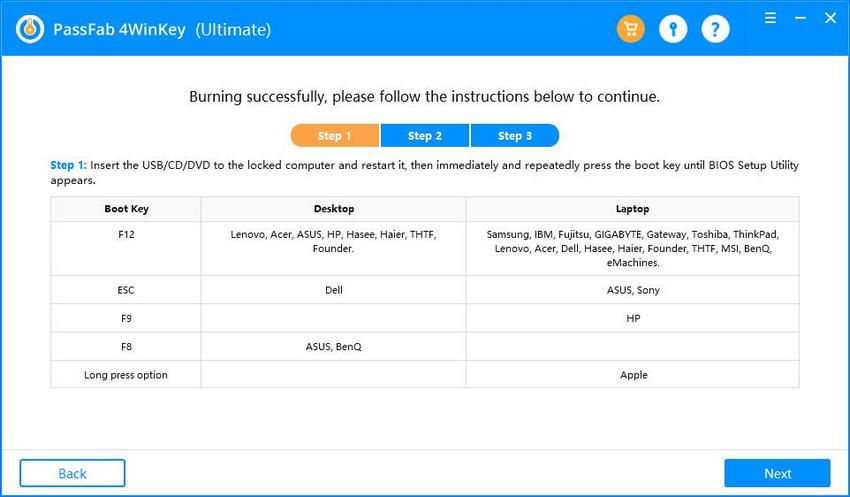 Step 3. Restart your locked computer and open the boot menu by pressing "F12". Then you need to select the bootable disk as the first priority, exit BIOS setup menu and restart the PC again.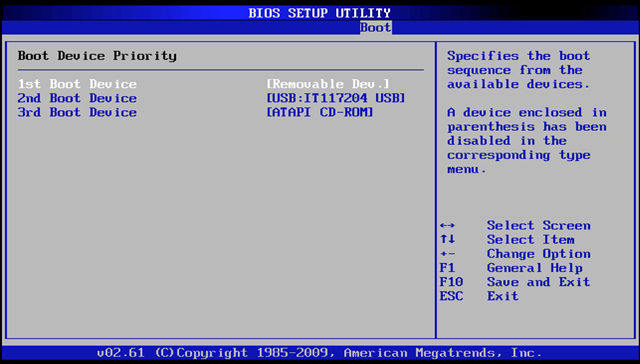 Step 4. When your computer restarts, you will get an interface of PassFab 4WinKey in your screen. Then select your Windows system and go to "Reset your password" option. Next you need to select your locked Microsoft account and start the bypassing process.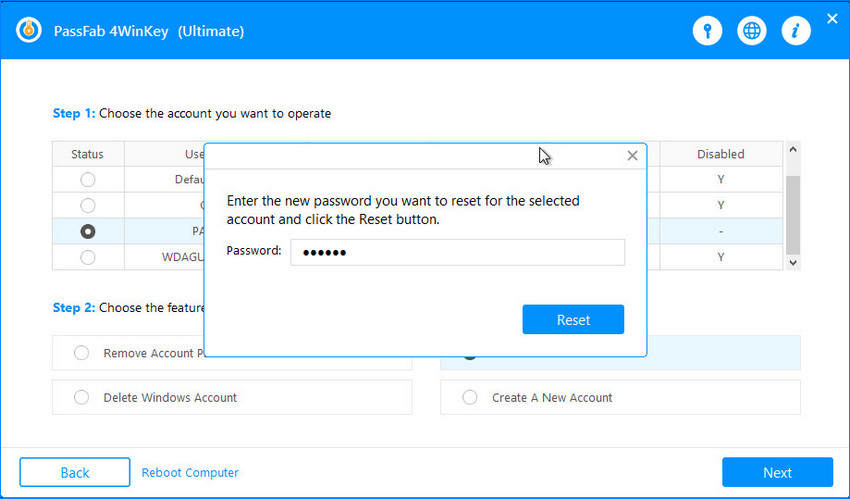 Step 5. Keep patience and wait till the process finishes. Then you need to eject the booting USB or CD/DVD drive and restart your computer. You will be able to login to your computer without any password.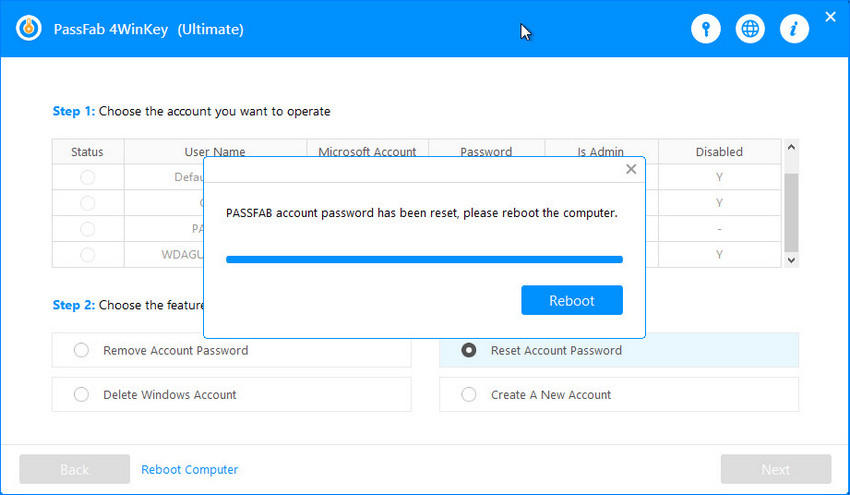 Here is the video guide about how you can use 4WinKey to reset your Microsoft password:
Part 2: Forgot Your Microsoft Account ID and Username?
Many users say that I forgot my Microsoft account but a few actually know how to solve their problem easily. There are some other ways that you can use to get back your forgotten Microsoft account id. Though the most effective and smartest way is by using PassFab 4WinKey but still you can learn another method that will help you. You can easily bypass Windows login screen by using "netplwiz" method. Here is how you can do it.
1. First you need to press "Windows + R" button in your keyboard to launch the Run window. Then type in "netplwiz" in the box and press "Enter" button.

2. Next you will get the User Accounts dialogue window and here you need to choose the account that you will use for logging into your computer. Then you need to uncheck the option that says, "Users must enter a user name and a password to use this computer" and click on the "OK" button.

3. Then you can type in the password of your selected account and confirm it. Click on the "OK" button to proceed. From next time you won't need a password to log into your computer.
As this method need you to know your password, so it obviously won't work for you if you forget your Microsoft account user id and password. So I recommend using PassFab 4WinKey to solve your problem easily.
This article is a clear and precise guideline that will help you recover your forgotten Microsoft account. You can easily use the official method to reset your forgotten Microsoft account id. But if you use it to log into your computer, then using PassFab 4WinKey will give a guaranteed solution to this problem. So stop wasting your time on anything else and start using the best Windows password recovery tool on the internet.