Remove iCloud Activation Lock

without Password

Unable to activate your iOS device because of forgetting Apple ID or password? This software allows you to bypass iCloud activation lock without Apple ID and password, and regain access to it easily.

Support the device from iPhone 5S to iPhone X, operating system from iOS 12 to iOS 14.4.

Attention:
1. PassFab Activation Unlocker only supports legal uses, do not use it for anything illegal.
2. Once the activation lock is removed, you will no longer be able to use any SIM card-related features or log in to your iCloud account in the settings. But you can connect Wi-Fi, download apps on App Store.
3. If you restart the device or update the iOS system after bypassing iCloud lock, activation lock will appear again. But PassFab Activation Unlocker still works on the same device until your license expired.
4. Please DO NOT set a screen passcode for iPhone 8, iPhone 8 Plus and iPhone X after removing iCloud lock, or the Activation Lock will appear again.
5. This software supports iOS 14.0-14.4 only for iPhone X, iPhone 8, iPhone 8 Plus, iPhone 6s, iPhone 6s Plus, iPhone SE 1, iPad 5, iPad Mini 4, iPad Pro 1.
6. Only PassFab Activation Unlocker Mac supports iPhone 5s, iPad mini 2, iPad mini 3 and iPad Air 1 (iPad Air 2013).
7. To turn off Find My, iPhone 6s, iPhone SE1, iPhone 7, iPad 5, iPad 6, iPad 7, iPad Pro 1, iPad Pro 2 amd iPod Touch 7 with known password are supported. When screen lock or Two-Factor Authentication is disabled, iPhone 8 and iPhone X are supported.
Unlock Activation Lock

for All Scenarios

These frequently encountered scenes trouble most iOS users, PassFab Activation Unlocker can just remove iCloud activation lock at ease.
Forgot Activation Lock Password

Could Not Activate iPhone

Activation Error

Buy A Second-hand iPhone
Turn off Find My

without Apple ID Password

iPhone asks you to enter the Apple ID password to turn off Find My iPhone, but you forgot the password? PassFab Activation Unlocker can help you disable Find My without password.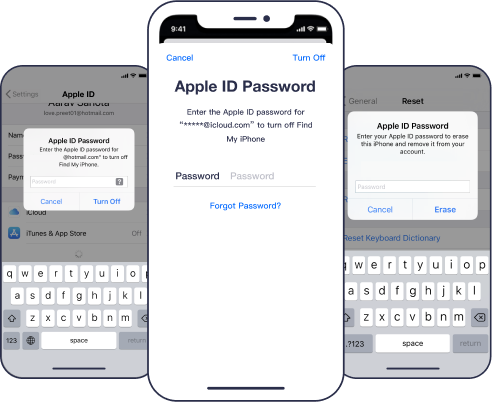 Turn off Find My iPhone, Find My iPad or Find My iPod touch without entering any password.
Remove the Apple ID or iCloud from your iOS/iPadOS device without previous owner.
Sign out of Apple ID or iCloud without password and then use it as a new one.
Erase your iPhone, iPad or iPod touch without typing Apple ID password.
NOTE: Turn off Find My feature only supports iPhone 6S to iPhone X with known screen passcode.
Trustworthy
iCloud Activation Lock Removal
The 3 most important reasons why you should use it to bypass activation lock on iOS devices.
Simple interface and steps

Works efficiently and stably

100% safe with powerful system
Technical Specification
Working on almost all iOS devices, Windows OS and macOS. No need to worry about the supportive problem.
Computer System:
Windows 10/8.1/8/7, macOS 11 Big Sur, macOS 10.15 Catalina, 10.14 Mojave, 10.13 High Sierra, 10.12 Sierra, 10.11 EI Capitan
iPhone:
iPhone X, iPhone 8/8 Plus, iPhone 7/7 Plus, iPhone 6s/6s Plus, iPhone SE, iPhone 5s, etc.
iOS System:
iPadOS & iOS 14.4/14.3/14.2/14.1/14, iOS 13.7/13.6/13.5/13.4/13.3/13.2/13.1/13, iOS 12.5/12
iPad:
iPad Air, iPad Air 2, iPad Pro -inch 1st 12.9 (2015), iPad Pro 12.9-inch 2nd (2017), iPad Pro 9.7-inch (2016), iPad Pro 10.5-inch (2017), iPad mini 2, iPad mini 3, iPad mini 4.
iTunes:
iTunes 12.10, iTunes 12.9/12.8/12.7, etc.
iPod:
iPod touch 7, iPod touch 6
Bypass Activation Lock

in 3 Steps

Only 3 easy steps you can unlock iCloud Activation lock on iPhone, iPad, iPod touch for the whole process.

Step 1: Connect Your iDevice

Step 2: Jailbreak Your iDevice

Step 3: Remove Activation Lock
Recommended by More Than
1,000,000
Users Worldwide

"My iPhone 7 activation locked and requested for iCloud password. I entered it but it rejected and saying the account can't be activated. Thanks to PassFab Activation Unlocker, it helps me remove iPhone activation lock."

"I was unable to clear my iPad activation lock, every time I tried, I got wrong Apple ID or password. However, PassFab Activation Unlocker can bypass activation lock on iPad, it is really my life saver!"

"I am locked out of my iPod touch 7th generation by activation lock. It said that I have an iCloud account but I can't remind what it is. PassFab Activation Unlocker can fix this! I am so happy about that."
Q1: Does PassFab Activation Unlocker erase my data?

PassFab Activation Unlocker won't erase your data because there's no data in your device. When you see the Activation Lock screen, it is most likely that your device is restored and set up as a new one.

Q2: What if I failed to remove activation lock using it?

It seldom fails to remove activation lock with PassFab Activation Unlocker. If remove activation lock failure appears, try to restart the software, and try it again. You can also ask our support center for help.

Q3: Why Activation Lock appear after using your software?

If your device is running iOS 13.3 and above, you will see activation lock screen again after restarting the device. At this time, you can use PassFab Activation Unlocker to remove activation lock again.

Q4: How to know if my device is supported using your software?

PassFab Activation Unlocker supports iPhone 5s to iPhone X, most iPad devices, iPod touch 7th generation, iPod touch 6th generation running iOS 12 and later version.

Q5: Can I use my device as usual after removing activation lock?

After using PassFab Activation Unlocker, you can connect Wi-Fi, log in a new Apple ID in iTunes store or App Store. You can't use telephone calls, cellular and iCloud of your new Apple ID.