Top 4 Best Ways to Reset Windows 7 Computer Password
Windows 7 is still one of the most popular operating systems especially in offices, school labs and other work environment. Sometimes, when you are using multiple laptops and computer, you mix up their password and forget them. Once you forget your password you are unable to use and access all your files. In order to use and access your files you need to reset computer administrator password Windows 7. The task of finding how to reset computer administrator password Windows 7 can get a little hectic. That's why there are many articles and tools available.
There are many different solutions through which you can reset Windows 7 computer administrative password.
Way 1: Reset Windows 7 Computer Password with PassFab 4WinKey
PassFab 4WinKey enables its users to create a Windows password reset disk with either CD or DVD or USB. You can burn a drive with both Quick Recovery Wizard and Advanced Recovery Wizard. Generally burning drive with Quick Recovery Wizard is recommended.
Step 1: First of all, we will launch PassFab 4WinKey and select a boot media (CD/DVD).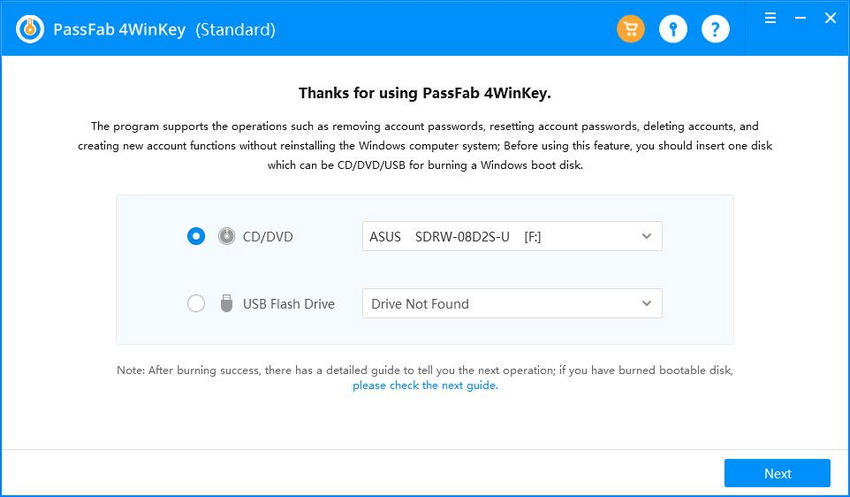 Step 2: We will click "Burn" in order to start burning a boot disk. The software will warn that your CD/DVD/USB will be formatted and all data will be lost in it. Click "Yes" and it will start to burn bootable CD/DVD/USB. After few minutes your CD/DVD/USB will be burned successfully and it can be used this CD/DVD/USB to recover Windows login password.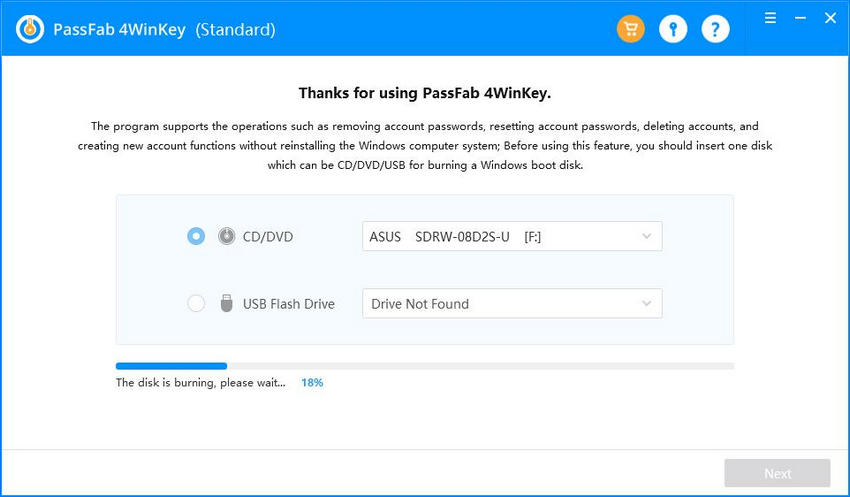 Step 3: we will insert this bootable CD/DVD/USB to the password locked Windows 7 computer. Now, we will restart computer and press "F12" or "ESC" on the keyboard on the boot menu to enter Boot Menu interface.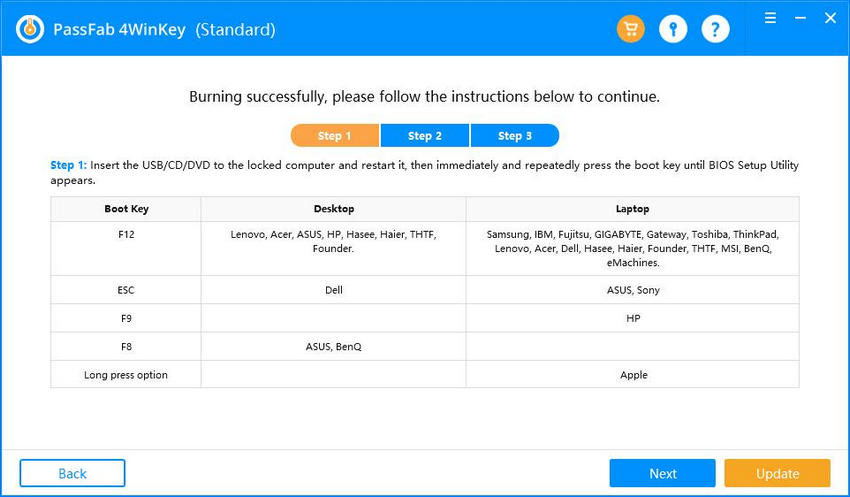 Step 4: When you have entered the Boot Menu successfully, you will find see a list of boot choices, including the CD/DVD/USB drive that you have inserted. You will find out your inserted disk from the DVD/CD/USB name and use the arrow keys to highlight it and press Enter to select boot device. When you've entered the locked Windows, you can reset or remove Windows 7 password.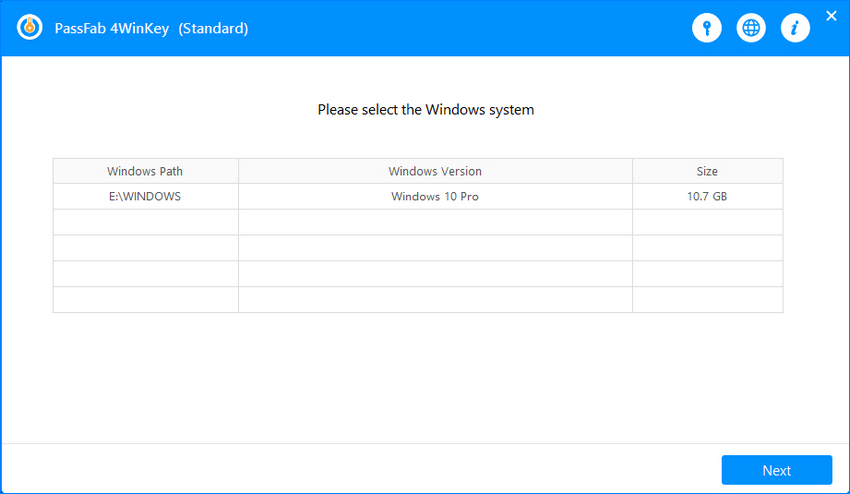 Step 5: Select your Windows operating system which is Windows 7 and hit "Next" button. Select your user account from the list. You'll find that your account name is displayed in User Name box. Click on "Next" and your password is reset to blank successfully. Click Reboot to restart your laptop. You can log into Windows 7 with the new password.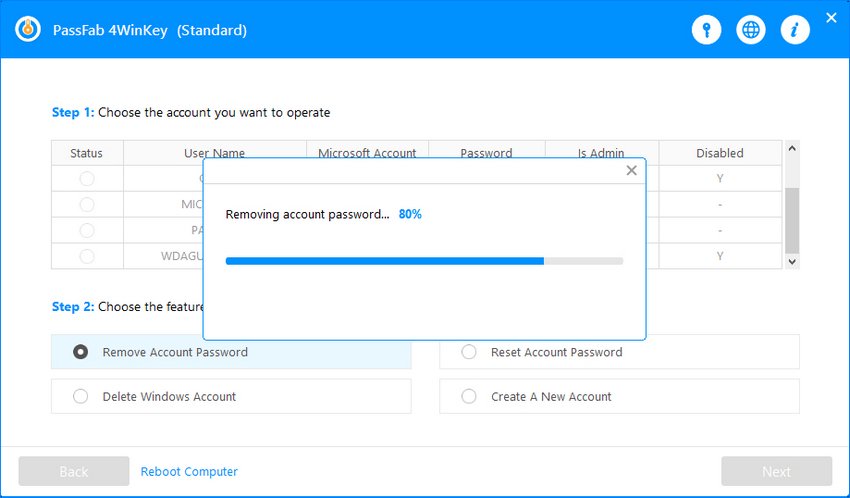 Way 2: Reset Windows 7 Computer Password with Password Reset Disc
Windows 7 administrative password can be reset using a reset disc by following these steps. Password Reset disk is the primary thing you need to have if you want to reset your Windows 7 computer password that is why you have to create a password reset disk by following the below steps.
Step 1: First of all, Insert a USB flash drive into your computer. In the Windows search box type "reset" and "select Create a password reset disk".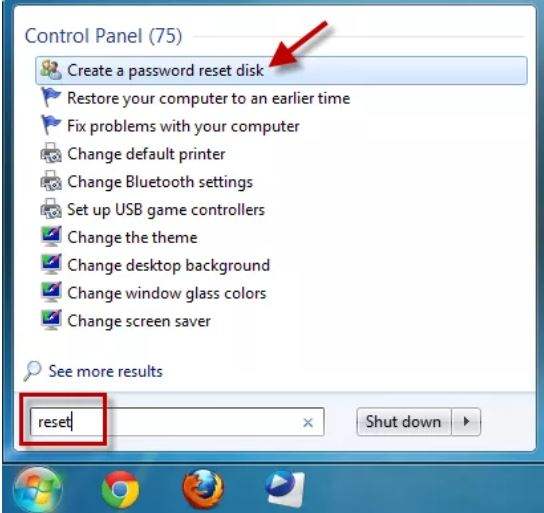 Step 2: The Forgotten Password Wizard will appear, click "Next". Select your USB flash drive and click "Next" again.
Step 3: The wizard will finish creating the reset disk. click "Next" then "Finish."
Now we will use this reset disk to reset our administrative password for Windows 7.
Step 1: First of all, Insert the password reset disk into your computer.
Step 2: On the Windows 7 Welcome screen, click "Reset password". It appears just below the password field after a failed log-on attempt.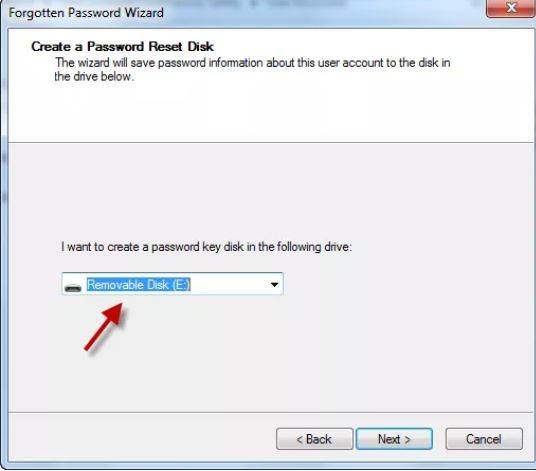 Step 3: When the Password Reset Wizard appears click on "Next".
Step 4: Select the drive location where the password reset disk is located.
Step 5: Type your new password and password hint and then click on "Next."
Step 6: You will receive a confirmation window saying "You've successfully reset the password for this user account."
Way 3. Reset Windows 7 Password with Install Disk
Modern PC clients often want to reset forgotten Windows 7 password with method. Expecting you have your Windows 7 install disk, you can take utilization of the Sticky Keys highlight on the login screen by 'deceiving' Windows into launching a completely privileged Command Prompt. When you approach Command Prompt, resetting an administrative password involves few steps.
Step 1: First of all, click on the Windows Start button, select All Programs, and then Accessories. Right-click on the Command Prompt shortcut on the accessories menu and select "Run as administrator".


Step 2: It will open a Command Prompt running in administrator mode. Type "net user" and press Enter. It will display a list of the user accounts on the computer.
Step 3: Type "net user username new_password" and press Enter to reset windows 7 administrative password. Now you can replace your username with your desired account, and then replace new_password with the password of your choice.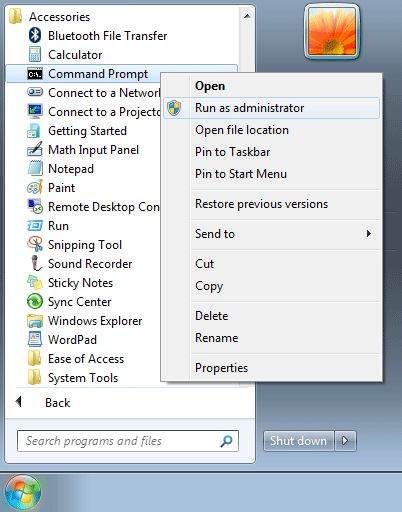 Way 4. Take Your Computer to Repair Shop
If you have a busy routine and don't have much time to go through these steps then the best possible solution for resetting password for your personal computer or laptop is to take it to Microsoft Repair Shop. They'll solve your problem right away.
Summary
There are many reasons that require you to reset your Windows 7 password on your computers or laptops. Once you have forgotten your Windows 7 password, you cannot access your files which was our main concern in this article. You needed to know that how you will recover or reset your administrative password Windows 7, if you have forgotten it. In the article above, we discussed the most famous methods for resetting the Windows 7 password on PCs.
The most hassle-free method of all of them is the one that involves the use of the PassFab 4WinKey. This tool does the job for you in simple one clicks tasks, allowing you to reset the Windows 7 administrative password on your lenovo laptop in less than a minute! PassFab 4WinKey is also efficient and fast when it comes to resetting other Windows password like Windows 10, 8.1, XP and Vista.