Top 8 Ways to Reset Windows 8 Password at Ease
If you have protected your Windows 8 with password and you have forgotten it or lost it then this is a terrible situation because you cannot login to your computer without entering the password. You end up formatting and reinstalling Windows 8 and with this you have lost your data as you did not have any access to it to backup. If you are thinking about reinstalling windows then stop there. We have gathered top methods to bypass Windows 8 login screen if you have lost the password. You can reset Windows 8 password using any of the methods from below.
Method 1: Reset Windows 8 User Password via Password Hint
This method can be used if you have set up password hint for your account. It is really helpful for users because in password hint you can type a keyword that can help you to recall the password immediately. So how to reset Windows 8 password? Follow the steps below.
Step 1: On Windows Login screen if you have forgot the password, simply press Enter without entering password.
Step 2: Windows prompt you that you have entered incorrect password. Click OK. And your password hint will be revealed.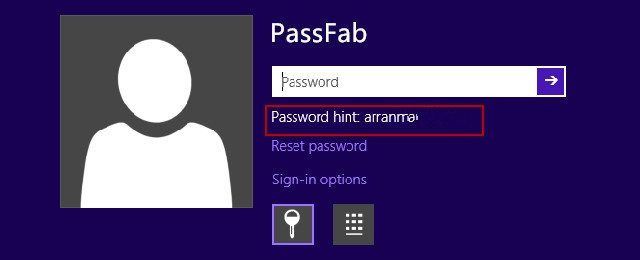 Step 3: You will immediately remind the password, log in to Windows 8 and then in account settings reset the password with a new one which you can remember easily.
Method 2: Reset Windows 8 Login Password with PIN Code
If you cannot remember the password for your account but you have remembered the PIN code, you are able to lock PC with it. Mostly people set up PIN on their birthday or some numbers which they can remember easily. Follow the below steps and reset your password.
Step 1: Click the Sign-in options, there are three choices, Password, Picture Password and PIN. Choose PIN, and type in 4-digit code in the box.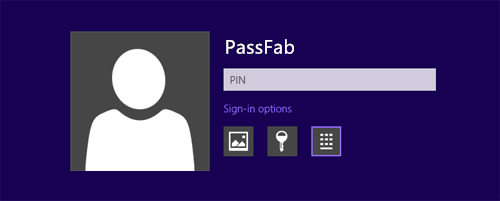 Step 2: Then you can sign in to your Windows 8 computer successfully with administrator.
Step 3: After logging in, use Adminstrator acccount to reset the password.
Method 3: Reset Win 8 Password by Using Password Reset Disk
This method is really easy and helpful. When you create a password reset disk even you have changed your password for Windows 8 you can reset the password using that disk. So how reset windows 8 password can be done with this method? Follow below steps.
Step 1: On the Windows 8 login screen, click "Reset Password".

Step 2: Now insert the pre-created password reset disk into that computer.
Step 3: From that drop-down menu, select the drive name of password reset disk and click "Next".
Step 4: Once the computer recognize and scan the disk successfully, you will be prompted with the following screen to set a new password for login.

Method 4: Reset Windows 8 Account Password with Computer Management
You can try this method when you are able to log in to your administrator account that is by default built in by Windows 8. If you have any other admin account you can reset Windows 8 password from that account to. Follow the guide.
Step 1: Login Windows 8 with another adailable administrator account. Right-click on "My Computer" and click on "Manage". Or you can press "Win + R", type "compmgmt.msc" and press "Enter".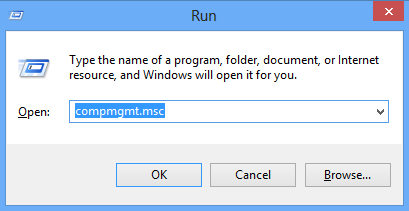 Step 2: Computer Management screen will open. Click on "Local User and Groups" and then on "Users".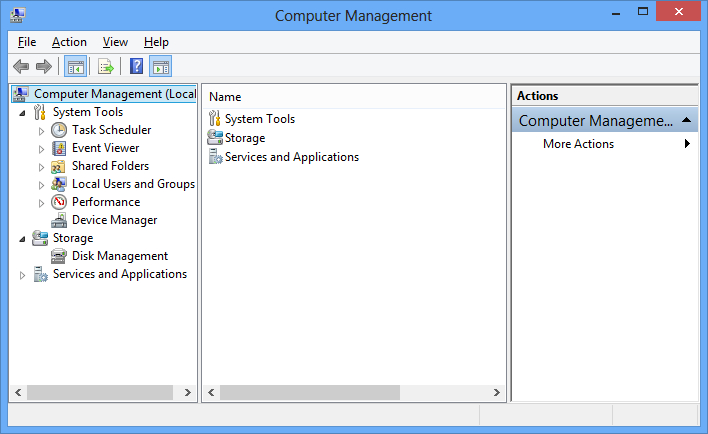 Step 3: In central window pane you will see all the user accounts. Select and right-click on the user account for which you want to reset the password. Click on "Set Password".

Step 4: A message box will appear. Click on "Proceed".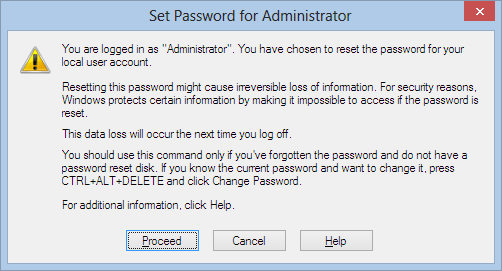 Step 5: Now type and confirm the password and click OK. You have successfully reset the password for Windows 8.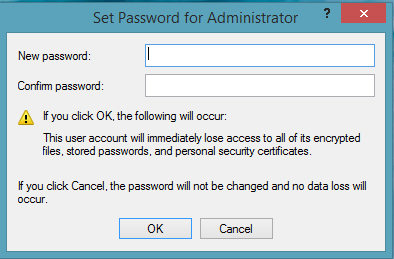 Method 5: Reset Windows 8 Password via Command Prompt
Command Prompt, also names CMD, is a usual way to reset Windows login password. However, since it is such hard to understand, seldom persons love to take advantage of command prompt. To reset password using this method follow the article: How to Reset Administrator Password in Windows 8/8.1 Using CMD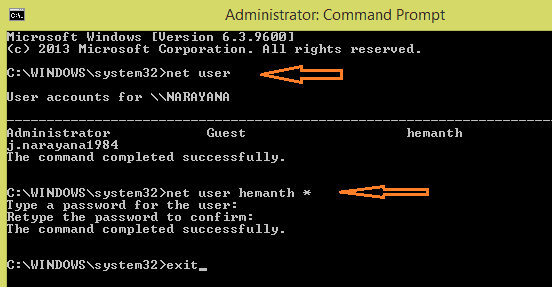 Method 6: Reset Windows 8 Account Password via Password Reset Link
In this method you can reset your Windows 8 password using Microsoft Account. If you have set up your Microsoft Account on Windows 8 login screen then Windows 8 password reset is not much difficult. Follow the steps and you will recover the account by resetting the password.
Step 1: Go to this Microsoft password reset website. Enter your Microsoft account email, phone or Skype name. Fill CAPTCHA.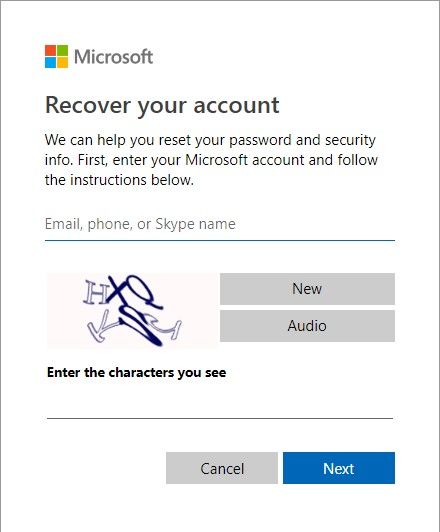 Step 2: Now check a method to prove your identity and when you receive code enter it.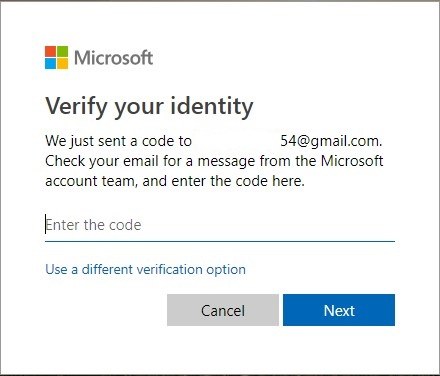 Step 3: Now you have to enter "New password" and "Reenter password" then click on Next.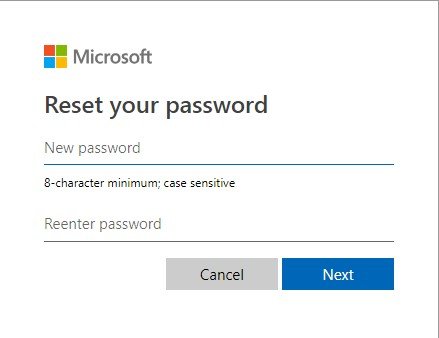 Step 4: You have reset the password successfully. Click on Next. After resetting the password you can login to your Windows 8 without any trouble.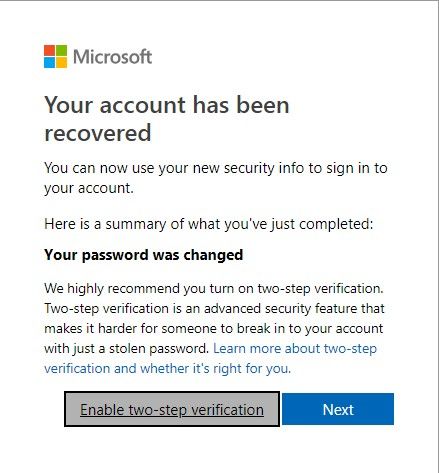 Method 7: Reset Windows 8 Password with Ophcrack
Ophcrack is an open source tool used for Windows password recovery. It has the ability to get hashes from different formats.
Step 1: You have to burn it on a bootable disk and then restart your PC with bootable disk.
Step 2: The Ophcrack screen will appear and it will start automatically.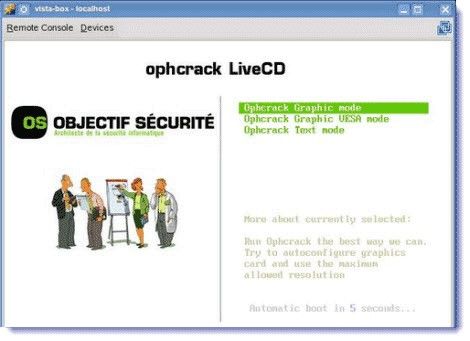 Step 3: Wait for the Ophcrack to recover your password.
Step 4: After the password is recovered you can use it to login and reset the password using Method 1 or through User account settings.
Method 8: Reset Windows 8 Password with Windows Password Key
PassFab 4WinKey is a Windows password recovery tool you can use. This "Windows password key" provides interactive interface and you can easily recover the password for all types of user account without any trouble, including local user account, Microsoft account, administrator account. The whole process is divided into three parts:
First you have to create Windows Password Reset Disk (CD/DVD/USB)
Then boot your Windows from that bootable disk.
Reset or remove the password.
Follow the below guide on how to Windows 8 password reset with PassFab 4WinKey.
Step 1: Download and install PassFab 4WinKey. Open the tool and select boot media either CD/DVD or USB.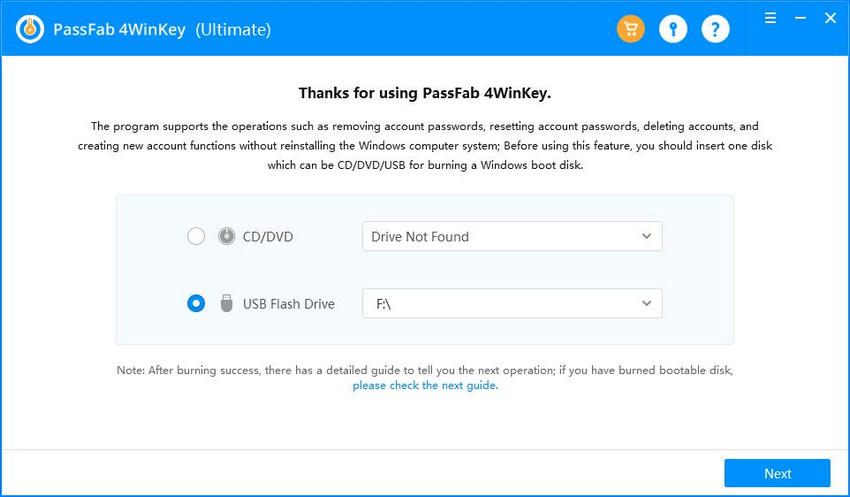 Step 2: Now click on "Burn" and it will show you warning that your disk will be formatted. Click on "Yes". Wait until the disk burn successfully.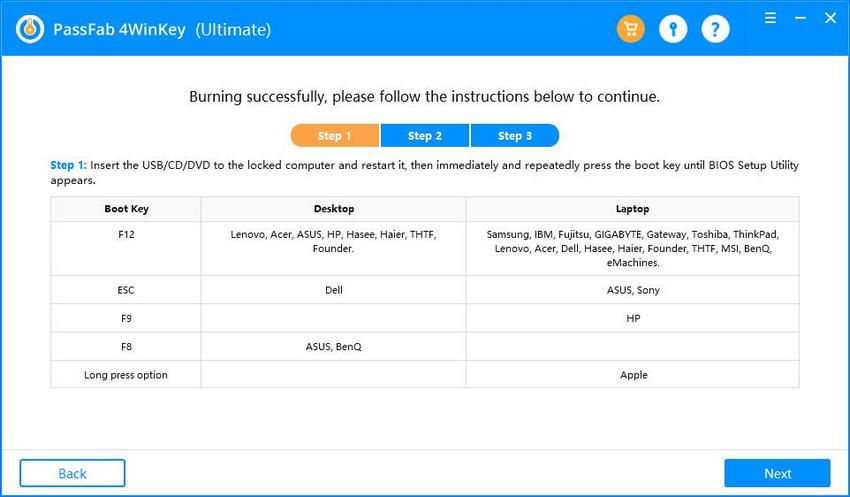 Step 3: Use the bootable disk to reset the password for Windows 8. Insert it into PC and reboot PC with it. Press "F12" to enter Boot Menu.
Step 4: You will see different choices to boot. Identify your device and use arrow keys to highlight your bootable disk name. Press Enter to proceed.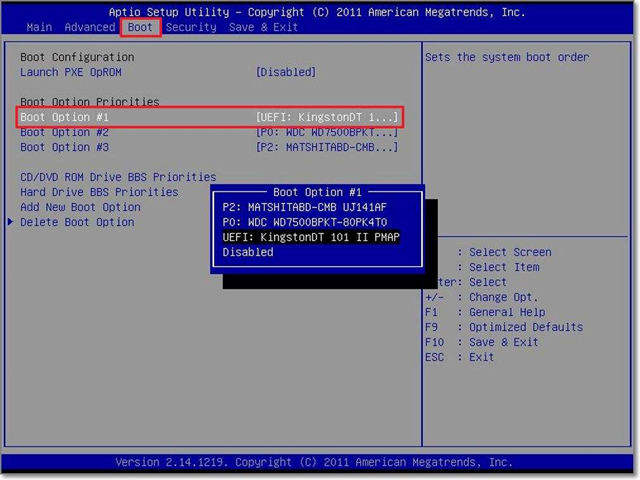 Step 5: When the password recovery screen open, select your Windows OS and check "Reset your password".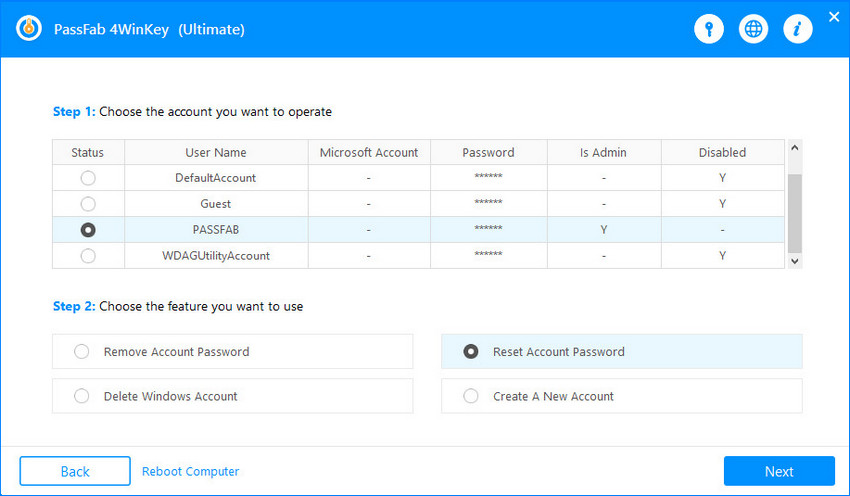 Step 6: Select user account. Enter your "New Password" for the account and click Next.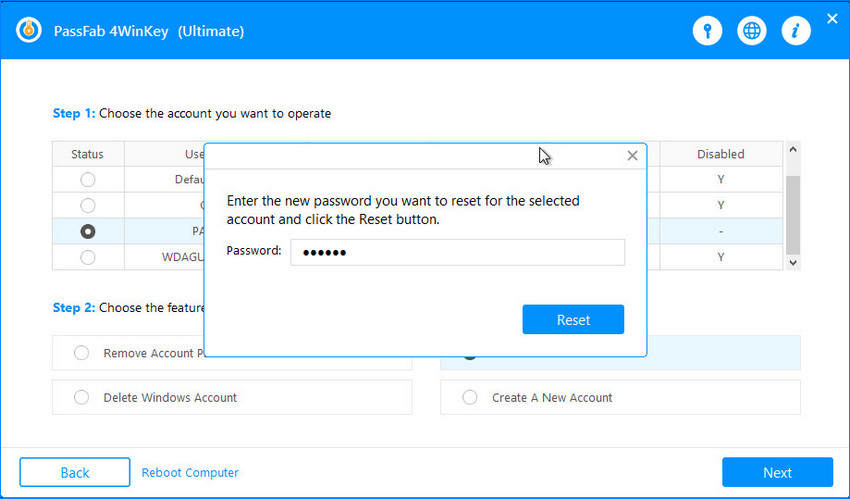 Step 7: Your password is reset successfully. Reboot your PC. Login with your new password that you have set.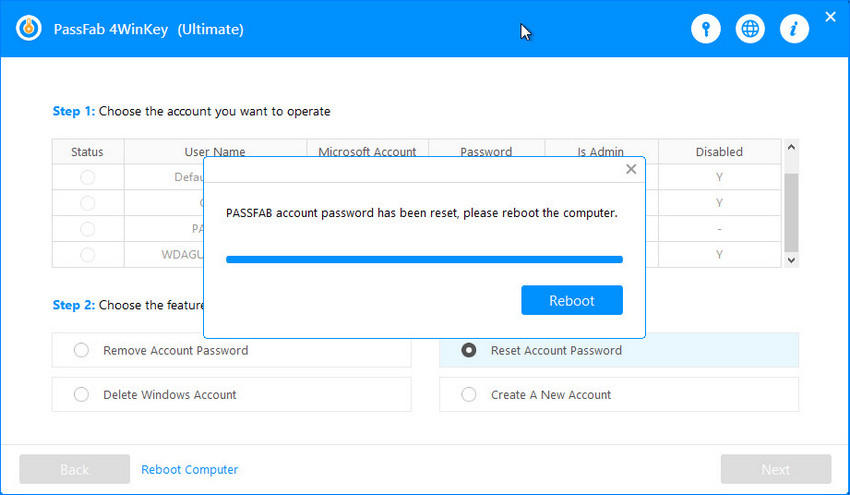 Here is a video guide about how to reset Windows 8 password when you forgot it:
You have seen the top methods to reset the password for Windows 8. Some of the methods are easy and simple and do not require much computer knowledge but some methods are difficult and you need to follow the exact steps to complete the method and recover password or else you may lose your data which is terrible.