How to Reset Windows 8 Password with USB
Microsoft provides different security features in Windows 8 such as password protection, pin code protection and etc. But what if user lose the password or does not seem to remember it? This may become a real trouble for him or her because one cannot access the data or files if you do not enter the correct password. So, what to do in this situation. There are different ways to handle this but many of them include the risk that your files may damage or format. You can reset Windows 8 password with USB and access your files. Some best methods to reset the password are below.
Method 1: Use USB Password Reset Disk Created from Windows 8
In this method you should have created a password reset disk with USB. When you create a password reset disk Windows 8 USB free download disk, your password information will be saved as "userkey.psw" in disk, and even you have changed your password for Windows 8, you can reset the password using that disk. You should know that this method only works for the local accounts of Windows 8. When you have forgot the password how can you reset the password using this method? Follow the steps below:
Step 1: In Windows 8 sign in screen enter wrong password once. You will see "Reset password" option. Click on it.
Step 2: A "Password Reset Wizard" will open. Click on "Next".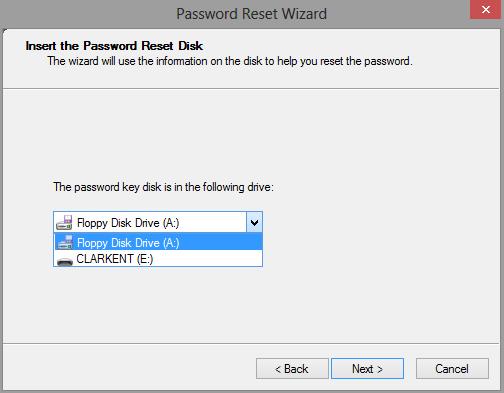 Step 3: Insert Windows 8 password reset USB you created. Select it and click next.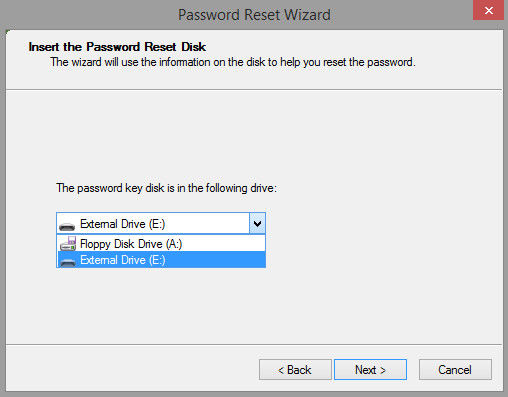 Step 4: Enter new password. Confirm it and enter hint for the password. Click on "Next".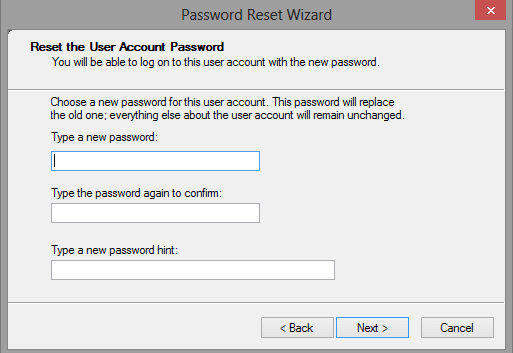 Step 5: Click on "Finish". You have reset the password successfully.
Method 2: Use USB Installing Disc Created by Windows 8 ISO File
If it is an administrator account for which you have lost the password not a local account then you cannot use the password reset disk method. Instead you can use reset Windows 8 password USB bootable disk method. In this method you have to create a bootable USB drive and then you can reset the password for your administrator account of Windows 8. Follow the steps.
Step 1: If you already have a bootable USB then use it or else create bootable USB with Windows 8 ISO file. Insert the USB and boot your PC from USB drive.
Step 2: When Windows setup page appears, press "shift + F10" to open command prompt.

Step 3: Copy utilman.exe with following command.
"move c:\windows\system32\utilman.exe c:\windows\system32\utilman.exe.bak"
If you have installed your Windows in another drive then replace C: with that drive letter. You will be asked if to overwrite the file. Type yes and enter. Now copy this command to copy replace Utility Manager with Command Prompt.
"copy c:\windows\system32\cmd.exe c:\windows\system32\utilman.exe"

Step 4: Close the cmd and Windows installation setup. Restart your computer normally.
Step 5: On login screen press Shift Key 5 times or click the "Ease of Access" icon. You will see Command prompt will open with administrator privileges. Use the following commands to reset the password.
"net user"
"net user user_name new_password"

Step 6: Close command prompt. You can now enter the new password to log in.
Step 7: After the whole process do not forget to restore the original utility manager (Utilman.exe) file back.
Method 2: Use USB Installing Disc Created by Windows 8 ISO File
PassFab 4WinKey is password reset tool you can use to reset / recover / remove the password for Windows 8. It is a powerful and amazing Windows 8 password reset tool USB free to install and it can reset password for any type of Windows 8 account. You just have to install it and boot a media disk for example USB, then using that bootable USB reset the password easily. Follow the below steps and bypass Windows 8 password.
Step 1: First download and install PassFab 4WinKey on computer. Launch the tool and choose USB drive.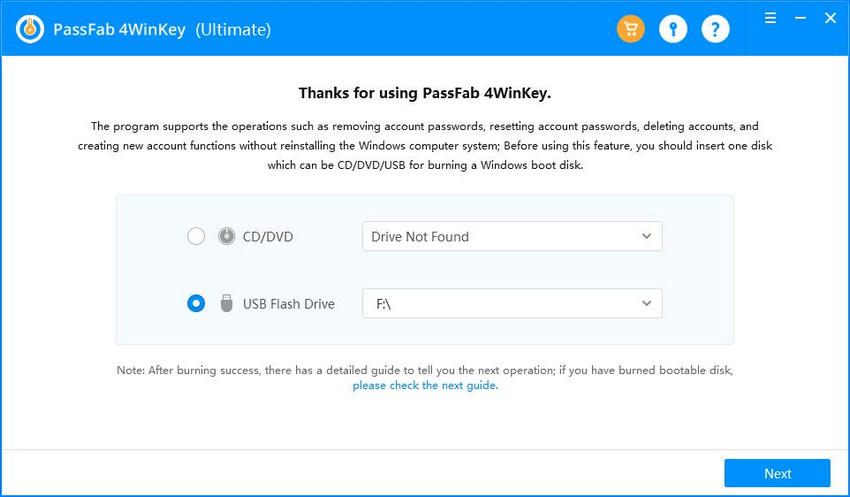 Step 2: Click on "Burn" and it will prompt you a warning message that your USB disk will be formatted. You should click on "Yes".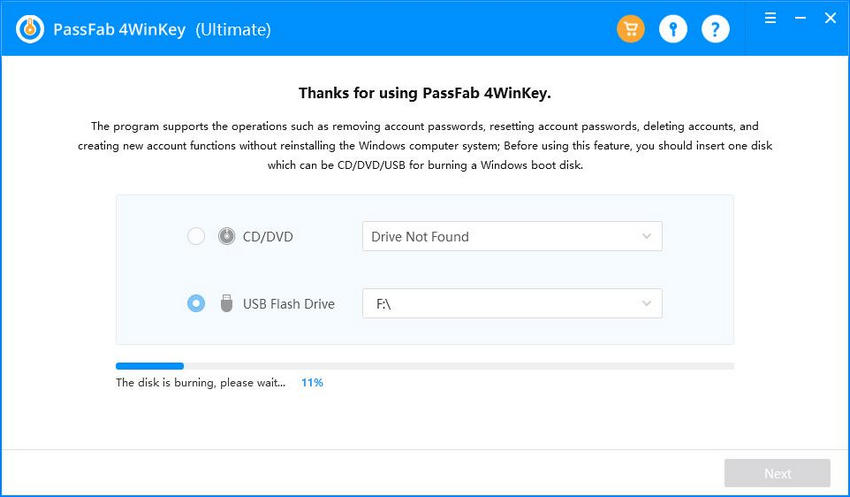 Step 3: Now wait until the USB burn successfully.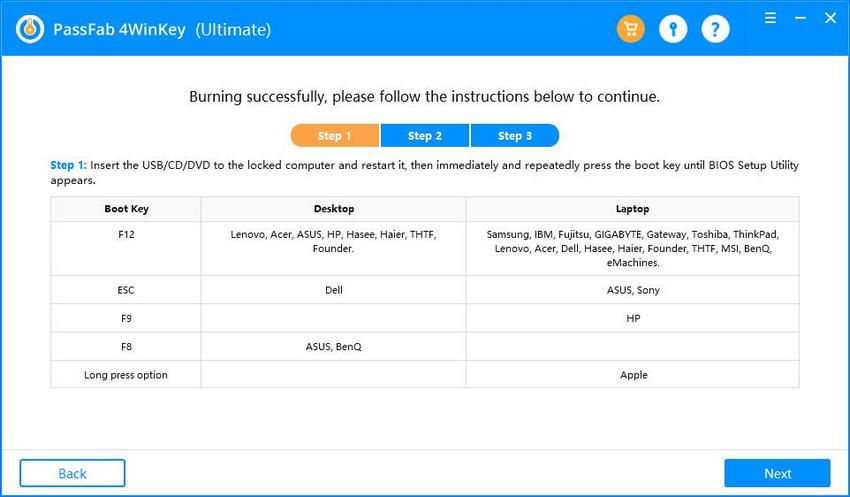 Step 4: Insert the USB into computer and reboot PC from it.
Step 5: Use arrow keys to highlight your bootable USB disk name and press "Enter" to proceed.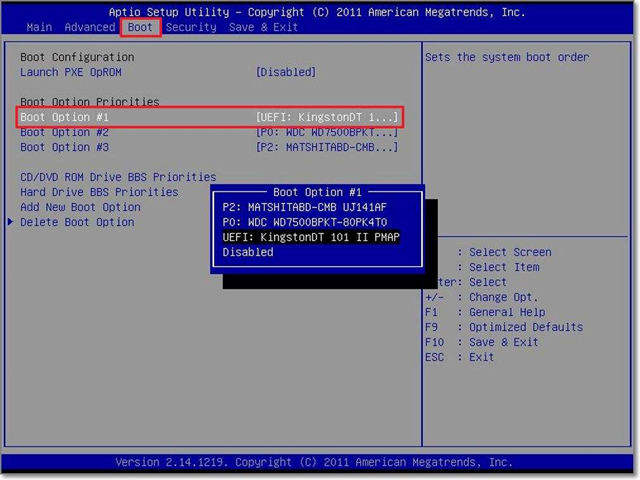 Step 6: The "Password recovery screen" will open. Select your Windows OS and check on "Reset your password". There are also other options which are "Remove and admin account" or "Create a new account".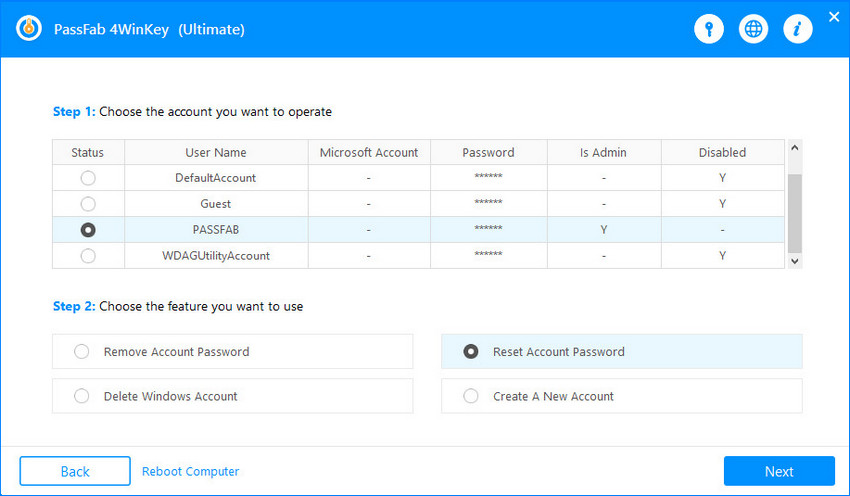 Step 7: Under User Name box you will see different user account. Select user account for which you want to reset the password. Enter your "New Password" for the account and click Next.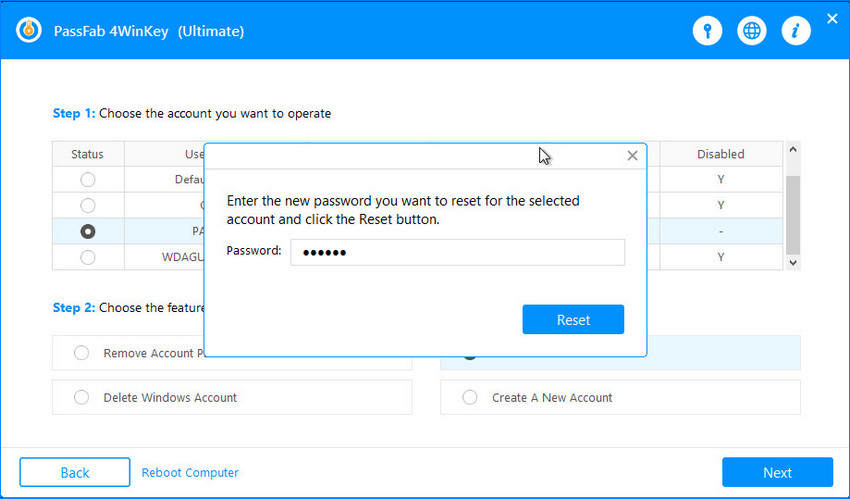 Step 8: Your password is reset successfully. Reboot your computer and login with your new password that you have set.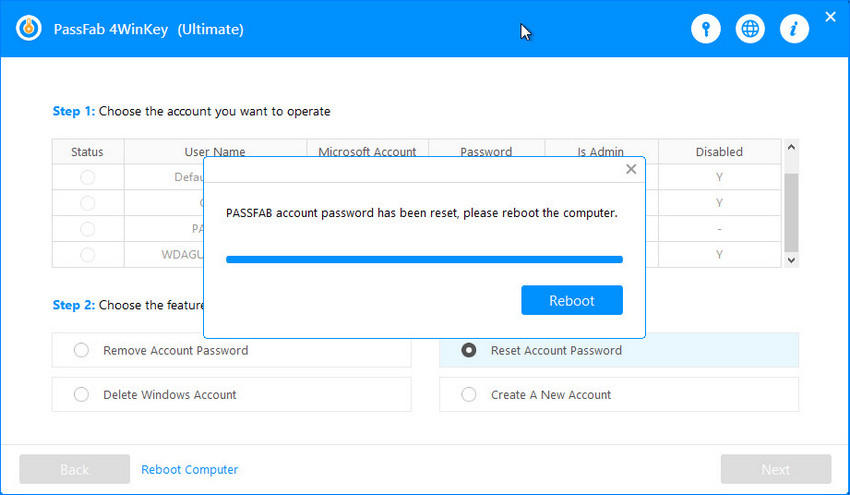 This is the whole guide for you to reset the password either it is of local account or an administrator account. If you are not sure and you want to be done it without any trouble use the PassFab 4WinKey tool. It is a genuine tool and can reset the password for Windows 8 without damaging your files.