Have you just purchased a secondhand iPhone with the iCloud account of a previous user logged in? Or is your iDevice iCloud logged for any unknown reasons? This can be really frustrating since there is no straightforward way to unlock an iCloud-locked device. If you are facing the same or any similar iCloud locking issue, this article is for you. We will discuss one of the iCloud unlock services, Exodus Super Unlock free, how to use it, and one of its best alternatives if you are unable to utilize it for some reason. So, without further ado, let's get started.
Part 1: What is Exodus Super Unlock?
Exodus Super Unlock free is an online tool that helps unlock iOS devices. The tool is easy to use with an extremely simple interface. There are numerous reasons for its fame among iOS users. Take a look at some of the features of Exodus Super Unlock.
An effective tool, yet extremely simple to handle
Unlock your device permanently. This means once you are able to unlock your device using this tool, you can later use it for an unlimited number of times.
The tool is compatible with both newer and older versions of the iPhone.
It bypasses the iOS lock even if you don't have an authentic apple ID.
The procedure to use this tool is also simple. You simply need to download the authentic version of Exodus Super Unlock and get rid of the iCloud lock. That said, the performance of this tool is surely debatable. Also, no official website and support from the official company add to the incredibility of this tool. So, you should be very careful when downloading and accessing it.
Part 2: Free Access to Download Exodus Super Unlock
Unfortunately, there is no official website to download the free Exodus Super Unlock. Whenever you search for anything related to Exodus Super Unlock, you see various websites that offer you different links to download the software. However, finding an original link is not an easy job. Most of the links available on the internet related to Exodus Super Unlock are malicious links that might result in malware in your system.
1.Some of the Disadvantages of Downloading Software from Unauthentic Sources
Your device might get affected by any kind of virus.
You may face data loss if an unofficial version is downloaded accidentally.
Some websites might get you involved in different surveys that might lead to losing your personal data.
You might end up clicking on various ads while trying to download the official version.
Unofficial websites lack security features, and you may face data loss.
2. Link of Free Exodus Super Unlock Download
So, from where should you download Exodus Super Unlock for free? After reviewing multiple websites and download links, we finally found an authentic source to download free Exodus Super Unlock. The application might ask for some additional permissions before the launch. So, you should grant the software all the permission and allow the application to launch without any issues.
3. How to Use Free Exodus Super Unlock?
Once you have downloaded the software successfully, take the following steps to unlock your device.
Launch the installed Exodus Super Unlock.
Connect the locked iOS device to the computer, and verify its connectivity.
Select the connected device from the right menu and tap Cloud Preferences. Then, select Delete iCloud Metadata.
Tap Reboot iPhone to DFU Mode, and the software will start unlocking your device.
Once you have completed the steps correctly, you must wait for a while until the tool finishes unlocking your device.
4. Does Free Exodus Super Unlock Work?
Now that you know how this tool works, let's take a look at some of the pros and cons of Exodus Super Unlock.
Pros:
1.The user interface of the tool is simple.
2.It can unlock almost all devices in a very short period.
Cons:
1.No official website is present, which might result in a major loss if you end up downloading the software from an unauthentic source.
2.The performance of the tool is not very efficient.
With all that being said, there is a difference in opinion when it comes to the performance of the Exodus Super Unlock. To verify whether the arguments about its performance are true or not, we conducted a test and tried unlocking multiple iOS devices with this tool. Unfortunately, the results were not that much efficient as the tool completely failed to perform well on most of the iOS devices. Also, finding the right downloading link was quite a hassle. So, Exodus Supper Unlock Free is surely not the best iCloud unlocking service.
You might also face certain difficulties when trying to unlock your iOS device via Exodus Super Unlock. Due to this, it is better to opt for some of its alternatives that offer much better functionalities and guaranteed results.
Part 3: Best Working Alternative of Free Exodus Super Unlock-PassFab Activation Unlocker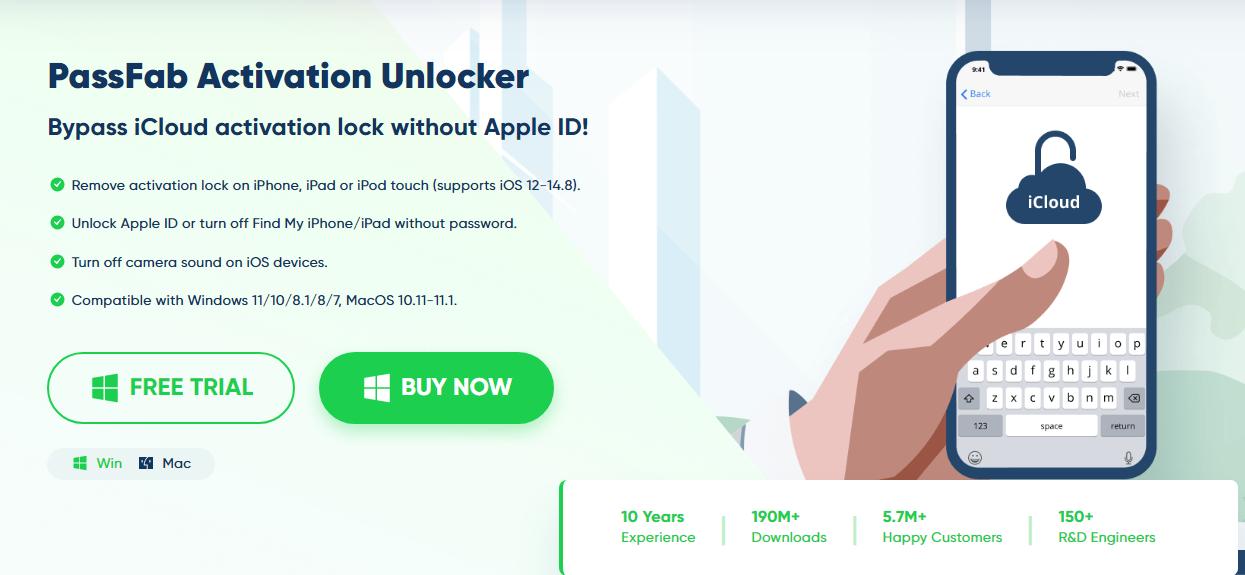 1.Why do You Choose PassFab Activation Unlocker?
PassFab Activation Unlocker is one of the best alternatives for the free Exodus Super Unlock. The tool offers a variety of features and is compatible with not only iOS devices but Windows devices as well. This feature stands it out from the rest of its competition. Let's take a look at some of the features of the PassFab Activation Unlocker tool.
Bypass iCloud Activation Lock
If you have forgotten your Apple ID or have no access to the account, the PassFab Activation Unlocker can surely help you out. The tool allows you to bypass the lock and lets you activate the phone without any Apple ID. This way, you are free to enter the phone and attach the phone to your personal Apple ID.
Unlock iPhone in Lost Mode
If you have just purchased a used phone with a locked iCloud, this feature can help you get rid of it. Whether your phone has a completely locked iCloud or is facing a data-erased error, the PassFab Activation Tool can get it back to normal.
Turn off Find My iPhone
If your phone has a Find My iPhone option enabled, and you are unable to turn it off because of the unavailability of apple ID, you should try fixing it with the PassFab Activation Unlocker tool. The tool lets you turn off the Find My iPhone option on your iPhone without any Apple ID.
Compatibility
The best thing that adds to the overall value of the tool is its compatibility with both iOS and Windows devices. This means if you have a locked iPhone, you can get it fixed by connecting it to a Windows device by launching the PassFab Activation Tool.. Also, the tool is completely compatible with the newer and older versions of both iOS and Windows devices.
2.How to Use PassFab Activation Unlocker?
Now that you are aware of the features of the PassFab Activation Tool, let's take a look at the steps you should take to get your iOS device unlocked using a PC.
At the first step, you'll connect your iDevice with the computer and proceed to select the "Remove iCloud Activation Lock".

Then click the "Start" button to proceed. Read the agreement carefully before heading toward the program. Here, click on the "Next" button.

Then your device will betected. PassFab Activation Unlocker will download a jailbreak tool automatically.

You are required to plug in a USB to install the jailbreak tool in. Click Start to burn the USB.

Follow the guide to jailbreak your device.

After your device is jailbroken, run PassFab Activation Unlocker again. Click Start to remove the activation lock.

Now, you have bypassed the activation lock successfully.
Conclusion
Exodus Super Unlock free is a good option to bypass an iCloud lock. However, the results it produces are not that accurate. Also, the authentic file version is hard to find and download. So, it is always better to move forward with PassFab Activation Unlocker. Unlike the free Exodus Super Unlock,PassFab Activation Unlocker allows you to get rid of any iOS lock without hassle.