To access the iCloud locked device, you need to eliminate the activation lock, and this is when iCloud Unlock Buddy comes into view. As it advertised, you can eliminate the activation lock without Apple ID. Nonetheless, if you do not understand how this all functions and whether it's the ideal approach to remove the iCloud activation lock or not, go through this guide. The following is the in-depth and comprehensive iCloud Unlock Buddy review.
Part 1: What Is iCloud Unlock Buddy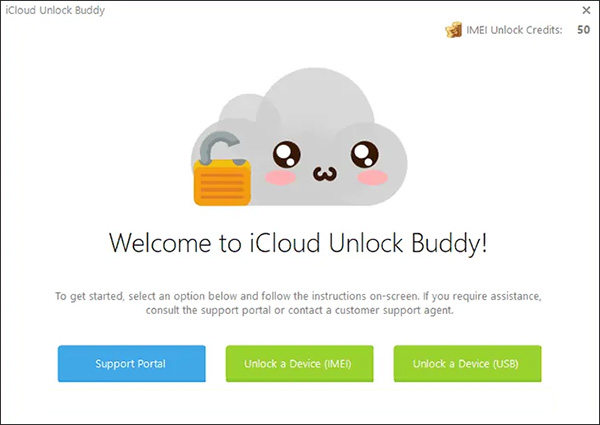 The iCloud unlock buddy is just a software/tool intended to remove the iCloud Activation Lock of the iOS gadgets or iDevices. For unlocking the iCloud record, the tool does not need any ID or password as it's exceptionally efficient in unlocking the locked iPads/iPhones and Mac devices.
The iCloud Activation Lock was introduced by Apple's company with some good intentions on the part of users, yet it has become a trouble for some users when they buy a used iOS device and attempt to restore the device.
If the previous device user himself provides the ID and password or erases the account, it's all good. However, in most cases, it does not work. At this moment, iCloud unlock buddy free download for PC, come really handy that's capable of removing the account even if you don't have the password.
Part 2: How iCloud Buddy Works
Before you go with iCloud Lock Unlock Buddy download read on to figure out how this device functions and see if it truly attempts to sidestep/bypass iCloud Lock.
1. Where Download iCloud Unlock Buddy
So, if you're looking to try the iCloud Buddy software/tool, at that point, you'll require a working link to download free Buddy. Sadly, there is yet no authority site for this tool. Hence there is no authority iCloud Unlock Buddy download free interface. However, there are many websites available there on the internet with various links. However, it's not recommended to visit the links as those links might be with some malware that can harm your computer.
2. Will iCloud Buddy Really Work?
The most important thing we must know is, will iCloud Unlock Buddy free will remove iCloud lock on iDevices.
To determine whether it work, our staff do a research on iCloud Unlock Buddy software free download. We tried nearly all models of iPhone, iPad and iPod with various iOS versions, but none succeed.
3. Limitations of iCloud Tool Buddy
Here're some limitations of the iCloud Tool Buddy that you might have to experience while using this tool …
It's tough and challenging to find the legitimate download link of the software free tool.
The working software free download link is somewhat difficult to find.
Part 3: Trusted Alternative – PassFab Activation Unlocker
Considering the drawbacks of going with the iCloud Unlock Buddy crack download, you would most likely need a better and reliable method and solution for bypassing the iCloud activation lock. The following is the verified alternative to the tool you can depend on, and that one is PassFab Activation Unlocker.
1. Key Features of PassFab Activation Unlocker
You have already learned a lot about the software, and now you'll learn the key features of the PassFab Activation Unlocker:
The software enables you to remove the iCloud activation lock without Apple ID or password.
Bypasses the activation lock without the previous iOS device user's involvement.
Compatible to work on iOS 12 to the latest iOS versions.
Supports to unlock iPhone 5 - iPhone 13.
So, ready to learn how to use PassFab Activation Unlocker? Well, the process is very simple. After downloading the software/tool, you'll follow the following three steps.
2. How to Use PassFab Activation Unlocker
PassFab Activation Unlocker permits you to bypass the iCloud activation lock and turn off "Find My Device" in your iPhone/iPad/iPod Touch as well. You can take it as a better alternative to iCloud Unlock Buddy software. Before going through the steps, you'll download PassFab Activation Unlocker for free on your PC/Mac. Install and launch the program to start. Below is the detailed and comprehensive guide on how to use PassFab Activation Unlocker …
At the first step, you'll connect your iDevice with the computer and proceed to select the "Remove iCloud Activation Lock".

Then click the "Start" button to proceed. Read the agreement carefully before heading toward the program. Here, click on the "Next" button.

Then your device will betected. PassFab Activation Unlocker will download a jailbreak tool automatically.

You are required to plug in a USB to install the jailbreak tool in. Click Start to burn the USB.

Follow the guide to jailbreak your device.

After your device is jailbroken, run PassFab Activation Unlocker again. Click Start to remove the activation lock.

Now, you have bypassed the activation lock successfully.
FAQs about Activation Lock
Q1: Does iCloud Activation Unlock Buddy help to remove iCloud Lock?
No. We tried various iDevices, and never succeeded to remove iCloud lock with iCloud Unlock Buddy.
Q2: How do I disable activation lock?
The Activation Lock included on iOS is straightforwardly coordinated with the 'Find My iPhone' feature on iOS. Switching off the "Find My iPhone" feature is the most straightforward methodology to eliminate the activation lock from an iPhone or iPad. Go to Settings > Your Apple ID > Find My, turn off Find My and enter your Apple ID password.
Q3: Can you bypass Apple activation lock?
The official way to bypass Apple activation lock is to use Apple ID and password. If you got a second hand device locked by Apple activation lock, then contact the previous owner, who gave you the device, to remove the device from his iCloud account to bypass the activation lock.
In a Nutshell
Hence, if you are looking to bypass the Apple Activation Lock of your iOS device in someone else's access before coming into your use, PassFab Activation Unlocker software is available and effective for you that you can use to unlock the iCloud activation lock!