If your Android smartphone runs Android 5.1 or higher, then it is equipped with a security feature called Factory Reset Protection (FRP). If you attempt to reset your phone, you will be prompted to log in with your Google account and password. The FRP's primary objective was to ensure that only Android phone owners could factory reset their device.
However, what if you lose your Google Account password? What if you acquire a pre-owned phone that has not yet been factory reset? Does this imply you will be unable to properly use the device after removing it from the previous account?
Fortunately for you, you can disable the FRP lock using FRP lock removal tool. We will demonstrate how to use FRP bypass tools in this article.
Part 1: Best Samsung FRP Lock Removal Tool-PassFab Android Unlocker [Support Android 12]
Do you want to disable Google's FRP lock? PassFab Android Unlocker will take care of that. As a competent Android password unlock software, it allows you to remove FRP lock on Samsung devices.
Now, let's look at the comprehensive guide in order to see how it functions as an FRP lock removal tool Samsung:
You can begin by downloading and installing PassFab Android Unlocker on your computer.

Connect your Android device to your computer via USB cable and then select the "Remove Google Lock(FRP)" feature.

You'll see the details and can proceed by choosing the Android version of your Samsung phone and clicking "Start".

Remove FRP lock successfully.
Part 2. Why is PassFab Android Unlocker the Best?
Everyone needs a solid reason to believe if something is best or better than its alternatives. The same happens in this case. The features of PassFab Android Unlocker explain why it is the best FRP unlocking tool.
Amazing features of PassFab Android Unlocker:
Screen Unlocking Tool
Google FRP Removal Tool on Samsung
Advantages of using PassFab Android Unlocker:
Easy to use and reliable
Easily removes screen lock
Quickly unlocks FRP Lock
Suitable for non-tech-savvy individuals
Support Android 12 and below
Part 3. Other FRP Lock Removal Tools You Can Use
Here is a selection of other FRP unlock tools for you to use if you are locked out of your Android smartphone and still don't know the password to your Google account. You can choose the most appropriate method from this collection based on your smartphone.
3.1 FRP Lock Removal Software Free
3.1.1 Samsung FRP Hijacker Tool
FRP Hijacker is an FRP lock removal tool designed specifically for Samsung smartphones. If you own a Samsung phone, there are no other options you should look for. You can pick this one up blindfolded. It is well-known for providing the best and fastest performance of all of the other options available for Samsung smartphones.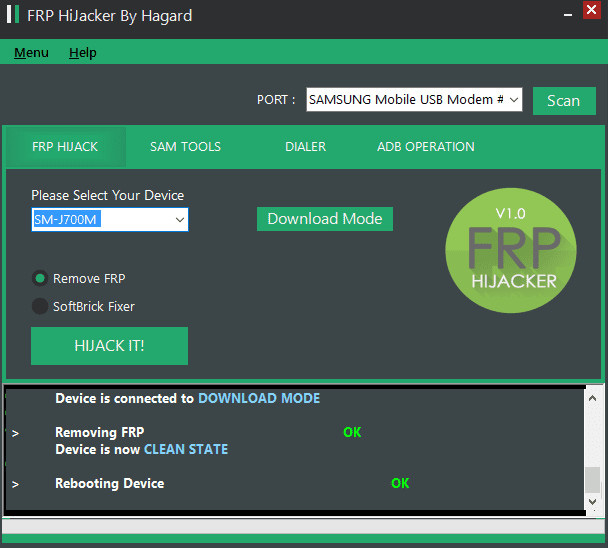 Pros
It is a free FRP bypass tool.
It is compatible with Windows, Mac, and Linux operating systems.
Cons
Only Samsung devices can have their FRP locked.
It has no customer support because it's a free tool. If you run into any issues when using it, it means you are on your own.
3.1.2 Frp Lock Removal Tool: Pangu
FRP lock removal tool pangu a free and incredibly efficient for bypassing the FRP layer. It works for any variant of Android, including Lollipop 5.1, Marshmallow 6.1, Nougat 7.0 and 7.1.2, and Oreo 8.0. You can use it to unlock phones from any popular brand, including Samsung, Micromax, Xiaomi, and Motorola.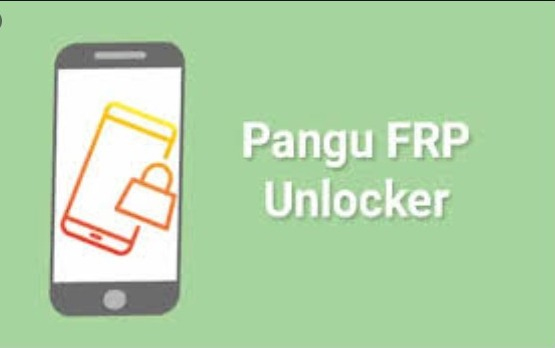 Pros
It works with a variety of Android device models, like Samsung, LG, Mi, OPPO, Vivo.
Cons
There are many criteria for the tool. An OTG cable, a flash drive, a computer, and an internet connection are required.
The bypassing method is difficult and technical.
Even if you have the most recent Android version, there is no guarantee that the tool will work for you.
3.1.3 D&G Remove Tool
D&G Unlocker is a free and extremely powerful FRP lock removal tool that you can use to quickly unlock the FRP lock on your device. This software is renowned for its time-saving capabilities. It is compatible with all Windows models, from XP to 10. You just need to connect your phone to your computer, and you won't need to use your Google account or password.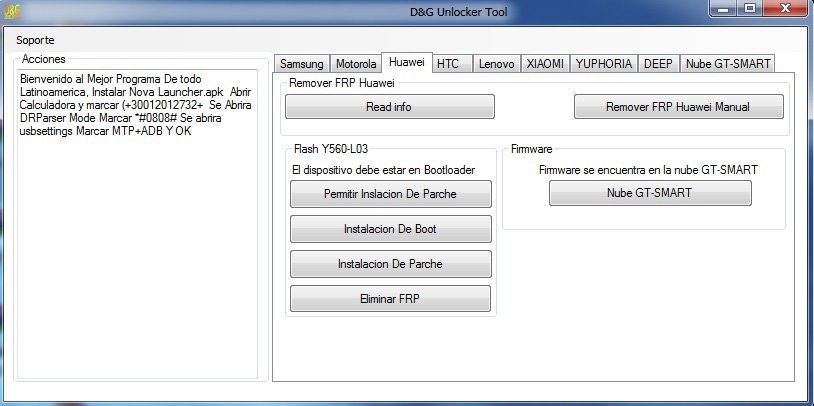 Pros
An OTG cable is not required.
The app works with a wide range of Android versions.
Cons
It may not be available for all Android device models.
The bypass process is complex and requires skill.
3.1.4 Odin FRP Bypass Tool APK
Odin is a software that works with the FRP bypass tool apk to help install firmware updates, upgrade via flash ROM, and remove FRP lock when Google locks your phone. If you're fed up with your phone's FRP lock and have an Android version 5 or higher, you should check out this tool. It is a simple tool that can help you resolve FRP locking issues in a few minutes.
Pros
This FRP bypass tool is free
Cons
It is only available for the Windows operating system.
This method can be difficult if you do not have professional computer understanding.
This tool is only available for Samsung phones and tablets.
3.1.5 FRP Bypass APK
FRP Bypass Apk is a well-known Google FRP lock removal tool and Flashing software. It is developed and released by Gadgets Doctor and allows you to disable your Android device's FRP lock for free. If you are the legitimate owner of the Google account associated with the phone, this tool will complete the task in less than ten minutes.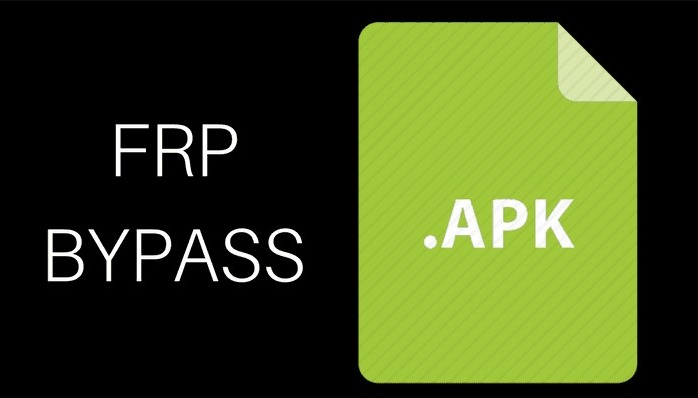 Pros
Free and Easy To Use
It works with almost all Android phones and can do the same job quickly
Cons
While APK files are easy to install, they may not always be useful or secure. Users should be careful when downloading APK files as it may be a stolen or illegal application.
3.1.6 GSM FRP Bypass and Flashing Tool
The very next name is on our list is GSM Flasher ADB Bypass Tool. It is another easy, quick, and extremely successful FRP lock removal software for unlocking your device's FRP lock. All you have to do is download and launch it on your computer. It runs on both Windows and Mac OS X.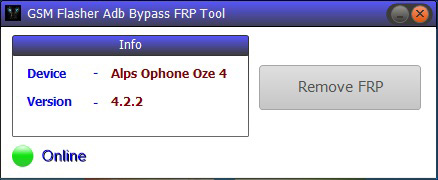 Pros
The FRP tool is free to download and use.
It supports unlocking FRP lock on Samsung, ZTE, LG and Motorola.
Cons
It does not work with the latest Android 13.
To use this tool, you need to disable the antivirus protection on your PC.
It requires USB debugging to be enabled beforehand.
3.1.7 Samsung FRP Helper v0.2
Samsung FRP helper v0.2 is a small Samsung FRP lock removal tool bypassing FRP Google verification on Samsung Galaxy phones in Call&ADB mode. If you're looking for an FRP call tool that will allow you to bypass FRP verification through the call process, you can use this one.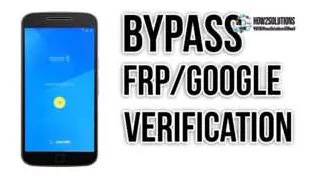 Pros
The tool is available for free,Easy to use and comes with a guide.
Cons
It supports Android Nougat 7.1.1 and earlier only, if you have some other Android version, then you have to downgrade it first.
It's complicated. You have to enable ADB mode on your device in advance.
Your device may be bricked if some steps are not running successfully.
3.1.8 A New FRP/Google Account Bypass and Flashing Tool
One of the finest tools for covering nearly all of the new Android phone models. This method is very simple to use. This tool is compatible with all current device models. This tool also supports older versions of SP Flash.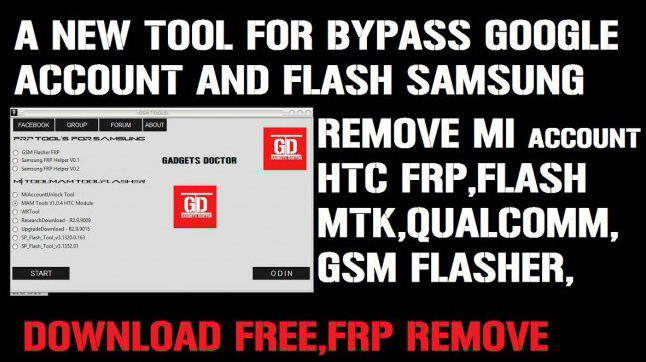 Pros
Work for almost all the versions of Android phones.
The software is free to use
Cons
Currently not tested with Android versions 5.1.1 and 6.0.1.
3.1.9 FRP Lock Google Verification Bypass Tool
This is a revolutionary piece of tech, and with this FRP lock removal software, extra protection for Android devices can be bypassed. It is compatible with nearly all Android devices and unlocks every Android phone that has been blocked due to a Reactivation Lock error.

3.1.10 vnROM Bypass APK
Vnrom Bypass Apk is an offline Bypass Google Account Verification tool developed for Android users. Also, it is an ad-free application. Powerful support to bypass FRP in Android phone brands including; Samsung, Oppo, Huawei, Lenovo and many more.
Pros
Use this app to unlock FRP for free.
User Interface Easy to use
The app is compatible with almost all Android devices.
Cons
The bypass process is complicated and requires an OTG cable.
If you encounter any problems during the unlocking process, you will not be able to get any support.a
3.1.11 SamFW FRP Tool
SamFW FRP Tool is a free simple One-Click FRP Remove software for Samsung which helps users to enable ADB Mode (USB debugging) through Samsung *#0*# (Test Mode) and Bypass the FRP lock. Apart from FRP removal, it could be used to perform an Android factory reset and disable Samsung Knox as well.
Pros
The SamFW FRP Tool is free
It supports Samsung Android 9, 10, 11, 12, and 13 versions to Factory Reset, and Remove FRP lock through Test mode easily.
Cons
It requires enabling USB Debugging beforehand.
To use this tool, you need to disable the antivirus protection on your PC.
3.2 FRP Lock Removal Software Paid
3.2.1 Samsung Reactivation/FRP Lock Removal Service
This online tool which requires you to provide your device's model number and IMEI number. Once you make the payment, the online service will proceed to bypass the FRP lock, which may take a few days. If the unlocking process is successful, you will receive a unique ID and password enabling you to bypass the FRP.
Pros
You can bypass FRP without a computer or OTG.
Online services are easy to use.
Cons
You will have to pay in advance and may have to pay additional fees.
Sometimes after-sales service is not available.
The bypass might take anywhere from a few days to many weeks to complete.
3.2.2 UnlockJunky ——Online FRP Unlock Tool
This is an online service that specialises in FRP bypass. Simply choose the device model and lock type to bypass FRP using UnlockJunky.
Pros
The website is easy to use.
It supports bypassing FRP locks on Samsung, Motorola and ZTE devices.
Cons
You will be required to pay in advance. And this online service is much more expensive than other FRP tools. Only one device can be unlocked with one payment and the cost varies by model.
There is no guarantee that the unlock will work for your device.
3.2.3 FRP Bypass Solutions
FRP Bypass Solutions has been checked and modified to enable you to bypass Google authentication if you lose your account's credentials. It is compatible with all Android smartphones, including the Moto series, LG, ZTE, HUAWEI, Samsung, HISENSE, and XPERIA. It is one of the best FRP lock tools to consider.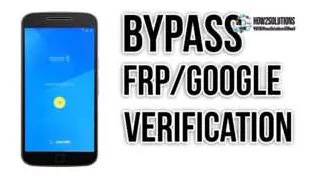 Pros
The tool has been tested and verified to work for Android 7.0 and 7.1.
Cons
You need to purchase the tool to use all its features.
3.2.4 King Tool
King Tool is a multi-tasking software for Samsung Android smartphones and tablets. It is capable of repairing and unlocking Samsung smartphones and tablets. It is compatible with a wide variety of phones. Moreover, it is among the best FRP bypass software.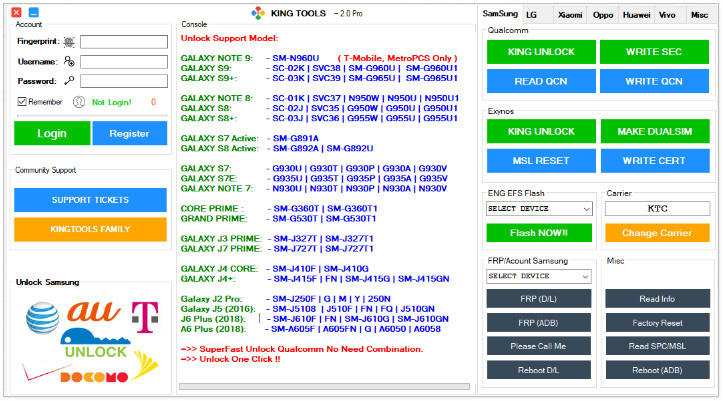 3.2.5 Octoplus FRP Tool
Octoplus FRP Tool is an FRP lock removal software that can be used to bypass the factory reset security on Android devices. The method is compatible with a wide variety of Mediatek QCOM and Spreadtrum-based smartphones.

Pros
It allows you to bypass FRP lock on Samsung, Huawei, LG, Alcatel, Motorola devices.
Cons
It's not convenient. The tool is selled as something linke a USB flash, rather than any software or application. An Octoplus USB Type-C cable is also required. You can't see the content or try how it works until you receive the delivery.
The tool is relatively expensive. You can only unlock 1 device for 65USD.
Conclusion
You now understand what FRP is and how to easily and safely unlock it. These are all the best FRP lock removal tools for bypassing the FRP layer. I hope this article was beneficial to you. However, if you want something reliable and easy to use, then I would recommend you to use PassFab Android Unlocker if the device needed to remove FRP lock is Samsung. It is the quickest and reliable method to bypass FRP lock in your smartphone. Don't waste your time, download and seek help from this instant frp removal tool now.