It is quite frustrating to get stuck at the Google verification window after performing a factory reset on your Samsung device. When the factory reset completes, you'll be asked to log in with the same Google account that was previously logged on the device. If you have forgotten the credentials to your Google account, the only way to unlock the device is to perform a Samsung FRP bypass. This will help you use your device without performing Google account verification. In this article, we'll explain one of the most convenient ways to bypass Google account verification on your Samsung device.
Part 1: Anything You Should Know Before Bypass FRP Lock
In the earlier days, it was quite easy to unlock an Android device. Anyone could unlock an Android device by performing a factory reset. With time, however, Google understood the significance of providing security and that's why introduced the "FRP" feature with Android Lollipop 5.1 update.
FRP or Factory Reset Protection is a special feature that adds a security layer on an Android device. It means that even if someone performs a hard reset on a device, he'll have to enter Google account credentials to unlock the device. So, if your smartphone gets stolen or misplaced, no one would be able to access your personal information at all.
However, this feature became a headache for people who didn't remember their username and password. This is when performing a Samsung FRP bypass will prove to be beneficial. When you bypass the FRP lock, you no longer have to log in with your Google account to gain access to the device. one thing that you keep in mind is that you should take a backup of your device as the process can wipe away the existing data from your device.
So, let's understand how to do Google bypass on any Samsung smartphone.
Part 2: How to Bypass FRP Lock On Samsung Devices [Support Android 11] 
Bypassing Google Account verification stage isn't a complicated process. However, you'll need a third-party tool to do the job. PassFab Android Unlocker is dedicated Android unlocking software that'll help you perform Samsung FRP unlock.
Here's how you can use PassFab to bypass FRP on your smartphone.
Step 1: Install PassFab Androud Unlocker and connect your device to the computer via a USB cable. Now, launch the software on your PC and select "Remove Google Lock FRP".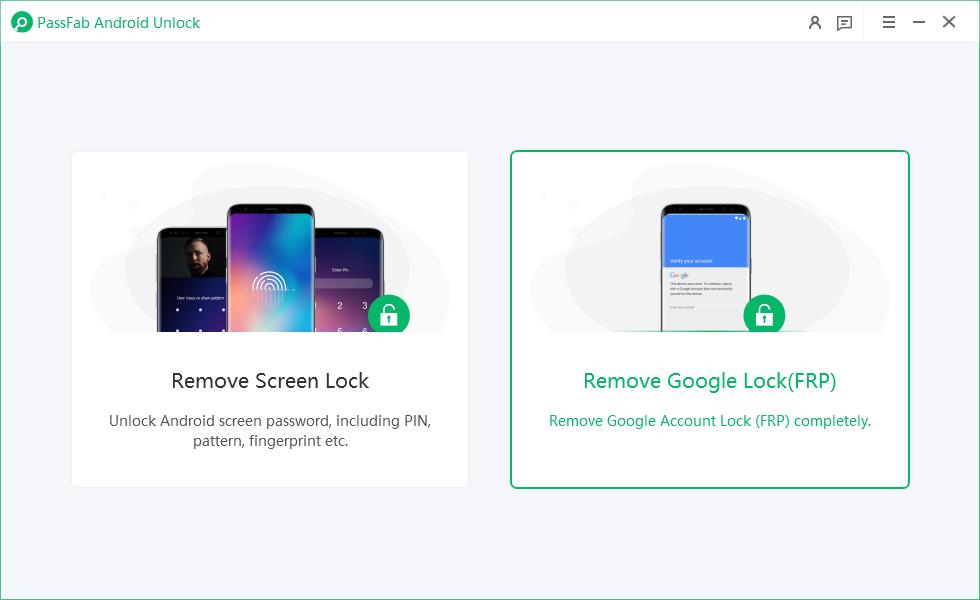 Step 2: You'll be prompted to a new window containing the choice of Android version. Select the version of your phone and tap "Send Notification" to move ahead with the process.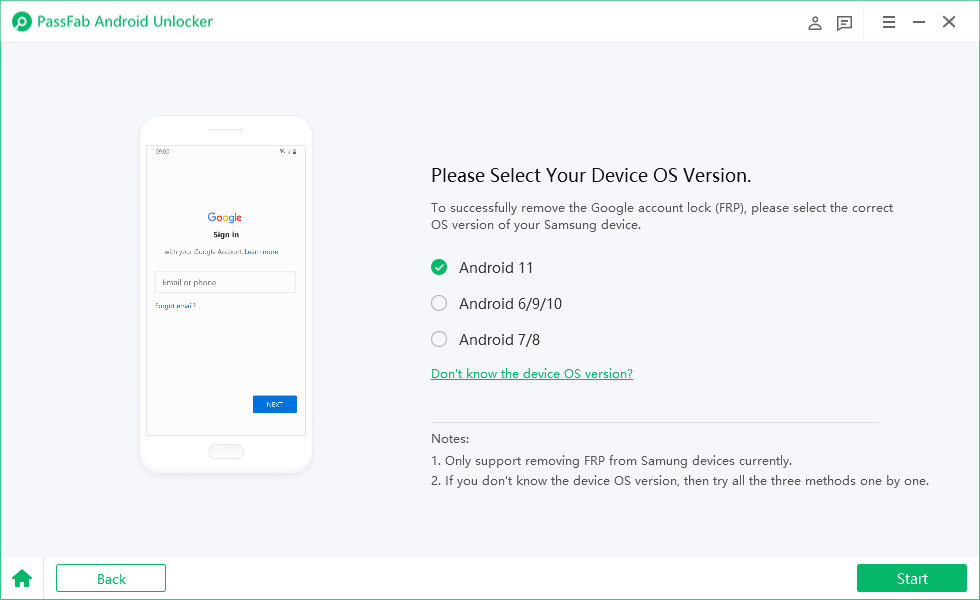 Step 3: The software will send your SAMSUNG a notification, follow the instructions on the interface to bypass frp on Samsung.
For Android 11: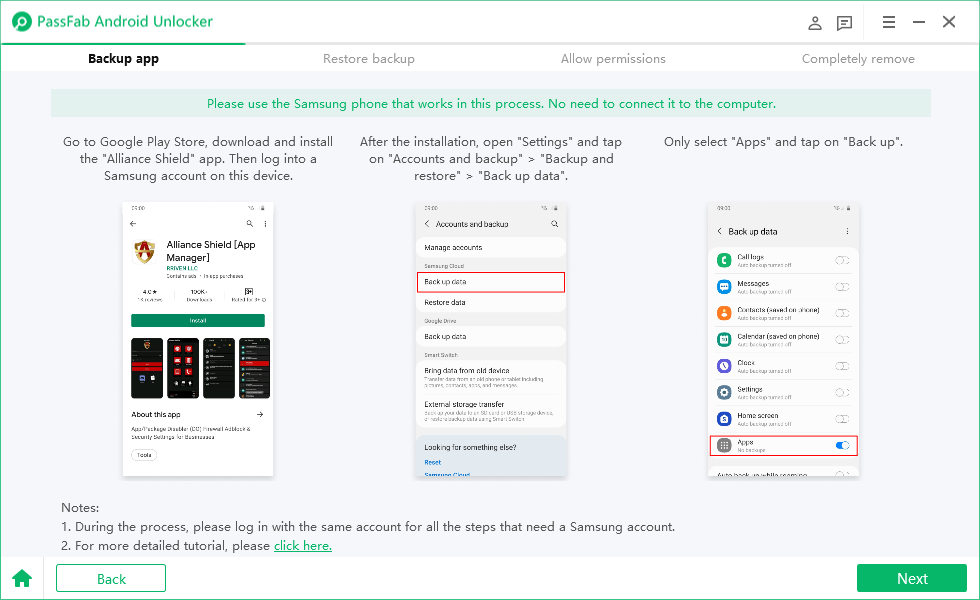 For Android 6/9/10: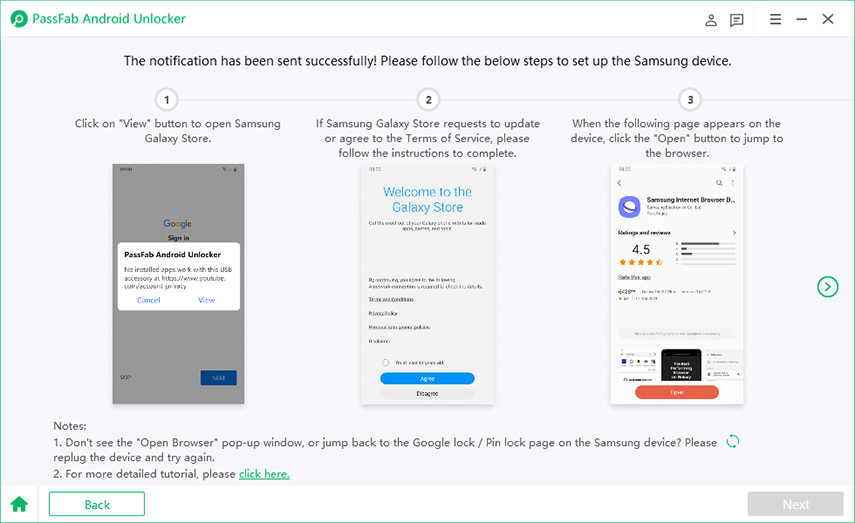 For Android 7/8: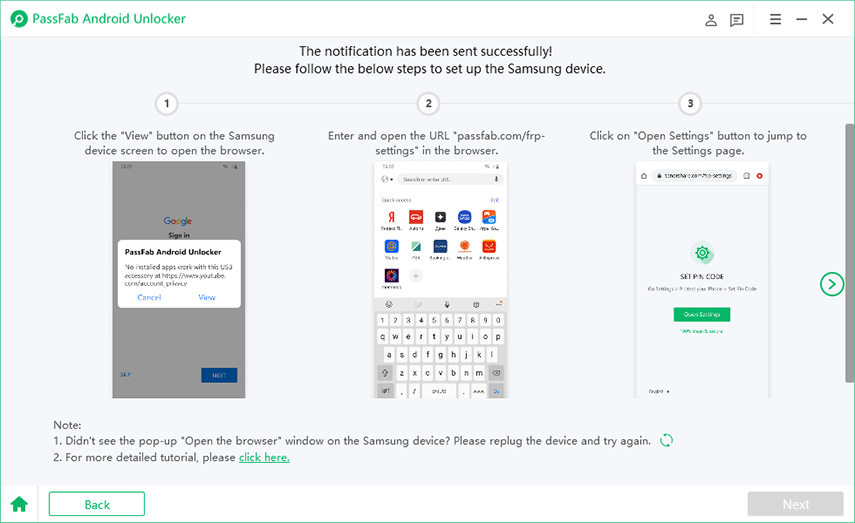 Step 4: Restart your phone, and use that PIN code to unlock your phone without verifying your Google account.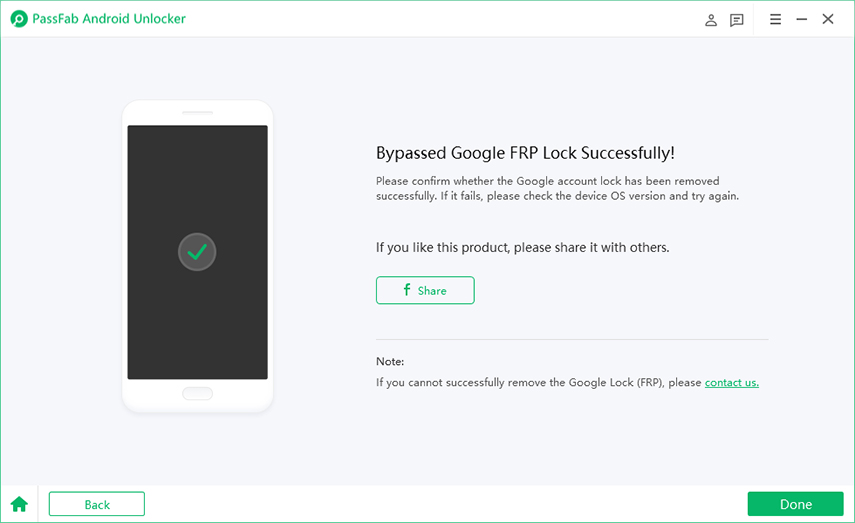 Extra Tip: Shortages of bypassing FRP Lock
While bypassing the FRP lock can be a life-savior, it has some drawbacks too, such as:
When you remove the Google account on your device, all the data will wipe-off as well.
Since bypassing the FRP lock is an easy process, anyone can break-into your smartphone, making your device vulnerable to unauthorized access. Although people won't be able to retrieve any data from your device.
Conclusion
That concludes our guide to perform Samsung FRP bypass using the PassFab Android unlocker. So, if you have been wondering how to get past the Google account verification process, follow the above-mentioned steps and unlock FRP on your Samsung device.