"The Apps in my tablet kept crashing, so I put my device to factory reset. However, after a factory reset, my tablet now asks for Google account details, which I don't remember anymore. How to bypass Google FRP?"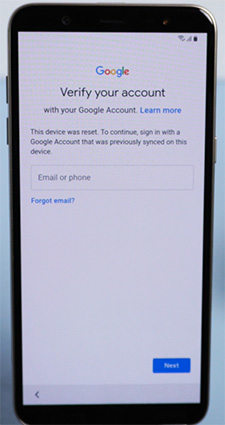 If you're using an Android phone running Android 5.1 or a later version, then you must be aware of the Google lock. Users are required to enter an Email ID and Password as the Google account to use in the Android phone. This account is used to enable the FRP lock on your Android device. Once this lock is enabled on your Android phone, it becomes incredibly difficult to bypass this lock without entering the original Email ID and password.
Unlike most other Android locks, a Google lock cannot be bypassed by performing a force reset on your device. If you've forgotten the Email ID or Password that you used while enabling the Google lock, then don't worry! In this article, we will thoroughly guide you on all the possible methods that you can use to effectively bypass the Google FRP lock on your Android device with computer.
Part 1: What is FRP? Can FRP Be Bypassed?
Before we start discussing how to bypass FRP with comouter. It's necessary for you to fully comprehend what the FRP is and how it protect your android phone. Basically, Factory Reset Protection or FRP is a security measure taken by smartphone manufacturers and tablets. The purpose is to prevent the client from the security breach when the device gets stolen. The thief usually wipes off your data and performs the factory reset. FRP plays a significant role here.
It asks for the user's credentials before reset. If the person performs the reset without providing account details, the device will stop functioning. It will keep asking for the details of the previous owner. If the person fails to provide information, after a couple of attempts, it will be blocked.
Now, the question arises, can FRP be ever bypassed? So, the answer is Yes! There are genuine cases where the owner has locked themselves out of their devices. In such cases, FRP can be bypassed. If you have SAMSUNG and something similar has happened to you, we will tell you a few ways how to bypass Google verification with a computer.
Part 2: How Do I Bypass FRP with A Computer?
We have compiled the best methods for you to bypass FRP with pc. Furthermore, we have the most-effective FRP bypass tool to unlock that will bypass the FRP even on SAMSUNG devices with the help of a computer. Here are the 4 best methods to bypass your Google verification with a computer:
Method 1: Bypass Samsung FRP with Computer via PassFab Android Unlocker
If you have locked yourself out of your tablet or Samsung device, Google Lock bypass tool - PassFab Android Unlocker has got your back. It is a professional Screen and FRP Unlocker with easy-to-use features and a friendly interface. And now it supports Samsung with Android 6/7/8/9/10/11.See the steps below to bypass FRP Unlock with the computer using this amazing tool.
Step 1. First of all, download and install PassFab Android Unlocker on your PC.

Step 2. Then, connect your tablet to the PC via USB cable. Launch the application and select "Remove Google Lock (FRP)."

Step 3. Now, select your Android version and click "Send Notification".

Step 4. Make sure your device has connected to Wi-Fi, and PassFab Android Unlocker will send a notification to the device.

Step 5. If your Android is Android 11, follow the on-screen instructions to set up your Samsung device.

Step 6. If your Android is Android 6/9/10, follow the on-screen instructions to set up your Samsung device.

Step 7. If your Android version is Android 7/8, follow these instructions on the interface to set up Samsung device.
Note: The new method of bypassing Google FRP lock is upgraded, the success rate is higher. Worth trying!
Also Read: How to Bypass FRP Lock on All Samsung Devices
Method 2: Bypass Google FRP using Pangu FRP Bypass
Here is another FRP Lock bypass tool to use on your Android phones by connecting it with the computer. Pangu FRP bypass is used to bypass the Google account easily. The good thing is that it is free and compatible with Micromax, Samsung, and Motorola devices. Check the steps below to bypass frp with a computer using Pangu:
1. Install it on a PC and connect your device using a USB cable.
2. Run it, and it will ask you to add details to unlock the FRP account.
Method 3: Bypass Google Lock without OTC using Sidesync
The third method to bypass the Google Lock with a computer is by using a software named Sidesync. See the steps below to see how to use it:
1. Download and install Sidesync.apk. Also, connect the device with PC.
2. Then, a pop up will appear. Select Open with Chrome to download the file.
3. Next, go to Play Store from the device you want to bypass the FRP land install ES File Explorer.
4. Open the ES File Explorer and install APK from the download folder.
5. Click Backup and reset. Finally, tap on Factory Data Reset.
That's all; your FRP will no longer be active.
Method 4: Bypass FRP with OTC using Samsung SRP settings.apk
The last method involves the use of OTG and a drive. Follow the steps below to see how to Bypass FRP with the computer:
1. First, download Samsung FRP settings.apk
2. Then, copy the APK file to USB.
3. Use OTG cable to connect the device with PC.
4. Now, install the apk file. It will ask you to grant permission to access the phone. So, allow the permission to continue to the next step.
5. Go to Navigate and Reset. Select "Factory Data Reset." The device will reboot, erasing all the data, including Factory Reset Protection Lock.
FAQs: People Also Ask About Bypassing FRP
Q1. How do I turn off the FRP lock without a computer?
You can use the FRP removal service or the FRP bypass apk to remove the FRP Lock without the need for a PC.
Q2. How do I bypass Google verification after resetting the PC?
You can use the professional tools like PassFab Android Unlocker to bypass Google verification even after the reset. It doesn't matter if you have completely forgotten the login details of your Google account.
Q3. Does Odin remove FRP Lock?
Yes, but you must flash the unit with Odin. As it is a factory reset protection, so to override it, you must do the flashing.
Final Words
If you have forgotten your Google details and want to reset, we have compiled four methods for you. Initially, we saw what FRP is. Then, we discussed how to bypass the FRP Lock with the computer. On top of everything, we covered the best possible method, PassFab Android Unlocker in detail. I am sure this step-by-step guide helped you in resolving your FRP issues. If you have further questions, let us know in the comments section. We will try our best to answer all your quires as soon as possible.