Being one of the advanced platform iOS devices are known not only for the latest apps but for the extreme security measures implemented on the devices; all thanks to iCloud activation lock. This security measure was added to prevent any unsanctioned factory reset.
But this feature has become a thorn for the people who buy used iOS devices. As this feature stops them from resetting the used iOS device if the previous owner failed to remove the iCloud account. In this type of situations, the recommended choice is to ask the owner for the password and ID. But if that is not going to happen, you need to use an iCloud unlock tool. Now, DoulCi iCloud Unlocking Tool is very popular, and quite a lot of users have asked us about its credibility.
So, if you are interested in this iCloud bypass tool, then check out our DoulCi tool review, below.
Part 1. What is DoulCi Activator?
The DoulCi Activator is a free software designed to bypass the iCloud activation lock. This tool creates a mirror server via iTunes. Basically, the developers of DoulCi found a weak point in Apple's security with the help of iTunes and used it to create an effective tool capable of bypassing the iCloud activation lock.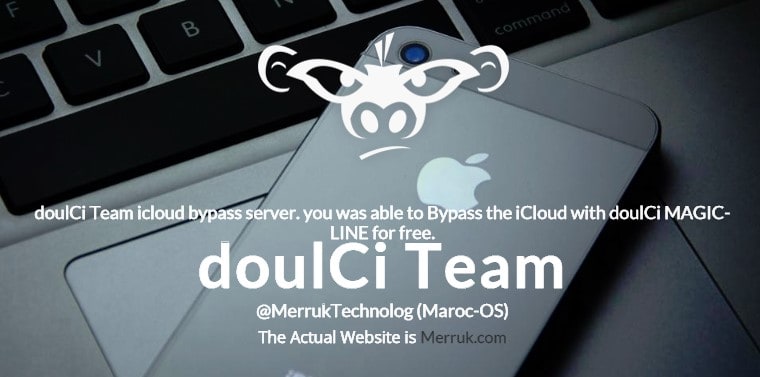 Part 2. Is DoulCi iCloud Bypass Server Legit?
Yes, Dolci iCloud bypass is a legit tool. But it only works on iOS 7.1.2 or older iOS versions. The operation of DoulCi activation lock bypass tool is not known to many people. The secrecy is understandable, as these type of tools pose a threat to data safety, and if the technique they are using becomes public knowledge, millions of iOS devices would be at risk.
Due to this secrecy, some of the customers questions the legitimacy of this tool. But this is a legit tool; there is nothing to worry.
Part 3. How to Download DoulCi iCloud Unlock Tool?
Currently, none of the DoulCi activator download links are available, but it is also true that such link never actually existed. So, if you see any DoulCi free download link on the internet, stay away from it. It is a scam.
DoulCi never actually shared any such links. When DoulCi was active, it operates completely online. You had to fill out a form providing details of your iPhone and contact information. After the details are verified, the DoulCi team would unlock your iPhone, free of cost.
But there is a 2020 update for DoulCi. There are 2 versions of DoulCi activation lock bypass tool available, V9 and V7. These are downloadable versions. But there hasn't been any news of these versions being effective with the iOS 13.
Part 4. Key Features of DoulCi Activation Lock Bypass Tool
Now, let's check out the key features of DoulCi tool.
This tool is available for free
Works on all iPhone models
The latest updates capable of working with the latest iOS version
Part 5. Best Alternative to Doulci – PassFab Activation Unlocker
There was a time when DoulCi was considered one of the best ways to unlock and OS device. But DoulCi isn't active anymore. So, if you are struggling with your iPhone and looking for a tool to bypass the iCloud lock, you will need an alternate solution. Now, if you search the internet, you will stumble upon several verified options. And these are good, and working unlock tools that are providing their services for unlocking the iCloud lock.
But as you can guess from our DoulCi review. In its time, DoulCi was the best. Once you are accepted, there was no doubt that you will get your iPhone unlocked. They took time, but there was a guarantee. But most of these tools are good, but they don't provide guarantee success. The only exception is PassFab Activation Unlocker.
So, with its 100% success rate; PassFab Activation Unlocker is considered the best alternative for DoulCi tool. But PassFab works very differently compared to DoulCi. We have laid out the operational details below. You can check it out.
Step #1: Download PassFab Activation Unlocker on a computer. Complete the installation. Select Remove iCloud Activation Lock.

Step #2: Launch the program and click on the 'Start' button to proceed.

Step #3: There will be an agreement message, read it and click 'Next'. Then, you have to connect the locked iOS device to the computer.
Step #4: Once the device is connected, you will be asked to jailbreak the device. PassFab will download the jailbreak tool for you, don't worry.

Step #5: After downloading the tool, burn the jailbreak tool into your USB. Follow the tutorial to jailbreak your device.

Step #6: When jailbreaking is finished, click on 'Start Remove'. The program will start removing the iCloud lock.

Step #7: After the removal of the iCloud lock, you will be notified. Click on 'Done' to close the program.
Part 6. Doulci VS PassFab Activation Unlocker
| | DoulCi Activator | PassFab Activation Unlocker |
| --- | --- | --- |
| Availability | Not easily available | Easily available |
| Compatibility | Works with all iPhone models | Works with all iPhone models |
| iOS Compatibility | The older version works with iOS 7 and older versions. The latest version somewhat works with iOS 13 | Works with iOS 15 and older version |
| Jailbreak | Not required | Required |
| Cost | Free serviced | Free trial available |
| Effectiveness | Older version was great, but the newest versions are not much. | Guaranteed success |
Final Words
Therefore, DoulCi was great once upon a time. But since then a lot has changed. DoulCi Activator became obsolete after the release of iOS 8, and since then, Apple has tightened the security protocols. But after the launch of downloadable versions of DoulCi, people were optimistic.
But these don't have that same magic. But you can use them, they may not be the best, but they work. If you are looking for the best tool for unlocking the iCloud lock, then use PassFab Activation Unlocker. It is far better and provides guaranteed success.