There are some unfortunate times when you forget the password and cannot open, read, or modify the data as you normally do. In this case, you need an Excel password recovery tool to get access to your data. To make things easier for you, we are going to review one of the best software for Excel password recovery named PassFab for Excel.
In this review, we will cover everything you need to know about PassFab for Excel Password Recovery Tool, including its features and a comprehensive guide on how to use it. So, without further ado, let's get started!
Part 1. What is PassFab for Excel?
PassFab for Excel is a password recovery tool that recovers your forgotten passwords for Microsoft Excel in a matter of minutes. It is highly efficient and also removes any protection/encryption from any excel sheet or workbook. The best thing about this tool is that it ensures getting things done for you without altering or damaging your data. It comes with three different password recovery approaches that can effectively recover your forgotten password without breaking a sweat. It can also remove the restriction password on your workbook structure or worksheet that is sometimes applied and prevents you from copying, editing, and printing your data.
Part 2. Is PassFab for Excel Safe?
Now, you may be wondering if it is safe to use PassFab Excel. The answer is, "Yes." We have tried PassFab for Excel Password Recovery, and we can confidently say it is 100% safe and secure. It's free of malware, spyware, and viruses. If you are still not convinced, you can check the reviews of the PassFab for Excel on their official site to get a better of what people are saying about it. The best part is that their official website is also protected by McAfee.
Part 3. Is PassFab for Excel Free?
To be honest, you cannot expect such a versatile and powerful software to be completely free. PassFab for Excel comes with a free trial with limited features that you can use before deciding to upgrade to the full version. Meanwhile, the paid version comes with tons of features that can make things quite easy for you. Furthermore, you have the option to opt for a monthly, yearly, and lifetime license depending on your needs.
Part 4. Key Features of PassFab for Excel
PassFab is famous for its professional services, and all the tools that PassFab provides always cease to be successful in their work. Just like that, PassFab for Excel is also an amazing software that makes it its duty to satisfy users by giving many key features that other programs do not include. Let's see what these unique features are:
It is the easiest solution to recover and remove Excel password on a Windows Operating System.
PassFab for Excel makes sure to keep the original data of the user intact and safe from any damage during the password recovery process.
It supports all primary Excel file types.
This tool comes with 3 different password hunting/attacking approaches that can extract your forgotten password in a matter of minutes, no matter how complex it is.
It is extremely simple and easy to use the tool. This is the biggest advantage for beginners or non-technical people.
It supports Windows 10, 8.1, 8, 7, Vista, XP, as well as Windows server 2019, 2016, 2012, 2011, 2008. Furthermore, it supports both 32-bit and 64-bit versions as well.
This program recovers your password in 3 major steps.
It comes with a minimalistic, self-explanatory, and user-friendly interface, which makes it easy to use.
Unlike other tools, PassFab for Excel offers a relatively high success rate (96%).
Part 5. Where to Download PassFab for Excel
As we all know, there are dozens of software downloading websites on the internet. Some of these websites may also offer you to download PassFab Excel Password Recovery. However, it's important to understand that most of these websites are full of malware, spyware, and viruses. Therefore, always make sure to download PassFab Password Recovery Tool from the official website of the PassFab. This way, you can also be sure that you have downloaded the latest original version of the tool.
Part 6. How to Use PassFab for Excel
Now that you know all the basic details about PassFab for Excel Password Recovery, let's review how to use this tool effectively. To be honest, the interface of the software is pretty self-explanatory and you don't really need a guide. However, we are still sharing a step-by-step guide for our non-tech folks to help them. PassFab for Excel recovers the password for your spreadsheets/workbooks in 4 simple steps. So, let's check these steps in detail:
RECOVER EXCEL OPEN PASSWORD
1. The first and foremost step is to download and install the PassFab for Excel on your Windows-based computer system. Then, open the installed program and click on the 'Recover Excel Open Password' option on the main interface.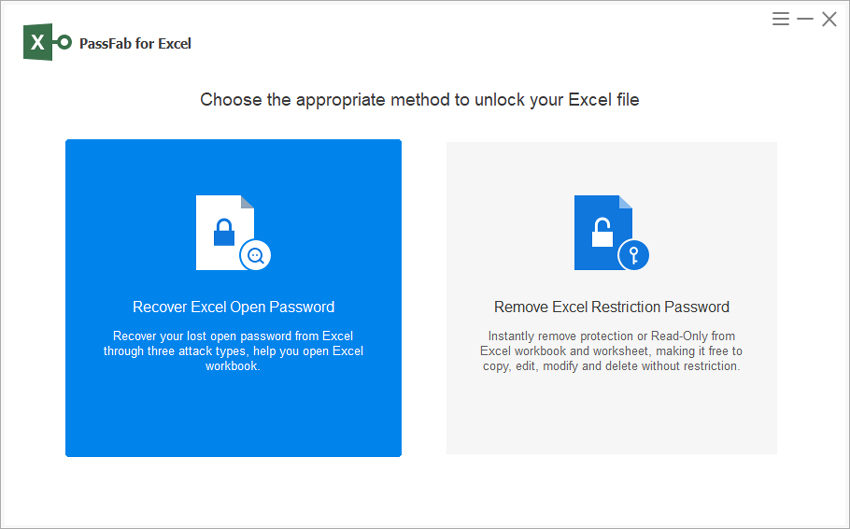 2. Now, click on the 'Please import Excel file' option to import your Excel workbook to this software. Simply browse and select the protected workbook for which you want to recover the password. Once this is done, the software will start detecting the encryption algorithm and determine the password's complexity.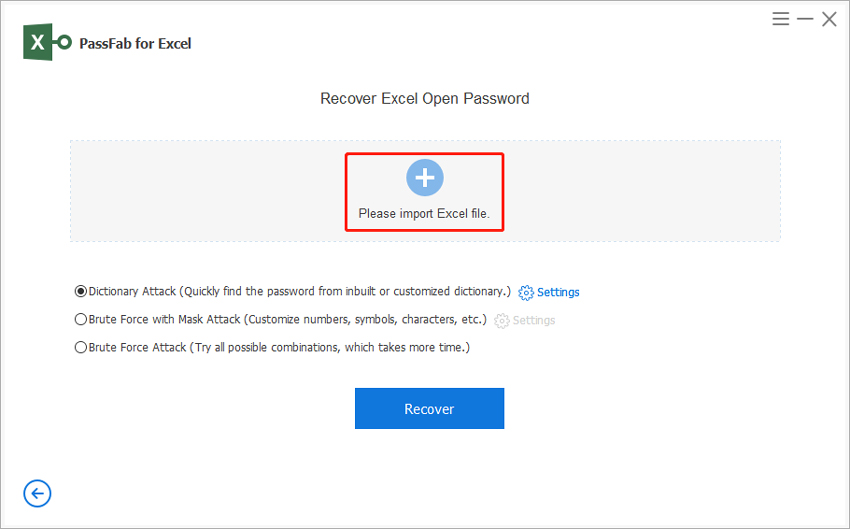 3. The next step is to select a password recovery mode. You have 3 options: Dictionary Attack, Brute Force with Mask Attack, and Brute Force Attack. You can select any password recovery method depending on your preference. Here is how these attacking methods work:
a) DICTIONARY ATTACK: This works when you know your previously used Excel file passwords. You just need to gather them in a single txt file and import it to the software. It would give you the exact password for the excel file in return. If it doesn't work, you can click on the 'Download Dictionary' feature to download the full dictionary of passwords from PassFab. The program will then use this dictionary to recover your password.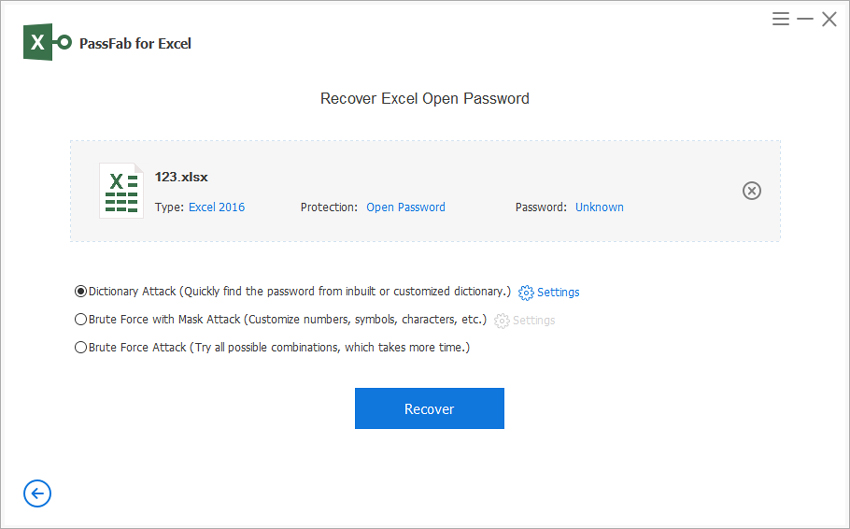 b) BRUTE FORCE WITH MASK ATTACK: You can use this approach when you have some certain clues about your password. These clues can be the length of the password, prefix, suffix, etc.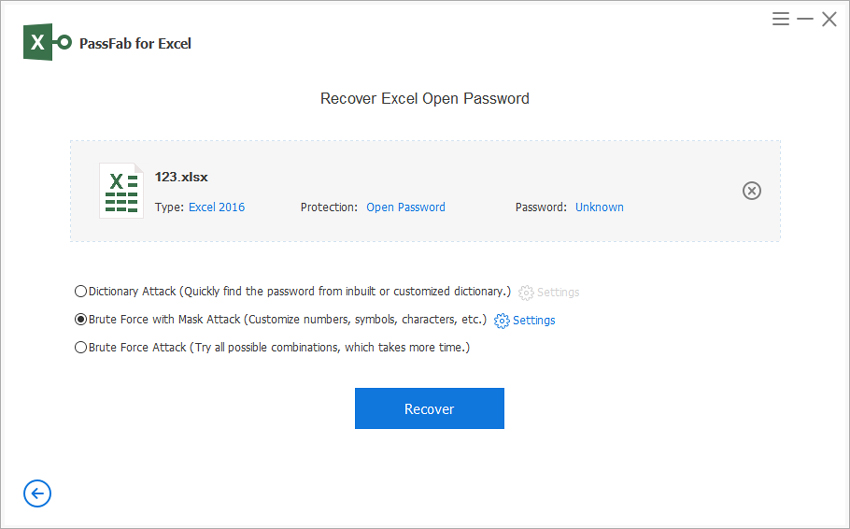 c) BRUTE FORCE ATTACK: Don't worry even if you don't remember anything related to your password. You can still use Brute Force Attack as your last resort. This method usually takes more time than others but will surely recover your password by trying all the possible combinations.

After you have selected your mode of password recovery, simply click on the "Recover" button to begin the recovery process.
4. Now the software will start recovering your Excel password, and within just a small amount of time, you will be presented with your correct password.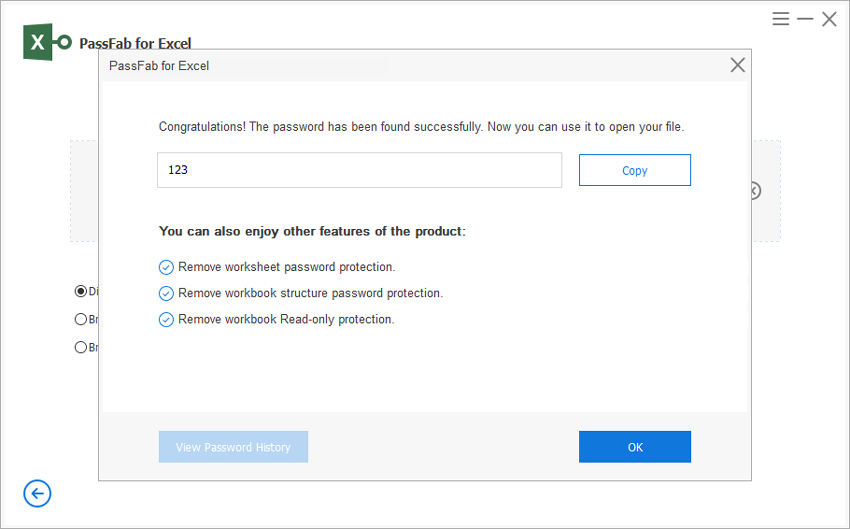 REMOVE EXCEL RESTRICTION PASSWORD
1. First of all, you need to open PassFab for Excel on your computer system and run the program. Then, select the 'Remove Excel Restriction Password' option from the main interface.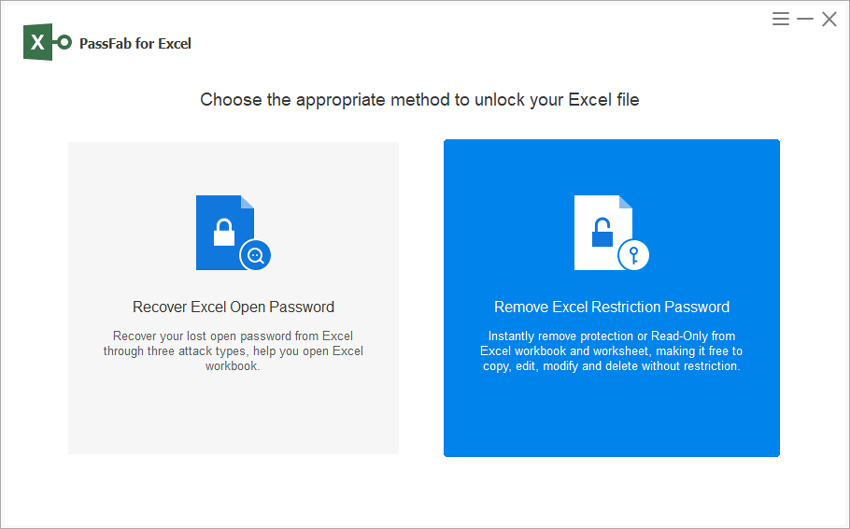 2. Now, click on the 'Please import Excel file' option and tap on the 'Remove' button to initiate the removal process of the password.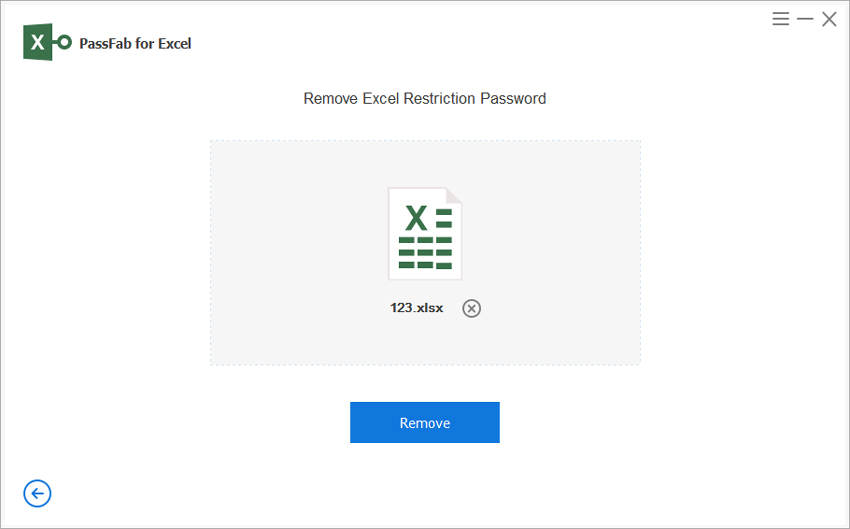 3. The last step is to click on the 'Open Folder' option, and here you can see the new file without any password restriction.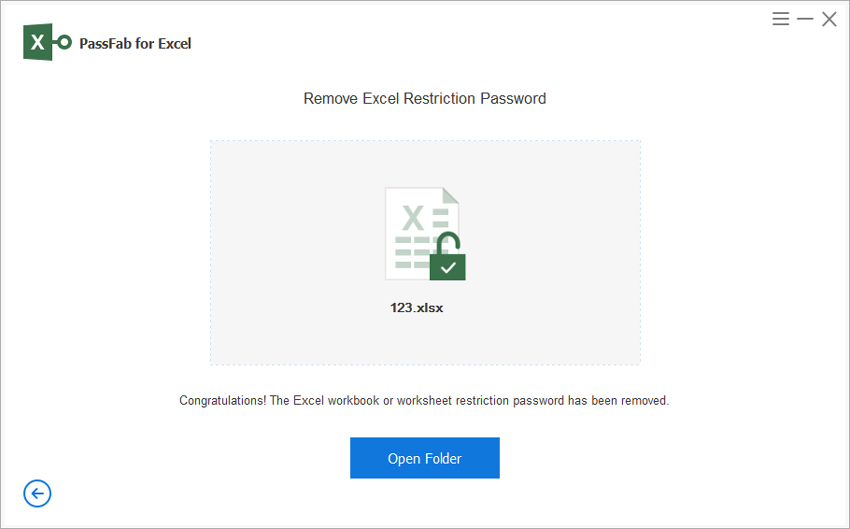 Final Words
This article provides you with a detailed review of PassFab for Excel Password Recovery. It contains each and every information that you need to know before using PassFab for Excel software. It's one of the best tools for excel password recovery, and it's 100% safe. We highly recommend this software, and we hope this review was helpful. If you are still not convinced, you can check buyer reviews for PassFab for Excel to get a better idea of its efficiency.