If you forgot PDF password, you will need a PDF Password recovery tool. However, there are tons of recovery tools, and it's nearly impossible to make the best choice. I know it's a tough situation but don't worry. Today, we are here with the review of a PDF Password Recovery Tool named "PassFab for PDF" that will resolve your issue in a matter of minutes. So, without further ado, let's get started.
Part 1. What is PassFab for PDF?
PassFab for PDF is a utility tool from PassFab that allows you to unlock password-protected PDF files. This tool can effectively recover your forgotten/lost PDF password allowing you to lift the copying, editing, and printing restrictions. It comes with a user-friendly interface and recovers your PDF password in 4 simple steps. It's fast and accurate, making it the most efficient PDF password recovery tool.
The best thing about this tool is that it supports all the versions of the Adobe Acrobat and other PDF applications as well. Most importantly, it makes sure to keep your data intact and guarantees 100% password recovery.
Part 2. Is PassFab for PDF Safe?
Now, comes the most crucial question: Is PassFab for PDF safe? We personally tried PassFab for PDF Password Recovery on different PCs before writing this review. Therefore, we can assure you it's completely safe and secure. It is completely free of Malware, spyware, and viruses.
Furthermore, their website is protected by McAfee as well. Most importantly, PassFab doesn't collect user's information, unlike most online password recovery tools. More Than 2,160,000 Users around the globe trust PassFab for PDF, and you can check their reviews to get a better idea about the safety of this tool.
Part 3. Is PassFab for PDF Free?
Sadly, PassFab for PDF isn't free. However, it comes with a trial version that you can use to get a better idea of its capabilities before buying the paid version. Obviously, the free version comes with limited features, and its main goal is to give you hands-on experience.
To get the full features, you have to upgrade your subscription. PassFab offers 3 choices for the premium subscription. You can choose from monthly, yearly, or lifetime subscription depending on your needs. The best thing is that it comes with a 30-days money-back guarantee. So, even if you don't like the product, you can get a 100% refund within the first 30 days.
Part 4. Key Features of PassFab for PDF
Aside from effectiveness and efficiency, PassFab for PDF comes with several key features. So, let's review some of the most prominent features of PassFab for PDF Password Recovery!
Fast and Accurate.
Supports all the versions of the Adobe Acrobat and other PDF applications as well.
Runs perfectly on all versions of Windows, including Windows 10, 8.1, 8, 7, Vista, and XP. Furthermore, it is also compatible with Microsoft Server 2019, 2016, 2012, 2011, and 2008.
It has a very friendly and self-explanatory user-interface. It's so easy to use that even a layman can use it to effectively.
100% safe and secure.
Recovers the PDF password in 4 simple steps and offers 3 different password recovery modes.
Unlike other online tools, PassFab doesn't save your information on its servers.
Supports multi-core CPU acceleration to give you up to 40 times faster recovery.
Comes with free customer support and lifetime updates.
Part 5. Where to Download PassFab for PDF
PassFab for PDF may be available for download on several websites and directories on the internet. However, most of these websites are full of Malware, Spyware, and viruses. Now, I don't need to explain how damaging these viruses can be for your PC. Therefore to keep yourself safe, always make sure to download PassFab for PDF from the official website of PassFab. This way, you can also be sure that you have downloaded and installed the original version of the tool.
Part 6. How to Use PassFab for PDF
Now that you have all the necessary information on the PassFab for PDF Password Unlocker, let's review how to use it effectively with a step-by-step guide. PassFab for PDF recovers your forgotten/lost password in 4 simple steps. Let's have a look at these steps in detail.
Step 1. First of all, you need to download and install PassFab for PDF on your PC. Once you have installed the program, run it as an administrator.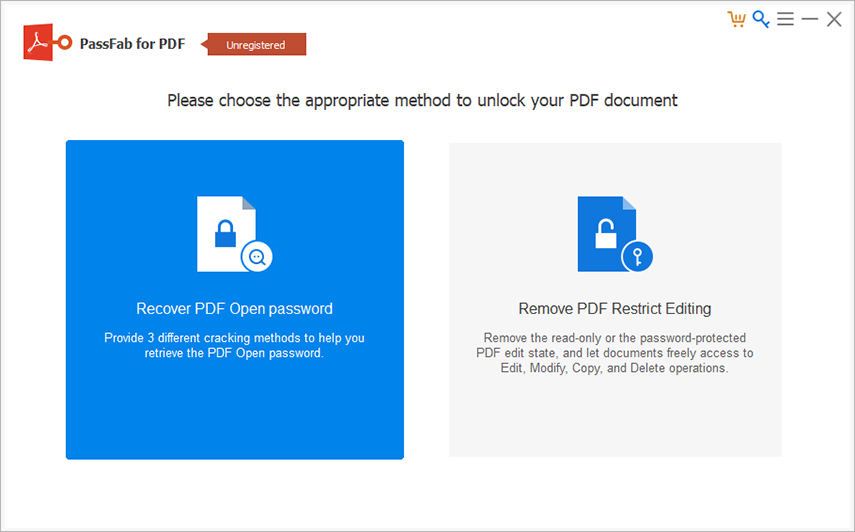 Step 2. Once you are on the main interface, click on the "Add" button, browse the files, and finally select the protected .pdf file. The program will now automatically analyze and determine the difficulty/complexity of the password.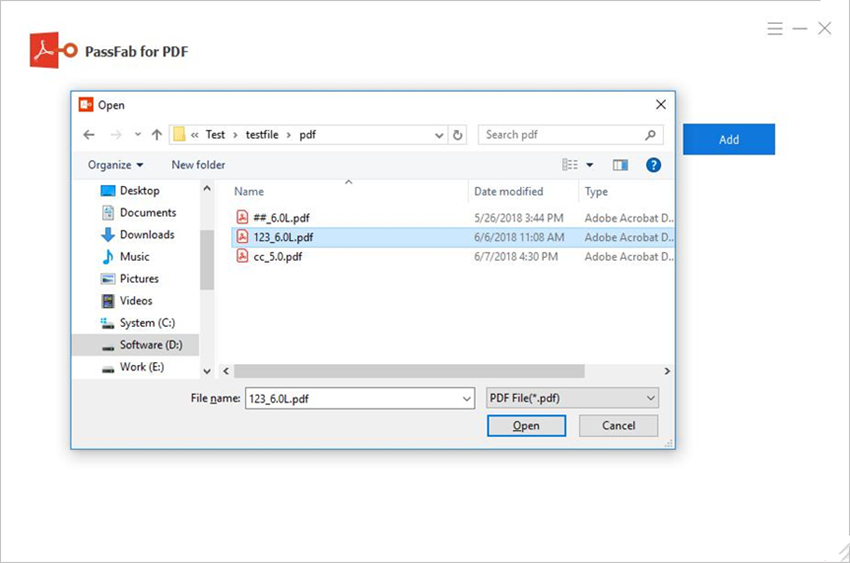 Step 3. Next, you have to select a password recovery mode. This tool comes with 3 different password attack types, i.e., dictionary attack, brute force with mask attack, and brute force attack. You can select any of these 3 attack modes depending on your preference and what you remember about your password. For example:
a. Dictionary Attack: You can choose this method if you remember your previously used or most frequently used passwords. All you have to do is write all your passwords in a text file and import it to the PassFab, and it will recover your password for you. If that doesn't work, you can also download the full dictionary of passwords from the tool, which will eventually recover the password.
b. Brute Force with Mask Attack: You should choose this attacking mode when you remember some details regarding your forgotten/lost password, i.e., number of characters, prefix, suffix, etc.
c. Brute Force Attack: You should select this method when you don't remember any details regarding your password. As the name suggests, this attacking mode will try all the possible combinations of characters until it finds your password. Therefore, this method may take more time than others, especially if you used a complex password. However, it guarantees 100% recovery.
Step 4. Once you have selected the attacking mode, click on the "Start" button to initiate the recovery process.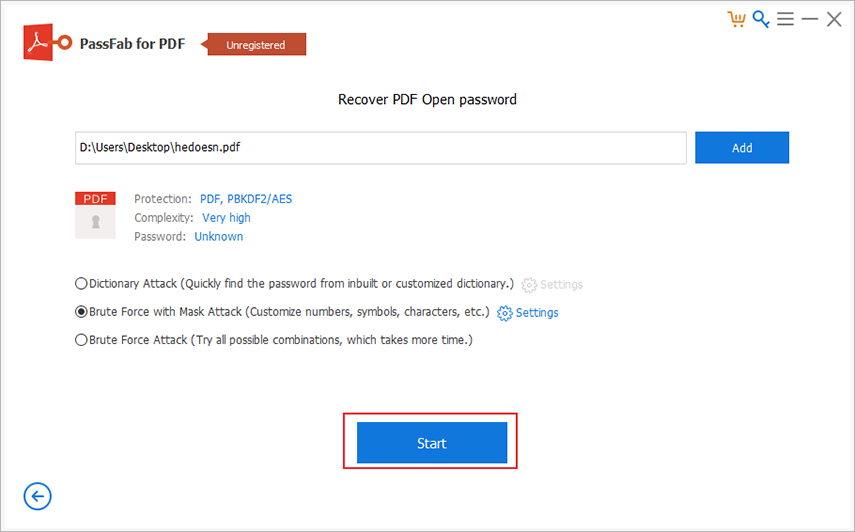 Step 5. Now, simply wait for the recovery process to be completed. A new pop-up window will open after a few minutes, showing you the recovered password for your PDF. You can copy the password to unlock your PDF. That's it!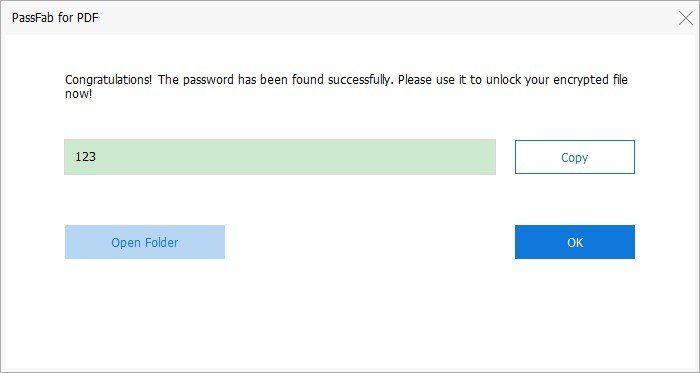 Bottom Line
This article provides you with a detailed review of PassFab for PDF Password Recovery. It covers all the essential details that you need to know before using it. We also shared a detailed step-by-step guide on how to use PssFab for PDF to recover any .pdf file. In our experience, it's one of the most effective and straightforward tools for PDF password recovery. If you have forgotten/lost your PDF file, you should give it a try, and I am sure you won't be disappointed at all.
I hope our PassFab for PDF review helped you in some way. If you have any further questions, let us know in the comments down below. We will try our best to answer your queries as soon as possible.