Some people tend to forget their RAR password at times. For this purpose, we have given a review of an amazing tool named "PassFab for RAR" that can efficiently recover your lost password. In this review, we will focus on what PassFab for RAR is, whether it is safe, where to download it, its key features, and a complete guide on how to use it for your RAR password recovery. Keep on reading to find out more!
Part 1. What is PassFab for RAR?
PassFab is well-known in producing effective and genuine tools that cease to be the perfect solution for your problems. PassFab for RAR is the best and the most comprehensive solution to recover forgotten or lost passwords for any RAR or WinRAR archived files.
It has a strong integral CPU acceleration, which ensures a speedy recovery. Like most of PassFab's tools, PassFab for RAR ensures that the user does not lose any data while recovering their password. Providing three different kinds of dominant attack approaches, PassFab for RAR satisfies all the needs of the user.
Part 2. Is PassFab for RAR Safe?
The safety of any software is extremely important. Fortunately, PassFab for RAR is 100% safe to use. It does not include any type of viruses, spyware, or malware that may destroy your personal data. Therefore, you can trust this software blindly, especially when it comes to its safety.
Part 3. Is PassFab for RAR Free?
It is almost impossible to find such an amazing tool for free. However, it comes with a free trial that you can surely make use of. The free version only allows you to install the software and recovers only a fraction of your password. Meanwhile, if you use the paid version, you will get access to various unique features not available in the free trial.
The paid version makes sure to fully recover the password of your archive files and then displays your complete password. You can choose from their monthly, yearly, or lifetime package. Now, it's time to talk about the key features of this software. So, let's get going!
Part 4. Key Features of PassFab for RAR
PassFab for RAR never leaves a user disappointed. PassFab guarantees perfection in every way. Therefore, this tool is packed with extremely unique and effective features. So, what are we waiting for? Let's dig into these key features:
An efficient tool in terms of recovering your forgotten or lost password for RAR and WinRAR archive files.
Supports GPU acceleration for an extra speedy recovery.
This software recovers your RAR password in 3 major steps.
PassFab for RAR has a very simple and user-friendly interface, which makes it a perfect choice for non-technical users.
It provides you with 3 distinguished and powerful password attack types that will help you recover your password.
PassFab for RAR supports Windows 10, 8.1, 8, 7, Vista, and XP. It also runs on Windows Server 2019, 2016, 2012, 2011, 2008, etcetera.
100% safe and secure.
Accurate and Fast.
Part 5. Where to Download PassFab for RAR
Although PassFab for RAR is available on many sites, you should always download it from the official website of PassFab. This way, you will be installing the latest and professional version of the tool. This will also ensure that your downloaded program does not come with any viruses, spyware, or malware.
Part 6. How to Use PassFab for RAR
Now that you understand everything you need to know about PassFab for RAR, it is time to review how to make use of this tool. The instructions to use this software are very straightforward and easy. Just follow these simple commands in a step-by-step manner, and you are good to go:
1. First of all, you need to download and install PassFab for RAR on your computer system. Then run it as an administrator, and you will see the main interface of the program.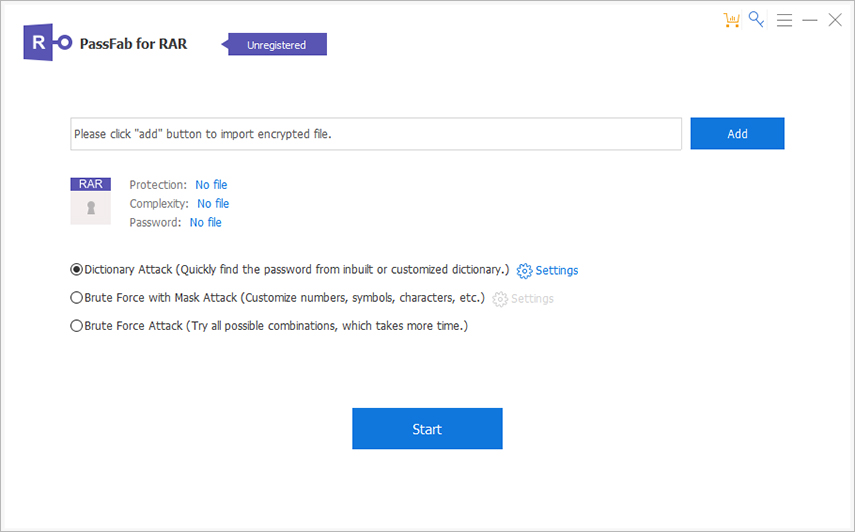 Now, click on the "Add" button to import your encrypted RAR archive file. PassFab will automatically detect the density and complexity of your password.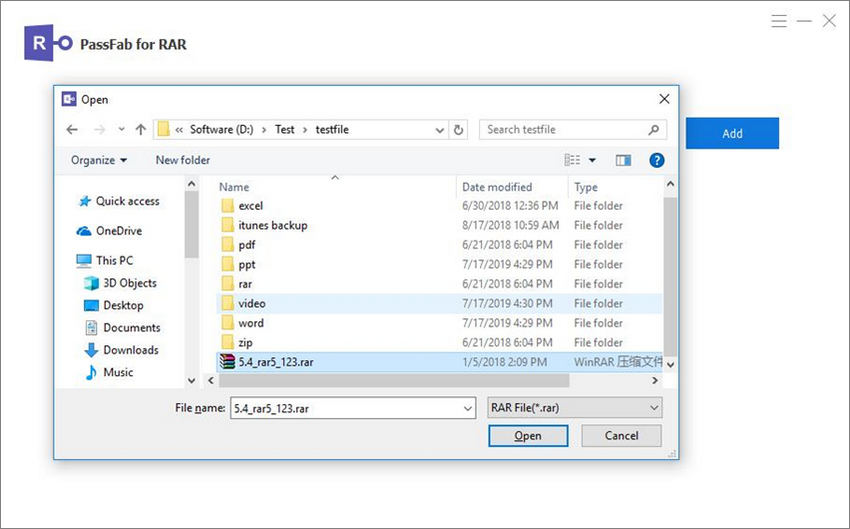 2. The second step is to select an attacking mode for password recovery. PassFab offers 3 distinct attacking modes: Dictionary Attack, Brute Force with Mask Attack, and Brute Force Attack. You can choose any mode, depending on your preference. You can check the description of these attacks below to learn how to choose an attacking mode efficiently.
a) DICTIONARY ATTACK: This method recovers your password from a dictionary of passwords. You can import your own password dictionary to the program by writing all recently used passwords in a text file. Alternatively, you can download the full PassFab password dictionary and use it to recover your password.
b) BRUTE FORCE WITH MASK ATTACK: It's best to use this attacking mode if you have some clues about your password, i.e., length of the password, prefix, suffix, etc.
c) BRUTE FORCE ATTACK: Your last resort is Brute Force Attack. If nothing works, then you can always use this option. As the name suggests, it would try all the possible combinations of characters until it finds your password.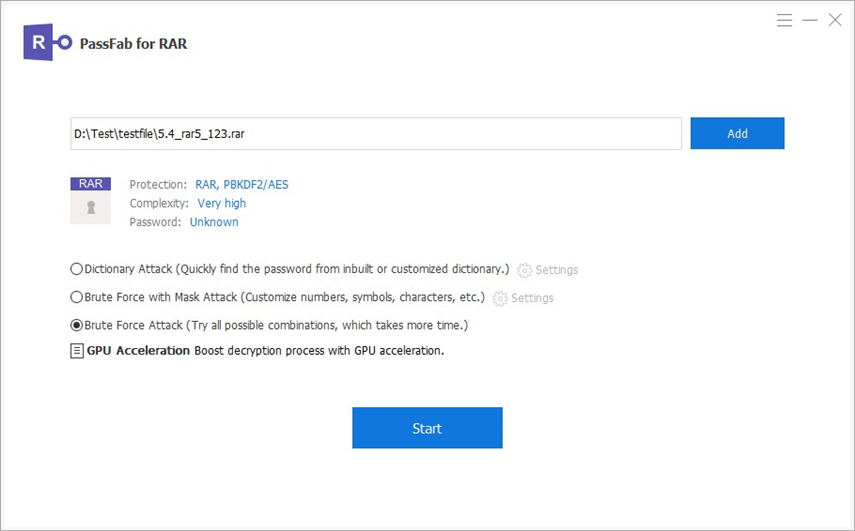 3. Once you have selected the attacking mode, click on the 'Start' button to initiate the recovery process. This may take some time, depending on the complexity of your password and attacking mode. So, just be patient. After a while, the program will successfully recover your RAR password and present it on a screen. Now, you can use this password to get access to your files.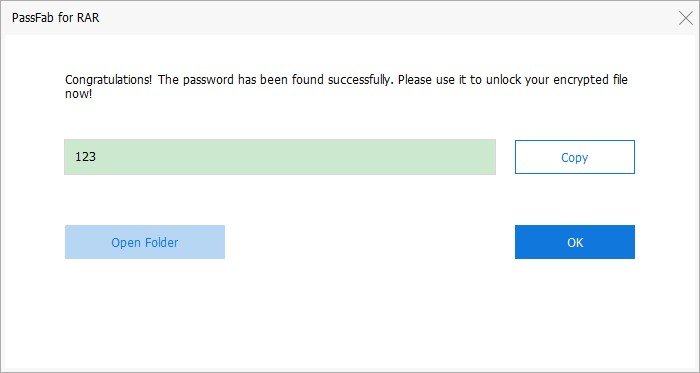 Bottom Line
So, that's it, guys! Our review of PassFab for RAR password recovery tool end here. In this review, we tried to cover everything you need to know about PassFab for RAR password Recovery Tool along with a comprehensive step-by-step guide. I hope this was helpful. All in all, I would say, PassFab for RAR is simply the best tool when it comes to RAR password recovery. If you still have any doubts, you can also go through the reviews of 3,106,000 people who have used PassFab for RAR and completely trust it.