Is PassFab for ZIP reliable? By reading this review you can decide yourself whether to try it or not. It's one of the best tools we have ever come across; If you have a look upon its reviews then you can see that people are admiring it very much even its one of the fast growing tool these days. Let's read the below content to know about a detailed PassFab for ZIP Review.
What is PassFab for ZIP?
ZIP files are one of the best things to organize files and documents even it plays important role in reducing space requirement for folders and files. It also let you protect the files from unauthorized access using a password. The most frustrating thing is that when you receive an important ZIP file from your friend or employee but he neglect to send the password and you cannot have access to that file. In order to deal such situations we are here with an amazing tool that will help you to remove or unlock password protected ZIP file.
PassFab for ZIP is a well-designed ZIP file Password recovery tool, it instantly removes or recovers the lost password of ZIP file. It works for all kinds of ZIP archive (.ZIP). It works efficiently; it does not harm or damage a single file. It is so reliable, it provides 3 attack types to retrieve password, and user can choose an appropriate attack type according to her own choice.
Is PassFab for ZIP Safe?
Protecting files with passwords is one of the best things to keep the file safe from unauthorized access but sometimes if you forgot your file password or lost it accidently then you can be in a bigger problem. But with passing each day technology is growing faster, so now there is a solution to every problem, now unlocking protected ZIP files is not a big deal just because of PassFab for ZIP. In this article, we are going to share PassFab ZIP password recovery review.
A Big Yes! It is 10O% safe, this tool success rate is extremely high, professional have tested it many times and they did not come up with a single error while recovery process. It is made by using advance algorithm so try it without fear, your file originality will not loss at all. It is free of harmful viruses and performs its function with fast recovery speed.
Is PassFab for ZIP Free?
No it is not free, but you can take advantage from its free version for limited time if you are out of budget. Professional has also tested it many times but at the end they also rated it 5 out of 5. There are lots of alternatives in the market but when you compare PassFab for ZIP with other tools then you can see a clear difference that no one can replace this tool.
Key Features of PassFab for ZIP
PassFab for ZIP instantly let you recover the protected file password. Its best part is that it doesn't take more time and effort just few steps can give you access to your important file. It is so popular worldwide just because of its user friendly interface and performance.
Though, this tool is associated with lot of features but here we are going to put some shed to its main one.
It recovers all kinds of encrypted ZIP archives.
Its compatibility is so wide, supports almost all Windows.
It supports recovering password for ZIP/WinZIP/7ZIP/PKZIP archives.
How to Use PassFab for ZIP?
This ZIP password recovery tool is really simple to use, even a school going student can try it just by following instructions wisely. Its user friendly interface makes it so reliable to use. Follow below steps and get back your ZIP file password.
Step 1: In the very first step you have to download and launch the PassFab for ZIP. After installation you will be able to see below interface.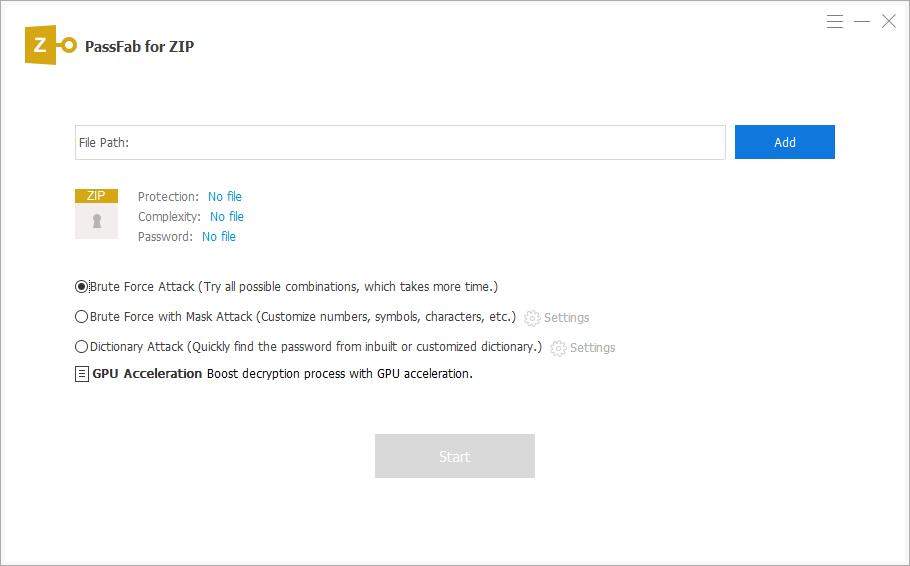 Step 2: In the 2nd step you have to navigate to ADD button to import the file that you want to decrypt.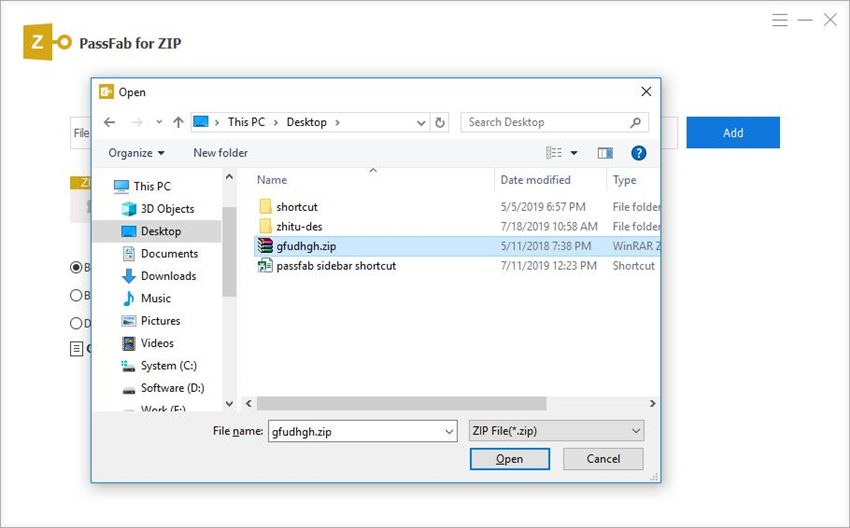 Step 3: After importing file, you have to choose appropriate Attack type according to your choice.
Brute Force Attack: This option is for those who have zero clues about the password. This Attack type will try all possible combinations; there is no need to define any settings. Though this option takes more time but it is the best one to try.
Brute Force with Mask Attack: This option is for those who have a bit clues about the password. In this option you can set minimum/maximum password length etc.
Dictionary Attack: This option is for those who have dictionary of common passwords that you frequently used for passwords. Click Settings and then navigate to add Dictionary to find password quickly. After uploading dictionary, a pop up Window will appear showing upgrading the dictionary library. This step always takes little time.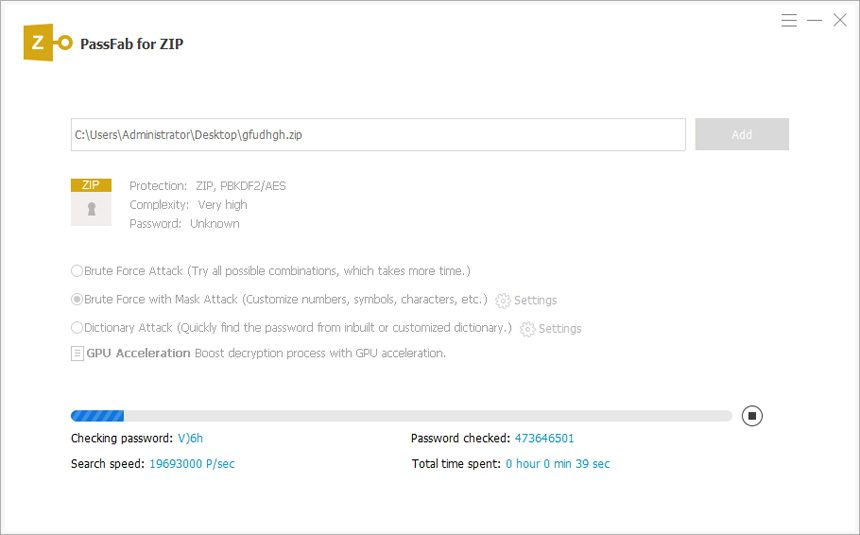 Step 4: It's almost the end, click Start button to start the recovery process. After recovery process, make sure to exit the process and close the program. Finally the password is recovered now you can easily access your ZIP file.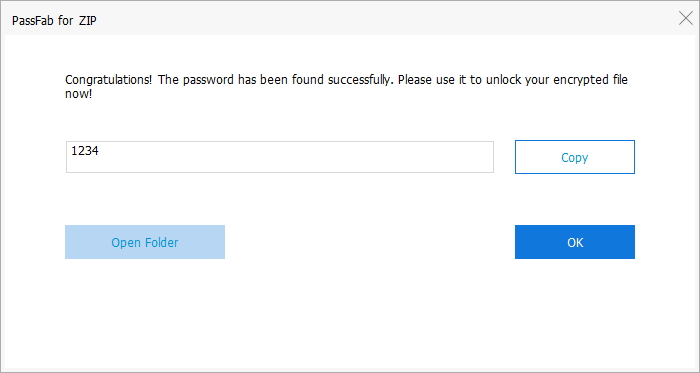 Bottom Line
The short conclusion is that, here you got to see PassFab for ZIP password recovery reviews, a detailed one. This review will make you decide that why to choose PassFab for ZIP. In this article, we have shared almost everything from its features to usage, try it once, we recommend it strongly. After reading this review, you will definitely find perfect match for your ZIP file.