Users in forgetting password situations often keep on searching software that can help them in troubleshooting the problem. And this search ends up, with the best tool that can crack or manage the lost password very easily. PassFab iOS Password Manager is a closure to this search. By using this versatile software users will get the best experience. With highest success rate, this software is favorable and brilliantly reliable for the users. In this post, you will learn the full review about it.
Part 1. What is PassFab iOS Password Manager?
PassFab iOS Password Manager is a software designed to find and search lost/forgotten password on iDevices including iPhone and iPad. All the set passwords on ID's such as Wi-Fi passwords, mail account, app and website login password along with information about Apple ID are recoverable.
PassFab iOS Password Manager in a very straightforward way, searches, find and then exports all the saved password on any iDevice just in very simple steps. It also manages and transfers all the saved passwords with their information on iPad or iPhone.
Being highly favorable and users friendly, it is liked by a number of users and PassFab iOS Password Manager reviews by users are enough to define their satisfaction levels.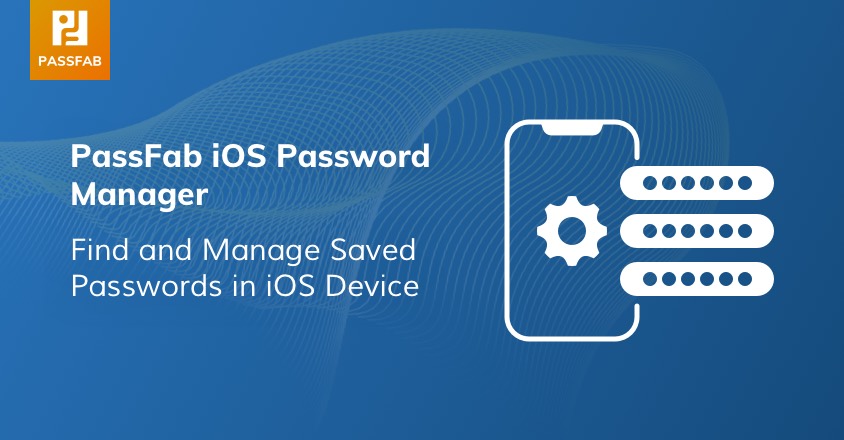 Part 2. Is PassFab iOS Password Manager Safe?
This iOS password manager is developed by PassFab. That has the brilliant reputation as a finest and prime developer for the development of password recovery tools. Just like a number of other software PassFab iOS Password Manager is also the safest and highly secured tool.
It guarantees and promises safety of the saved data in that iDevice.
It finds and manages that data and had nothing to do with the saved items and other sort of data.
Software is designed so, by keeping in view and considering, the interests and concerns of the users, which aims to deal with all the security issues.
Part 3. Is PassFab iOS Password Manager Free?
PassFab iOS Password Manager is shareware. It is not free but has a free trial. When you forget password or fail to have an access to the password which you have set for the Wi-Fi, ID, email accounts, or any website. You need to make use of PassFab iOS Password Manager. Surely, you will find it the best solution to your problem with maximum workability.
Users can download a user's guide for free before using it, to have a look on the features and functioning of the software.
Sometimes, you need to buy the latest version available of PassFab iOS Password Manager. Users also have an access to the free versions available for free and they don't need to pay to download or use these freely available versions.
Users will get the software easily, without deviating to different points.
Part 4. Key Features of PassFab iOS Password Manager
This software is developed by PassFab, which is globally recognized manufacturer of best software. This iOS Password Manager is also one of the leading and finest software by the developers. Ensuring maximum safety and functions without doing anything to the saved data or any ID. Actually, it is general that people may forget the password and it's sometimes become a big deal, enough to cause a mess.
To avoid such uncertainty, and get the password back again or recovered, there is nothing better than PassFab iOS Password Manager. A number of reviews by the users have also made it highly recommendable and preferable. In short, it's a software with features that make it unique.
Without deleting or removing any saved data it searches, finds and exports the saved passwords. So that, the users can again have access to these accounts.
It can deal with all the information, regarding saved passwords no matter what the passwords are.
All the passwords, like for Wi-Fi, website, any app, credit card, screen time, Apple ID, or email saved on iDevice are all recoverable by PassFab iOS Password Manager.
Loss of passwords and ID on any iDevice is not a big matter, this iOS password manager lends a helping hand to the users to have that lost password back again with ease.
The users, who have either forgotten or lost their website or app login information can also be benefited from this software. Instead of being worried or annoyed, they need to make effective use of PassFab iOS Password Manager. It will let them sign in to their accounts with their passwords
This software is compatible with almost all the versions of iDevices, including the iPhone and iPad. It doesn't much dependent upon the versions of iDevice. Just in 3 steps the user gets rid of that awkward situation. And he will get his login information and account back just within some time.
All these features have enhanced the functioning and efficiency of this password manager software.
Part 5. Where to Download PassFab iOS Password Manager
This tool is introduced by PassFab and from the official website of PassFab, you can find and get all the answers to your questions. If you want to download PassFab iOS Password Manager you just have to go to the official website directly. And there you will find the easy setup and download options for the iOS password manager. Just looking at first sight, you will also find a user guide in which you will get a complete package of information and guidelines you need.
Part 6. How to Use PassFab iOS Password Manager
It is a fabulous software that is designed to resolve such issues regarding lost and inaccessible passwords. It's so versatile, that just in 3 steps, the users get access to their accounts. Just by following the easy and simple steps, you can get access to the accounts, the passwords, and information.
Step 1: Connecting the iDevice to the computer:
First of all, make a connection between your iDevice and a computer, which has downloaded and installed iOS password manager. Then to move forward, run the program. Sometimes, it might be possible that the user may have to install the driver.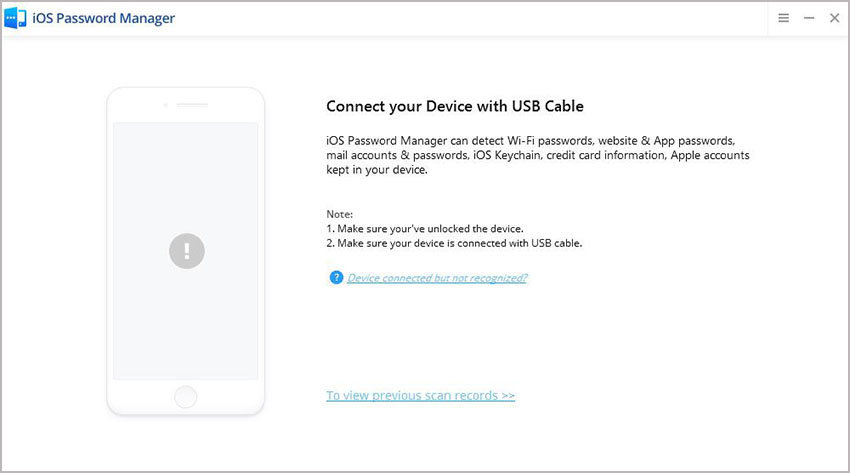 Step 2: Scanning password in the iOS device:
After that, a button named "Start Scan" will appear, you just need to click it to move to the next step.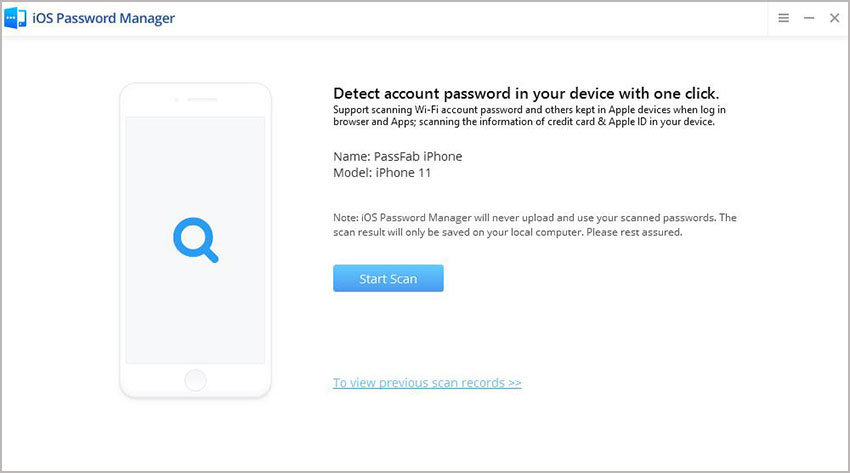 But remember, if your device keeps a backup password. Then this backup password will be asked by the iOS password manager and you need to enter it.
Step 3: Find iOS password:
Once the scanning is completed, password information will be displayed which will include passwords, website password, Wi-Fi password. And even the passwords of email account, screen time, passcode, and Apple ID to including credit card information will be recognized too.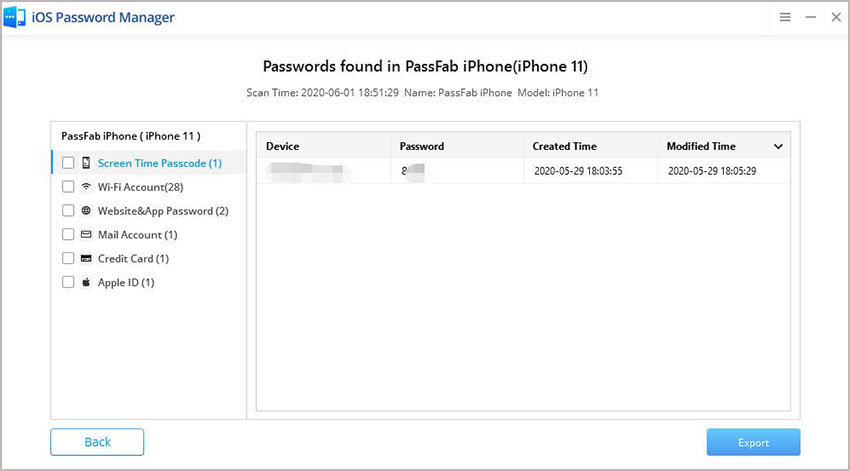 Step 4: Export the iOS password
On the bottom in the right corner, there will be a button named "Export". You have to click it, and then by choosing to "export password", the password will be exported for 1password, Chrome, LastPass, Dashlane, Keeper, etc.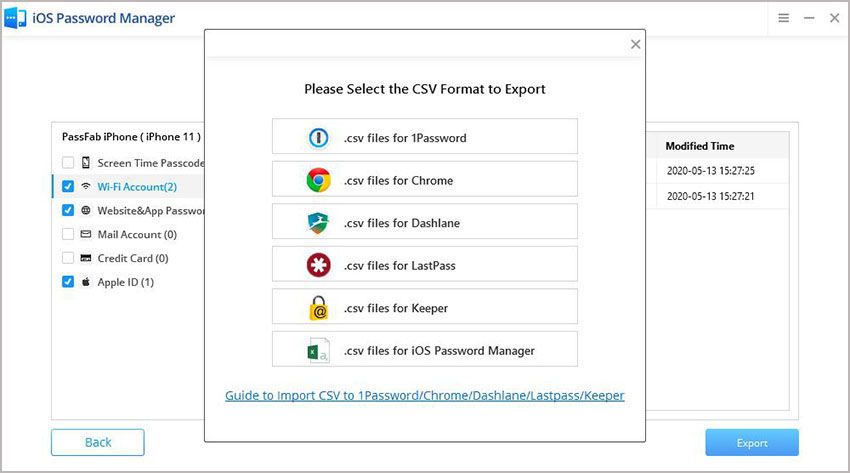 All these steps are helpful in password recovery. PassFab iOS Password Manager reviews by the users have also mentioned it, as an advisable and preferable software.
To Sum It Up
It's of no surprise that people set a password for their accounts, Wi-Fi connections, or ID. But unfortunately, if they forget or troubled with signing into their accounts it causes a big deal of worry and tension for the users. Instead of wandering here and there, in search of a solution. They just need to go to the official website of PassFab. And there they will get access to the PassFab iOS Password Manager. The users of the its review about it as multifaceted and flexible software as it has done a great job to them.