It is never a fun experience to lose the Product key of your Microsoft Windows, Office, Visual Studio, or other similar software on your PC. Sometimes, Microsoft messes up and asks you to enter your product key to reactive your Windows. This can also happen after a major update for authentication purposes. But what if you don't have the product key or you have forgotten it? Well, you need a Product Key Recovery software to get rid of this nuisance.
Now, there are several tools out there on the internet that claim to recover your product key. However, very few of them actually work. But don't worry! Today we are here to review one of the most effective tools named "PassFab Product Key Recovery" that will get you out of this deep hole. This review tells you everything you need to know about PassFab Product Key Recovery, along with a complete guide on how to use this magnificent tool. So, without further ado, let's get started!
Part 1. What is PassFab Product Key Recovery?
Let's start with the simplest question: What exactly is Passfab Product Key Recovery? It is basically a utility that finds and recovers product keys for a number of software, including Microsoft Windows, Office, SQL, Visual Studio, and more. This tool allows users to save and extract products key of various programs and that too with an exceptionally high rate of effectiveness.
In simple words, if you fail to remember what your product key was, then you can try out this software, and it will recover the key for you without breaking a sweat. It is highly accurate, effective, time-saving, and simply one of the best tools for Product Key Recovery. Most importantly, it comes with a self-explanatory user interface, and it's so easy to use that even a novice user can use it effectively.
Part 2. Is PassFab Product Key Recovery Safe?
Now, let's get to the most important question: Is PassFab Product Key Recovery Safe? Security and privacy are of utmost concern in today's digital world. There are a lot of programs on the internet that are full of malware and viruses, which can damage your data or hit on your privacy. Therefore, any sane person would think twice before downloading a random software or program form the internet because of the security concerns.
However, you can completely trust Passfab Product Key Recovery as it is 100% safe to use. You can rely on it for not being a threat to your personal information. It does not include any spyware, malware, viruses, or Trojans. It is completely safe and secured to install and use. You can check the review of the people who have actually used the PassFab Product Key Recovery tool to get a better idea of its efficiency and security. (A key tip is to make sure you are not downloading the software from any suspicious site. This will save you from viruses.)
Part 3. Is PassFab Product Key Recovery free?
Unfortunately, Passfab Product Key Recovery is not a free tool if you wish to retrieve your license key. However, it comes with a free trial that can help you decide whether you wish to buy it. There are several limitations in the free version as it only allows you to recover your product keys and also display only the initial 3 characters of the key.
However, the paid version allows users to do more than that. You can retrieve your license key within little to no time, and it makes sure to display not only 3 but all characters. Obviously, it is preferable if you go for the full version, as this will allow you to use advanced features.
Part 4. Key Features of PassFab Product Key Recovery
PassFab Product Key Recovery is famous for its efficiency and effectiveness. It comes with a lot of key features, including:
It can retrieve all Windows product keys that are basically hidden in the registry of Windows.
This software allows users to recover and retrieve serial keys from multiple programs and other products, including:

Microsoft MS Office 2013, 2010, 2007, 2003, and earlier.
Microsoft Visual Studio 2017, 2015, 2013, 2012, 2010, 2008, 2005 and earlier.
Microsoft Internet Explorer, such as IE 11, 10, 9, 8, and 7.
SQL Server 2017, 2016, 2014, 2012, 2008, 2003, 2000 and earlier.

It supports the operating system of Windows 10/8/7/XP/Vista and Windows Server as well.
It consists of an extremely user-friendly interface. Even beginners with zero technical knowledge can make use of it without any difficulties.
PassFab recovers the product key in 3 simple steps. Therefore, it makes sure that your work is done as soon as possible.
It is 100% safe and is also trusted by McAfee.
Part 5. Where to Download PassFab Product Key Recovery
It is extremely important to understand that whenever you wish to install any program from the internet, make sure you are installing it from its official website. You will come across many websites that will allow you to download PassFab Product Key Recovery, but most of them come with bugs or viruses.
So, the best place to download this tool is from the official website of PassFab. If you download it from there, you will be given assurance and guarantee that you have installed the original version of the software.
Part 6. How to use PassFab Product Key Recovery
Now comes the important part. It would be an injustice with our review without including the complete guide on how to use PassFab Product Key Recovery. As we mentioned earlier, it's quite easy to use this tool as it recovers the product key in 3 steps. Just follow these simple instructions in a step-by-step manner, and you are good to go:
Step 1: Download & Install The Program
1. First of all, you need to download Passfab Product Key Recovery on your computer system running on Microsoft Windows. After the program is downloaded, install it using the installation wizard.
2. Then, run the program as an administrator. Once the program launches, you will be presented with the main interface.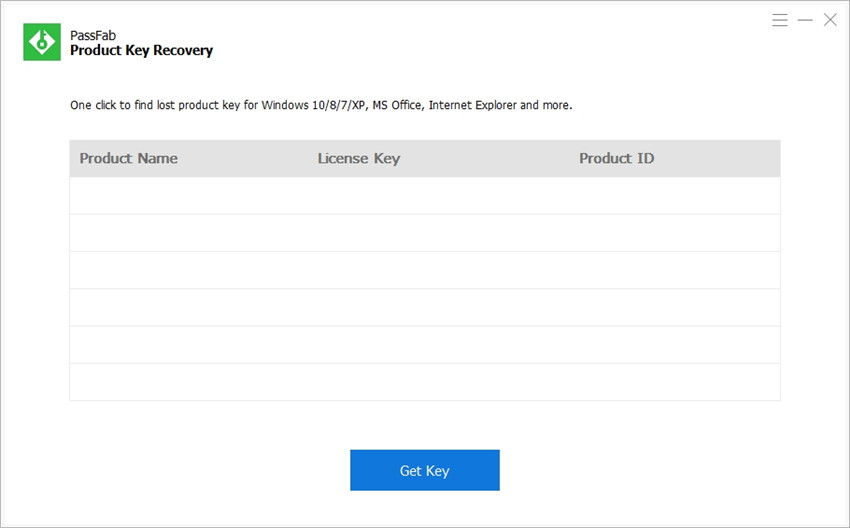 Step 2: Get Product Key
1. Now, you need to click on the 'Get Key' option, and the program will automatically detect your product key information. This information will include the License Key, Product ID, and the Product Name as well. You will see all this information on your computer screen.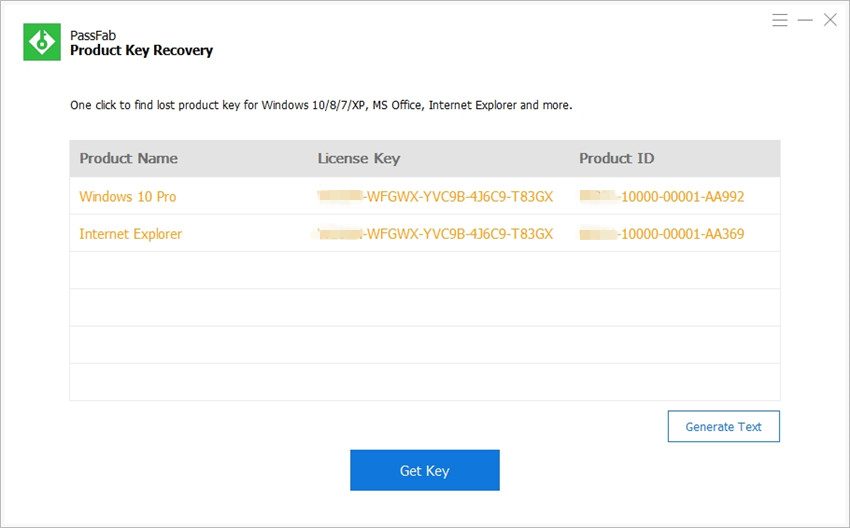 Step 3: Save Product Key
1. It is now time to save your product key. Simply click on the 'Generate Text' option on the right side of the interface.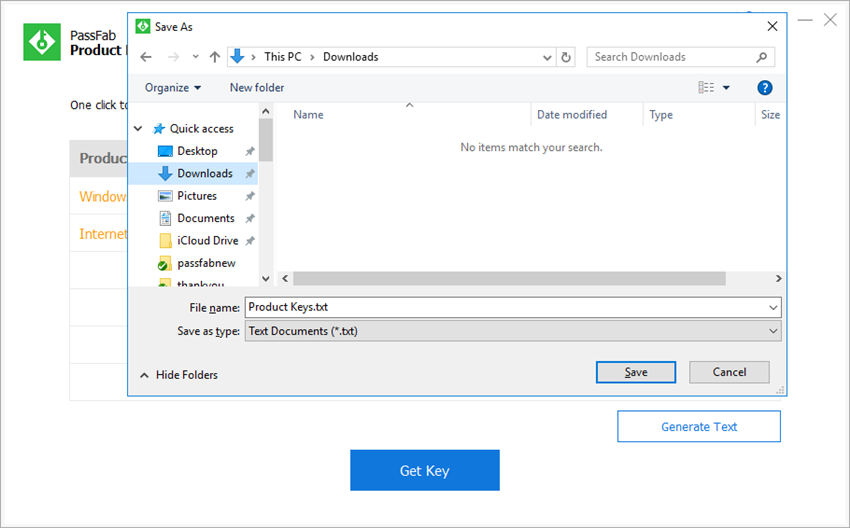 2. Here, you will see a pop-up window asking you to save the .txt file containing all the product keys. Simply select the location where you want to save it and click on the "Save" button.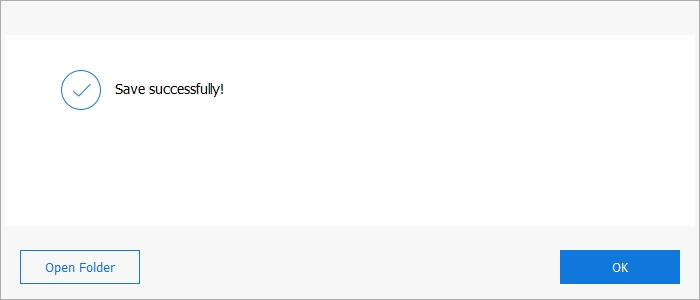 3. Now, you can successfully open that .txt file and copy your license key that will register your program. That's it!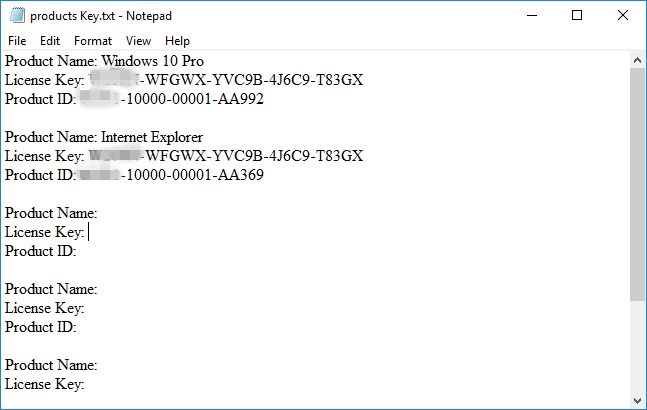 Conclusion
This article provides you with a comprehensive review of PassFab Product Key Recovery and a detailed step-by-step guide on how to use it to recover your lost Product Key on Microsoft Windows, Office, SQL, Internet Explorer, and Visual Studio. So, next time if you are struggling to find the license keys to activate your operating system, then you know what to do. Just download and install PassFab Product Key Recovery, and your work will be successfully completed in a short amount of time.
I hope our PassFab Product Key Recovery review helped you in some way. If you have any further questions, let us know in the comments down below. We will try our best to answer your queries as soon as possible.