"I got locked out from my OS. So, I searched the Internet and found that I must create a bootable USB drive and then use it to unlock the computer. How do I create a bootable USB drive? Many forums recommended a program named Rufus."
Well, there are several programs available to make a bootable USB drive for you. These procedures are easier, simpler and help to bypass the lock of your OS or simply with OS installation. But most of the times users get recommendation of a program called Rufus and there people who really likes and wants to use it.
The only reason behind it is the fact that Rufus is an old program and doing the same for the users for quite a few years now. It is simple to use, helpful and people are used to it. But as you can guess, several other programs have launched since then with similar portfolio, a few of them are even better. So, if you want to use Rufus to make a bootable USB drive, all the necessary details are listed below, but if you want to look at its suitable alternative then you will also get it on this article, just have a look.
What is Rufus and How to Use It?
Rufus is an open source Windows application, available for free to create a bootable USB. This is a software that is available in 39 different dialects and it is not only capable of creating bootable USB drives but also bootable memory sticks. Unfortunately, its capability is only limited to bootable USBs not CD/DVDs.
As a utility application Rufus is capable of formatting USB drives and making them bootable, there are also other expendable storage spaces like pendrives, memory sticks that are compatible with the said application. So, despite of its size, Rufus seems quite capable and it is especially useful in following cases;
Create USB installation media from bootable ISO.
Working on a system that does not have the Operating System installed. 
Flashing a BIOS or any other firmware from the DOS.
It can also run a low-key utility.
So, if you making a Rufus download, you will get help in the listed circumstances. Creating a Rufus USB will be fast and very helpful for you. Here, how it works;
Step 1: The best part of using Rufus is that it does not require any installation. Simply download Rufus from its website(rufus.ie) and it is ready to use.
Step 2: Then, double-click on rufuc.exe and the program will be launched immediately.
Step 3: Now, it is time to connect the USB drive to that computer in order to burn the ISO file.
Step 4: Immediately, after the insertion of USB, the device option menu will appear on the screen. Click on that device option menu and select the name of your USB drive.
Step 5: Now, go for the default setting for the partition scheme and also for the target system type, file system and even for the cluster size. Unless you have to proper knowledge, you must not change them, leave them as they are.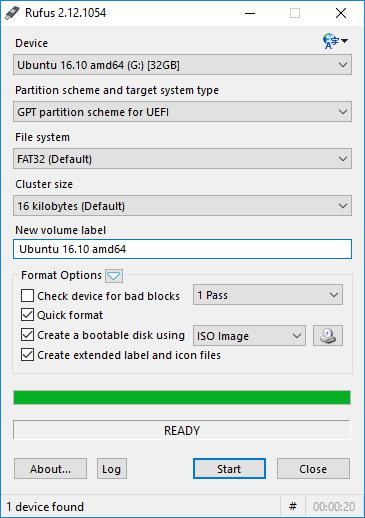 Step 6: Now, enter a name for the "New Volume Level". It can be anything of your choice, it will be the name of your USB.
Step 7: After that, check the option "Create a bootable disk using" and then you can open the ISO file from there that you wish to burn on that USB drive of yours.
Step 8: Finally, click "Start". As soon as all the options are selected properly, click on that option to proceed.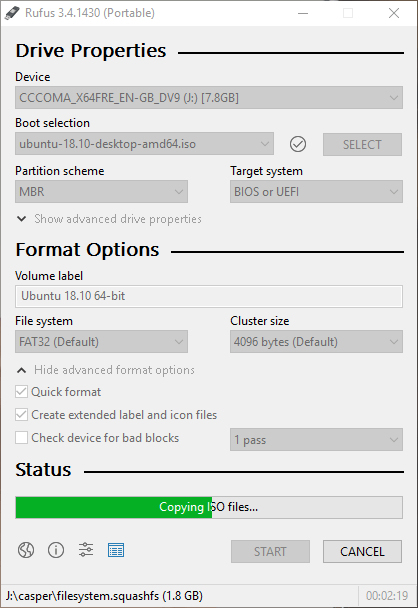 Step 9: Now, just wait for the procedure to get completed, the progression will be visible via the progression bar on the screen. Once, completed, you will see the message "Done" on the screen.
Although, Rufus does a pretty good job of creating a bootable USB drive, it has a few limitations which do not sit well with a few of the users. Its inability to work with Windows XP and Vista, not recognizing damaged ISO files and as it is only capable of creating a bootable USB drive nothing more.
Best Alternative to Rufus – PassFab 4WinKey
Now, Rufus is an excellent program but its capabilities are only limited to a certain point, which is not great but users accepted it as there were a lack of better programs. But that is not the case anymore, several programs were launched which better capability and easily operable. So, these so called alternative to Rufus are available in the market and there are a lot of them.
But fear not, after extensive research and going through a few of these programs, we found the best Rufus alternative. It is called PassFab 4WinKey. Designed by PassFab, this is an excellent program with a list of capabilities.
The first thing you should know about the PassFab 4WinKey is that, the program comes with 4 different versions: Standard, Professional, Enterprise and Ultimate. All these editions are designed for different uses but for your purpose the 4WinKey Standard will suffice. Here's the guideline;
Step 1: Download and install 4WinKey on your computer and launch it.
Step 2: In the main page of the program, you will be directed to choose a boot media. You will have the option to select CD/DVD or USB, but for this procedure select the USB drive.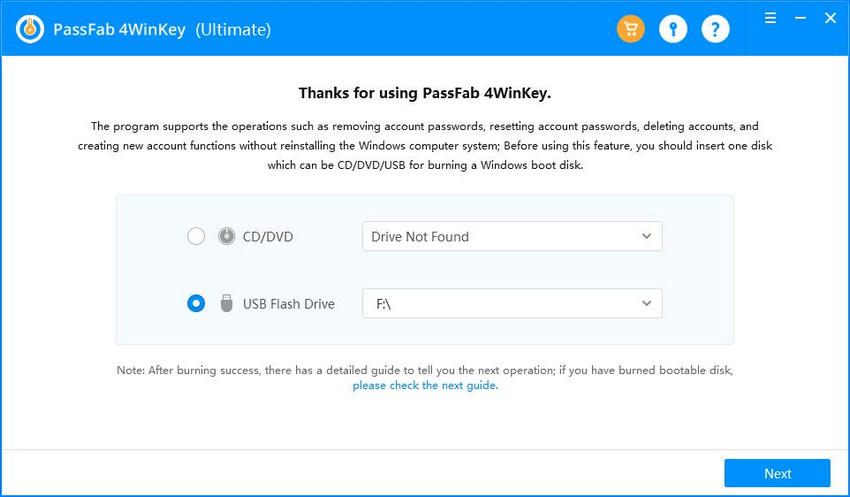 Step 3: In the following page, click "Burn" and the program will start burning a boot disk. The program will also warn you that you USB drive will be formatted and all the files in it will be erased. So, you better use an emptied USB drive for the procedure.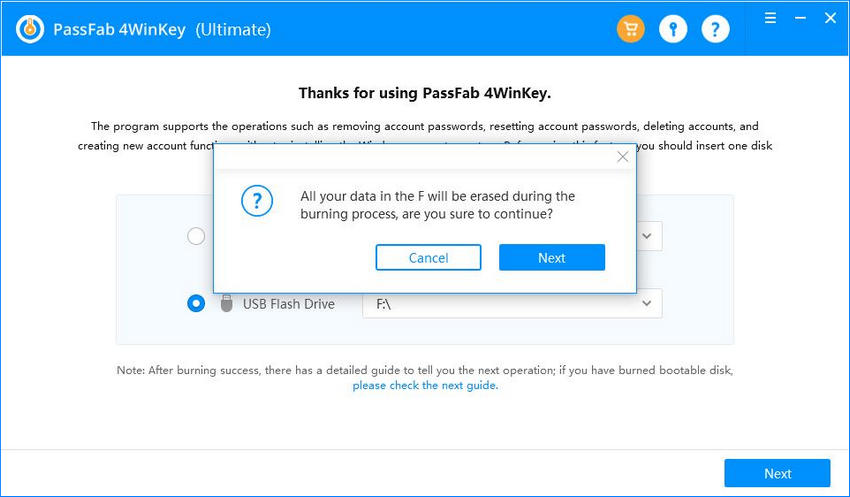 Step 4: The warning message appears on the screen with "Yes" and "No" options. If you click "Yes", the program will start burning the bootable USB drive.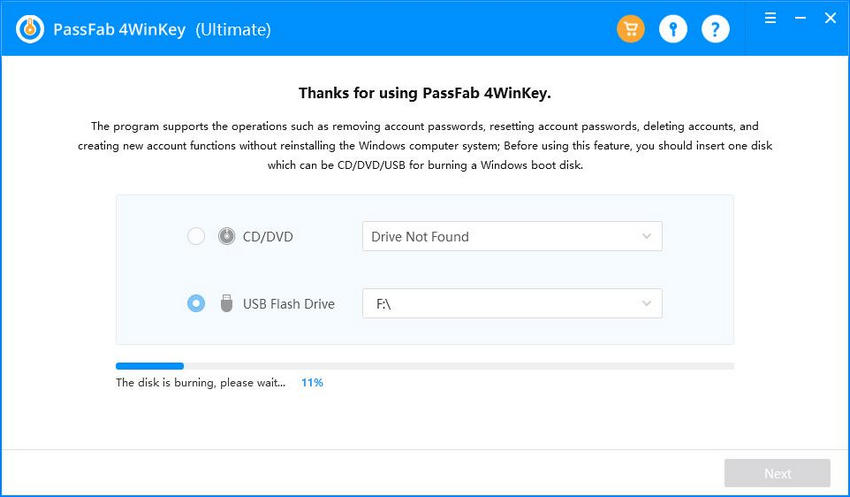 Step 5: After a few moment, the "Burning Successfully" message will appear on the screen, which will indicate the end of the said procedure.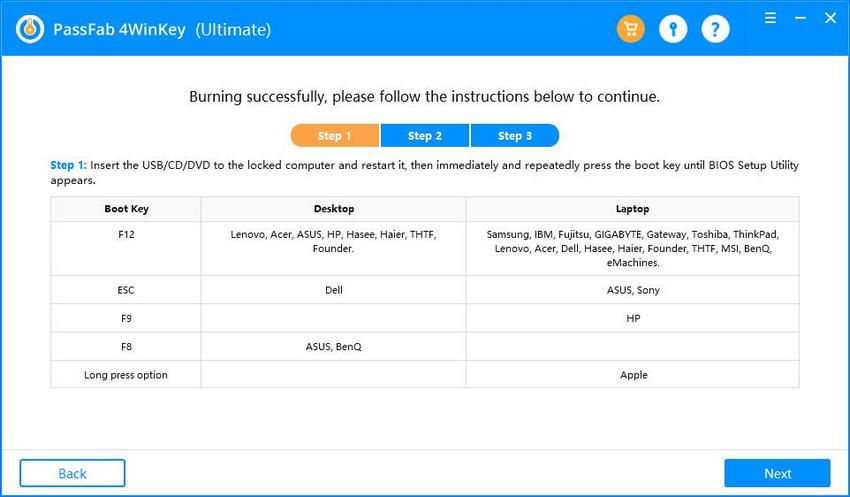 Creation of a bootable USB drive is finished and you can clearly see how simple the procedure is, the program does most of the work, you just have to click on the desired options. After that, you can use that bootable device without a password.
Summary
If you look at the procedure, the superiority and the efficiency of 4WinKey is clearly visible. Using 4WinKey you have to do less amount of work but the end result is much greater. Where Rufus is only capable of operating on USB to create only the bootable drive, the said alterative is much flexible and does a better job. Thus highly recommended from our side!