Nowadays, in order to better secure personal privacy, payment confidentiality, or anything similar, Android phones allow users to lock their smartphones with a password or a fingerprint. That is an excellent and realistic feature. However, if you forget your Android phone's lock password, you will be unable to open it.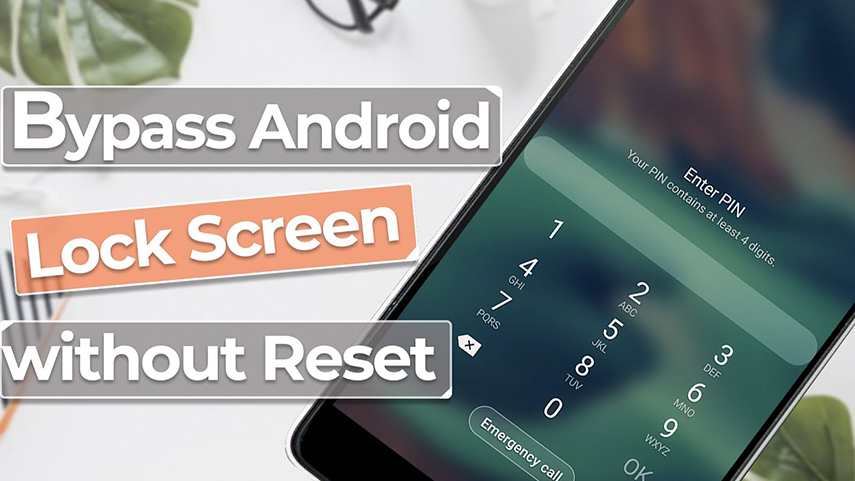 Obviously, you can unlock your Android lock screen by performing a hard reset to factory settings, but you should be aware that performing a complete factory reset wipes your phone clean of all data.
Strictly speaking, it will restore your Android phone to the state it was in before it came in the box. To prevent data loss, it would be good to be able to bypass the Android lock screen without doing a factory reset. Thus, in this guide, we will share five methods to bypass android lock screen without reset.
Part 1: Can you Bypass Android Lock Screen?
Yes, actually you can easily bypass the Android lock screen using different methods. In this article, we will show you how to bypass Android lock screen without reset using 5 different methods.
Keep in mind that all of these methods will not reset your Android phone in any way. Moreover, all of these methods are effective and will ultimately unlock your smartphone's lock screen easily.
Part 2: How Can I Bypass Android Lock Screen without Reset? (5 Ways)
The simplest and most effective way to prevent unauthorized access to your Android device is to enable a lock screen. Fortunately, all Android devices have an integrated protection feature that enables you to lock the screen of your smartphone using a pin, password, pattern, or fingerprint. What if you forgot the password to your device's lock screen? Without a doubt, the most irritating condition is being unable to access your phone and its data.
So, in this section, you will know how to bypass an Android lock screen without reset using 5 different ways.
1. PassFab Android Unlocker (Best Way)
Looking for a safe way to regain access to your Android phone within a short time? PassFab Android Unlocker will assist you if you get locked out of your Android smartphone and are unable to regain access after attempting several methods.
Therefore, let's explore how to bypass android lock screen without reset with PassFab Android Unlocker:
Step 1: To boot, download PassFab Android Unlocker to your computer or laptop from the above buttons. Connect your smartphone to your device now and navigate to the PassFab Android Unlocker interface. To remove the screen lock, click "Remove Screen Lock".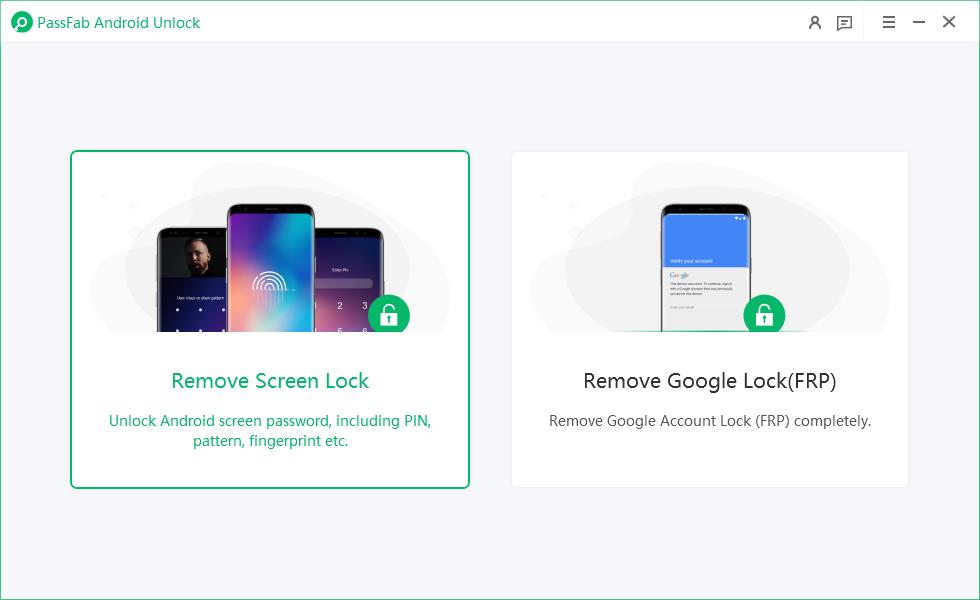 Step 2: When your phone is successfully connected, a window tab will open, asking you to press "Start." Additionally, you'll see an alert that deleting the lock screen password will remove your files forever. To continue, click "Yes".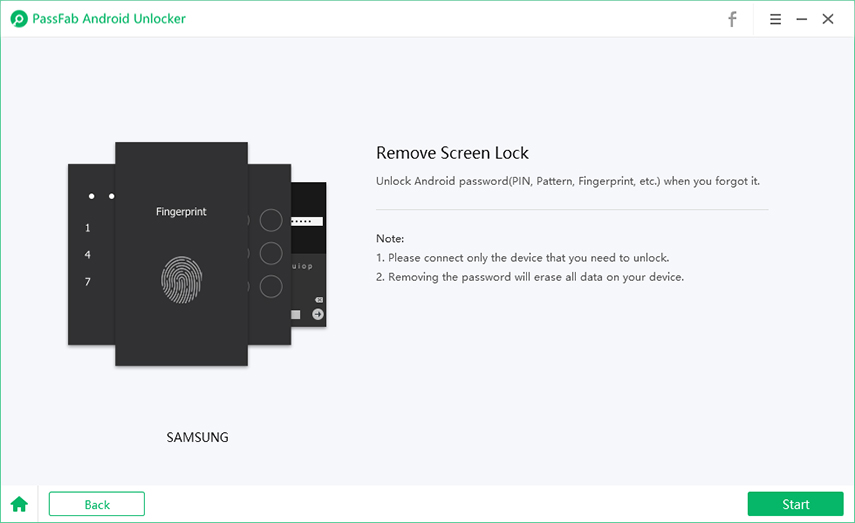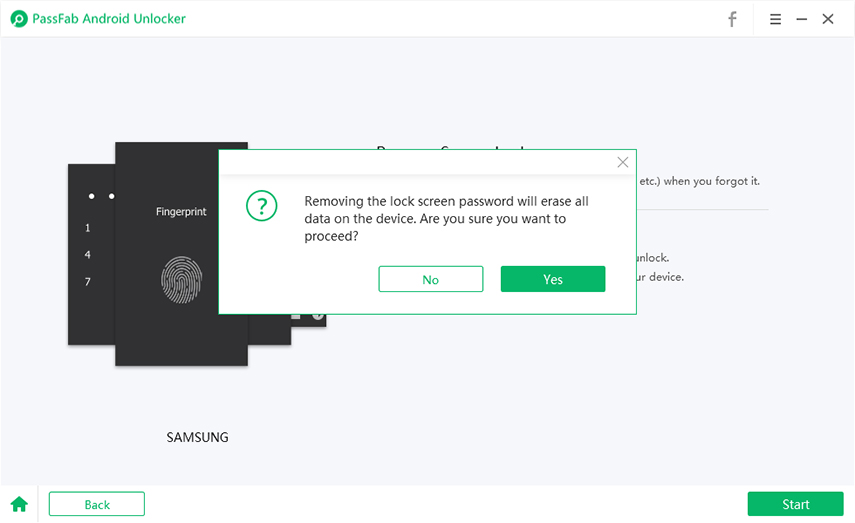 Step 3: Once the password has been erased from the lock screen, you may wait a few seconds for the process to complete.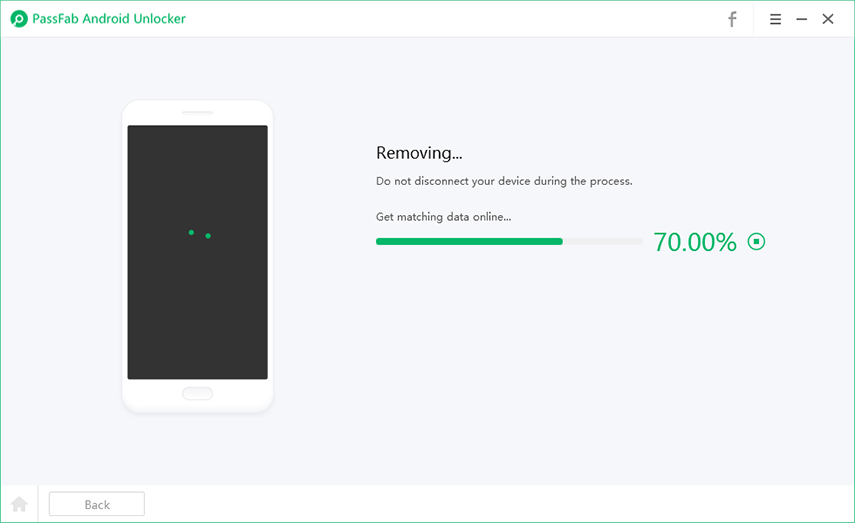 Step 4: The password for the lock screen of your Android smartphone has been removed, and you can now easily access the device.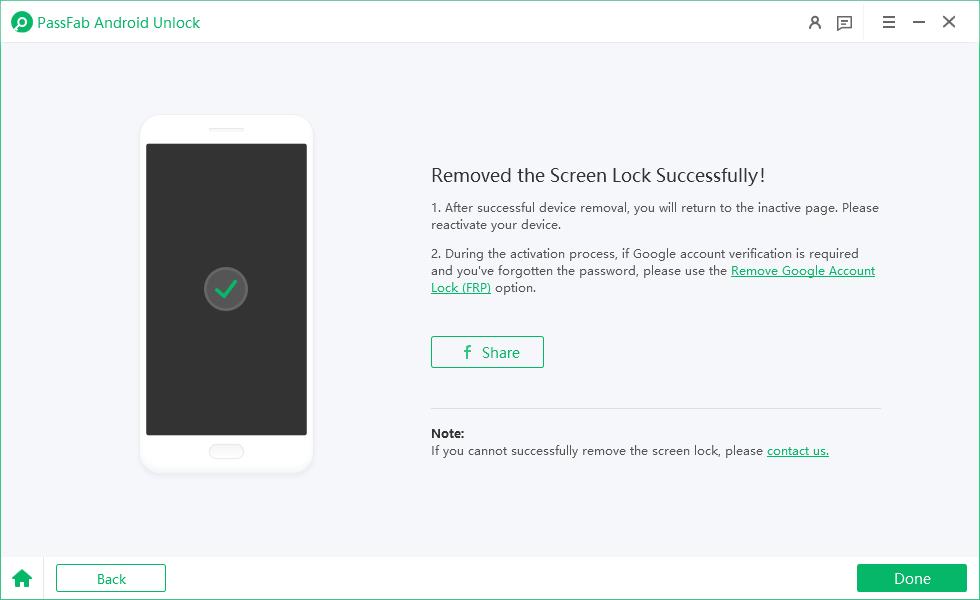 2. Android Device Manager
Another simple method of bypassing the device's lock screen is to use the Android Device Manager Service. This method is also compatible with all Android operating systems, and the unlocking process is relatively simple.
Follow the steps below to know how to do Android lock screen bypass without reset:
To start, navigate to the Android Device Manager Service using the system browser. Following that, sign in with the Google account that you use to access your locked Android smartphone.
After completing the sign-in process, select your phone and then press the "Erase" button, as shown below. It will wipe the Android device and bypass the lock screen without requiring a password.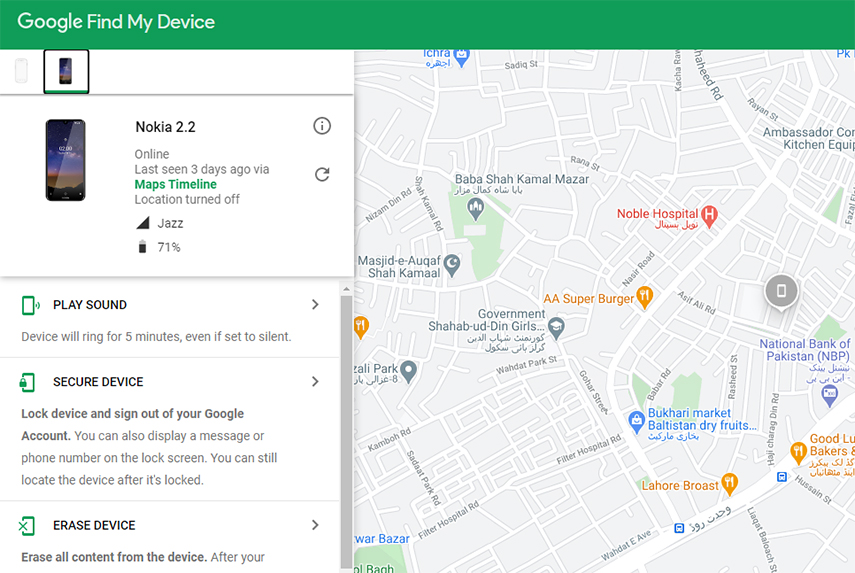 3. Find My Mobile (Samsung Only)
If you are a Samsung user who has been locked out of your Android phone, you can remove the lock screen by using Samsung's "Find My Mobile" service. It is a perfect option for Samsung users who want to easily unlock their Android phones. It does, however, require that you are signed in to your Samsung account.
If you want to use this way, follow the steps below to know how to bypass an Android lock screen without factory reset:
Navigate to the "Find My Mobile" service through the browser and then login your Samsung account.

Following that, click on the "Lock My Screen" button. And then input a new PIN number and press the "Lock" button.

Finally, you need to wait a moment. Then your Android device can be unlocked by the new password.
4. Forgot Pattern (Android 4.4 or Lower Only)
Additionally, you can use the "Forgot Pattern" option to bypass the lock screen. However, you need to note this way is only available for version 4.4 or lower to fix how to unlock Android screen lock without factory reset. Besides, this method works only if you are signed in to your phone using a Google account prior to the phone being locked.
First, on your device's lock screen, make a few incorrect password attempts to activate the "Forgot Pattern" option.
Second, when you've obtained it, press it and then select the "Enter Google account details" feature.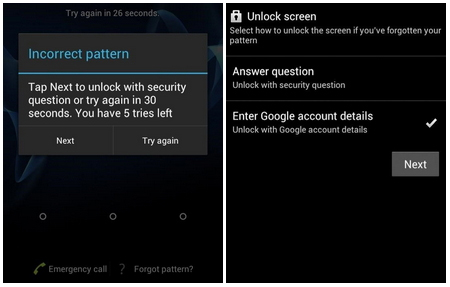 Following that, enter your Google account ID and password. And then set a new pattern lock for your device. Google will give you an email containing a code that will allow you to reset the pattern lock.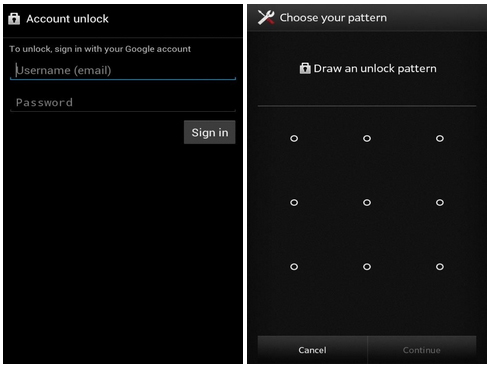 5. Crash Lock Screen UI (Android 5.0-5.1.1 Only)
The last method you can use to bypass Android lock screen is attempt to crash the lock screen UI in order to remove your Android lock screen password. This approach is only compatible with Android devices running version 5.0-5.11 to bypass Android lock screen without reset.
To start, press the "Emergency Button" and then dial ten asterisks. Following that, copy and paste the same asterisk onto the same dialer pad until the paste function is unavailable.

Then return to the lock screen and swipe left to open the camera and scroll the notification slider down.. After that, click "Settings", and you wull see a password prompt.

In this step, you must type the password, and you must do so in the same manner as previously.

It will crash the lock screen within a few minutes and you will be able to unlock your device. After entering into your phone, you can set up a new password.
Extra Tip: How to Bypass Android Lock Screen with Reset
A factory reset could be one way to bypass the Android lock screen if you don't mind losing your data and factory resetting your Android device. This will operate in almost all circumstances and on every Android phone. And this method requires a few straightforward steps, but the procedure can vary depending on the model.
For the majority of devices, one may begin by powering off the device. When the screen goes blank, press and hold the Power and Volume up button and the Home button simultaneously to enter recovery mode.

Then use the volume buttons to select "wipe data/factory reset" and use the Power button to choose "Yes" and confirm your selection.

After doing that, select "Reboot system now" and then your device will be restart.
The Bottom Line
In conclusion, we've discussed every possible method to bypass Android lock screen without reset in this guide. Every method has its advantages and limitations. You can choose the most suitable method to unlock your lock screen. However, Passfab Android Unlocker. is the only software that can assist you in bypassing any kind of Android lock screen without difficulty.