Are you looking for ways to bypass Galaxy S8 lock screen without password or reset? With its complex security system, it can be difficult to unlock your phone without the proper knowledge. Luckily, there are several ways on how to bypass the lock screen without having to enter the correct password or pattern.
Without further saying, please check how to bypass Samsung Galaxy S8 showed below. If you are bothered by this situation now, I believe this article can help you.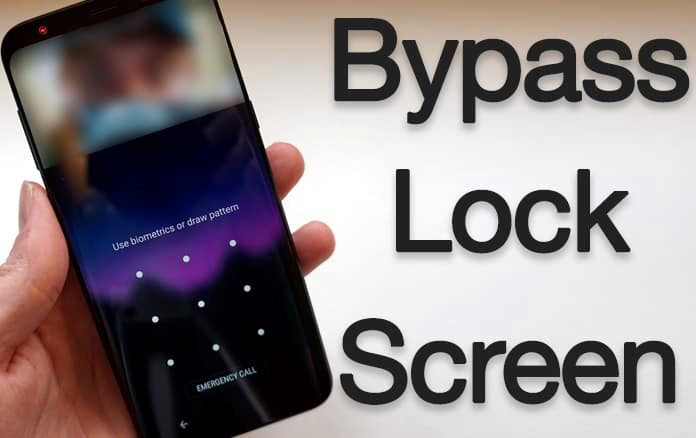 Part 1. How to Unlock Samsung Galaxy S8 without Password(7 Ways)
The following are 7 best ways for Galaxy S8 screen lock bypass without the need of password. You can choose an optimal way to unlock your phone screen.
1. Use Professional Unlock Tool to Remove Screen Lock
Are you looking for an easy and fast way to regain access to your Samsung phone? PassFab Android Unloker can solve this problem within minutes. The best thing about this software is that it can remove all forms of passwords. Here are the specific steps.
Step 1: To begin, download PassFab Android Unlocker to your laptop or computer.
Step 2: Connect your phone to your computer or laptop and navigate to the main interface. Click "Remove Screen Lock".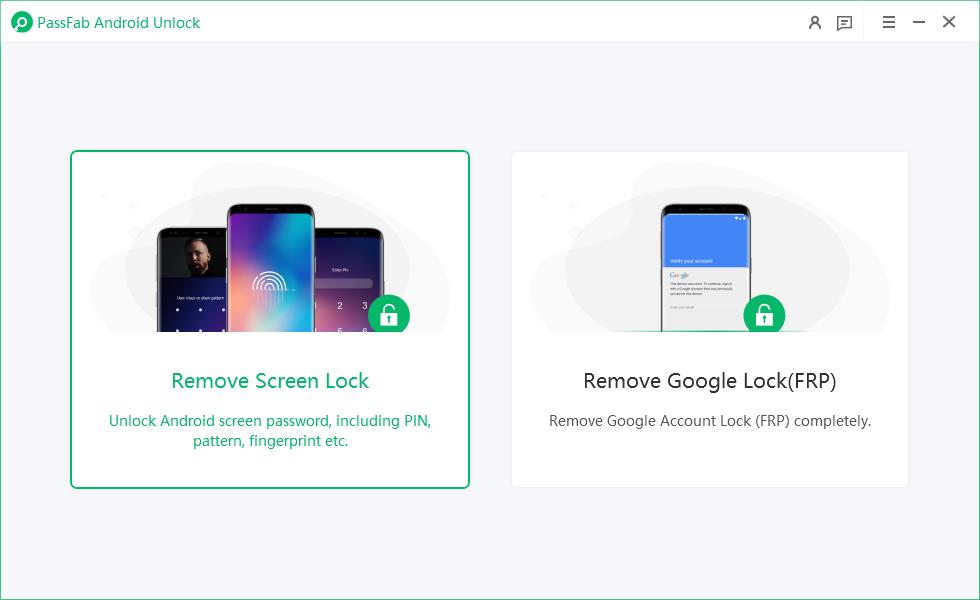 Step 3: If your phone is linked successfully, you will be prompted by the window tab "Start".
Step 4: You will also see a warning to erase your files permanently by removing the lock screen Password. Tap "Yes" to proceed.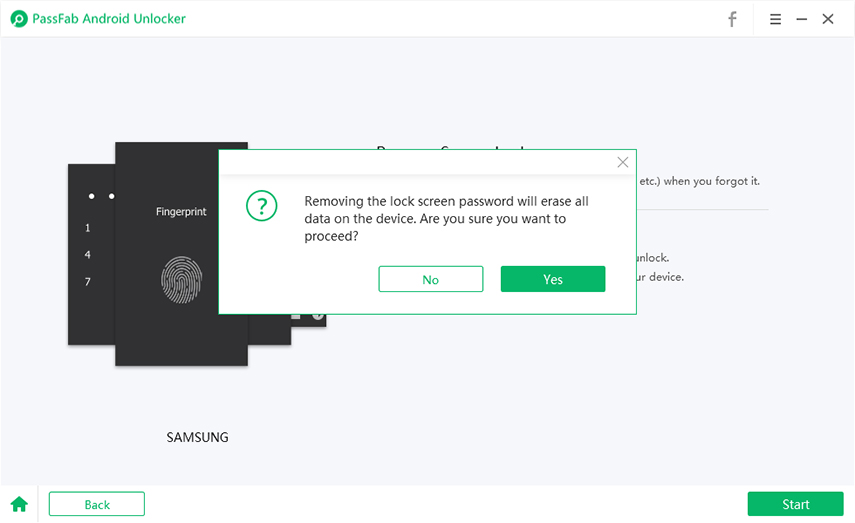 Step 5: You should wait a few seconds to complete the process.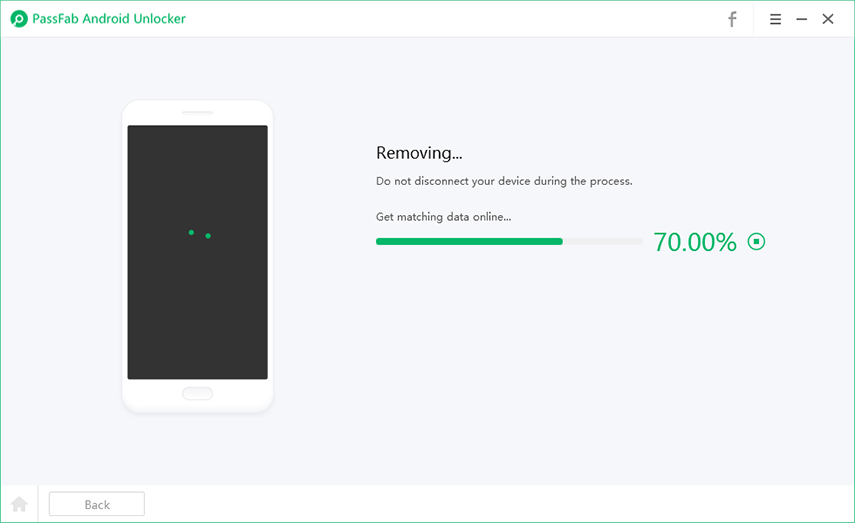 Step 6: Your smartphone's password has been deleted and you can now access to the smartphone without password.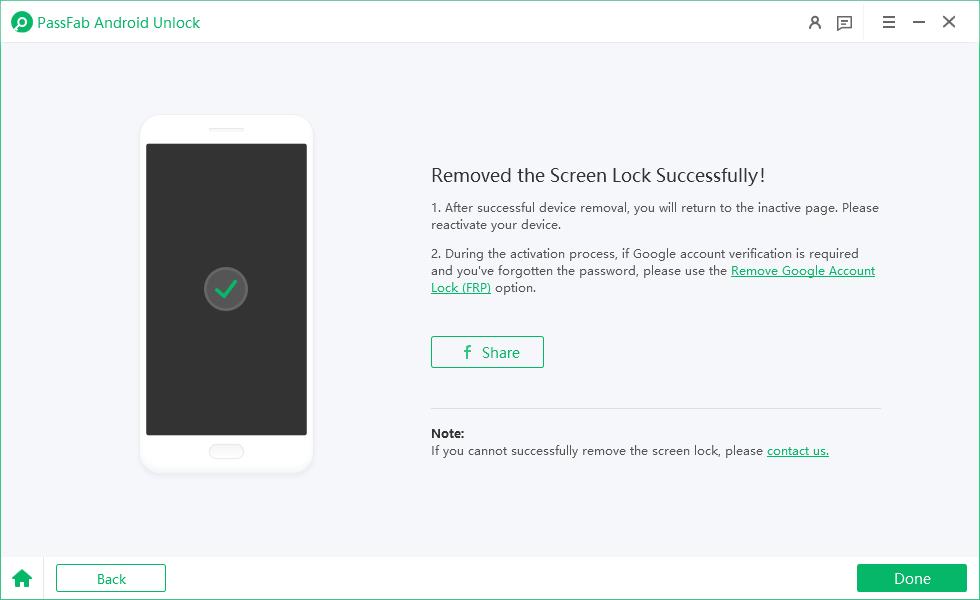 2. Factory Reset Device to Bypass Lock Screen
In almost all cases, a factory reset is a choice if you want to unlock a locked phone. In most phones, the device must be switched off to start the operation properly. So, here is the steps of how Galaxy S8 bypass lock screen.
Hold down simultaneously the Power button and the Volume Down button.
Press the Volume Down button twice and select it by pressing on the Power button.
Press the Power button and tap the Volume Up button once, then the phone enters Recovery Mode.

Using volume keys, choose the "wipe data / factory reset" option. Tap on the Power button to choose it.

After the process is completed, choose "Reboot system now".
Then your phone will restart and you can get into the Samsung phone without password.
3. Boot into Safe Mode to Unlock Samsung Phones
If you're using a third-party lock screen application, then you can use this way to bypass lock screen. Here is how to bypass screen lock Galaxy S8 in this case.
Open the Power Menu and click the "Power Off" button from the lock screen.

It will prompt you to boot in safe mode. Click the "OK" button.

Upon completion of the process, the lock screen enabled by the third-party app would be momentarily disabled.
Now delete the lock screen of a third party or simply reset data.
Then boot again and exit from the safe mode.
The lock screen application is now wiped out.
4. Login Google Account to Bypass Lock Screen
The third way you can use to bypass Samsung lock screen needs Google account. And the version of your phone should run Android 4.4 or earlier. Here is how to bypass lock screen on Samsung Galaxy S8 quickly if you know Google account.
Step 1: Enter the incorrect password five times.
Step 2: Click on "Forgot Pattern".
Step 3: Input the "Username" and "Password" of your Google account on the locked phone.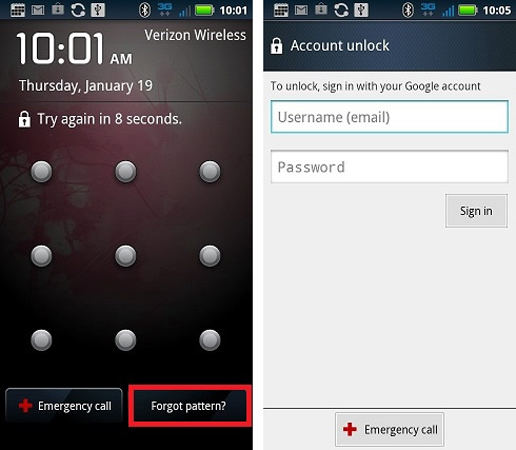 Step 4: Set a new pattern lock.
Step 5: Then your phone can be unlocked by the new pattern lock.
5. Bypass Samsung Lock Screen by "Find My Mobile"
If you are a Samsung owner who has been locked out of your Android phone but know your Samsung account, you can use Samsung's "Find My Mobile" service to disable the lock screen. So, here is how to bypass lock screen for Samsung Galaxy S8 using Find My Mobile.
To start, use your browser to access the "Find My Mobile" service, and then click "Sign in" to login your Samsung account.
Then, on the left hand, press the "Lock My Screen" button.

Enter a new PIN and hit the "Lock" button.

Then your device will be reset.

6. Remove Samsung Screen Lock with "Android Device Manager"

The Android Device Manager Service is another easy way to disable the device's lock screen. This form is also compliant with all Android operating systems, and the unlocking procedure is straightforward. But it requires that you turned on the location and Google Find My Device on your phone.

To learn how to deal with Galaxy S8 lock screen bypass using ADM, follow the steps below:

To begin, use the computer browser to navigate to the Android Device Manager Service.
Sign in with the Google account of the locked Samsung phone to unlock your disabled Android phone.
After signing in, pick your phone and then hit the "Erase" button, as seen below.
It will erase the Android smartphone and unlock the lock screen without the need for a password.

7. Delete Screen Password through ADB

It is yet another alternative that will only function if you previously enabled USB Debugging on your phone and your PC is allowed to connect via ADB. If you fulfill these criteria, this approach is suitable for Samsung Galaxy S8 lock screen bypass.

Step 1: Connect your smartphone to the Computer via USB cable, then launch the command prompt in the ADB directory.

Step 2: Enter the command "adb shell rm /data/system/gesture.key" and hit enter key.

Step 3: Restart your phone, and the protected lock screen will be gone, then you'll be able to access your device. After rebooting, make sure to enter a new PIN, pattern, or password.

Note: If the version of the locked phone is Android 5.0-5.1.1, you can try to use "Emergency Call", but the success rate of that method is low. If you want to use it, you can search on the internet.
Part 2: How to Bypass S8 Lock Screen without Reset
Please follow the steps below if you know your current password and want to bypass galaxy s8 lock screen without reset.
01 Click "Settings," then tap on "Lock Screen" after you've entered your device's settings.

02

Then enter your passcode.

03

After that, select "None".

04

Then you need to press "Next".

05

The screen lock will be removed by the time you finish the preceding steps.
Summary
If your Samsung Galaxy S8 is locked, and you want to know how to bypass galaxy s8 lock screen without password or reset, there are 8 ways for you to choose. However, PassFab Android Unlocker is the best option because it can help you solve the problem very efficient. It's a professional tool that can wipe out all types of lock screens within minutes. If you like it, then you can try to use it.