Owning a smartphone that is restricted to use for a specific carrier is kind of difficult when you want to switch your network. Are you the one facing the same issue and wondering about how to bypass MetroPCS device unlock app?
Well, Don't worry, we've written this article specifically to assist you in bypassing MetroPCS device unlock app. In this article, you will learn about what is MetroPCS device lock and how you can bypass it easily. So, why not moving forward to our next part?
Part 1: Related Questions about Bypass MetroPCS Device Unlock App
It is possible that most of you don't know what MetroPCS device lock is and how to bypass MetroPCS device unlock app for free in order to switch your carrier. So, maybe you guys come up with some questions in mind.
Well, for that reason, I'm going to discuss some basic questions about MetroPCS device lock. So, without further delay, let's have a quick overview of all these questions:
Q1: What is MetroPCS Device Lock?
MetroPCS smartphones, which are now operated under the T-Mobile name (Metro® by T-Mobile), are subject to carrier lock restrictions. This means that a locked MetroPCS phone, for example, cannot be connected to AT&T or any other carrier network. You'll need to unlock your MetroPCS phone before switching carriers.
It's beneficial for carriers because it lets them keep customers on their network, but it is unfavorable to customers who have reached the end of their contract and want to switch carriers.
So, most people try to bypass MetroPCS device unlock app so they can easily switch carriers.
Q2: Why You Should Unlock MetroPCS Phone?
There can be multiple reasons for Metro device unlock bypass, and the most common reason is when you want to switch carriers. However, I have compiled the following list, or you can say it benefits for bypassing the MetroPCS device lock:
You will be able to select multiple carriers (SIM cards) for the same handset depending on the situation.
When traveling overseas, you can also save money on roam fees by using a local SIM.
It boosts the device's resale value by allowing it to connect to more carriers.
After you unlock your MetroPCS phone, it will remain under warranty.
Q3: What You Need to Note before Unlocking MetroPCS Phone?
No doubt, bypass MetroPCS device unlock app is completely safe. But there are some things you still need to note down before bypassing the MetroPCS device lock on your phone. So, let's have a quick overview of such things:
First and foremost, look at your MetroPCS computer. This is due to the fact that the MetroPCS mobile unlock app comes preinstalled on your device from the manufacturer. It's probably in the "Applications" list.
The most critical thing to remember that you should not download any MetroPCS mobile unlock apps from the Google Play Store. You could be fooled into downloading a clone app that isn't compatible with your device.
If you're unlocking a smartphone that has GSM compatibility, you should be aware that it will only fit with other GSM carriers and not with CDMA carriers or vice versa.
To unlock a MetroPCS phone, you must be at least 18 years old. Your mobile must have an active service record of at least 180 consecutive days without a pause, beginning with the day your phone was first activated.
Part 2: Detailed Guide to Bypass MetroPCS Device Unlock App
Now, it is time to move forward to our main topic, which is "how to bypass MetroPCS device unlock app". So, follow the guidelines below in order to bypass the MetroPCS device lock for your smartphone:
To begin, ensure that you are able to unlock the MetroPCS device using the app. Then, navigate to the "Applications" folder and click on the "Device Unlock" application, and tap on "Continue".

Note: Make sure that you have connected to a stable WiFi so the unlocking processing don't get interrupted.

Now, click "Permanent Unlock" and wait for the operation to end. Once complete, you must restart the phone to ensure that the changes have been made.
Part 3: Supported Phone Models with MetroPCS Device Unlock App
Alcatel
Coolpad
HTC
LG
Samsung
ZTE

Alcatel A30 Fierce

Alcatel A30 Fierce 4

Alcatel A30 Fierce XL

Alcatel Tru.

Coolpad Catalyst

Coolpad Defiant

HTC Desire 530

HTC Desire 626s

Kyocera Hydro Wave

LG Aristo

LG Aristo Cobalt Blue

LG Aristo 2

LG G Stylo

LG G Stylo White

LG K7

LG K20 Plus

LG Leon LTE

LG Stylo 2 Plus

LG Stylo 3 Plus

LG Stylo 3 Plus Titanium

Motorola e4

Samsung Core Prime

Samsung Grand Prime

Samsung J3 Prime

Samsung J3 Prime Silver

Samsung J7

Samsung J7 Prime

Samsung J7 Prime 32GB

Samsung On5

Samsung S7 Black

Samsung S8

Samsung S9

ZTE Avid 4

ZTE Avid PLUS

ZTE Avid Plus

ZTE Blade ZMAX

ZTE Obsidian
Extra Tips: How to Bypass MetroPCS Device Lock Screen if You Forgot Password
In the process of unlocking MetroPCS device unlock app, you may need to input PIN/Pattern lock. Don't worry, we will now discuss how to bypass the MetroPCS device lock screen easily when you forgot password. For that purpose, you can use PassFab Android Unlocker.
PassFab Android Unlocker allows you to delete Android PIN, Pattern, or fingerprint or other types of passwords without needing a password. So, let's have a quick overview of how to use this tool to remove your MetroPCS device lock screen:
Step 1: First, download the PassFab Android Unlocker on your computer. Now, connect your smartphone with your computer and select "Remove Screen Lock" from the main interface.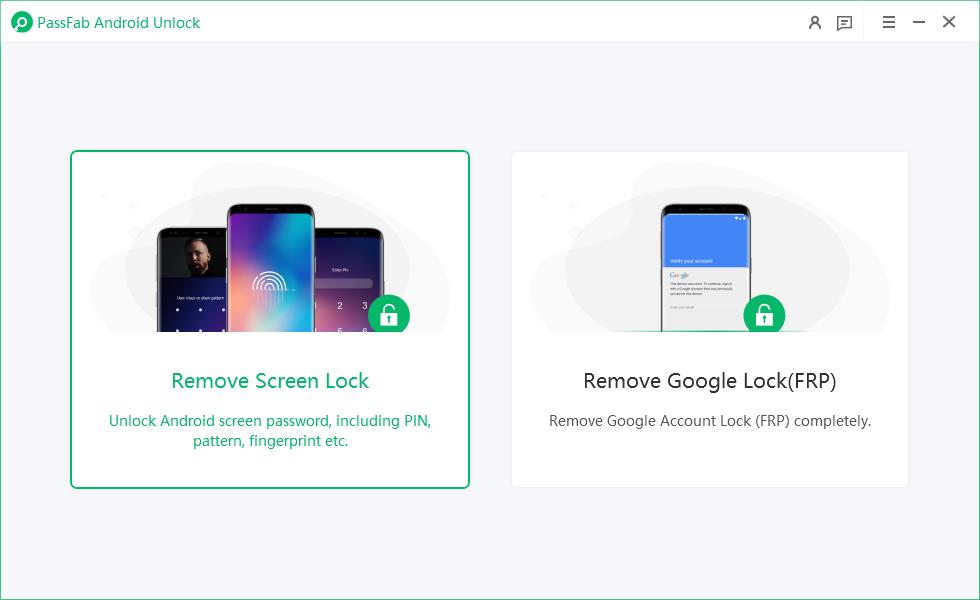 Step 2: When your phone is successfully connected, a window screen will open, prompting you to press "Start" to proceed and you will see a reminder that removing lock screen password will erase your data. Click "Yes" to proceed.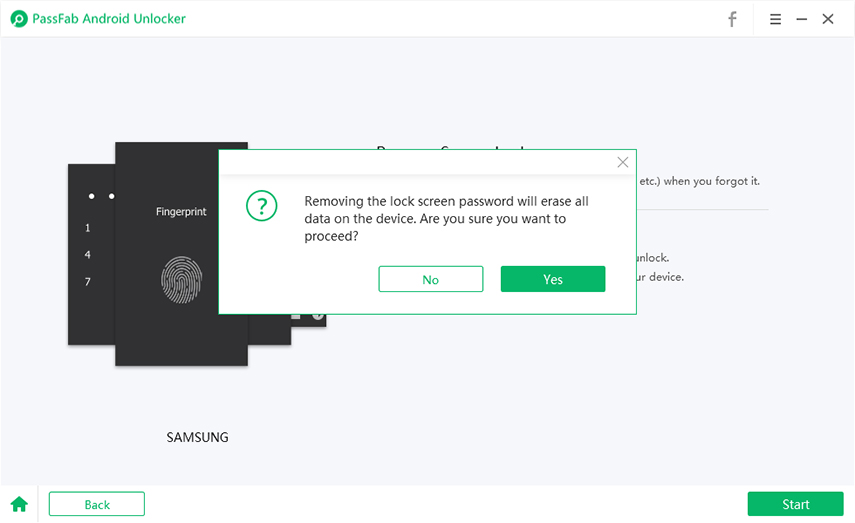 Step 3: Now, the software will remove the lock screen password and you will have to wait for few seconds till the process completes.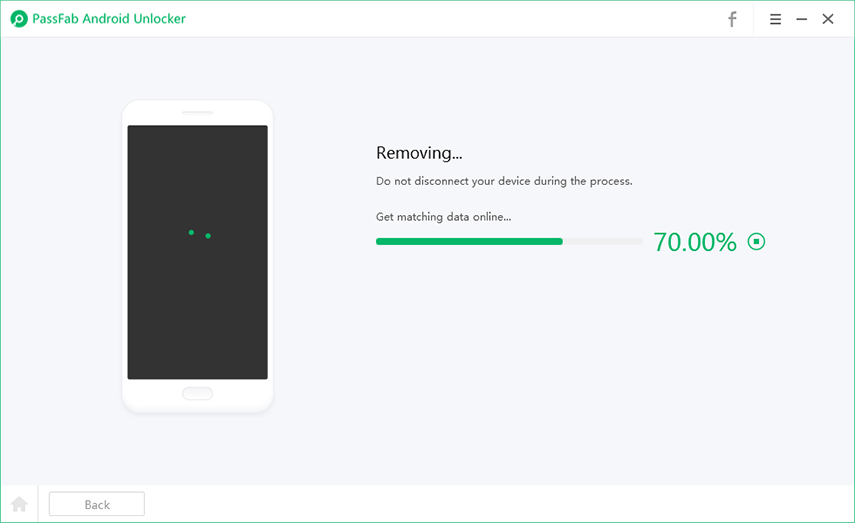 Step 4: Your smartphone's lock screen password has been removed and now you can easily access your device.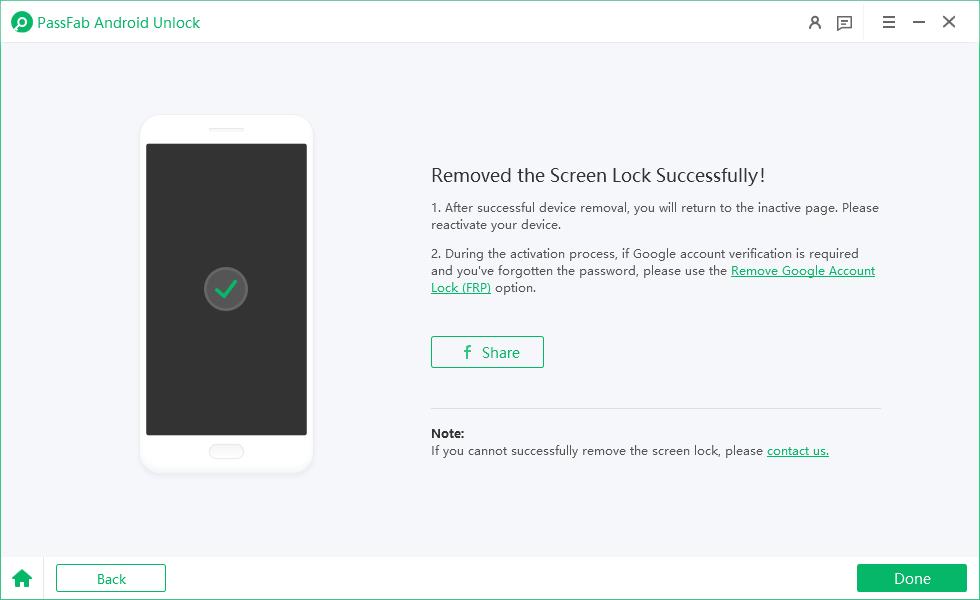 Final Words
It is quite stressing when you want to switch your carrier but unable to do so because of MetroPCS device lock. However, I'm sure that after going through this article about how to bypass MetroPCS device unlock app, you can easily bypass it.
Moreover, if you want to bypass MetroPCS device lock screen, then I would recommend you to use PassFab Android Unlocker and follow the step explained above. If you have any queries relating to MetroPCS device unlock, feel free to comment below.