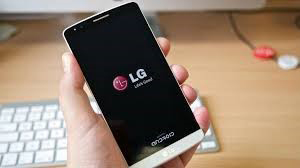 "How to factory reset LG phone when locked out?"
If you've arrived at this page as a result of a related query, sit down and relax. I can guarantee that this will be the last guidance you read on how to reset an LG phone that has been locked out.
I was locked out of my LG Phone a while back after missing the new pin. This prompted me to research various methods for resetting an LG Tracfone that had been locked out. Surprisingly, I was able to come up with not one, but several solutions. In this tutorial, I'll share my personal experience and demonstrate how to reset LG phone.
Overview of the Methods
| Methods | PassFab Android Unlocker | Android Device Manager | Emergency Call | Recovery Mode |
| --- | --- | --- | --- | --- |
| Convenience | Very easy to use | Easy to use | Difficult | General |
| Effectiveness | 100% effective | 100% effective (requires Google account) | Not very effective (May fail) | 90% effective (if done carefully) |
| Time Saving | Time-saving | Time-saving | Time-consuming | Time-consuming |
Part 1: Factory Reset LG Phone When Locked out Using Professional Tool [Easy&Fast]
Looking for a simple way to recover access to your LG phone? I guess many of us who want to factory reset LG phone do not like to take much time and many steps to reset the device. Fortunately, there is a very direct and simple way for you - PassFab Android Unlocker. It will assist you regain access to your locked phone easy and fast.
Then, let's look at how to reset an LG phone when locked out using PassFab Android Unlocker:
01

To begin, download PassFab Android Unlocker to your computer or laptop from their official website or the above buttons.

02Connect your smartphone to your device now and navigate to the PassFab Android Unlocker interface. To unlock the phone, click "Remove Screen Lock".

03A window tab will open after your device has been successfully connected, allowing you to press "Start" to continue. You'll also get an alert that deleting the lock screen password would erase all of your files forever. To proceed, press "Yes".

04Once the app has deleted the password from the lock screen, you should wait a few seconds for the process to complete.

05Now you can get into your locked LG phone and the device has been reset. You can set up the phone again.
Part 2: Factory Reset LG Phone When Locked out via Android Device Manager
Android Device Manager is a Google-provided app. It enables you to locate, ring, lock, and even erase your phone remotely. The process of this way is very simple as well. But there is a requirement to use this method. That is, you know the Google account of your locked device.
If you satisfy this condition, to learn how to reset LG android phone when locked out, follow these steps:
On any phone or computer, navigate to the official Android Device Manager website.

Log into your Google account using accurate information. Ascertain that this account is already associated with your locked LG phone.

Select your LG phone from the list of connected devices. This will load the current position automatically.

On the left, click the "Erase" button.

A pop-up window will appear, and if you want to reset your device, click on "Erase" to confirm your operation.
This will automatically erase all data and delete the lock that was recently created. When you using this way, please make sure that your LG device be connected to the internet.
Note: If you want to change the lock, you can click on "Lock" and then there will also appear a pop-up window, which requires you to enter a new password. After setting it, you can unlock your LG device with new password.
Part 3: Factory Reset LG Phone When Locked out with "Emergency Call"
This way is a special way. Many users may not know this. If you don't want to or you can't reset your LG device using the above two methods. Then you can try this way. You can use the emergency dial pad to reset the locked phone. But the process is a little more complicated than the other methods. If you don't mind it, then follow these steps to learn how to reset android phone when locked out LG.
To begin, tap the emergency icon or the "Emergency call" on your screen.

Now, you must dial a series of digits on your phone. You can input 2945#*# or 1809#*101#. The exact code can differ depending on the system. You can choose to dial *#*#7780#*#* for this code can work with most of LG devices. After dial these codes, the device can be reset.
Note: If it doesn't work, input #668 and press the Power button meanwhile. Then, your device will be reset.
Part 4: Factory Reset LG Phone When Locked out in Recovery Mode
The final solution that I would suggest is to do a system recovery on your Android device. We will begin this technique by booting the LG device into Recovery Mode. Later, we'll delete the device's memory and restore it to factory settings.
As a result, it would delete all of your phone's stored data and settings. And there is a little difficult using this method. Follow these steps to learn reset phone when locked out android LG:
1. Before you begin, ensure that your phone is switched off. Otherwise, click the Power button to turn it off.
2. Now, for at least 10 seconds, simultaneously press the Power and Volume Down button and release them once you see the LG logo. Then, press the two buttons at the same time again. Hold it until you see the recovery mode on the phone screen.
3. Once your phone reaches Recovery Mode, you can navigate to the "wipe data/factory reset" option using the Volume up and down buttons. To pick it, press the Power key.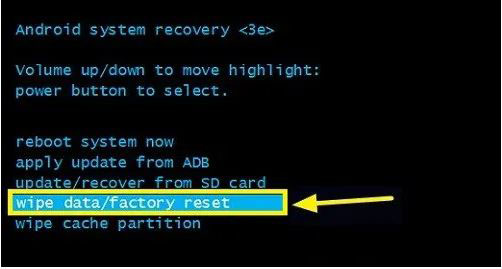 4. On the following screen, click the "Yes" button to confirm your selection.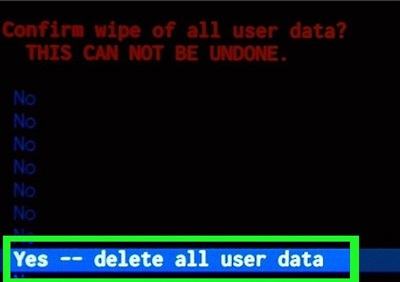 5. Wait a few moments until your LG phone is restored. Finally, choose to reboot the system normally.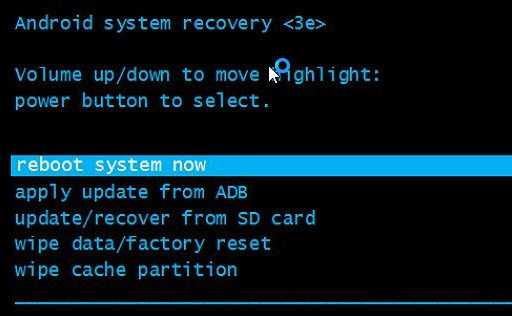 When you reset your phone, it will restart without a screen lock. Though you will lose all saved content on your LG device in the process.
Extra Tip: How to Hard Reset LG Phone
When your device is locked, you may want to get into your device by hard reset it. Here are the steps to use this method. However, you don't have to choose this method if you can use the above methods, especially the first two methods. Besides, the steps is very similar with the steps of factory reset LG phone without password.
Step 1: Turn off the LG device.
Step 2: Press the Power/Lock and the Volume Down button together.
Step 3: Release the Power/Lock key when you see the LG logo. At this time, press and hold the Power/Lock key again.
Step 4: Once you see the screen of factory reset, release the Power/Lock and the Volume Down buttons.
Step 5: Then press the Power/Lock key and one of the Volume keys.
Step 6: At last, press the Power/Lock key to confirm or one of the Volume button to cancel.
Summary
We have discussed 4 methods to solve how to factory reset LG phone when locked out. And you will find that either method will result in data loss. So, everybody, remember to back up your data in time. And if you want to solve your problem easy and fast, pick PassFab Android Unlocker.