Android phones protect your privacy and data with their security features. No one can access your data or unlock your phone without your permission and password, and it also means that if you forget your password, you cannot unlock your phone as well.
You cannot unlock your phone without its password, and the only option you have is to reset your phone or use third-party applications. Here, we will tell you how to reset android 11 phones when locked and how to unlock your phone if you don't have a data backup. Follow these solutions to unlock or reset any android 11 phones.
3 Best Ways on How to Reset Android 11 Phone When Locked
PassFab Unlocker is an excellent android password unlock tool that unlocks your phone password or FPR in case you want to reset it. You can use it to remove passwords, fingerprints and other security inputs and unlock your phone. Here are some of its amazing features.
Unlock Android Pattern, PIN, Fingerprint, password.

Reset a locked Android phone without password.

Best FRP lock removal tool to bypass Google verification on Samsung without password (Win & Mac).

Support Samsung devices of Andriod 6/7/8/9/10/11, including S22.
Here is how to reset an android phone that is locked with PassFab. It is a third-party app, so you need a computer to complete this procedure. Download and run the PassFab Android Unlocker on your computer. Run the application and follow the steps in our guide on how to reset android 11 phones when locked.
Run the PassFab Android Unlocker

After downloading the PassFab application, launch and select "Remove Screen Lock." Connect your phone with the computer using a USB cable and move to the next step.

Remove the Android 11 Screen Lock

For phones with android 11, you can select remove screen lock and click start to begin the process. It is the procedure for all new android phones.

Removing the screen lock will erase all of the data in your android, and after you begin the process, you will see a reminder where the application asks for your permission to continue.

Click on "Yes," and your screen will get unlocked in a few minutes. You can get restore your data if you have cloud backup.

Wait for a few minutes and your Android lock screen will be removed. Click "Done" to finish the process.
Method 2: Factory Reset
Forgetting your password and getting locked out of your mobile phone is annoying because you can't unlock it without losing your data if you don't have a backup. It is a big problem, and factory reset is the last solution on how to reset android phones without password.
Remember, you will lose all your data if you do a factory reset to unlock your android. Follow these two steps to do a quick factory reset.
STEP 1: Swipe down from the top and pull down the notification tab on the lock screen. You can tap on the setting button to enter phone settings.
STEP 2: Go to backup and reset and tap factory data reset. Choose the reset device option and tap on remove all data to start the reset.
With Locked Settings
Learn how to reset a Samsung phone that is locked without going to settings.
STEP 3: Turn off your phone and wait for the screen to turn black.
STEP 4: Hold the power, home, and volume up button to open the system update screen. Tap on factory reset to reset your phone.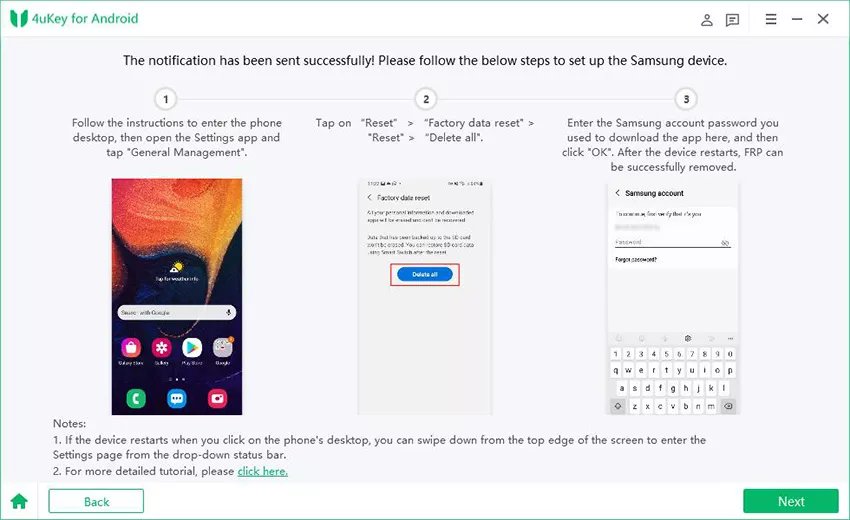 Method 3: Find My Device
You can use the Find My Mobile feature on google if you want to unlock your phone and know your google account and its password. This method will erase all of your data, and if you don't remember your Google password, you might permanently lock your android phone.
Follow the steps in our guide on how to reset Android phone when locked to reset any android device using the find my device feature. If you don't understand how to do this, you can use the recovery mode to reset your device.
STEP 1: Sign in to your Google account on your computer. Use the same account that you use in your android. Go to android.com and click on find. If you have multiple devices connected to the same account, you can choose the device you want to erase at the top left of the screen.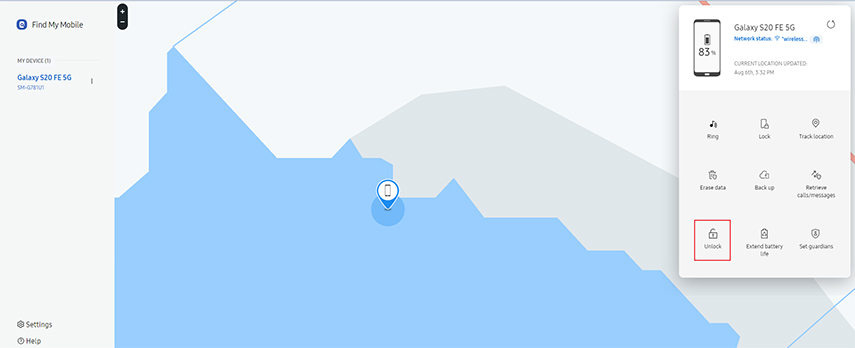 STEP 2: Navigate to Unlock option to start the process.
STEP 3: Verify your Google account and set up your phone again. It is a simple way to unlock and reset your android device.
More Tips: How to Change Password from Samsung S22
You can easily change the password from your Samsung S22 by going to the settings and tapping on the lock screen. You can choose the screen lock type, and you can also select the password recovery account in case you forget your password.
TIP 1: Learn How to Reset
Learning how to reset a Samsung phone that is locked helps out a lot if you easily forget passwords and you backup your data. Above all are a few tips on changing your password and whether it is safe to keep your phone unlocked.
TIP 2: Disable the Lock Screen
Disable the lock screen of your Samsung or any other android phone if you continuously forget your password or get it wrong. It keeps your phone unlocked so you can avoid the risk of locking your phone and losing your data. However, it also has some downsides. Anyone can access your phone with a swipe which means no privacy whatsoever.
It is unsafe to leave your phone unlocked, vulnerable to tampering and theft. Your best option is to use a password you can easily remember and learn how to reset android phones without password in case you forget yours.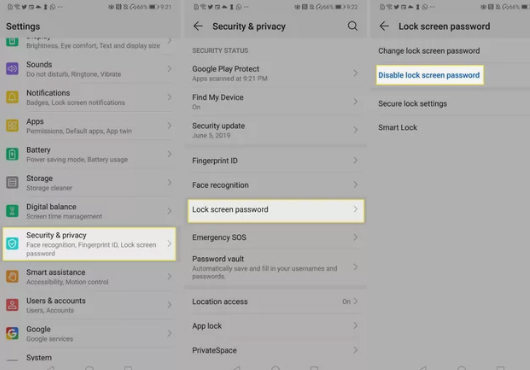 Conclusion
Forgot the password of your android phone? If you don't have a data backup, you are most likely going to lose all of your mobile data after you unlock or reset your phone. You saw the steps on how to reset android phone when locked using google find my device feature and PassFab. You can also use PassFab to unlock the screen, but it will erase all your personal and important data. You can also do a factory reset to open your phone.