The majority of Individuals prefer to use the lock screen to preserve their phone's privacy. However, you may be locked out of your phone by accident for a variety of reasons; in that case, google to see if there is a way on how to unlock Android phone without password.
When something is important to you, you will go to great lengths to safeguard it. That's why Samsung products are engineered with military-grade security from the chip on up, guaranteeing that your data and device are safe right out of the box. There are a variety of lock methods available, including Fingerprint Recognition, Patterns, and PINs, to make unlocking your phone easier.
4 Practical Methods on How to Unlock a Samsung Phone
It is very usual to forget the password for the screen lock. One of the most effective and quick ways to unlock your Samsung smartphone is to perform a hard reset. You can unlock your Samsung smartphone's passwords, pattern, and any other PIN codes in a variety of methods. To unlock your Samsung Phone, all you have to do is simply follow these simple steps.
Method 1: How to Unlock Samsung S22 Phone via Find My Mobile
Samsung's phone and tablet both have a feature called "Find My Mobile". If you've forgotten your password, you can use this way to unlock your Samsung Phone's lock screen PIN/Password/Pattern/Fingerprint without losing any data.
Your Samsung Account must be set up and the Find My Mobile feature enabled on your smartphone.
Step 1: Log in to your Samsung account on the Find My Mobile website. Select "Unlock" from the drop-down menu.
Step 2: Click "Unlock" on the next page, then enter a new password. When you click Next, the old security lock on your device will be instantly removed. The New Password can then be used to unlock your Samsung Phone.
Method 2:How to Unlock a Samsung S22 Phone via Android Device Manager
This method performs a Remote Factory Reset using Google's Find My Device. It will erase not only your Android phone's password or pattern as well as your lock screen password, but also all of the data on it.
This will only work if you turn on Find My Device on your phone, and it will erase all of your data.
Step 1: Go to the "www.google.com/android/devicemanager" website on your computer.
Step 2: On the left side of your screen, you'll notice this. Your phone will boot into recovery and begin a factory reset when you confirm the Erase feature. It is hard to stop or cancel this activity once you have approved it on your Android smartphone. Even if you turn off your Android phone, the reboot will resume when you turn it back on.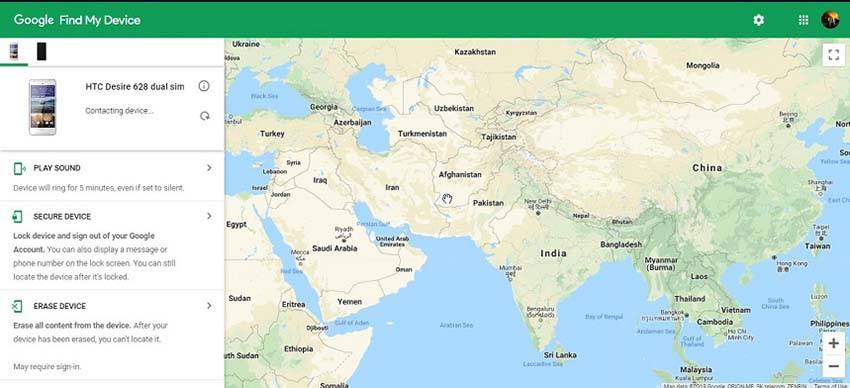 Step 3: On your phone's screen, you should now see a password field. Enter a new password to unlock your phone.
Step 4: Disable the temporary password on your phone's lock screen settings.
Method 3: How to Unlock a Samsung S22 Phone via Factory Reset
You may do this the old fashioned manner on your Android handset if you don't have the "Find my Device" option enabled on your phone.
Unfortunately, if you're still behind a lock screen, the quantity of personal data you may preserve, as well as your Google account, is limited. Here's what you can do to save as much as you can:
Connect your computer to your gadget.
Locate your phone and use your PC to open the primary folder.
Copy and save any folders that you want to keep.
The processes for performing a factory reset may vary slightly depending on your Android device, but the ultimate effect will be the same. By entering recovery mode on most devices, you can do a hard reset.
Step 1: To begin, go to the boot menu. Enter the boot menu after turning on the Android smartphone. If you can't get into it using the aforementioned approach, do a fast Google search for your Android phone model and how to get into safe mode.
Step 2: Go into safe mode. In a secure mode. On your Android device, use the volume keys to go up and down, and the Power key to confirm your selection.
Step 3: Enter a new password to unlock your phone. Locate the option to Wipe Data/Factory Reset.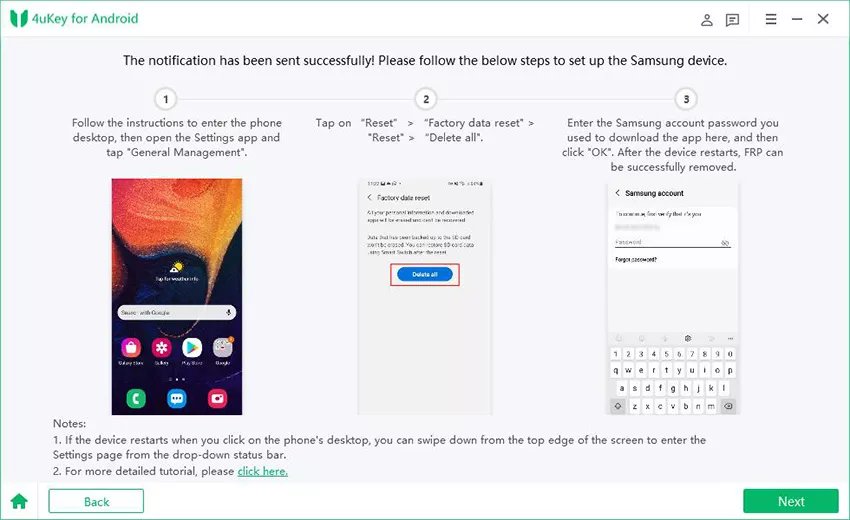 If you employ this approach, the data on your smartphone will be deleted. Your Android phone will begin the procedure when you confirm the decision - it may take several minutes.
Your Android device will restart without your passcode, but also without your data, after the process is complete. This technique unlocks Android phones, but it also erases all data; unless you have a backup of your files, do not perform a factory reset on your Android smartphone.
Method 4: How to Remove Password from Samsung Phone via PassFab Android Unlocker
PassFab Android Unlocker is a simple tool for unlocking Android devices that has been created to remove specific locks. The software is well-known for its extremely user-friendly interface, which ensures that you will have no trouble using it. Furthermore, this program can be used to unlock an Android phone without a Google account.
It is capable of unlocking all forms of screen locks without the use of a password.
It has the ability to unlock early Samsung smartphones without causing data loss.
It's simple to use and completely functional.
Install and run PassFab Android Unlocker on your computer, then connect your device via USB cord. From the home screen, select "Remove Screen Lock." Select "Remove Screen Lock" once again.

You'll see a prompt. To continue, press "Start." To continue, select "Yes."

Wait patiently for the procedure to finish before clicking "Done." Then you may access your Android device.
Conclusion
If you ever find yourself in this circumstance, you can use any of the methods listed above to unlock an Android phone. If you're not sure which strategy to use to solve your problem quickly, try the one that is the most straightforward.