Most of the time, many of you will complain when you fail to remember your passwords and go into recovery mode to wipe every piece of data from your phone. You might get the "Samsung MDM does not allow factory reset" error message by picking factory reset. It is a very unpleasant experience when you don't know what to do about it. In any case, there is a reasonable need to feel confused. There are ways how to remove MDM control from Android. We will explain every one of the strategies in this article, so lock in!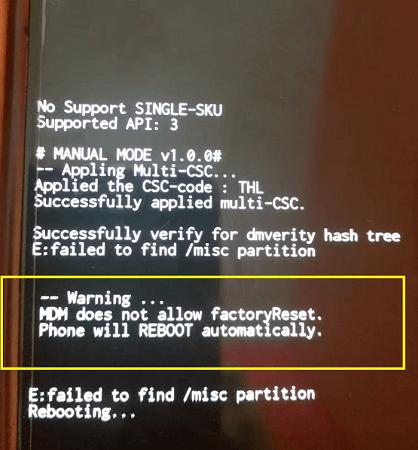 Part 1: What Is Samsung MDM and Remove Tools
What is MDM?
Mobile Device Management (MDM) alludes to expanding corporate security by checking, making due, and safeguarding cell phones, tablets, and PCs used in a company. It allows executives and IT groups to oversee and circulate security rules for cell phones with critical organizational data. MDM ensures the security of a business.
What is Samsung MDM Remove Tool?
Samsung MDM Removal Tool is a bit informal and free GSM programming created by PLUK GSM. ROMThai center.com is working on it. This tool has the ability to remove the factory reset security lock and the security lock for Samsung gadgets. These tools can do their job in emergency download mode. It offers extra details like reading Info, Factory Reset, and FRP Reset.
Part 2: Why Does MDM Not Allow Factory Reset?
Suppose you see, "MDM not allow factory reset," this implies that it is a demo phone from the Samsung organization given to the company for demo use. MDM doesn't allow factory reset is somewhat a security highlight in Samsung cell phones.
This security doesn't allow the client to reset the demo phone. Samsung made this security feature because if the phone is displayed in a demo and you have no information, a fake phone reset will remove all its data. That is why Samsung has empowered the security in the demo cell phones.
However, each issue has an answer; the accompanying step-by-step arrangement can fix the MDM mode Samsung issue.
Part 3: How to Remove MDM Control from Android?
For anybody experiencing this issue, coming up next are the steps to sidestep the Samsung MDM bypass:
Firstly, before doing anything, make a passcode for the gadget.

Ensure that your gadget is charged an 80% or more charge.

Then, you will have to go to the Settings and Security Encrypt Device tabs individually.

Set a PIN/secret word for your Samsung phone.
After you have gotten your phone and it's gone through, reboot the phone, and when it boots, it will request that you enter a passcode to get to your device data and see what's inside. Suppose you type some wrong code 15-20 times (it relies upon your gadget), in that case; it'll wipe your phone off any data and restart. In that case, you will see your phone as a new gadget after a factory reset.
After a factory reset, if there is an FRP lock, you should remove or bypass it. Likewise, if a PIN code locks a Samsung phone, you must remove the screen lock first. For this, you need a third-party tool like PassFab Android Unlocker to sidestep the FRP Lock.
Bonus Tip of How to Bypass FRP on Samsung
PassFab Android Unlocker is a program that can open the FRP lock of all devices. New clients can utilize this application without a problem since it has a great UI. It has major areas of strength that can help the client with opening gadgets in an exceptionally short time frame. For reset and factory settings, you need a password. If you don't have a password, you can involve this tool to reset your iPhone.
Also, PassFab Android Unlocker upholds different Android models, including Samsung, Sony, Huawei, Xiaomi, Google, and LG, and all the Android adaptations from Android 4.0 to the most recent Android variant.
Unlock early Samsung devices without data loss. (Windows Only)
One can reset a locked Android device without a password.
Best FRP lock tool to sidestep authentications without requiring a passcode.
Open the Android lock screen for almost 100% of Android devices, including Samsung, Google, HUAWEI, Xiaomi, etc.
Step-by-Step Solution
Connect your phone and your PC through a USB link, then, at that point, select "Remove Google Lock (FRP)".

Select the OS variant of your Samsung phone and snap "Start."

The "Alliance Shield" app will be required in this process.Click "View" on the locked phone to go to Samsung Store. Adhere to the on-screen directions to head to Galaxy Store and download the application.

Open the app, register a new account from the login page, and tap "Next". Then follow the steps to turn on "Device Admin" and "Knox," and then, at that point, go to App Manager > Administration Mode.

Turn on Service mode and check "MTP+ADB". It is vital to take a look at this choice and allow USB troubleshooting on your phone. Then, at that point, turn off and replug the USB link to your Samsung gadget.

Then, PassFab Android Unlocker will begin eliminating the Google lock.After the program removes the lock, you need to go to Settings > General management > Factory reset your phone to sidestep the FRP.
Part 4: 2022 Top 4 Samsung MDM Remove Tools
The following are the top-rated Samsung MDM remove tools:
1.PLUK-GSM
ROM THAI CENTER controls PLUK-GSM. You can utilize it to eliminate Factory Reset Protection (FRP) lock, factory reset, and MDM.
2.EDL Mode
EDL Mode tool is one more valuable tool for Samsung devices. As a client, you can eliminate factory reset locks, unlock MDM with a single tick, and so on.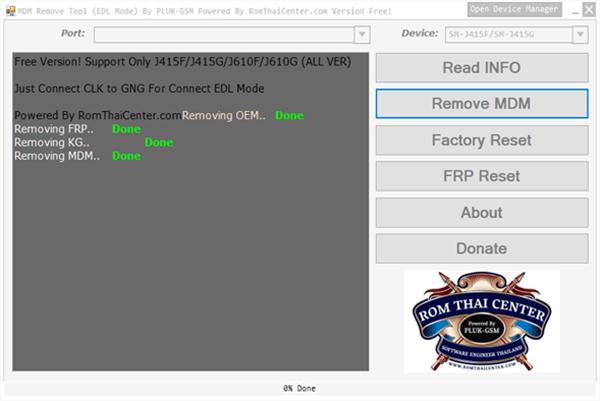 3.Apkation
Apkation is an MDM bypass program that can open your Samsung device and eliminate MDM.
4.RAJAMINUS
The RAJAMINUS Samsung MDM tool can restore your data from the device and flash the device. It works with different Samsung Android models and adaptations.
Final Thoughts
Presently you understand the Samsung MDM Remove tool and how to get rid of the issue highlighted above. Without much stretch, you can utilize your Samsung device once more. Also we recommend you to involve PassFab Android Unlocker since its simple and speedy usage can remove any extra lock issue.