Wi-Fi calling is a feature that enables the users to make calls over the best available network if the cellular signals are weak and poor. However, at the same time, the majority of users have a problem in enabling this feature as their screens are displayed as unable to activate wifi calling at this time. To sort out issues users must try the methods described.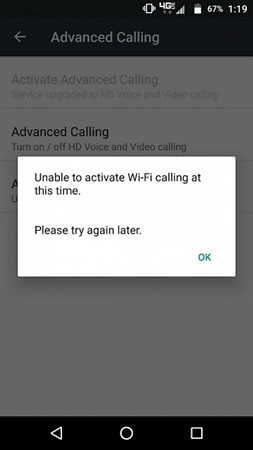 Part 1. Why Can't I Activate Wi-Fi Calling on Android?
Most of the devices with recent android versions offer this feature. On smartphones, this feature is not set to default. By going into the settings, in the search bar type wi-fi calling, if available, it will appear there. Then on selecting, you can enable wi-fi calling by sliding the toggle. If the user still receives a message as unable to activate wifi calling at this time than he needs to consider some other steps, as firstly ensure that wi-fi calling is turned on and that network is capable of wi-fi calling.
Part 2. How to Fix Unable to Activate Wi-Fi Calling on Android?
If you are facing a problem with this feature, the following are the methods and guidelines to sort out the issues.
Method 1. Restart Your Android Phone
Once you have enabled the wi-fi calling, but still have the issue, showing message as unable to activate wifi calling at this time s7 smart phone users may also face the same problem.
To get the solution to this trouble, mostly restarting the Android phone is also effective. After connecting to an appropriate network, check if their device is capable of receiving/making calls, wi-fi calling is working.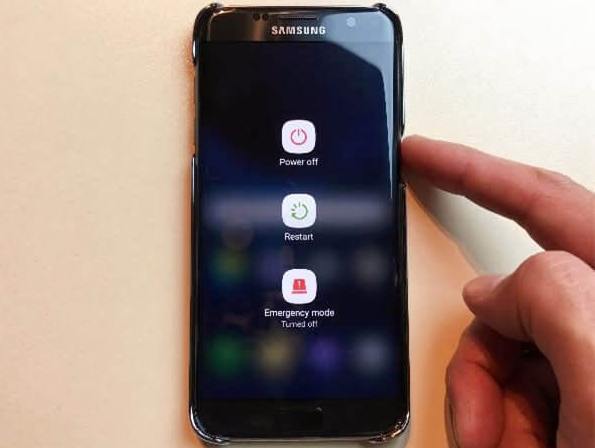 Method 2. Clear the Phone Cache
A website/app opened once, cache (temporary storage) keeps that data stored and serves faster if the same data is requested in the future. Sometimes. The cache may store some old versions or irrelevant data regarding the connections that may hinder the android to enable wi-fi calling. Removing cache helps enable wifi calling.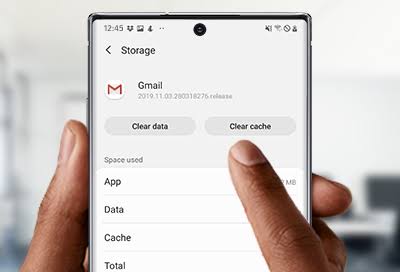 Method 3. Confirm that HD Voice and Video Calling is ON
If you have restarted your phone, cleared the cache, and still facing the issue saying that unable to activate wifi calling at this time than make sure, video calling and HD voice is ON. As wi-fi calling enables calls with HD voice calls, and ensure that your device must be capable of making an HD voice call.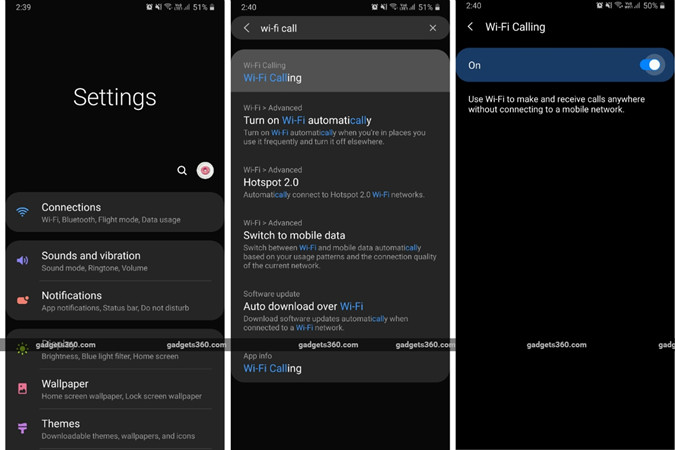 Method 4. Enable "My Verizon Services" (If You Use Verizon)
Verizon is famous for being one of the largest wireless carriers along with its other services. Verizon users can get access to wi-fi calling via a capable wireless network. But if the users still receive a screen as unable to activate wifi calling at this time verizon by introducing "My Verizon Services" looks for the problems and by collects information regarding the issue to troubleshoot the issues.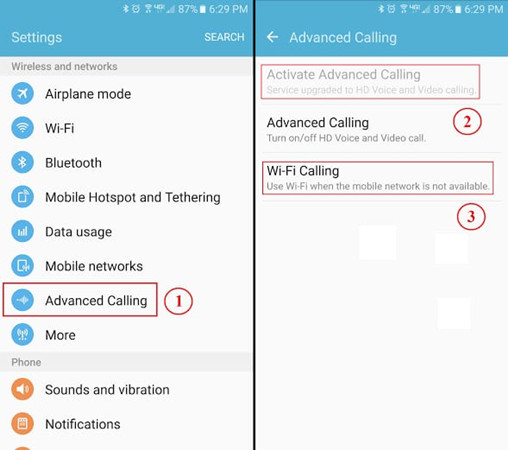 Method 5. Factory Reset Your Android Phone
Factory reset removes the device settings, user data, and the data from the other associated applications. So if your android device doesn't get access to wifi calling, then you need to Factory reset it. Because there might be some sort of stuff or application or even a faulty setting that is obstructing the wifi calling for your device. Factory Reset locations and options vary from brand to brand.
For Samsung:
If a Samsung user is keen on enabling the wifi calling but he still has a screen with a statement as unable to activate wifi calling at this time. pleaser try again later. samsung g955u is the good version but if the problem is not solved, then the device may need a factory reset.
Open settings and search for factory data reset and select it. After selection, tap again Factory Data Reset and have a view of the contents, when all is set swipe to and tap Reset.
Samsung android device will reset. And when you will turn it on again, you will have a screen with initial steps.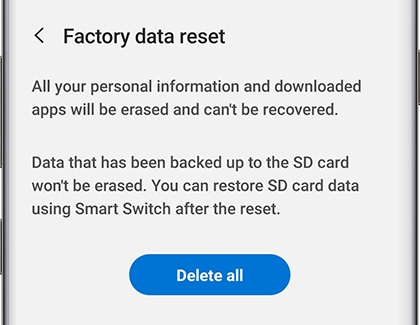 For LG:
Users using the android phone of LG can mostly have an access to wi-fi calling, but if sometimes they face trouble with it on trying again and again. Then might by factory reset the problem may resolve. For statements displayed as lg stylo wifi calling unable to activate at this time factory reset can be the best genuine option. By the following steps, an LG android device can be set to factory reset.
Firstly, you need to turn off your phone, then by holding and pressing the lock key +on the back phone of the key volume down key, all at the same time.
Then release the power key, and just when the logo of LG is shown on screen, again hold and press the power key at once.
When on the screen is set out to Factory hard, free all the buttons/keys.
To continue with the process, press the power key.
For confirmation, one again presses that lock key.
Then the device will be reset, and the initial setup will be displayed of starting it again.
For Asus:
For Asus android device users, following are steps to have the factory reset:
Turn off the device, press, the power key along with the volume down key.
As the device vibrates, only hold the volume down key and release the lock/power key to enter the recovery mode.
Then pick wipe data/factory reset by pressing any of the volume keys, and after this press the lock/power key.
Choose " yes—delete all user data" by one of the volume keys and press the power key to let the reset started.
Once reset get completed, by selecting the "Reboot system now" and to reboot or reset the device press the power key.
FAQs: People Also Ask About Wi-Fi Calling on Android
Q1: What is Wi-Fi calling on Android?
It's just like as you naturally have called on your cellphones, omitting the carrier routes, rather the cellular networks the calls are made via the wi-fi networks. And on a call, the selection of the network either Wi-Fi network or cellular is done automatically, you have nothing to do with it. But it's beneficial to have Wi-Fi calling as in certain areas where they may be low or weak cellular signals, you can easily attend or make a video/voice call along with the best quality.
Q2. How do I enable Wi-Fi calling on Android?
To enable it in your android device, go to settings, there type Wi-Fi calling, and after selecting it and sliding the toggle will turn the Wi-Fi calling on. By enabling the Wifi calling you will your device will start making calls via a Wifi network with good strength.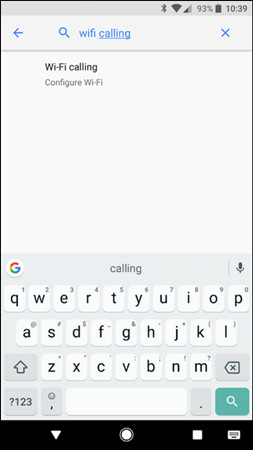 Q3. Why do I have to contact Verizon to enable Wi-Fi calling?
The majority of phones that are on Verizon are with the feature of wifi calling. Verizon Wireless is also one of the most well-known and grand telecommunication company and providing the best wireless services. To enable Wifi calling Verizon users must have a strong and pronounced connection to Verizon. Otherwise, you will get a screen displaying as it's unable to activate wifi calling at this time Verizon connection make sure to resolve such issues.
Final Words
Wi-Fi calling is a feature eases to make/receive calls just by strong Wi-Fi connection. But if there is trouble with it, by restarting a phone or clearing cache your issue may resolve. Verizon users have to enable "My Verizon services". And if still, screen displays as unable to activate wifi calling at this time than the Android may need a factory reset. To remove Android Lock Screen without a password, PassFab Android Unlocker is the best one, as by following the easiest three steps, the password can be removed. It doesn't matter what type of password it is.