Realizing our Samsung device to be having network restrictions can be a problem sometimes. You cannot enjoy other network services if your device is carrier-specific. In such a case, you need to take the help of solutions that can help unlock Samsung phone for free. However, before you jump to the conclusions, you should have proper knowledge if your phone is actually locked or not. And to do this, you can remove the SIM after turning the device off and try some another network SIM. If it is accepted, your device isn't network specific. If it asks for unlock code, you can understand that your device is network specific.
Another topic we are going to raise in this post is the FRP. It is basically a protection feature that doesn't allow you to factory reset until you give the password. In case you have forgotten Samsung FRP, we will guide you how you can unlock it as well. All in all, we will let you know how you can unlock Samsung J3 free or any other Samsung device from FRP and the SIM network PIN. Have a look!
Part 1: How to Unlock Samsung Phone Locked by FRP for Free
If your concern is unlocking FRP of Samsung device for free, we would like to inform you that this can only be fulfilled with the help of a professional tool. And in such case, we would like to suggest you PassFab Android Unlocker that can surely help you. With a free trial version, the tool aims to work with 99% of the entire Android phone. Even if you are using Samsung S10+, it is no headache for PassFab. Let us understand unlock Samsung J3 free or any other Samsung model using this amazing tool.
Step 1: Simply download the free trial version of the tool and install it later. When you enter the main interface, simply click on the "Remove Google Lock (FPR)" option.

Step 2: Get your Samsung device connected with the PC. Hit on "Start Remove" button to proceed.

Step 3: Ensure your device is conected to Wi-Fi, the Android Unlocker will send a notification.

Step 4: Tap "View" on your device, follow the instructions to download the "BypassFrp.apk" file.

Step 5: Open the file, you will go to the Settings page of the SAMSUNG device.

Step 6: Follow the instrutions to set a pattern.
Now, restart the device, you can use the pattern you set up to bypass the FRP.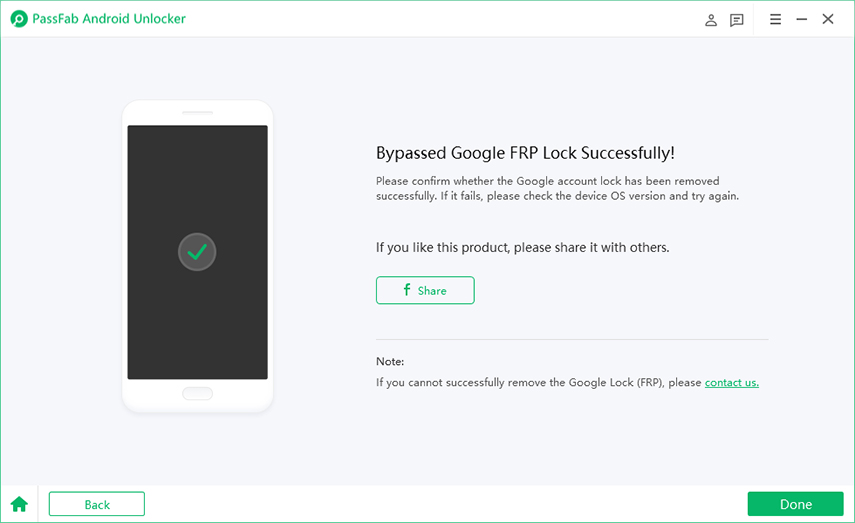 Part 2: How to Unlock Samsung SIM Network PIN for Free
When your device is locked for specific network, here are the two ways through which you can unlock Samsung phone free.
1. By Contacting Network Provider
One of the ways using which you can unlock your SIM network PIN is through contacting your network or carrier provider. Here is how you can do this.

Step 1:

Get your IMEI number by dialing *#06# and mote down it somewhere as you will need it later.

Step 2:

Take the signed contract for your network.

Step 3:

Now, you simply need to contact your carrier provider. Use phone or email or you can walk physically for the purpose. They will ask you for details like IMEI number. The taken time will be depend upon the terms and conditions of your network provider.
2. Using Code Generator
You can take help of code generators available online. This method is common among Galaxy users. Aplenty of code generators can be found and downloaded online whereas some doesn't need to be downloaded. Here, we will use WorldUnclock Code Calculator. Let us know how to do it.
Step 1:

Dial *#06# and note your IMEI number.

Step 2:

Visit WorldUnlock Codes website and enter the phone details like IMEI number, model etc. Hit on "Calculate" and the codes will be generated.

Step 3:

It may take some time. Use the code now to unlock Samsung phone for free.
Summary
We have shared you things about unlocking Samsung phone free. Whether you wish to unlock FRP protection or you wish to unlock SIM network, we have provided free ways to do that. We hope that this post has figured out the doubts you were having. If we could help you, please share this with your friends. Also, tell us your experience as well by leaving comment below. You can also communicate with us if you have any queries. Thanks for your time and reading this carefully!