Do you want to enhance your Android device's functionality? Yes, you can do it by unlocking the bootloader, installing a custom recovery, installing a custom ROM, and, of course, rooting and personalizing your Android device. Therefore, if you wish to do either of the above, you must proceed by authorizing OEM unlocking on your Android device. Here's a comprehensive explanation of what is OEM unlock, why you may really need it, and how you can do it in minutes on Android phone.
Part 1: What is OEM Unlock
OEM unlock is a function that was included in the Android OS' Developer Options menu. The function has been introduced to Settings that must be enabled before users may decide to open their Android device's bootloader. If enabled, the bootloader of your Android device enables rooting, whether it was limited to a single network provider when bought.
Besides, the OEM unlock has the basic purpose of enabling the command "fastboot flashing unlock" to run. The option is hidden from display, as neither Google nor the Android OEM brand that manufactures your smartphone wants you to tweak with the device beyond what it was designed to do.
So, this is actually what does OEM unlock means.
Part 2: Why You Should Enable OEM Unlock on Android
Now that you know what is OEM unlock on Android, let's look at why we need to allow "OEM unlock" and what the disadvantages are.
By allowing OEM unlocking, a universe of limitless possibilities becomes available. The following are some of the benefits of OEM unlocking:
Bootloader unlocking
Custom Recovery Installation
Install Custom Roms
Installing a custom kernel after rooting the device
Eliminating bloatware
Installing well-known mods such as Viper4 Android, modifying device files and partitions, and performing a variety of other interesting tasks
Enabling "OEM unlock" is as simple as switching on a button, however, you cannot perform any significant customizations on your Android device unless the bootloader is unlocked.
Part 3: How to Enable OEM Unlock
As previously said, the OEM unlock feature is located inside the Developer Options menu, which by default is not available. As a result, you'll need to activate the Developer Options first and then locate and activate the OEM unlock feature.
Steps to Enable Developer Options
Navigate to the "Settings" menu on your Android device's home screen.
Scroll all the way down to locate and open the "System" tab or locate and click the "About Phone" button.

Find "Build number" and press it seven times once you see the sentence "Congratulations! You're now a developer".
Now, you know how to unlock Developer Options. Let's move towards to what is enable OEM unlock.
Steps to Enable OEM Unlock
Go to "Settings" and choose "System."
Choose "Developer options".
Scroll down to the "OEM unlock" and press the toggle. If you've configured a password/PIN, you'll be prompted to enter it.
You will be asked to validate the operation, thus, tap "Enable".
Extra Tips: How to Unlock Android PIN/Pattern Lock When Enabling OEM Unlock
If you have forgotten your Android smartphone PIN or password when enabling OEM unlock, then this section is for you. PassFab Android Unlocker is the powerful software specifically designed and built to remove the forgotten password or PIN for Android device. So, without further delay, let's have a look at how PassFab Android Unlocker works:
Step 1: First, download PassFab Android Unlocker and open it.
Step 2: On startup, choose the "Remove Screen Lock" option. After that, use a USB cable to link your Android device to your laptop or computer.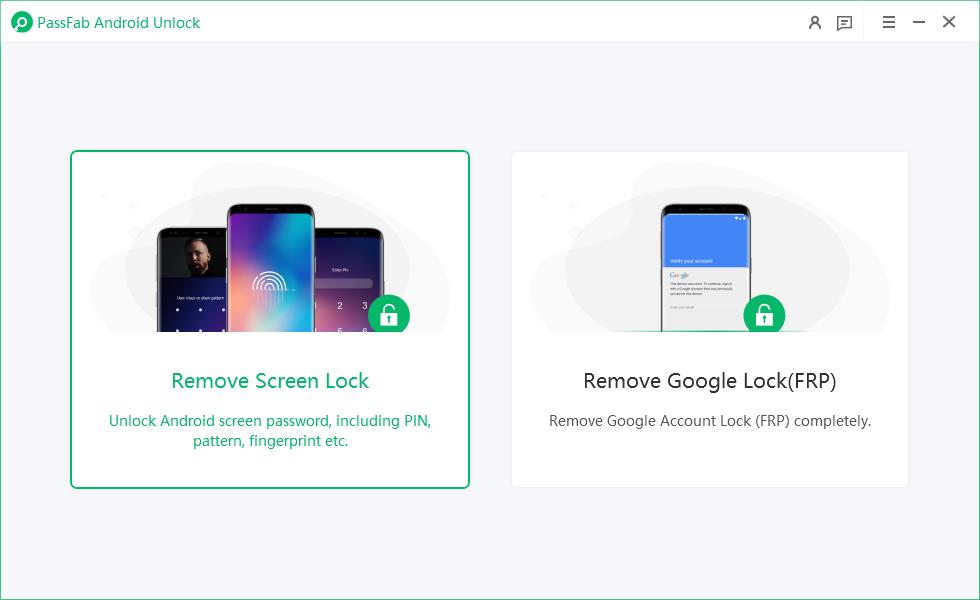 Step 3: Then a popup box will appear, asking you to press "Start" to proceed.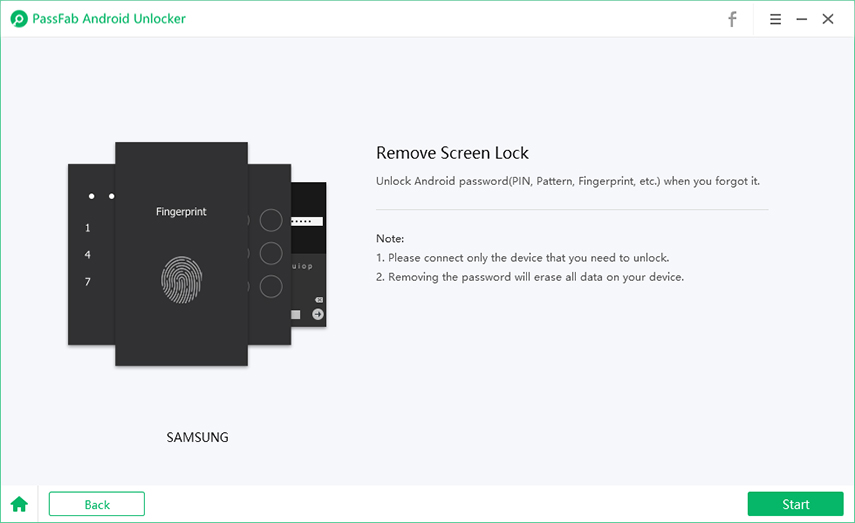 Step 4: You can now see a warning: "Removing the lock screen password will erase all data on the device. Are you sure you want to proceed?" To proceed, click "Yes".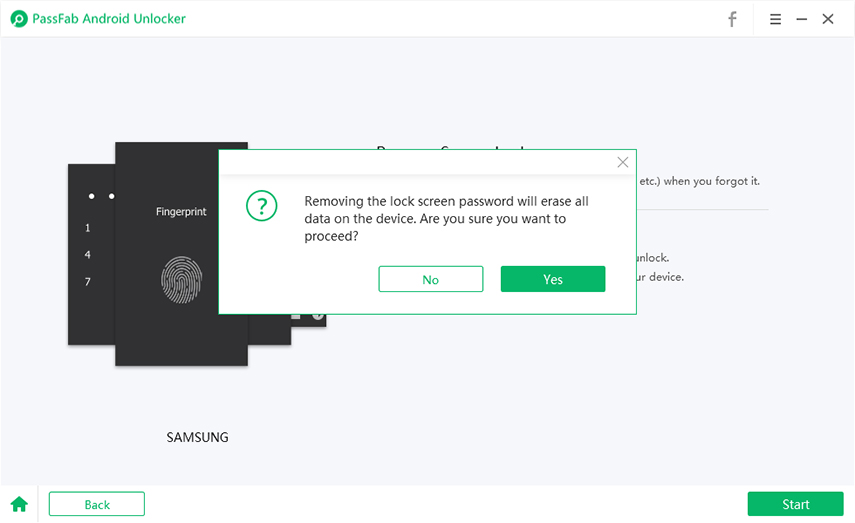 Step 5: Wait a few moments to remove your lock screen password. To end the process, click "Done".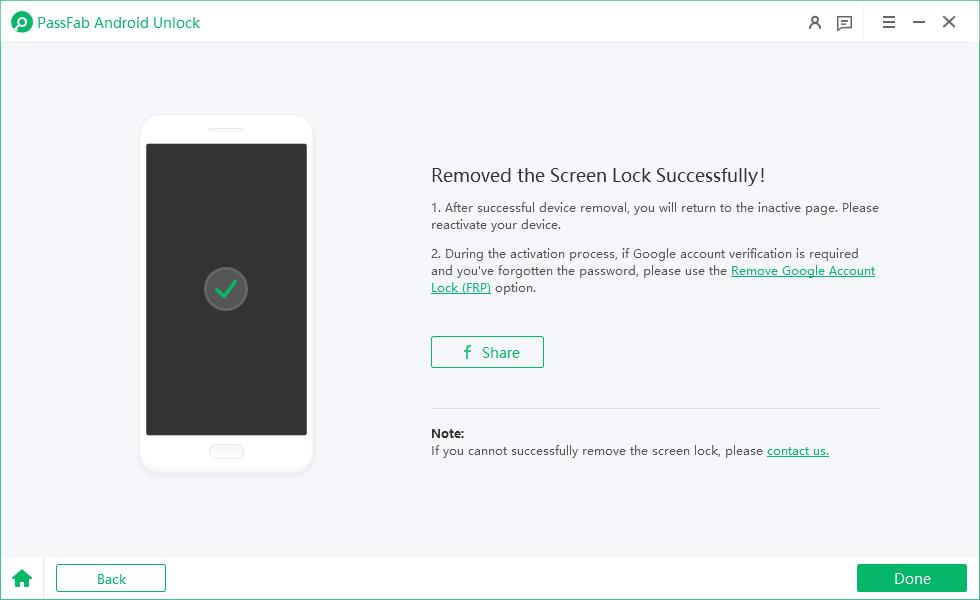 Now, your phone's lock screen password has been removed.
Summary
OEM unlock is the gateway to the world of Rooting and Custom ROMs! It needed to be enabled on the phone before the bootloader can be unlocked. This guide explained what is OEM unlock, why you need to enable it, and how to enable it. Moreover, we have also covered how to use PassFab Android Unlocker to unlock Android PIN/Pattern lock, and it is highly recommended in case you forgot your password when you enable OEM unlock.
FAQs about OEM Unlock
1. Distinction Between Bootloader and OEM Unlock
The Bootloader is a storage-based operating system that must be loaded into memory prior to usage. When your device boots, its memory does not have a program that allows it to access components such as I/O devices or storage.
On the other hand, the Fastboot OEM unlocking procedure involves activating a special switch that enables you to unlock the bootloader via fastboot commands. Bootloader and OEM unlocking are intrinsically tied, as the OEM unlock is required to unlock the device's bootloader.
2. Is OEM Unlock safe?
Android geeks sometimes unlock their devices' bootloaders in order to root them and mount custom ROMs. However, devices come with disabled bootloaders for a reason – opening the bootloader poses security risks. For the same cause that Android is not pre-rooted, it is not pre-unlocked – with additional strength comes additional risk.
3. Why OEM Unlock Missing?
On many smartphones running Android 5.0 Lollipop or higher, the Developer Options menu can include an option named "OEM unlocking". Typically, this error occurs as the device enters the Prenormal RMM state.
4. Why OEM Unlock Greyed out?
OEM unlock becomes inaccessible for one of three reasons: Android OEM unlock is not accessible, your smartphone is already boot loaded, or you recently activated the bootloader.
Certain Android OEMs would consider the guarantee null and void if you open the bootloader. Additionally, it's reasonable to assume that they're not really comfortable with you doing it.
Moreover, anytime you need to open or relock your mobile device's bootloader, this error appears. However, the Developer Options' OEM Unlock feature can be greyed out or unchecked.