Every iOS device comes with an activation lock feature. It is designed so that a stranger cannot get access to your iDevice. Hence, making your device secured and safe. If you are still wondering how to check the activation lock status of an iPhone, then this article will be a major help. So, without further ado, let's have a look at some methods to check the activation status of an iPhone.
Part 1. How to Check Activation Lock Status via Apple Support
Apple Support is a platform that is trusted by every iOS user. You can easily check the Activation Lock status with the help of the Apple Support website in a matter of minutes. Just make sure to follow all the steps in the given order to check apple's activation lock status on Apple's page:
1. Direct to your browser and search for the website of Apple Support.
2. A list of numerous iDevices will be presented in front of you on the screen. Choose 'iPhone' from that given list.
3. You can click on whichever search category that is related to hardware. Then select any specific issue like 'cannot access buttons feature.'
4. When you reach the next page, you need to click on 'Send in for repair.'
5. A new interface will be presented now. It will ask you for your iDevice's serial number, IMEI or MEID. Enter the details. This is asked to check the device's activation lock status.
6. If you see the message "Sorry, but we cannot create a repair while Find my iPhone is active," this means activation lock is enabled on the specific device.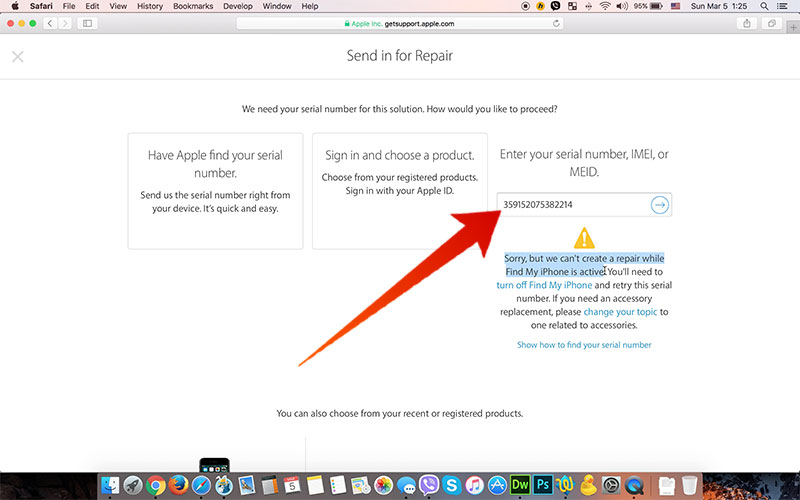 Part 2. How to Check Activation Lock Status via icloud.com
Activation lock is enabled automatically on your iDevice when you turn on the Find my iPhone feature. It prevents anyone else from using your device if it is ever misplaced or stolen. The best method and the easiest available one to check activation lock status is through icloud.com. Unfortunately, Apple has officially disabled its Activation Lock Status Checker on icloud.com somewhere around 2017. It was an extremely useful tool that helped users enter the serial number or IMEI of their iDevice. The tool would automatically detect the status of the activation lock. This tool helped when buying Apple Devices online without any fraud or risk.
Still, let's go through the method of checking the activation lock status with iCloud.com:
1. On your computer system, direct to your browser and search for www.icloud.com/activationlock.
2. It will ask you for the IMEI of your iDevice. You will find this number written on the back of your device.
3. You will be presented with a verification code. Type it in and click on 'continue.'
4. Now, if the IMEI number is enabled or blocked, you will know it instantly.
Part 3. How to Check Activation Lock Status via imei24.com
What exactly is an IMEI number? Every iDevice consists of a unique 15 digit IMEI number. This number can be easily found in the settings feature of your phone. If you want to find out the IMEI of an iWatch, it is written on the watch's back. Imei24.com is an online platform that provides you services free of cost. This website offers a lot of features. They include hardware specifications, warranty of your device, etc. If you are unsure about whether your Find My iPhone is on or off, then you can simply enter your device IMEI number and check it for yourself. It is as easy as that.
These websites support all kinds of Apple devices. Following are the steps that you can take to check activation lock status IMEI:
1. Go to your browser and search for www.imei24.com.
2. Direct to the main interface of the website. You will see an option where it asks for your device's IMEI number. Check the number and type it in the space.
3. Click 'enter' to initiate the checking of the activation lock process.
4. Once the process is done and dusted, the site will show you the results and let you know your device's activation lock status.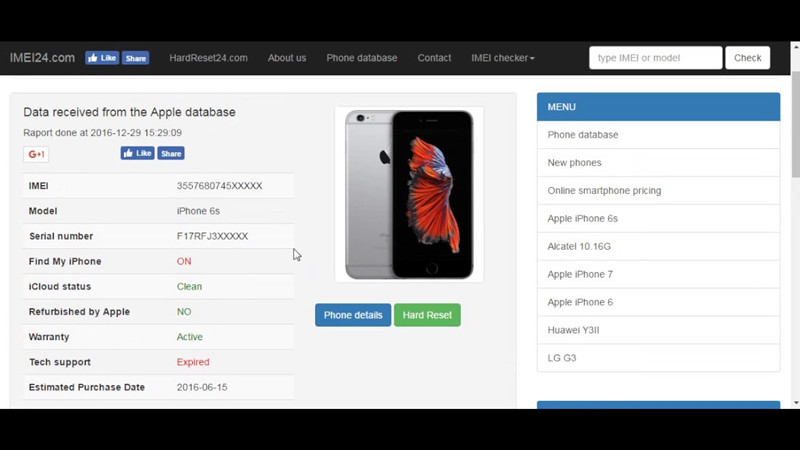 Bonus Tips: How to Remove Activation Lock via PassFab Activation Unlocker
Now, you know what an activation lock is and how to check the activation lock status of an iPhone or any other iDevice. So, the next question may be about how to remove the activation lock on. If that's the case, you must be looking for a program that can help you remove the activation lock on your iDevice?
As always, PassFab is here to make things easier for your convenience. You can avail PassFab Activation Unlocker to remove activation lock on any kind of iDevice. It is, without any doubt, the best available software for this specific purpose. You do not need any previous tech skills or knowledge to use it. Even a beginner can access it without having any hassle. Follow these instructions to remove activation lock via PassFab Activation Unlocker:
1. First of all, download PassFab Activation Unlocker software on your computer system. Then, run the file to start the installation process. Finally, launch the program so that the activation lock removal process is started.
2. You will be directed to the main interface of the program. Here, click on 'Start' for the startup procedure.
3. The program will show you a detailed user agreement before moving forward. Read it carefully before you use the program. As soon as you are done, click Next.
4. Now, link your iDevice to your computer system via a USB cable. Once it is connected, the installed program will detect it directly.
5. Now, it is time to jailbreak your iDevice. First, the program will automatically download the jailbreak tool once your device is connected successfully. Wait for a little while for PassFab to download the jailbreak tool.
6. When the jailbreak tool is download successfully, you need to click on 'Start Jailbreak.' Just follow all the set of rules given by the jailbreak program to start jailbreaking your iDevice.
7. Once your iDevice's jailbreaking procedure is finished, it's time to eradicate the iCloud activation lock from your device. Click 'Start to remove' and wait until the completion of the process.
8. And it is finally done! The iCloud activation lock is successfully removed from your iDevice. Click 'Done' to confirm the process.
Final Words
If you are wondering how to check the activation lock status of your iPhone or another iDevice, then this article has got you all covered. It is a detailed guide about everything related to activation lock status. Make sure to read out and understand all the methods provided and then choose whichever suits you the most. Furthermore, if you wish to remove the activation lock from your iOS device, then try out iCloud Activation Unlocker from PassFab as it is simply the best tool in the market. It's not only easy to use but also has the highest success rate.
FAQ About iCloud Activation Lock
Q1. How do you know if Find My iPhone is activated?
There are plenty of sources to find this information from. This article has listed three different methods that can help you check the activation lock status of your iPhone or any other iDevice.
Q2. What is the activation lock bypass code?
Basically, an activation lock bypass code lets you bypass the iCloud lock without email and password. Generally, MDM (Mobile Device Management) software generates this code. The activation lock bypass code is provided only to specific devices that are present in a supervised model. This makes the device to be enrolled with a particular enrollment method.
Q3. What does it mean if the iPhone is activated?
An activated iPhone means that you can successfully get by the 'Emergency Call Screen' to access your device.