Having a duplicate cleaner will ultimately save your life. But how? Well, keep reading to find out more! By the time you found yourself here, you've probably tried all the available options to reclaim disk space wasted by duplicate files. Duplicate files can sometimes be a hard nut to crack because you don't even know where to start. But at the same time, cleaning your windows is crucial to ensuring your machine functions effectively.
That's where a duplicate cleaner comes in. Duplicate files do nothing but clutter your hard disk, making your computer slower and increasing its difficulty level. But with a duplicate cleaner , you can finally reclaim so much space in your hard disk. That said, let's explore some of the main reasons we need to clean duplicate files.
Why Do We Need to Clean Duplicate Files?
Amidst the vicious malware and out-of-the-blue system crashes, you might wonder why you should even bother cleaning up duplicate files. Well, duplicate files can be messy in many ways and generally interfere with your daily productivity. So, in this section, we'll discuss the key reasons why we need to clean up duplicate files.
1. Duplicate Files Feed on Your Storage Space
The first and most obvious reason you should clean up duplicate files on your device is that they pile up and take up a significant amount of your disk space. If you have been running out of room, you probably need to check if you have duplicate files that need to go.
Inadequate disk space can slow down your computer's operational speed, concurrently interfering with your efficiency. It's therefore essential to remove any file duplicates to clear up more space and make your device look more organized.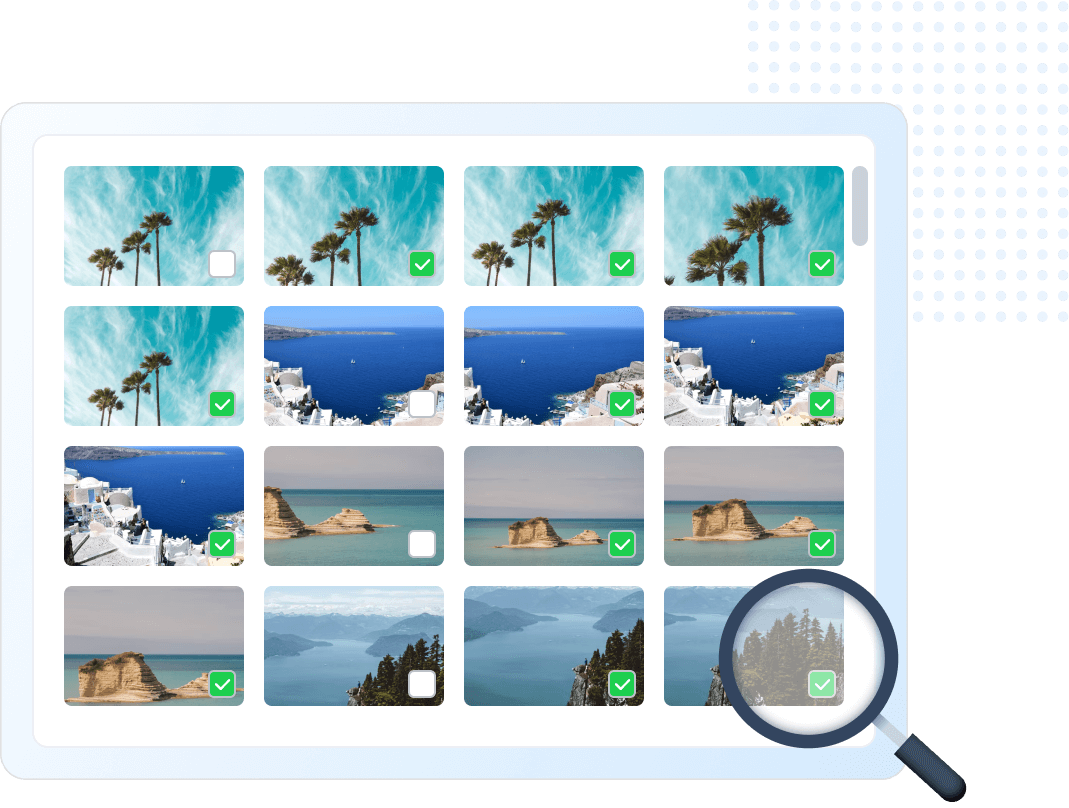 2. Duplicate Files Can Lead to Data Loss
Potential data loss is the other reason why you need to clear up duplicate files. You already have so many versions of the same file on your computer. Therefore, you may easily delete the correct version of the file, thinking you have another copy when there's none. We've all been there! And one thing we can agree on is that it could be frustrating, especially if the accidentally deleted documents are essential.
3. Sorting Through the Digital Mess Can Be Time Consuming
Sometimes, it can be tough to zero in on the correct file when you have multiple versions of the same file. Also, the duplicates are scattered everywhere on your computer, so it can be time-consuming to sort through all that digital mess.
What's more, when you have too many duplicate files, finding the right one when you want to continue with edits can be a big hassle. You must keenly check the file path of each file to ensure you're opening the correct version.
What Can You do to Clean Duplicate Files?
Solved
In most cases, we find ourselves saving up multiple versions of the same file in different places. These duplicates essentially slow down your computer. It's extremely hard to spot the duplicates and delete them. Unfortunately, doing this manually can be tiresome and time-consuming. Without a doubt, it's much more convenient to use PassFab Duplicate File Deleter to remove the duplicates.
This software quickly and efficiently spots duplicate copies and takes care of them. What's more, it's incredibly easy to use. PassFab finds and removes similar images, videos, and files in windows, and it's compatible with laptops, PCs, USB flash drives, and internal and external drives. Scanning duplicate files is done within minutes, and it's 100% accurate.
It's also easy to handle, let's see how to use it. After download the software to your computer, just follow the steps.
Select a specific folder

Once you open the PassFab file deleter software, click the +button to select a specific folder you suspect might have duplicate files.

Choosing between files and Images

Select the files or images you'd like to scan for duplicates and press 'ok.' You'll be prompted to either scan for duplicate videos, photos, documents, and other items with the same content/ file names or scan for similar-looking images.

Delete Duplicate Files

After the scanning process is complete, all the found duplicates will be available. Preview and choose all the files you'd like to delete.

Once you've scanned for duplicate files, the software will prompt you to remove duplicates individually, or you can just auto-select.

Repeat these same steps to identify and remove images.
FAQs about The Best Duplicate Cleaner 2022
Q1: How can I find and delete duplicate files on Windows?
Unlike iOS, Windows doesn't come with an inbuilt feature to assist with identifying and deleting duplicate files on your computer. But all hope is not lost. You can always outsource the help from third-party duplicate file deleters like Passfab Duplicate Files Deleter.
The software will assist you in decluttering your storage disk and get rid of duplicate files from your collection of audio, documents, videos, and images. This is hands down one of the most hassle-free methods to reclaim unnecessarily occupied storage space.
Q2: Can I recover the files after being deleted by a duplicate cleaner?
A duplicate cleaner removes the files from your device's storage disk. Once the software executes the delete command, it doesn't store them in other locations. But since the software only finds and deletes duplicates, you will still have a copy of the original file on your device. If there's only one copy of a file on your computer, the duplicate files deleter automatically won't select it.
Q3: How can I clear up disc space on my computer and boost its performance?
To remove all the duplicate and unwanted files from your PC and clear up more space on your hard drive, you need to:
Delete similar documents, photos, videos, and audio
Uninstall any unwanted, unused, and old apps
Discard any partial and unnecessary downloads
Back up the files in your hard drive in a cloud storage platform
Remove temporary files
Q4: Is PassFab Compatible with an External drive?
Yes, the software is compatible with external drives as well. When you click on the 'add a folder' button, the external drive will be visible. The best part is that the efficiency of the software is not compromised, whether scanning files on an external hard drive or internal disk space.
Summary
Today, many duplicate file cleaners are on the market, making it hard to find the best one. So, if you have been searching for the best duplicate file cleaner, you have it! Passfab Duplicate File Deleter stands out in the competition with good reason.
You can rely on this fantastic software as it's user-friendly and provides 100% accuracy in identifying and deleting duplicate files. Passfab Duplicate File Deleter won't disappoint if you aim to achieve optimal system efficiency.