If your computer is not performing well and has some speed issues, the primary reason behind it could be the duplicate files that you might not be aware of. The duplicate files are copies of documents, audio, videos, images, and any other type of media files stored on your computer. Manually deleting duplicate files and cleaning up the disk space is hectic and can take a lot of your valuable time. In this article, we will compare the 9 best free duplicated file finder Windows 11 .
Part 1: What is the Best Free Duplicate File Finder on Windows 11?
If you search the Internet, you will find many duplicate file finder programs that claim to be the best in the market, but not all are free and easy to use. Here we have listed out the nine best yet free duplicate file finders for Windows 11:
Top 1. PassFab Duplicate File Deleter
The PassFab Duplicate File Deleter tops our list of best duplicate file finder Windows 11. This file deleter tool is created to remove all kinds of duplicate files and similar images from your Windows PC. The software is compatible with all the recent Windows and macOS versions and can be used to remove duplicate files from external/internal hard disks, USB drives, or the SD card. You can free up your disk space with the help of PassFab Duplicate File Deleter in 3 simple steps after installing:
Add Scanning Folders
Set the Scanning Mode
Delete Duplicate Files
Top 2. Auslogics Duplicate File Finder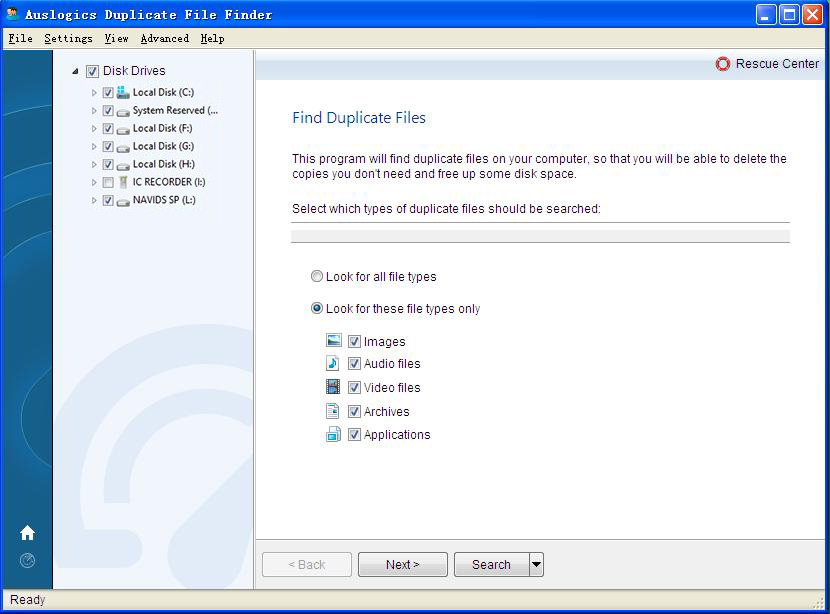 Compatibility:
Windows 7, Windows 8.1, Windows 10/11
Auslogics Duplicate File Finder is absolutely free software that lets you remove the common duplicate file types from your computer. It allows you to set criteria to search for duplicate files. After finding all the duplicate files, Auslogics duplicate file finder displays the files on the screen from where you can select the files to delete and either delete them permanently or move them to recycle bin for further consideration.
Features:
Quick and accurate duplicate file search
A detailed report on the duplicate files found
Option to restore the deleted files through Rescue Center
Attractive and user-friendly interface
Customizable and can be used in 8 languages
Top 3. dupeGuru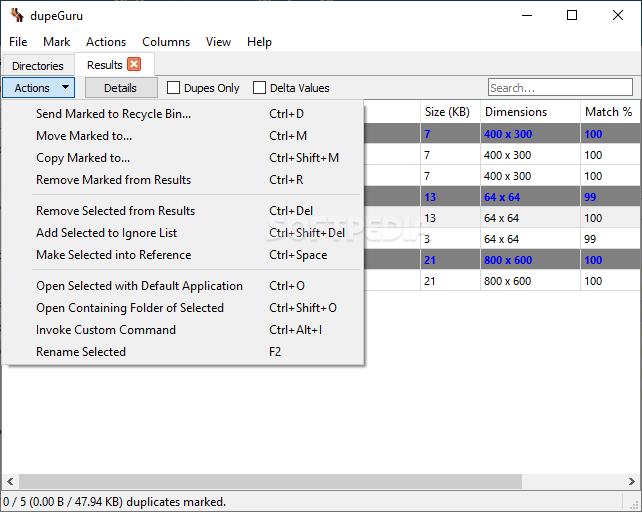 Compatibility:
All 32 and 64-bit versions of Windows, macOS minimum 10.12, 32 and 64-bit versions of Ubuntu
The dupeGuru lets you scan multiple folders for duplicate files and displays the found files in the Results tab, where you can sort them according to their type, size, location, or name. You can double-click any file to view it, select the files to delete, and delete them from your computer.
Features:
Let's you set the criteria to find the duplicate files
You can choose the folders to scan
Delete duplicates and send them to the Recycle Bin
Allows you to add hard links in place of duplicate files
Customizable
Top 4.AllDup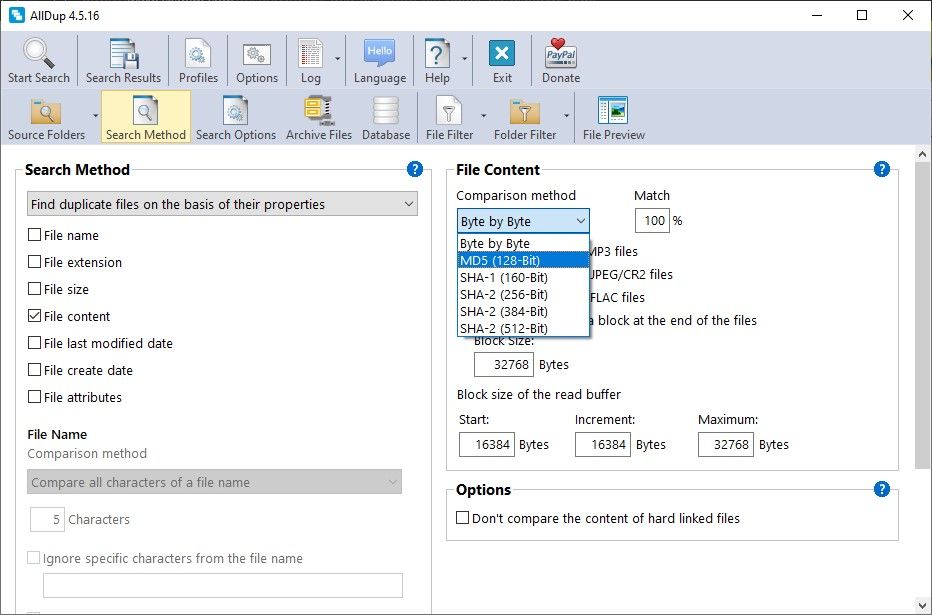 Compatibility
Windows 7, 8, 10, 11, and Windows Server
The fast duplicate file finder software finds the duplicate files in folders and also checks for the duplicate folders. The AllDup provides you with six options for choosing the scanning method. By default, it searches the duplicate files based on the content and finds duplicate files with different names. You can preview the duplicate files in different ways and perform specific actions on those files, such as deleting them, moving them to some new location, etc.
Features:
You can choose the preferred scanning method and searching algorithm
Identifies the duplicate audio and image files
Powerful and highly customizable.
You can choose multiple files to delete or store at another location on your computer.
Top 5. Ashisoft Duplicate File Finder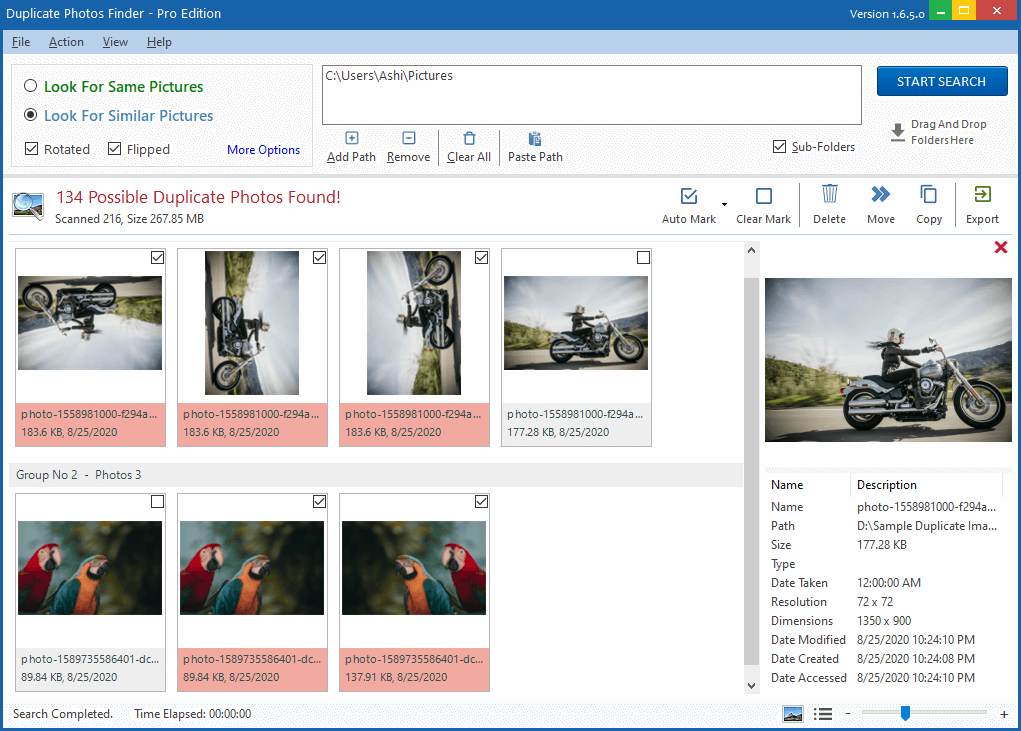 Compatibility:
Windows XP, 7, 8, 8.1, and Windows 10/11
This tool can look for duplicate files based on content, searching algorithms, name, size, or extension. This tool is a bit slower than other tools. The software lets you choose from the different scan modes based on your requirements, look for duplicate files, display them on the screen, and choose the files to remove and delete the selected files forever. However, you must purchase the tool to delete duplicate files.
Features:
Multiple search modes
Best at finding duplicate files, especially music
The choice to select the folders to scan
Simple, sophisticated interface
Provide the Auto Mark feature to select the files to delete
Top 6. iBeesoft Duplicate File Finder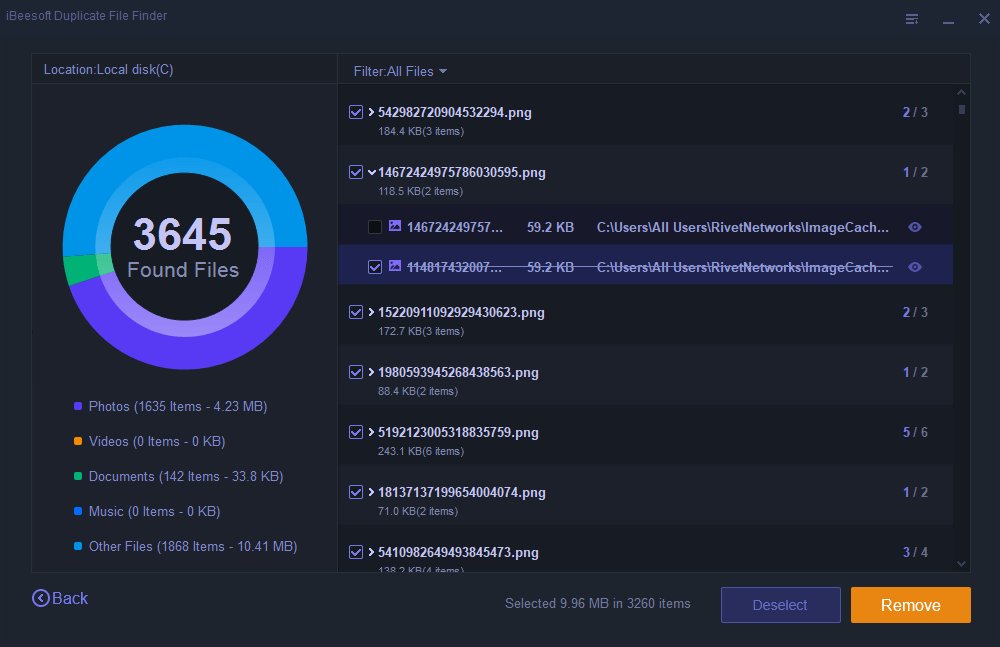 Compatibility:
Windows 7, 8, 10, 11
iBeesoft Duplicate File Finder tool is a small and free duplicate file remover that scans the hard disk and folders in your PC, gathers all the duplicate files on one platform, and deletes them in a single click. It is a free duplicate file finder Windows 11 tool that you can use to sort out and clean photos and music collections and remove duplicate videos.
Features:
Displays all the duplicate files for free
Allows you to delete the 20 duplicate files without any cost
Simple and streamlined interface
Fast scanning with accurate duplicates
Top 7. CloneSpy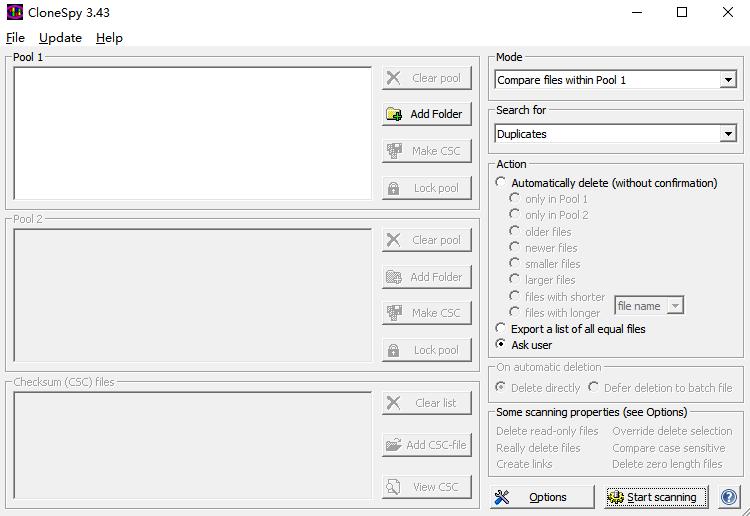 Compatibility:
All 86 and 64-bit versions of Windows XP, Vista, 7, 8, 8.1 and 10
A basic, simple, free duplicate file finder software that provides the basic features and powerful search options. The most significant feature in this application that is not found in any other tool is finding the 0-byte files.
Features:
Fastest scanning speed
Finds 0-byte files
Five different scanning modes with accuracy.
Top 8. CCleaner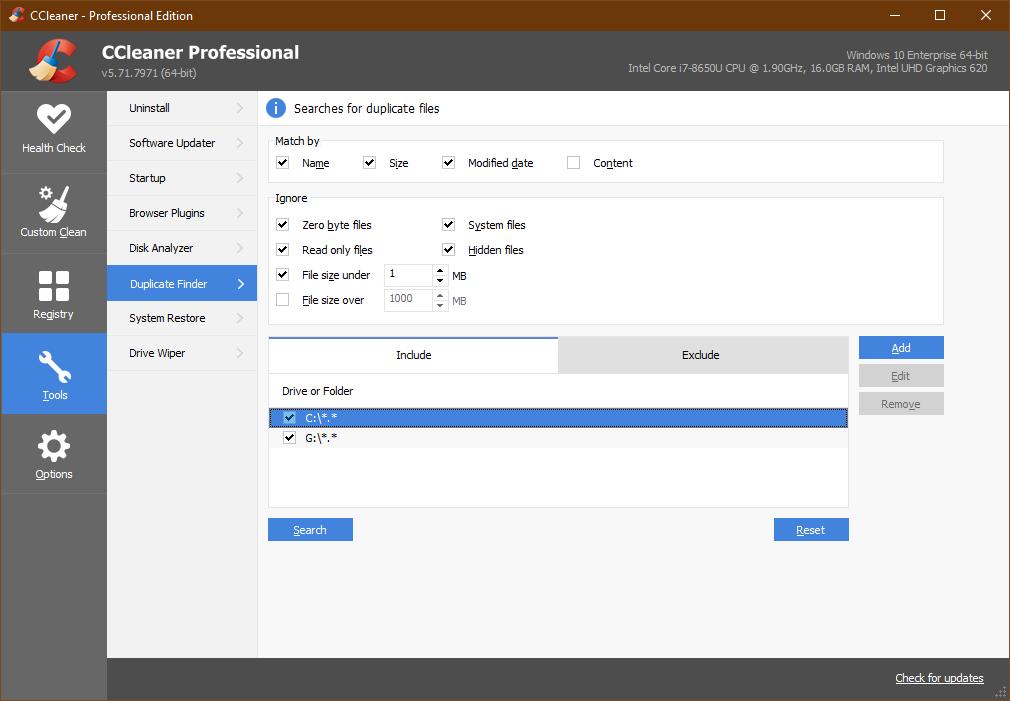 Compatibility:
Windows 10, 11
A straightforward solution to remove duplicate files from your computer is CCleaner. This free duplicate file finder Windows 11 tool has gained achieved success for its wonderful features. This software also looks for duplicate files with some changes.
Features:
Easy installation and access
Interactive and user-friendly interface
Looks for all file formats
Multiple criteria for duplicate identification
Part 2: Some tips when you are using these free duplicate file finder software on Windows 11
Here are some tips that you should follow to prevent yourself from any problems while or after using these free duplicate file finder software in your Windows 11.
Please back up your data and store it in an external device to avoid any possible data loss.
Exclude the folders that contain important files from the scanning list.
Use the customized scan options to remove the files more efficiently and save yourself from accidental deletion.
Do not directly delete the duplicate files permanently. Instead, store them in the recycle bin or rescue center so you can restore any important files if deleted mistakenly.
Part 3: FAQs
1.Does Windows 11 have a duplicate file finder?
No, Windows 11 does not have a duplicate file finder by default. However, you can search and delete duplicate files manually.
1.Is it safe to use duplicate file finder applications in Windows 11?
Using any third-party software is not always secure and brings many security and privacy issues with itself. However, you can use PassFab Duplicate File Deleter without fearing any data loss or privacy intrusion.
Conclusion
Deleting duplicate files from your PC is a difficult job if done manually. So, for users' convenience, there are various duplicate file finder Windows 11 software that can be used free of cost. In this article, we have listed the best duplicate file finders available in the market. All these tools are amazing and have wonderful features, but we recommend using PassFab Duplicate File Deleter due to its outstanding features and user-friendliness.