With the previous iOS versions, you couldn't rely on your iPhone to track down duplicate photos in your Photo Library automatically. The only option was downloading a third-party app if you wanted to detect similar photos in your device's storage.
But things are now different with the new iOS 17 Beta. The Photos App has a built-in duplicate finder that automatically detects duplicates and collates them, allowing you to inspect and delete what you don't need. With that said, exactly how do I delete duplicate photos in iOS 17 Beta with the new feature?
iOS 16 New Feature: How do I Delete Duplicate Photos in iOS 17 Beta
Apple has added a new Duplicates album feature under the 'Utilities' section in your Photo App. This makes it much easier to find and delete duplicates.
Open the native Photos App on your iOS 17 Beta-supported iPhone

At the bottom, you'll see the Albums tab. Click on it.

On the main album tab, swipe to the bottom

Head over to the Utilities section, then choose Duplicates

Review the duplicate matches that come up and marge them to delete the duplicate photos on your iPhone

In the top right corner, you also have the option to Select All or choose multiple duplicates. This button allows you to merge duplicates more quickly

If you want to analyze the duplicate photos, you can tap on the duplicate suggestions to get a closer look at them in your Photos Library
iOS 16 Duplicate Photos Not Showing
Many people have been waiting for the new iOS 17 Beta, mainly because of the new feature that detects and deletes duplicate photos from the Photo Library. While most are already using the new feature, many people still don't see this option even after updating their phones.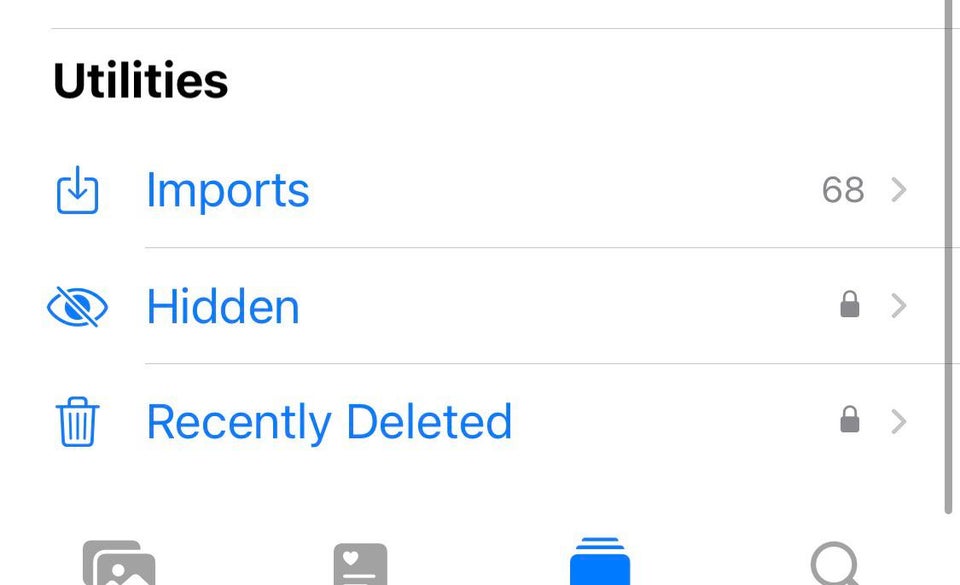 If iOS 17 Beta duplicate photos are not showing, this section will highlight precisely what you need to do to fix the problem. But before anything else, note that the Duplicates album in the Photos App appears under the Utilities section when the Photos App detects duplicates in your Photos Library. So, one of the reasons why you do not see the feature is probably because you have no duplicates in your Photo Library.
However, for this process to take place, your device needs to be locked and connected to a power source. Keep in mind that with the size of your photo library and other background tasks in your iPhone, the duplicate detection process could happen at once orna couple of days to process fully.
Extra Tips: How to Delete Duplicate Photos on your Mac/Windows!
new
With the new iOS 17 Beta, you have the Duplicates feature that helps detect duplicate photos in your iPhone. While that's sorted, you still don't have a handy built-in feature like that in your Mac or Windows. So, if you have some duplicate photos on your Mac/Windows that you'd like to detect and delete, PassFab Duplicate File Deleter is just what you need.
PassFab Duplicate Files Deleter lets you detect and delete duplicate files and similar images from your device. The best part is that this software works with all file formats, including audio, document, video, and photos. Also, it supports Windows 7/8/8.1/10/11 and macOS 10.11-13.
Download and Install the PassFab Duplicate File Deleter
Add Folders You'd Like to Scan
Set Your Preferred Scanning Modes

Set the scanning mode based on your current circumstance. You have three options: General, Ignore Scan, and Duplicate Files. Under the Duplicate Files module, select images and photos as the specific file type you want to deduplicate.

Scan Similar Images

Start scanning for similar images, then wait a while for the scanning process to be completed. After a short time, similar images will appear on the right side of your interface. Analyze the duplicates and click Remove to delete all duplicate photos successfully from your Mac or Windows device.
FAQ: How to Delete Duplicate Photos in iOS 17 Beta
Q: Is it possible to recover duplicate videos or photos?
A: Yes! Like any other photos, duplicates will be moved to the Recently Deleted album, and you'll have 30 days to recover the copies you still need.
Q: Does the duplicates feature remove duplicates from the cloud as well?
A: The deleted and merged duplicates from your iPhone will also be removed from your iCloud Photo Library.
Q: Does the duplicates feature remove duplicates from custom albums?
A: The duplicates feature also removes duplicates from your custom albums. If you merge the duplicates, your iPhone maintains the photo with the highest quality and uploads it to your custom albums.
Conclusion
As you all have seen, iOS 17 Beta is attractive to all iPhone users due to the new Duplicate photos feature. With the new built-in feature, you no longer have to install third-party software on your iPhone to detect and delete duplicate images. On the other hand, if you'd like to delete duplicate photos on your Mac or Windows device, you can use PassFab Duplicate Files Deleter.