If you have a protected Excel file at your disposal or if you have completely forgotten your password and you want to edit and work on a worksheet, you won't be able to do it unless and until you unlock it or simply bypass Excel password. In case, you don't know how to bypass the Excel password, you are just at the right place. We have compiled a list of the most effective ways to bypass Excel workbook or worksheet password easily. So, let's begin.
Solutions on How to Bypass Excel Password
If you want an Excel password bypass, it is quite obvious that you don't have the password to unprotect your Excel file. But you can unprotect it with certain methods that are a bit cumbersome but does the job well enough. Follow these solutions step by step to make it happen:
Solution 1: Use ZIP Software
You can use 7-ZIP to bypass Excel password. Being a ZIP software it has all the capabilities to bypass any Excel file. It will unprotect your worksheet first and then you will be able to access the file without any problems. Here's how to bypass Excel password using 7-ZIP:
1. Run the required archive with the help of 7-ZIP.
2. Open "xl->worksheets" now. All worksheets will be opened on your screen.
3. Now, right-click on the required sheet you want to bypass the password. Now, go to "Edit" and run the sheet on "Notepad".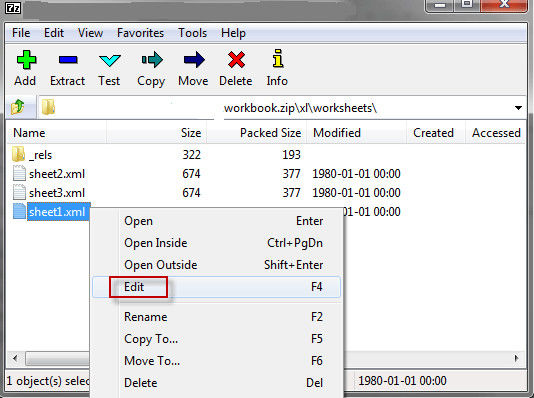 4. Now, you will see the total code on Notepad. Totally wipe out the tag starting with "sheetProtection". Now, save and then close.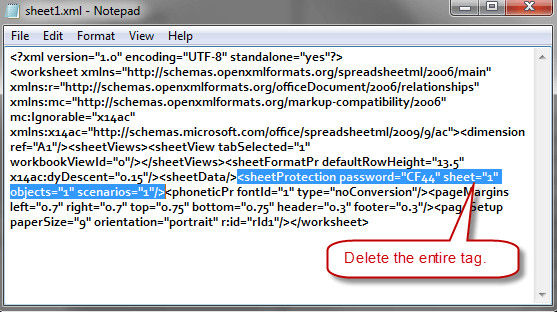 5. Now, update the archive with the modified sheet in the ZIP when prompted.

This will unprotect the file and in turn, you have successfully bypassed the Excel file. Tip: The zip method only works with the ".xlsx" format. You can convert a ".xls" file to ".xlsx" to carry on with the procedure.
Solution 2: Use VBA Code
Visual Basic for Application or commonly known as VBA is a programming language used in Excel and also in other Office programs. Other than automating certain things, these codes can unprotect and bypass your Excel sheet with ease. Here's how to use VBA codes:
1. Open your Excel file and enter "Alt + F11" on your keyboard. The Microsoft VBA window will launch now.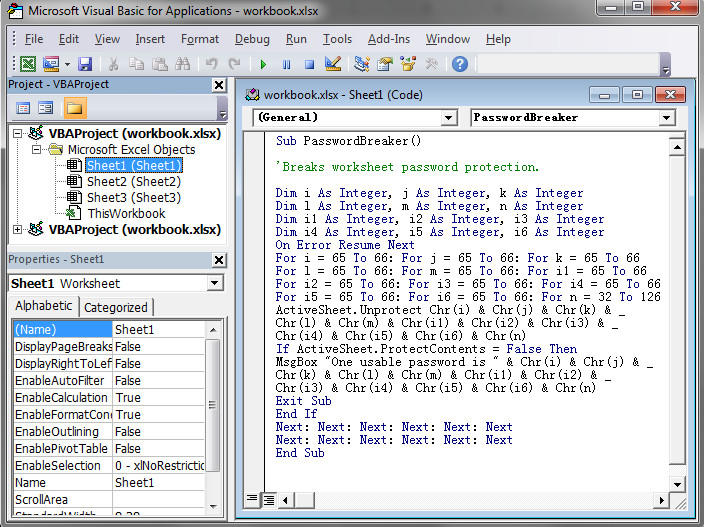 2, Find your sheet and double-click on it.
3. Now, without missing any words or letters put the entire code on the provided on the right-hand side.
4. Navigate to the "Run" option from the taskbar and click "Run Macro" to run this code you entered above.


5. Now the original worksheet will open up along with an alert box of a usable password.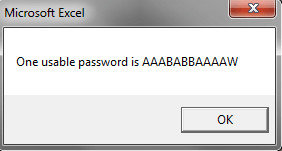 6. Now, simply click "OK" to end the process.
So, this is how you can bypass Excel workbook password using VBA codes.
Solution 3: Use Free Online Password Cracker
There are certain online Excel password crackers that are completely free to use and most importantly can help bypass passwords easily. One of the best tools is the Online Password Recovery tool. It is a simple online program that can bypass or unprotect your Excel file if you upload it to their website. This is how to use it:
1. First, open the Online Password Recovery website.

2. Now, simply upload the required file you want to bypass the password.
3. Select the activity and after some time and you will have your locked file fully unlocked.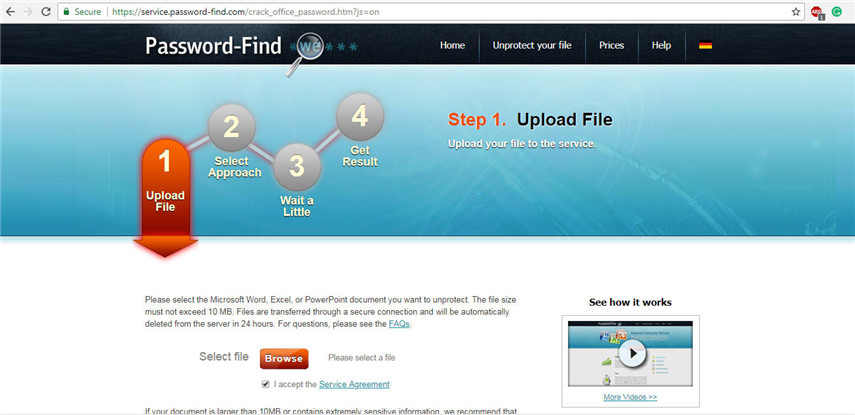 Solution 4: Use PassFab for Excel
PassFab for Excel is by far the best method listed here to bypass an Excel file password. It is a potent unlocking tool that can help recover/change/unlock/bypass Excel workbooks with ease. It is simple, very easy to use and supports all versions of Excel. Here's how to use the PassFab for Excel on your PC:
Step 1. Download, install and launch the Excel password recovery software from the official website.
Step 2. Now from the main interface click "+" to import the locked Excel file whose password you want to bypass.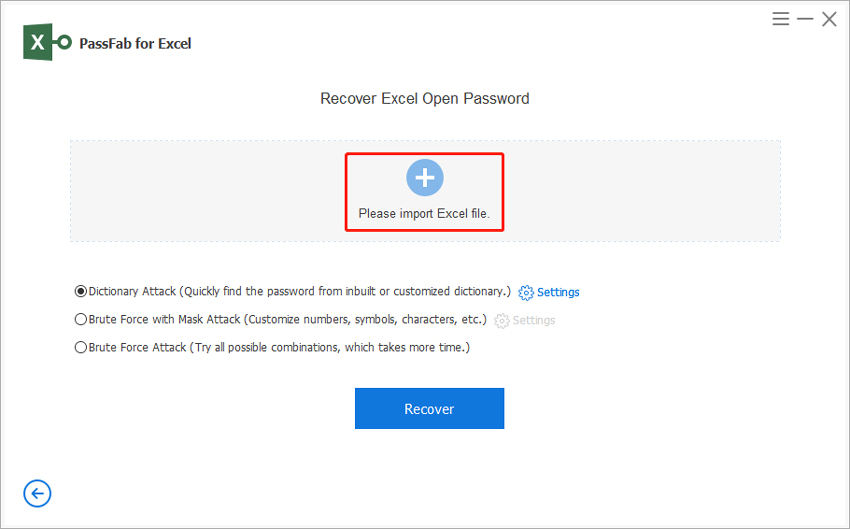 Step 3. You will find 3 attacks that can be applied namely. Choose any of the above attacks and continue.
Dictionary Attack: This attack comes with the best success rate but only if you have the password dictionary imported.
Brute-force attack: This attack is the default option for this software. It is very effective and does the job by checking every single character to find the password.
Brute-force with Mask Attack: This attack can help, if you remember anything about your previous password.

Step 4. After selection, click "Recover" button and go ahead.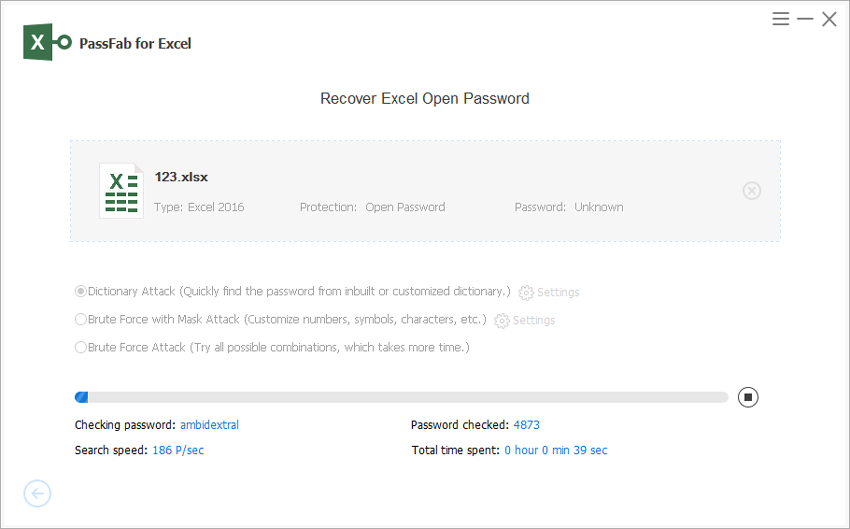 Here is a video tutorial on how to bypass or recover your Excel password:
An alert box will open up with the password that can help you bypass your required Excel worksheet. This is how to bypass Excel workbook password the easy way.
Bottom Line
In this article, we have listed all the steps to bypass your Excel password easily. These methods are tried and tested and work really well if done the right way. Carefully follow these steps to do it fast and effectively. Make sure you try each and every one of these methods so as to know which one suits you and your requirements the best. But if you want our opinion, go for the PassFab for Excel tool in the first place itself. It is a specially designed unlocker for Excel and it is simply the best we have used till date. This will save you from a lot of headaches and it will be a totally hassle-free experience as the other methods here are a bit complicated and time consuming.