A number of people want to convert XLSX to CSV or XLS to CSV because they want to see their data in a more organized fashion. Few of them give preference XLS or XLSX over CSV because CSV files are much easier to use across variety of applications, database and languages. Another good thing about CSV is that if there is any problem with data then user can easily diagnose it at first glance. As we all know CSV file is a plain text file and 70% people easily understand it without any learning curves. So these are the reasons that push people to look for XLS to CSV converter.
Part 1. What is XLS? XLSX? CSV?
XLS: XLS stands for Excel Spreadsheet and created by Microsoft. It is file extension for spreadsheet file format. This is one of the best formats to store Excel document. This file format is known as the Binary Interchange File Format.
XLSX: A Microsoft Excel file with .xlsx extension is knows as Microsoft Excel Open XML Spreadsheet (XLSX). This zip compressed file is created by Microsoft Excel Version 2007.
CSV: CSV stands for Comma Separated Values that contains lists of data and it is a plain text file. CSV files are used to exchange data between variety of applications and programs. It's one of the best example are databases and contact managers. These files are also known as Character Separated Values or Comma Delimited files.
Difference Between XLS and XLSX
If we look at the difference between XLS and XLSX then we get to know that XLS file use binary formats and XLSX use Open XML file format or you can say that all the new Microsoft Excel file supports this newer XLSX version, best part of XLSX is that the data stored consists of text, numerical data and stats that are entered by a user. XLSX file comes up with new GUI (Graphical User Interface) and with lot of new features.
Is it Possible to convert XLS or XLSX to CSV?
We got lot of queries that is it really possible to convert XLS to CSV? So a big YES for all those! Converting XLS or XLSX to CSV is not a big deal now, below mentioned solution is for all those who want to convert their Excel files to CSV.
Part 2. Top 9 Best Free XLSX to CSV Converters
You are able to convert XLS/XLSX to CSV by many free conveters. Such as the 9 online website as follow:
Zzmzar: https://www.zamzar.com/convert/xlsx-to-csv/
Convertio: https://convertio.co/xlsx-csv/
Onlineconvertfree: https://onlineconvertfree.com/convert-format/xlsx-to-csv/
Freefileconvert: https://www.freefileconvert.com/xlsx-csv
Aconvert: https://www.aconvert.com/document/xlsx-to-csv/
Rebasedata: https://www.rebasedata.com/convert-xlsx-to-csv-online
Mygeodata: https://mygeodata.cloud/converter/xlsx-to-csv
File-converter-online: https://xlsx-to-csv.file-converter-online.com/
Convertfiles: http://www.convertfiles.com/convert/document/XLSX-to-CSV.html
Advantages of using such online platform:
Its steps are very easy even a kindergarten student can convert the file easily.
It is very time savvy and supports more than 200 formats.
Either its XLS or XLSX, you can convert any of the formats to CSV.
Conversion is superfast and output is 100% accurate.
How to Convert XLSX/XLS to CSV
You are about to see how to use those xls to xlsx conveter as below:
Step 1: Simply upload the file that you want to convert or upload it from Drop box, Google Drive or by simply dragging.
Step 2: Now you have to choose the format of your file.
Step 3: In the 3rd step choose the output format.

Step 4. After format selection let the file converted and waits for its download.
Part 3. How to Convert CSV to XLSX/XLS
If you have ever felt the need to convert a CSV file to XLSX and have wondered if it is possible, you have come to the right place. It is indeed possible to convert a CSV file to XLSX. Although there are several ways in which you can do this, the methods using the online converters are the least complicated and are the quickest. There may be many situations where the need arises for converting CSV to XLSX. A few such cases are mentioned below.
You need to password protect important data.
You need to make summaries.
You need to use VBA coding.
When the data set in question is quite large.
When you need to link data to external sources.
Online converters are the best option when you want to convert CSV to XLSX. You can use any of the converters above to convert CSV to XLSX quickly and easily. The best part about these converters is that they are absolutely free to use. This article lists out the best CSV to XLSX converters that can be used for converting a CSV file to Excel.
01. https://www.zamzar.com/convert/csv-to-xls/
02. https://convertio.co/csv-xls/
03. https://onlineconvertfree.com/convert-format/csv-to-xls/
04. https://www.aconvert.com/document/csv-to-xls/
05. https://www.coolutils.com/online/CSV-to-XLS
06. https://www.files-conversion.com/spreadsheet/csv
07. https://www.docspal.com/convert/csv-to-xls
08. https://document.online-convert.com/convert/csv-to-excel
09. https://www.coolutils.com/Convert-CSV-to-XLS
10. https://www.dbf2002.com/csv-converter/convert-csv-to-xls.html
Most of these converters use the same method to convert a CSV file to XLSX file. Let us take the first CSV to XLSX converter as an example to explain how this method works. You can follow the same steps given below for the other converters as well, with minor changes here and there in the procedure.
Step 1: Launch a web browser on your system and key in https://www.zamzar.com/convert/csv-to-xls/ in the address bar.

Step 2: Click on "Add Files", select the file from your system or you can even drag and drop the CSV file which you want to convert to XLSX.

Step 3: Once you have added the CSV file, click on "Convert to" and pick either XLS or XLSX from the drop-down menu.

Step 4: Once done, click on "Convert Now".
The CSV file will be converted to XLSX file, and you can download it and use it in this format.
Bonus Tips: How to Unlock Lost Excel Workbook Password
Opening a protected Excel file is not a rocket science now, PassFab for Excel is best solution to this. It lets you recover the password very easily and quickly without affecting an original file. If you want to know how to use PassFab for Excel then you must go through a below content.
Step 1: Download, install and open PassFab for Excel.
Step 2: Now you have to navigate to "Recover Excel Open Password". You can take guidelines by following below screenshots.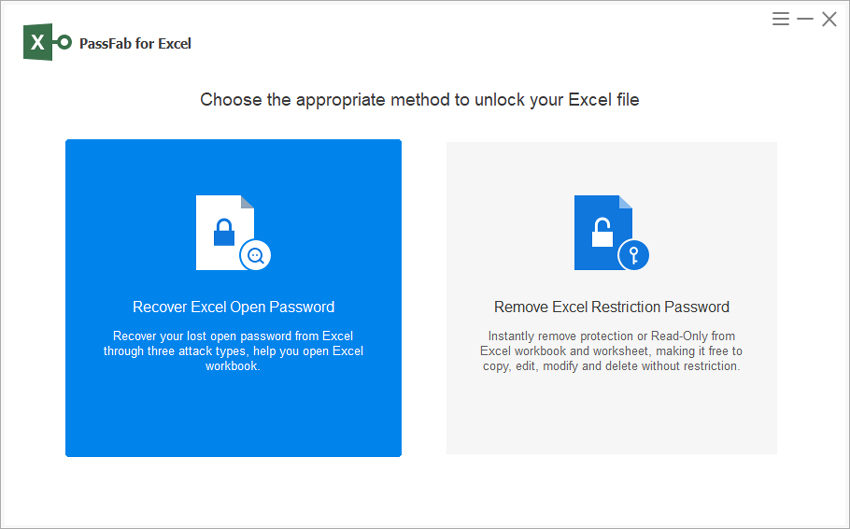 Step 3: Simply navigate to "Please Import Excel File" in order to add locked file.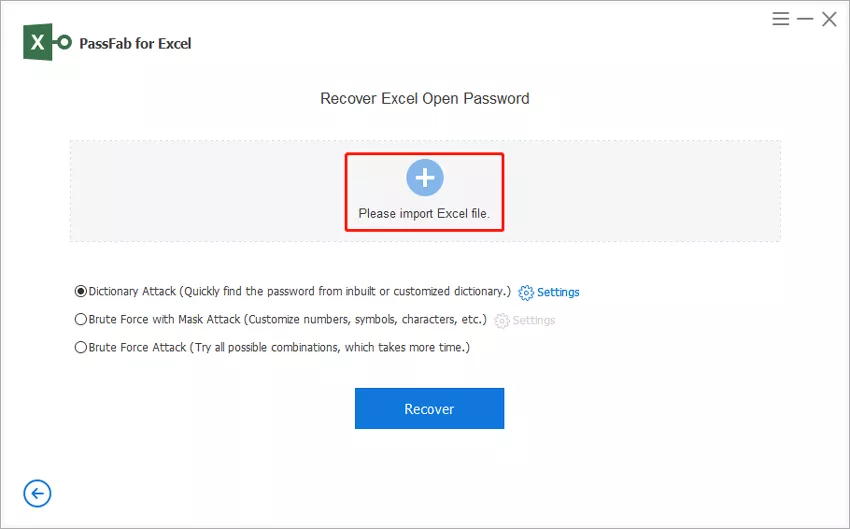 Step 4: You can see three recovery modes, Dictionary Attack, Brute Force with Mask Attack and Brute Force Attack, select the one that suits your requirement.
Dictionary Attack: This option is for those who use a frequent used password. You have to makes a .txt file and type all possible passwords then upload that file to this tool. If you think you cannot make a list at your own then go for system in built dictionary (latest dictionary).
Brute Force with Mask Attack: This option is good because it allows you to do multiple customizations like you can set maximum or minimum characters, symbols letters length. In short, this option is all about setting password clues.
Brute Force Attack: This is one of the best options though it consumes time but comes up with 100% recovery.

Step 5: This is the final step to follow, hit Recover button.
Finally the recovery process is started, password will be recovered after few time according to your selected recovery mode. You can also pause the recovery process also and can resume it later.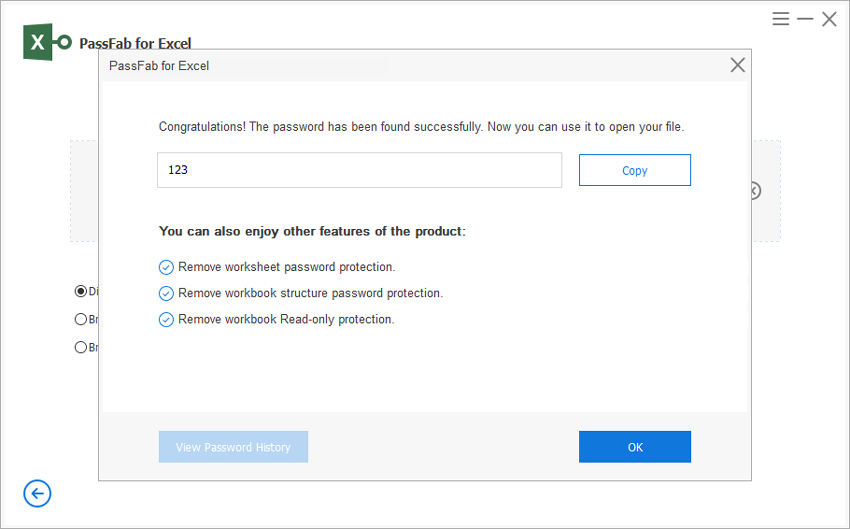 If you are still no sure how to use it, here is the related video guide.
To Wrap Up
You have learned about how to convert XLSX to CSV and get knowlwdge about what are XLS, XLSX, and CSV. Not only that it also contains an extra tip which is really helpful in case if you have lost Excel file password and want to unlock it then this tip will get you out from the Excel unlocking issues in very less time. Don't forget to share this informative tutorial to others and stay tuned with us for more helpful ones.