We all know that Excel workbook passwords can be removed by anyone who knows the password. But if you forgot an Excel workbook password, how can your excel remove password? Are you having trouble answering this question? If so, then don't worry! In this article, you'll learn how to remove an Excel password when you remember it as well as when you've forgotten it.
What Password Can You Remove from Your Excel?
They are two kind of passwords that they are Worksheet Protection and Workbook Protection.
Worksheet protection
You can remove password from Excel spreadsheet. Actually, worksheet protection is used to protect a certain sheet of the workbook, preventing users from accidentally changing, deleting, or moving data in the worksheet, and others only can read its contents but cannot make any changes.

Workbook protection
You can remove password from Excel workbook. Workbook protection is implemented on a complete Excel file or a workbook consisting of several worksheets. Under this protection, users can't read any contents of Excel file without password.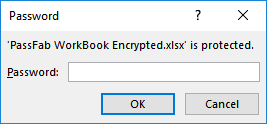 How to Remove Excel Password - When You Forgot It
If you've forgotten your Excel protection password, then the simplest way to regain complete access to your Excel sheet is removing password from Excel filw with a trusted software. PassFab Excel File Password Remover is a remarkable Excel password recovery tool that can help you bypass all types of Excel protection passwords.
Remove Excel password protection without damaging your data.
Offers a whopping 100% success rate with high satisfaction.
Recover a lost Excel file protection password by using effective search algorithms.
3 advanced attack types to find your lost passwords – Brute-force Attack, Brute-force with Mask Attack, and Dictionary Attack.
How to Remove Password Protection from Excel
Launch the software and select "Remove Excel Open Password" from the Home Page.

Tap on the "+" button and select the protected Excel file to import it into PassFab for Excel.

Next, you need to select the desired attack type and hit "Recover".

PassFab for Excel will now begin to search for your Excel password. Wait patiently as this process might take some time depending on the complexity of your password.

6.After some time, the Excel file protection password will be displayed in a pop-up window.
How to Remove Excell Password - When You Know It
If you already know your Excel protection password, then you can easily remove password protect Excel.
Remove Password to Open from Excel File
Launch the encrypted Excel file. Once asked, enter the required password and hit "OK".

After the Excel spreadsheet properly loads up, go to "File" from the top menu. Select "Info" from the drop-down list.

Now, a pop-up window will appear showing the password that you recently used to protect your Excel file. From here, simply delete the password and leave the field blank. Hit "OK" to proceed.
Remove Password from Excel Spreadsheet Password
Now, let's also understand how to remove password from excel sheet. In Excel sheet protection, users can launch the Excel file and read its contents with ease, but a password is required to make changes to the sheet. Follow the steps below to understand how you can remove protection from the Excel sheet.
Open the Excel sheet with the restriction password.

Go to the "Review" tab from the top menu and select "Unprotect Sheet".

Enter the password and hit "OK". The complete Excel sheet will now be unprotected with the password.
Bottom Line
Thanks to today's article, you now know everything about how to remove a password from Excel. If you remember your password, then you can remove it with ease by entering password; however, if you've forgotten your password, then you are highly recommended to use PassFab Excel Remove Protection Tool to aid you in this process.