You can't edit an excel file when it opens in a protected view. It is a feature in which it becomes a Read-Only file. Microsoft has brought out multiple solutions to protect the Excel, Word, and PowerPoint files from unknown viruses and other malware. One such feature is the read-only mode. However, to enable editing on excel, you need to figure out why is it in a protected view? And then carry out a few steps to enable editing excel sheets.
Do you find yourself in the same situation and want to know how to enable editing in excel? Here's your answer. In this read, we'll take you through the reasons why is an excel sheet locked for editing?
Also, we'll tell you the ways that are helpful in enable editing excel. It will benefit you in the long run. So let's get started.
Part 1: Why Is My Excel Spreadsheet Locked For Editing?
So, the causes are different when an excel file is locked for editing. To perform a particular procedure for excel enable editing; you first need to find out the source, due to which it disabled the editing. First of all, let's have a look at the reasons:
The file was generated via a website.
It may be an email attachment or sent via another medium.
The file is open from other devices and is now appearing as a locked file on your device.
The file's protected view is activated by default.
A password-protected file becomes a Read-only document if the password is modified or forgotten.
The locked file didn't close properly earlier.
Different users using different excel versions can also cause a file to get locked for editing.
After you figure out the possible reason, you can now opt for ways to enable editing on excel. So, without any further ado, let's dig into the top ways to enable editing:
Part 2: How to Enable Editing In Excel?
This post will show you the 4 top ways to enable you to edit on excel again. Below are the options you can choose from:
Way 1: Enable Editing Of a Final Sheet in Excel
Making an Excel sheet Final is one of the ways to make it safe and prevent modifications and editions in it.
Sometimes you access an excel file, which opens as a read-only document, and you can't edit or proceed to put commands on it. The reason is the author has marked it as a Final.
You can see a yellow notification on top of the sheet that indicates that it is "Marked Final" to restrict editing. But, the sheet is still editable. And there is an "Edit Anyway" button present in a notification bar.
Click that button. And you are ready to perform desired operations in your excel sheet.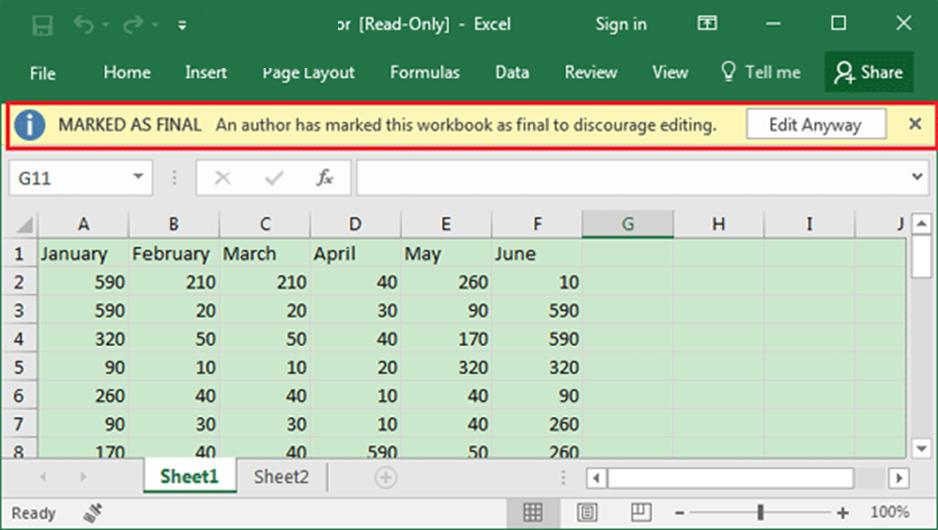 Way 2: Unprotect Excel Sheet with Password
So, this is the case where you unprotect the excel sheet when you are the owner yourself. It needs you to enter the correct password, and the excel sheet is editable again. What you need to do is:
1. Make it Unprotect
Open your excel sheet and tap on the "review" button. Then click the option "Unprotect Sheet."

2. Insert the password
After clicking unprotect sheet button, a dialogue box will pop-up asking for the password. Enter the password.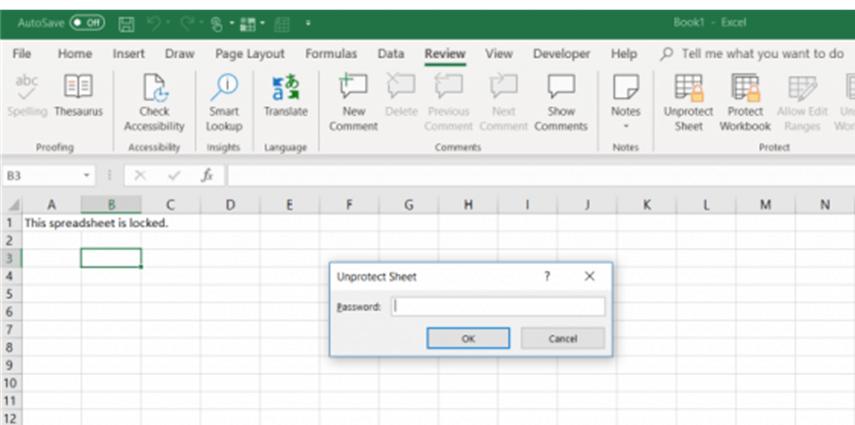 Key Note:
To use this way can only be possible when you are unprotecting your own excel sheet. If the sheet belongs to your co-worker or you have forgotten the password, you can perform the process below.
3. How to unprotect an Excel sheet when a password is unknown?
If the sheet is sent to you via email, or somehow you don't know the password, you can copy the whole content and paste it to a new sheet to begin editing.
Anyhow, it will only be working if the author has not locked the cells of the sheet. If you find that the sheet cells are locked to prevent editing, you can opt for the next, i.e., 3rd way of enable editing on excel.
Way 3: Enable Excel Worksheet with PassFab for Excel
PassFab for Excel is a fabulous tool for bypassing passwords and is an excellent program for solving Excel problems. Either recovering a lost/forgotten excels password or unlocking a protected sheet to enable editing on the Excel.
PassFab for Excel comes to the rescue with a 100% accuracy rate. With its reliability and best recovery, it is one of the best password Unlocking tools. So, if you want to use the safest and most authentic way to enable editing excel worksheets, you can pick the PassFab.
Let's look into the steps guide on how to enable editing in excel.
Firstly, download and run the PassFab tool on your system.
Now, a window will appear on the screen.

Then select the second method, "Remove Excel Restriction Password."

After that, press the "+" sign to add the protected excel sheet you want to edit.

Next, click on "Remove" and wait until the PassFab for excel completes its processing.

After a while, a screen will pop up showing an "Open Folder" button.

Now, hit that button, and you are good to go with editing your excel sheet.
Pros of PassFab for Excel:
It ensures data safety and keeps your information intact.
Fast with 99.9% success results and supports all the excel versions.
There is no limit on file size. This tool can Unlock any excel file regardless of its size.
PassFab for Excel can easily remove all the restriction passwords no matter how complex they are.
Way 4: Unprotect Excel Worksheet with VBA Code
Well, another reliable way to unprotect Excel worksheets is VBA Code. It stands for Visual Basic Application. And it is a Microsoft program used to unlock Excel worksheets. It creates macros and runs as a code for performing a particular operation. It enables editing excel files by successfully cracking the restricted password on excel worksheets.
Let's find out how to run a VBA code to enable editing in excels.
Open the excel file and press the "Alt+F11" keys to open the VBA editor.

Now, on the toolbar, click on the "Insert" button, and then click "Module."

Under the module window, enter the following code.

Then, on the left column, in the VBA heading, select the sheet you want to unprotect.

After that, press "F5" or hit the "Run" button to run the code.

And lastly, wait for a few minutes, and you'll see a pop-up box showing you the password. After getting the password, you can easily enable editing excel sheets.
Final Notes
So, protecting an Excel file has its own importance. It saves your excel workbooks and sheets from potential viruses and hackers. Moreover, it protects your data from unnecessary modifications and deletions. But, the protected file sometimes appears as a Read-only document, and the editing options are disabled. Or you can say that your file is locked for editing.
Here, the question arrives how to enable editing in excel? In this article, we tried to give all the answers to this question and provide you the reliable methods to Unprotect the excel sheet and enable editing in excel again. And we would recommend you to try PassFab for excelPassFab for excel. It is 100% reliable and gives the best recovery.