We protect our precious documents with password from any kind of misuse. But at times, forgetting them would have serious repercussions. To avoid such a situation, it is imperative to take the password off your Excel sheet. You need to keep in mind that Microsoft can't retrieve your forgotten Excel passwords. So, to get your locked or password forgotten back in action, we have alternative ways for you. Keep on reading to know how to disable Excel password.
If you are trying to disable Excel password, then we have the below-mentioned solutions for you. They cover both situations, when you know the password and when you don't know it. Let's move to explore more.
Option 1. Disable Excel Password When You Know Password
When you know the password of your Excel sheet, you can remove it using this method. Once you have set a password for an Excel file, you need to enter it to access the file. This method of disabling Excel password applies for Office 2010, 2013, and 2016.
Here is how to remove or disable Excel password when you know it:
1. Go to the folder containing the Excel file and open the file. Now, tap 'File' > 'Info' and select 'Protect Workbook/Document'.
2. After that tap 'Encrypt with Password' and delete the password.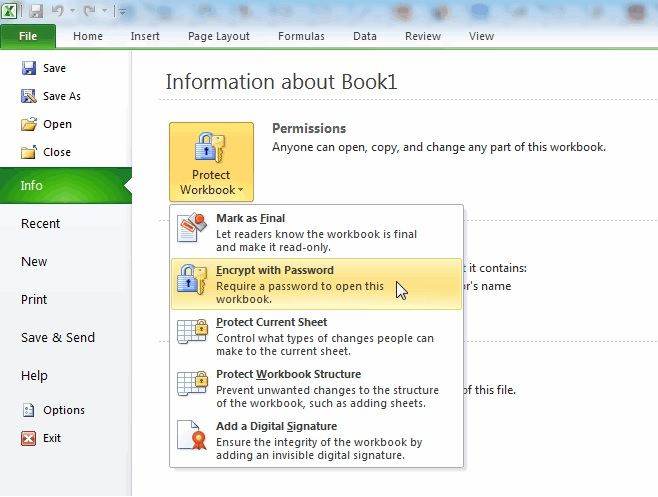 3. Hit 'OK' to confirm and then save it. When you save the file the changes you have made to the file are applied permanently.
4. Removing editing limitations can be done by – hitting 'File' > tap 'Info' > 'Protect Document' > 'Restrict Editing' > scroll to the bottom and tap 'Stop Protection'.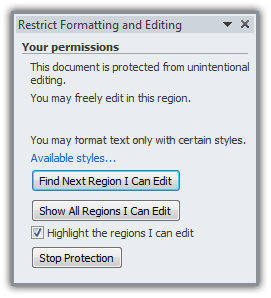 5. For MS Office 2007, here is how you can take the password off Excel –
6. Open the Excel file and click on the 'Review' tab under the 'Protect' group. Now, hit 'Protect Document' here.
7. Click 'Restrict Formatting and Editing' here.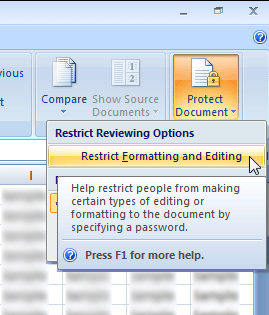 8. Hit 'Stop Protection' under the 'Protect Document' task pane.
Note: When you want to stop protection to any Excel sheet, you need to key in the password if you have used any to add protection to it.
Option 2. Take Excel Password off when you Don't Know assword
Solution 1. Use ZIP
If you have forgotten the password of your Excel file or someone else has set it up and you don't know it. Then you might be interested to go through this method to take off the Excel password and access the file. This method is suitable for Excel 2007/2010/2013.
Let's learn how to disable Excel password using ZIP:
1. If you have an Excel file with .xls extension, save it with .xlsx format. Now, you need to save the Excel workbook with a .zip extension and tap 'Yes' upon being prompted. If possible, take a backup of the file prior to password removal.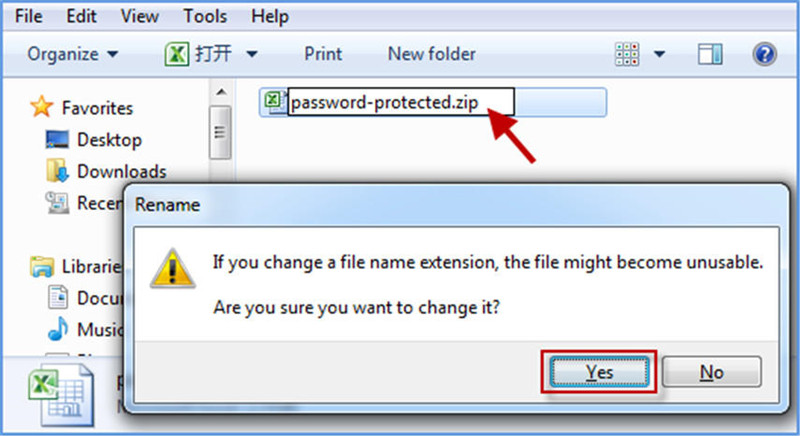 2. Extract the data from the zip file and find out the target sheet with .xml extension. The 'xl->worksheets' directory contains the sheet.


3. Open .xml file having the targeted sheet using the xml editor and look for 'sheetProtection Password' tag. Delete it, and then close the file after saving it.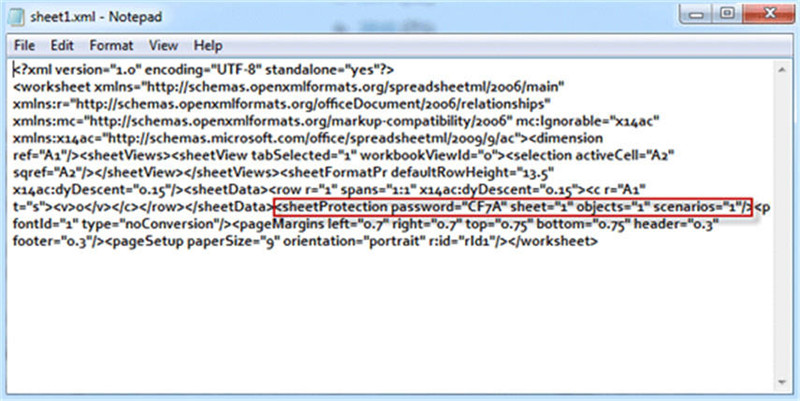 4. Replace the old .xml file with this edited file in your ZIP archive (ZIP files) upon being prompted.
5. Close the ZIP file and rename the file from .zip to .xlsx. Now, the password from the Excel sheet is removed and you can make changes to it.
Note: Password protected workbooks without 'Encrypt with Password' feature are eligible for this. The default settings of 'Windows' that hides file extensions should be disabled.
Solution 2. Use PassFab for Excel
When you couldn't take the password off Excel using the above-mentioned methods, then we would suggest you to pick the best solution in the industry. Go for PassFab for Excel for efficiently and quickly recovering the Excel password. It doesn't matter whether you have locked out of Excel 2013 file, forgot the password of an Excel 2010 file, or want to remove xlsx password. Be it a spreadsheet or an Excel workbook, PassFab is capable of recovering password for both of them. It supports Excel versions up to Excel 2019 for online password recovery.
Forgotten, lost, or unresponsive passwords of your Excel sheet are no longer a restriction for you. You can easily recover the password and read the Excel documents. Microsoft Excel xls/xlsx password forgotten files from 97 to 2019 of any length and complexity are compatible with this software. Their password can be removed easily using PassFab. Let's see how to take password off Excel using PassFab for Excel.
Step 1: Download PassFab for Excel on your computer and launch it. On its main screen interface, tap on the 'Add' button and you will then have to locate the locked Excel spreadsheet and import it.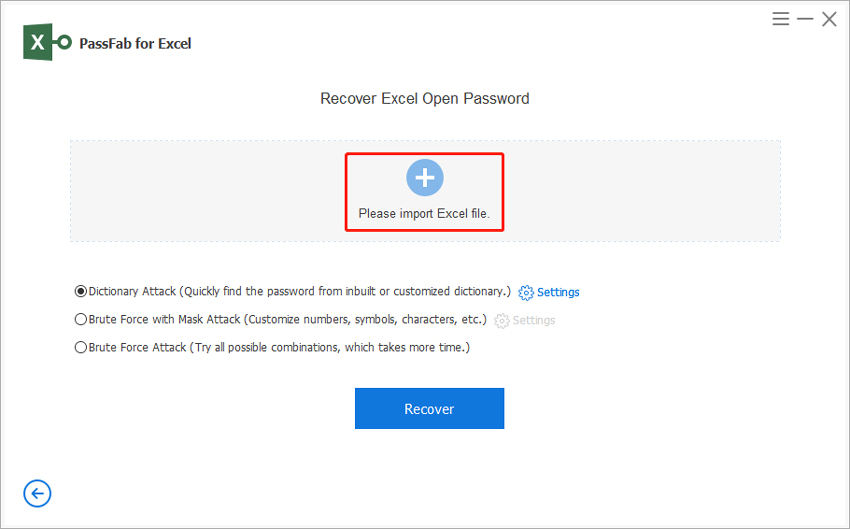 Step 2: After that select the appropriate password attack type from the three options. Provide the details under "Settings" tabs for the option you have selected.
"Dictionary Attack" (default Excel spreadsheet password recovery option) is suitable in case you already have a password dictionary to pick and disable the correct Excel password.
Select "Brute-force Attack" to find the password by checking all characters one by one.
Use "Brute-force with Mask Attack" to verify the customize symbols, numbers, and characters to figure out the password when you know part of the password.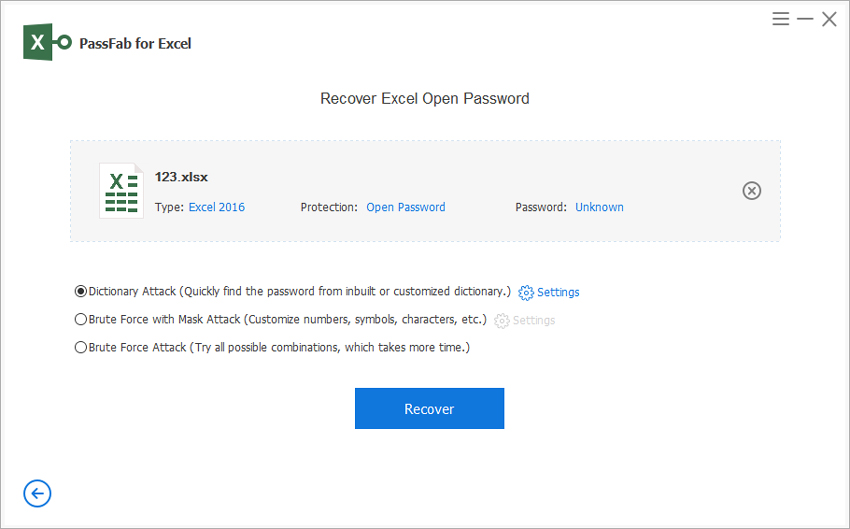 Step 3: Now that the options and settings have been set to the right, hit the 'Start' button. It will start recovering the lost protected password of your Excel file. Within a short while, your password will be decrypted and shown on your screen.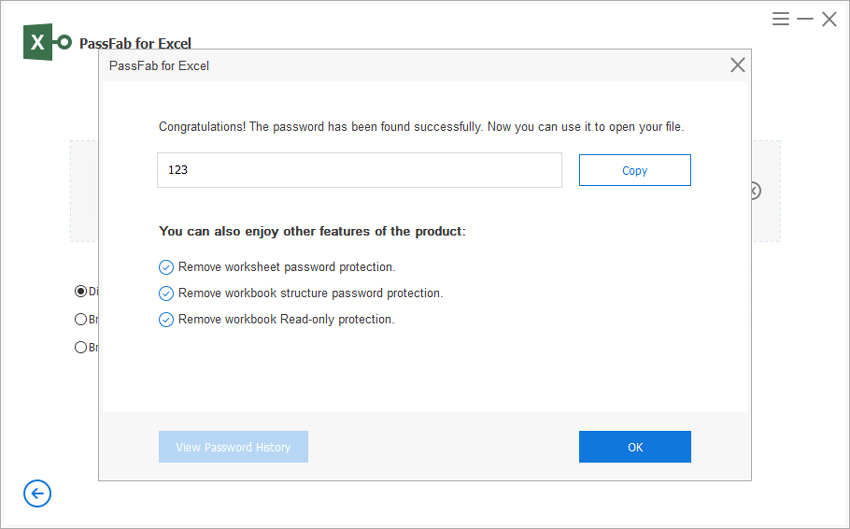 Conclusion
After going through the article, we feel that the most convenient to take off Excel password is using PassFab for Excel. With such a wide range of features, this software can recover your Excel workbook password without any complicated process or technical glitch.