One of your encrypted Excel sheets' passwords has been forgotten. Be at ease! We'll demonstrate how to unprotect excel sheet. If you use Excel regularly, you need to protect your work adequately. It could be challenging to get back into your Excel sheet if you forget the password.
This article will explain how to unprotect Excel sheet without password if you've forgotten or misplaced your spreadsheet password. Additionally, don't worry if you unintentionally locked your Excel sheet. We'll assist you with how to unlock excel sheet.
Way 1: Unprotect Excel Sheets With Password
It only takes a few seconds to disable security if you know the password for the protected document. Let's see how to unprotect excel sheet. Do one of the following things:
Unprotect Sheet may be found in the context menu when you right-click the sheet label.

Choose Unprotect Sheet under the Changes group under the Review tab.

Choose Unprotect Sheet from the drop-down menu by selecting Format in the Cells collection under the Home tab.

If you are occupied with a password-protected worksheet, Excel will prompt you to enter the username and password. Enter the password, then hit OK.
If the worksheet was not password-protected, unlocking it only requires selecting the Unprotect Sheet button.
Way 2: (Unknown Password) Unprotect Excel Sheet With PassFab For Excel
We present PassFab for Excel so that you may learn how to unprotect Excel sheet without password. Numerous users all around the world use PassFab pfr Excel, a secure and trustworthy Excel decryption application. See in the following steps how to unlock excel sheet.
PassFab for Excel's Benefits:
The programme is exceedingly simple because of its highly intuitive and user-friendly design.
Three different password attack methods to help you recognize your Excel password for safety.
Finding forgotten Excel protection passwords has a 96% success rate.
Open the programme, then from the main page, click "Remove Excel Open Password."

To upload the Excel file, select "Add."

Click "Start" after selecting the desired attack type.

After that, a dialogue window containing the password for your encrypted Excel worksheet will display. This password can use to get around the Excel workbook security.
Way 3: Unlock Excel Sheet Using Google Sheet If Forgot Password

Unlock Cells
You can quickly unlock a worksheet or set of cells that are protected. You must enter the password to open the document if it is password-protected. Let's say the following Sheet has cells protected from formatting and editing.

The Home tab's formatting choices are greyed out when cell C2 is selected, making it impossible to format the cell. Additionally, you receive a warning saying that the cell's contents are locked for modifications if you attempt to update it. Follow these instructions to unlock the cells:
Select Review > Unprotect Sheet from the Ribbon.

If the Sheet has a password, type it in the pop-up screen and press OK.

You may now modify the contents of cells by unlocking them (for example, alter cell B2 from "Michael" to "Kevin").
If you still need to secure the cells again, see Just how to Password Protect a Document or How to Lock Cells.
Google Sheets Cells Unlock
In Google Sheets, you may unlock a section of cells or a sheet to permit modifications.
Go to Data > Protected sheets and regions in Google Sheets to view all protected areas.

The Protected sheets & ranges window is on the right. The Sheet, as you can see! The B2–B9 range is secured. Toggle it on.

To remove the protection from the range, click the recycling bin symbol.

When the pop-up caution appears, select Remove to agree.
The outcome is that the editing range B2:B9 is already unlocked.
Way 4: Unprotect Excel Sheet Without Password Via VBA Code
VBA is an excellent technique to how to unlock Excel sheet from within Excel if you do not have a Google Drive login or are seeking another method. A VBA module will be introduced to break the password one line at a time. The program can run in 10 minutes or for hours, dependent on how complicated the password is.
Step 1: Save as an older Excel file
The main restriction on this approach is that it only functions with Excel spreadsheets from versions 2010 and before. As long as you save the protected spreadsheet to an earlier version, there won't be a problem.
Choose File > Save As. Choose Excel 97-2003 (*.xls) from the format selection menu.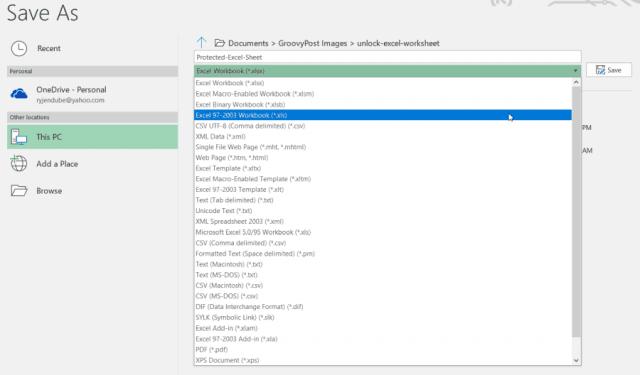 Although saving in an outdated format is a hassle, once the VBA script is complete and the password is broken, you have accessibility to the unlocked Sheet.
Step 2: Create and execute VBA code
It is how to configure the VBA module.
In your Ribbon, click the Developer menu option. If it isn't present, go to File > Options > Customize Ribbon, change Select commands from to All Instructions, and then shuffle the Developer bar from left to right. When finished, click OK.
Choose View Code from the Controls area of the Ribbon under the Developer menu.
Rick should right-click Microsoft Excel Objects, choose Insert, and then choose the module.
Modules, there has been a well-known VBA script that can unlock any spreadsheet and crack the password.
In the Module, Moduled pastes the following code: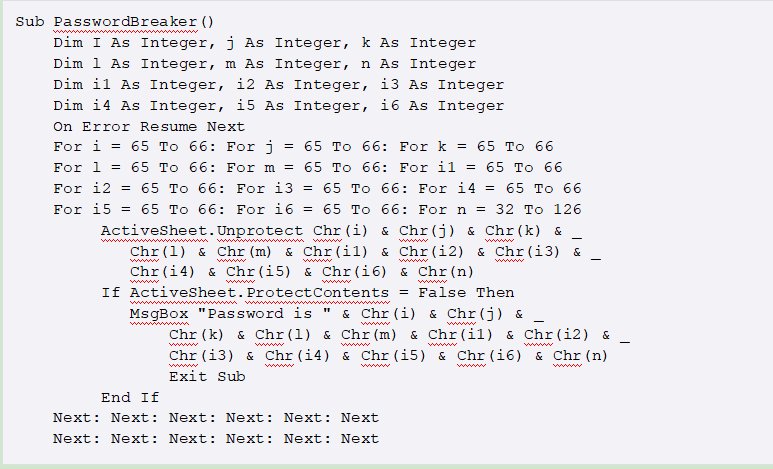 To execute the script, hit the Run button (green right arrow).
The newly built module runs as a result. One character at a time will try to guess the password used to encrypt the Sheet. During a test using just three straightforward characters ("ABC"), the software needed a few seconds to break the password.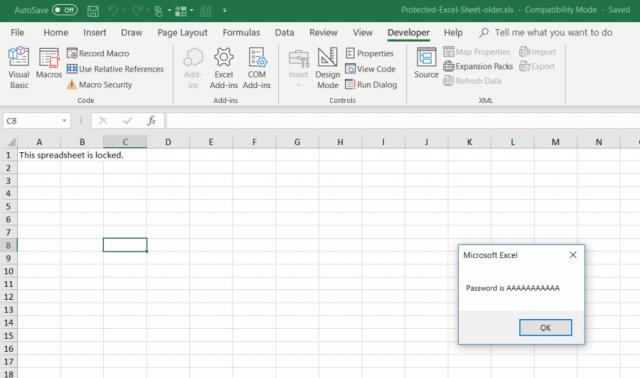 The password that appears will be chosen at random. Your Excel spreadsheet is once again secured when you click OK. To make sure, try typing into a cell.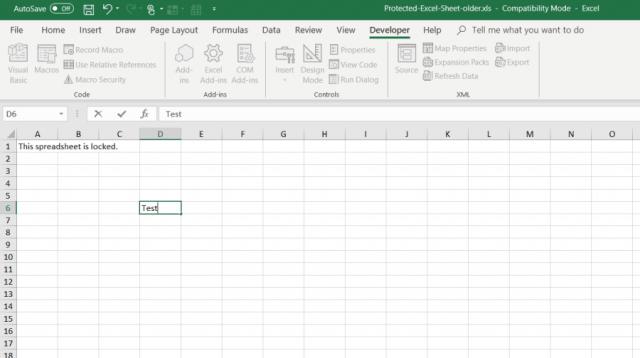 A lengthier, more complex password could take up to two minutes to enter, whereas a short, primary password just takes a few seconds. Just keep it running till the message box appears in the background. You can resave your workbook in the style you were using well before storing it after it has been unprotected.
Final Notes
All three of these techniques are effective for how to unprotect excel sheet, but starting with the easiest one is recommended and moving down the list. Ideally, you'll be aware of the password and be able to type it in to unlock the document and see how to unprotect excel sheet without password.
The final two techniques mentioned above should hopefully bail you out of a jam and allow you to update your worksheet once more because forgetting a protection password is relatively standard, and all of these ways will surely let you know about how to unlock excel sheet.