We have all been in a situation once in every short while where we accidentally delete a file from our computer, or it gets lost somewhere. At that point in time, there is an urgent need to recover Excel file 2016 because one cannot waste just as much time in replicating the file manually. Excel files are a common template to work on these days, and it can be really daunting to re-do work on an Excel template just in case you are unable to access the original one. But don't worry about it. In this article, we will mainly talk about how to recover Excel 2016 file.
Solution 1: Recover Excel file 2016 from Recycle Bin
For all those who have been in a situation where they lost a file, know exactly the importance of knowing what to do because, in those last minute due dates, you yourself are the only savior. Recovering Excel file should be no issue these days because there are ways to do it which you can learn right away. The first solution to recover lost Excel file 2016 is from a recycle bin; an option which is present in every computer system.
Deleted files can easily be retrieved accessing the recycle bin and then restoring your files from there. When you perform this function, the deleted files appear in their original form with the original date, time and contents just as how it was before. Recycle bin is there for the very purpose because some of us are clumsy in accidentally deleting our files while some of us don't think much before deleting a file. For such situations, there is the recycle bin that lets you access it immediately. For your document recovery Excel 2016 from the recycle bin, you have to go through the following steps;
First you have to open recycle bin by double-clicking the bin icon on the desktop.
Once you do this, it is time to search for your lost file; you can manually scroll up and down or type the file name in the search bar at the top right corner.
Once found, right click on the file and click the option "restore.".
The file will then automatically get restored and appear on your desktop.
These four steps complete the process of recovering an Excel or any other file from recycle bin.
Solution 2: Recover Excel file 2016 from the temp file
One of the default settings in any computer system is that once a new file is generated, a temp file is automatically created which contains the exact replica of your original file. These files are usually in the windows temp directory, and there is a certain way of recovering your file from there. For this, you have to find the temporary folder and once you have discovered it, find the lost Excel file and copy or save it to another location. In order to find the temporary files folder to carry out Excel 2016 file recovery; make use of this link:
C:\Users\<username>\AppData\Local\Microsoft\Office\UnsavedFiles
Note: The <username> will be replaced by the user's name who was logged in while the file was lost.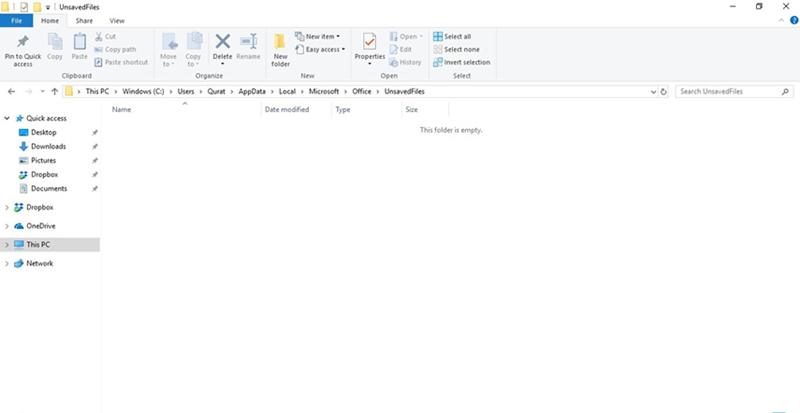 You can also access the unsaved files from the auto-recovery files. However, for this you will have to first turn on auto-save feature.
Step 1: For this you will have to click File.

Step 2: Click options here.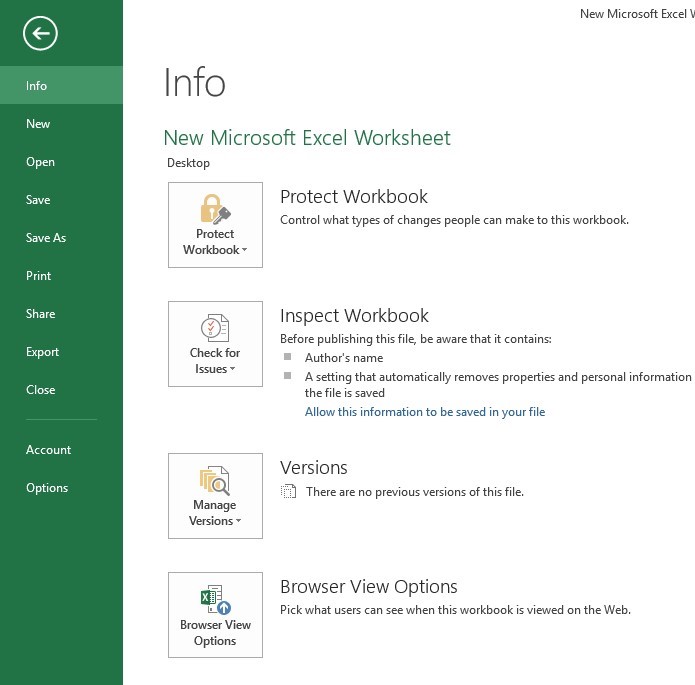 Step 3: The tab of Excel options will open from here click on the save tab and tick mark the following two options:

Now whenever you want to recover any unsaved file all you need to do is follow the link mentioned in AutoRecover file location.
Solution 3: Recover from Tenorshare Any Data Recovery software
To recover your file from recovery software like that of Tenorshare, you have to follow these simple steps.
Step 1: Launch the software on your computer and then click on the location of lost Excel file and press "Scan".
Step 2: After this scan, the software will find deleted files.
Step 3: Once the scan gets completed, you can now preview the file types and click recover on them to save it to a better location.
This is how you are able to recover lost Excel file 2016 without having to go through any tiresome procedure.
Bonus Tip: How to Recover Excel 2016 Password
One very common problem is when you lose your Excel password and get locked out of that file. In such a situation PassFab for Excel software will come to your aid in no time. This software will help you quickly recover your password with some powerful brute force attacks. There is a simple step by step guide on how you can recover your password using this amazing software.
Step 1: Install after downloading the software onto your computer system. In this step, also add the file which has been locked and whose password you want to recover.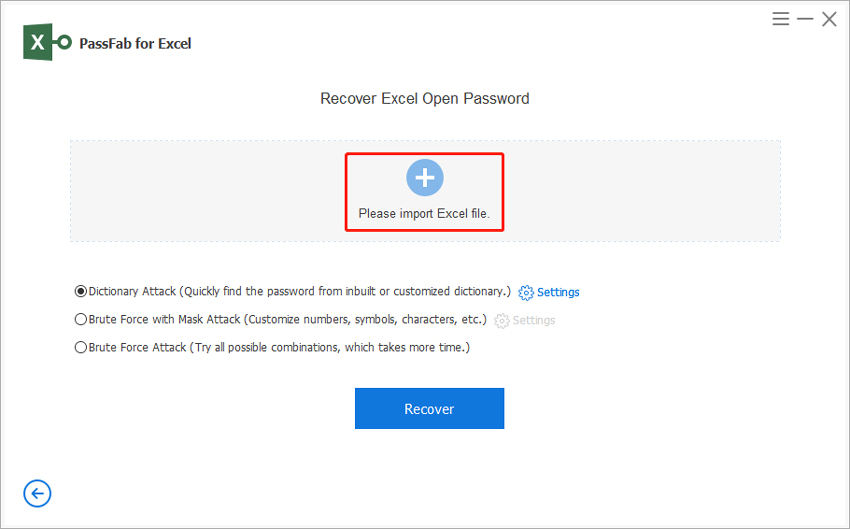 Step 2: Chose one of the available three attack options (Brute force attack, Mars attack, and Dictionary attack).
The three options have different instructions to go about, and you can set the parameters according to the option you choose. For instance, for Brute force attack, you have to try the combinations that you can think of to find the password.

Step 3: Click the "start" option to retrieve your password
Completing these simple 3 steps will help you recover your password in a short time and get you out of the trouble situation that you were in, all credit to PassFab for Excel software.
Summary
The article was aimed at providing you with quick guidance on how to recover Excel file 2016 and at the same time few steps on retrieving your Excel passwords using our PassFab for Excel software in case you lose it somewhere in your system. These tips and tricks sure come in handy at some point in life so make sure you are well aware of these and remember it for any such unexpected situation. Your time is precious which is why it is important to be always aware of such short and time-saving tricks.