The password encryption feature is used to protect your Excel 2013 file from being opened by third parties. That's because we care of information, including the data of your Excel 2013, email address and much, much more.
The bad thing is that you might lost or forgot your password for Excel 2013. So you might be very unset when you can't open the Excel 2013.
With every try failure, you are getting tired of to it, even lost heart to get your password back. This article is a guide on how to remove password from Excel 2013. You can find the correct way to Excel 2013 remove password.
How to Removing Password from Excel 2013
Excel allows users to remove password Excel 2013 anytime they want to save their colleagues from the hassle of entering a password to access that Excel workbook.
This method is for users who know the correct password of Excel workbook password and want to remove it for any given reason.
Text Guide
Follow the below steps to Excel 2013 remove password:
Launch the Excel workbook and open it by entering the password.

Now, hit on the File option in the ribbon and then, click on Info.

After that, navigate to Protect Workbook > Encrypted with Password.

On the pop up window, enter the correct encrypted password and hit Ok.

Finally, press Ctrl + S simultaneously to save the Excel file on your computer.
Now, you can access the Excel files without a password.
How Excel Remove Password 2013
When it comes to cracking the Excel forgotten password effortlessly, PassFab for Excel is the tool you are looking for.
PassFab for Excel recovers your forgot Excel 2013 password without damaging the file, as well as supports you removing the editing restrictions .
It is not only works in Windows system, for the Mac OS users, they also can use it to remove password from Excel.
What Can It Do?
Below are the stellar features that set PassFab for Excel apart from other players in the market:
Easily remove password from Excel 2013
Three advanced password attack modes that you can use
Simple and easy to use even for newbies
98% success rate.
Doesn't cause any type of data loss.
Text Guide
Here's users can remove password from Excel 2013 using PassFab for Excel.
Once installed, launch PassFab for Excel and hit on the "Recover Excel Open Password" feature.

Then, click on the "+" sign to import the Excel file to the program. Choose the 1 of 3 attact types and hit the "Recover" button to recover your Excel 2013 file password.

You Excel 2013 file was found. Now, go to copy it and open your Excel 2013 file.
More Information You May Want to Know about Excel
Now that you know how to remove the Excel 2013 password, it's imperative to provide you more useful information about this powerful tool.
5 Types of Password You Can Set in Excel 2013
Microsoft Excel allows users to set 5 different types of passwords to protect their Excel files from unauthorized users. They are:
Open Password: This password bars third-party users from opening your Excel files at all without permission. The password window pops up when someone opens the document.
Modify Password: This password allows users to open and view your document but they cannot make any changes to or delete it – unless they know the password.
Read Only Password: Once read only password is assigned, users can open the workbook only in read-mode. However, the only way to modify a document is by saving it at another destination.
Workbook Structure Password: Unauthorized users cannot change the structure of an Excel workbook after assigning this type of password such as viewing the hidden worksheets.
Sheet Password: Worksheet-level password allows you to bar users from editing data within that excel sheet. For instance, you can assign sheet password to specific cells or columns, or hide formulas.
Can PassFab for Excel Remove the Above Password Types?
The answer is a Big Yes. PassFab for Excel is designed to help users crack all five Excel password types in just a few minutes. Equipped with impeccable features, this powerful tool empowers users to remove all the above passwords with just a few clicks.
To remove Excel passwords of any type using PassFab for Excel, select its feature "Remove Excel Restriction Password" on the main interface as shown in the figure.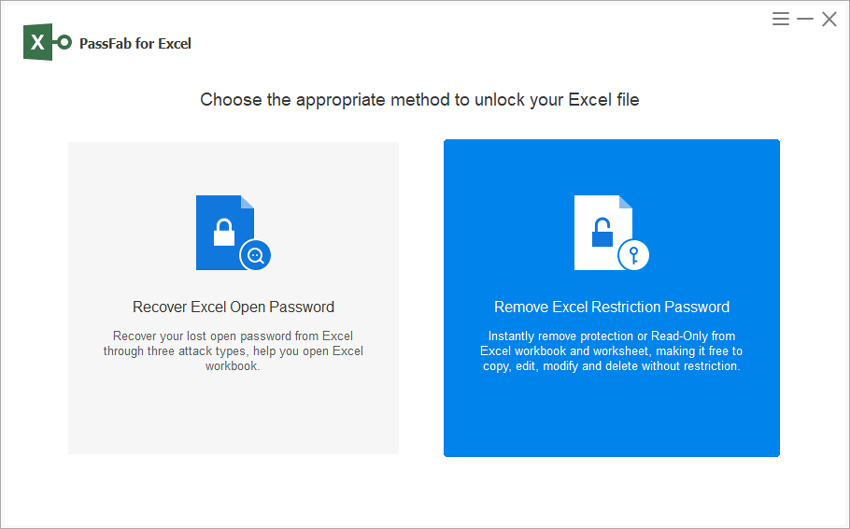 Follow the on-screen instructions to bypass any of the five types of password restrictions.
How to Use Excel 2013 Password Protect?
To protect workbook Excel 2013, you should:
Open the Excel file you want to protect.

Here, choose the File option in the ribbon and then, hit on Info.

Now, navigate to Protect Workbook > Encrypt with Password.

Now, enter and reenter the password on the pop up window. Close the window and you have successfully set the password.
Conclusion
To wrap it up, this article has discussed in detail how can users bypass the Excel 2013 password restrictions safely and easily - using PassFab for Excel. It can be really frustrating to get stuck in a situation where you've forgotten the Excel password and couldn't access important files.
If you ever face such an unpleasant situation, you can rely on PassFab for Excel. With this tool installed on your computer, removing password from Excel 2013 is just a matter of one click – regardless of how strong or complex the password is.