There are a lot of reasons anyone would want to retrieve Excel file password. Excel files are important for us because we store important data on those files and we don't want anyone else to edit them or open them. Sometimes we forget the password of an Excel file after locking it. This is a worst case scenario for someone who needs the file urgently. But if you are reading this article then you can easily learn how to retrieve password for Excel file. This article will give you the 4 best solutions to easily get the idea of how to retrieve Excel password.
If you don't follow proper steps and methods, then you will always find it tough to retrieve Excel password. Losing an Excel password can be a worst problem for you if you don't have any solutions. But in this article you will get the proper solutions you need for your problem and the only way you can solve it, is to follow each step properly.
Solution 1: Retrieve Excel Password via Online Website
You can easily use some online tools from websites which can help you to try more than 1000 passwords at a time for a locked file. Follow these websites, upload your file and then retrieve the password easily.
http://www.password-find.com
https://www.password-online.com
http://www.decryptum.com
Solution 2: Retrieve Excel Password with ZIP File
If you can't edit a worksheet and the structure of a workbook/worksheet is locked, then you can use this method. If your file is password protected, then you won't be able to use this method.
First you will change the file extension of the Excel file from ".xlsx" to "zip". You will be able to see the file extension after the file name of your Excel file.


Now you will have to extract the zip file by using any zip extractor like 7zip or WinRAR. Right click on the zip file and choose "Extract Here". You will get a folder with the same name of your Excel file.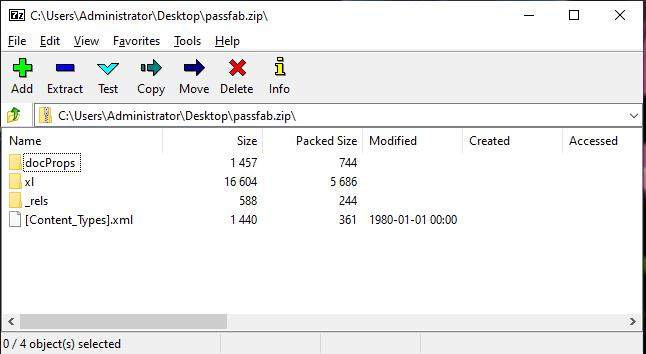 Now open the "xl" folder and "also "worksheets" folder which will give you all the sheets of the document file. Each sheet will be named as, "sheet1.xml".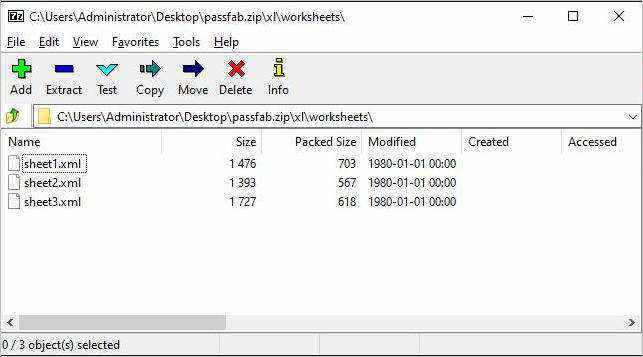 Choose "Edit" by right clicking on the locked worksheet, it will open the file in notepad. Now, tap on "Ctrl+F" button from the keyboard to find "sheetProtection" or "workbookProtection" in the file. You will find the information of the algorithm that is used to lock this sheet.
Now, delete all the information inside the brackets and also the word "sheetProtection" and save the file. Select the file and press "Ctrl+C" to copy it and open the Zip file by double clicking on it. You won't have to extract the file now.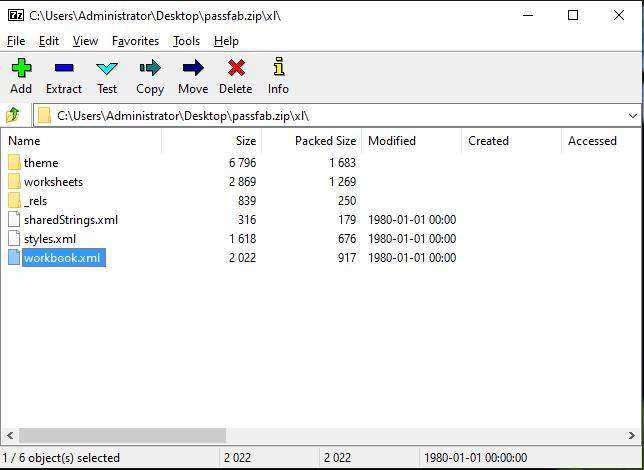 This time go to the folder where you have saved the worksheet. Open the 'xl" folder and "worksheets" folder. Your edited "workbook.xml" file will be in the "xl" folder.
Now paste the edited file in this folder by overwriting the old file. Finally you can close the zip file and rename the file as "xlsx" which will bring back your Excel file again.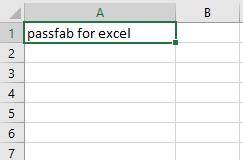 Now open the "xlsx" file, you will see that you can edit the file without the password now!
Solution 3: Retrieve Excel Password using VBA Code
If you are using an old version of Microsoft Excel like the versions above 2003, you can easily retrieve the password of a locked Excel file with a VBA code. But if you are using the newer versions of Excel like 2007 or later, due to their advanced level security, you won't be able to use VBA code to retrieve the file password. Follow these steps to recover the lost Excel password.
Open your protected worksheet first. Now hold down "ALT+F11" keys which will open the "Microsoft Visual Basic for Applications Window".
Now click on "Insert" option and choose "Module" to paste the below code into the module box.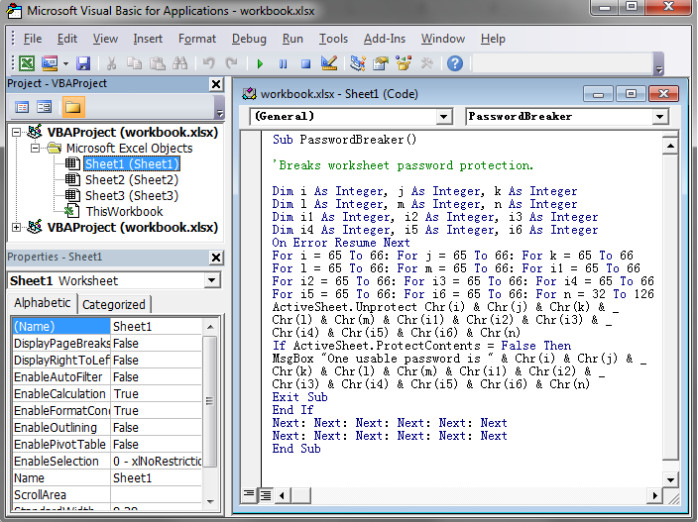 Finally, tap on F5 button from your keyboard and a pop up box will open, click "OK". Your password will be deleted from the protected worksheet immediately.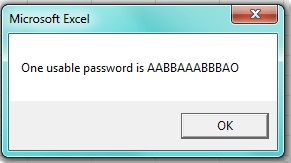 Solution 4: Retrieve Excel Password with PassFab Software
The best way to retrieve your Excel password is to use PassFab for Excel. With a multi-core GPU acceleration, this tool will be able to retrieve your lost Excel password in almost no time. Just follow these below steps to help yourself out with this useful software.
Install the Excel password recovery software on your PC and launch it to start the process.
Add the Excel file and select one decryption method that matches your situation.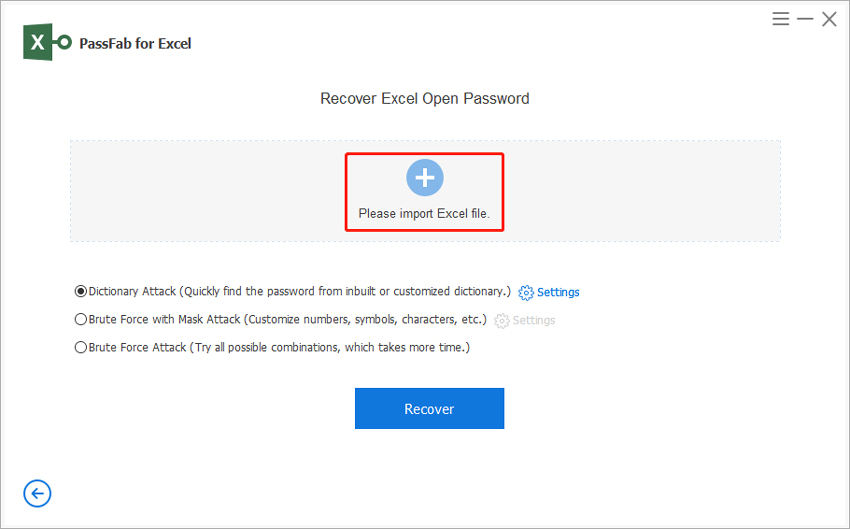 Click on "Start" and wait till the software decrypts the password. It may take some time depending on your password.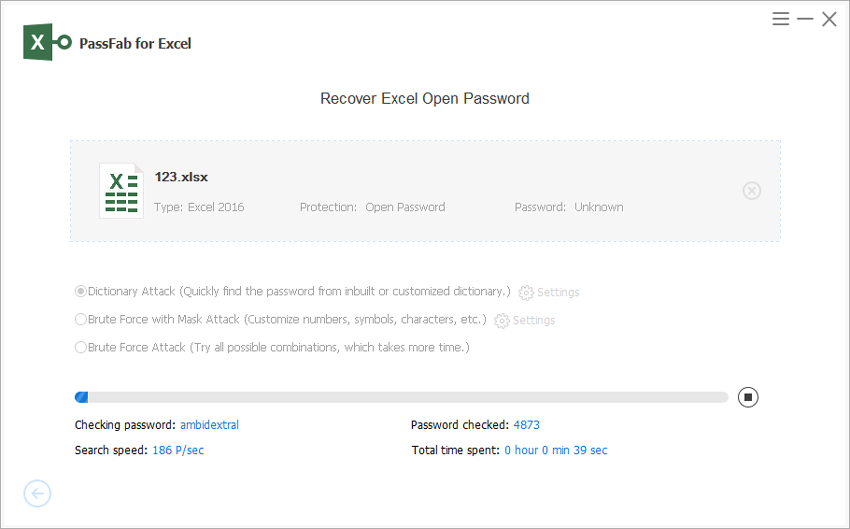 You will see a pop up window with your password.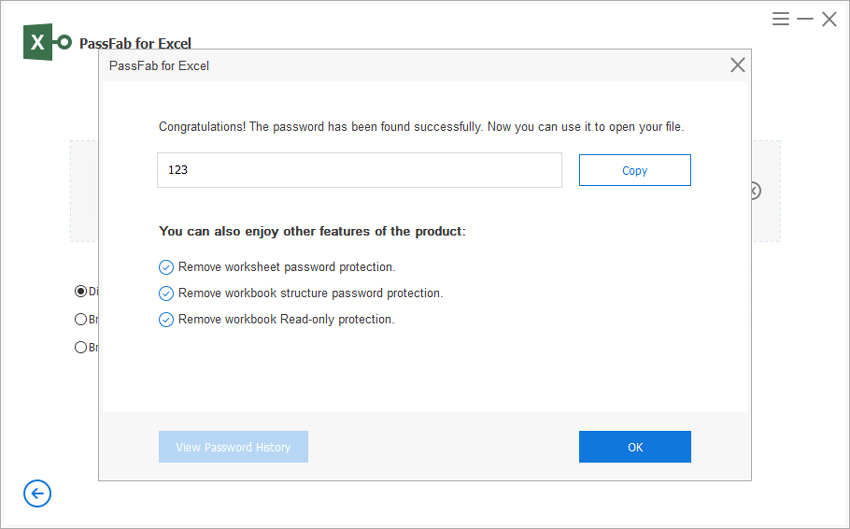 This article contains the best 4 solutions for you to retrieve your lost password to Excel file. But whatever solutions you choose to get along with, the ultimate solution can only be the Excel password recovery software from PassFab. This software will retrieve your Excel password in a very short time rather than keeping you wait like the other 3 methods. Try this tool for once and you will definitely use it again for Excel password related issues.