Excel files are too precious as they hold vital personal, business, or work related data and securing them with a password is the best practice always. When you set password for Excel, it ensures that your data is protected from unauthorized access or data leakage. If your work computer is used by other employees on a different shift, then also you need to lock the files as nobody wants to risk parting with important information.
If you are worried about setting up passwords for Excel files of different versions and looking for the right solution. You have reached the right place. In this article we are going to explain you how to set a password on Excel file, as well as how to recover a lost Excel file's password using the best method.
Keep reading to know more!
Useful Tips on How to Set Password for Excel
As data safety is your top concern, learning how to lock your Excel with password is a great savior. In this part, we are going to explain the process for setting password for Excel 2007 and Excel 2016 files.
Set Password for Excel 2016
This is the most advanced version of Microsoft Excel that comes with so many amazing features. For ensuring utmost security of data, here is the step-by-step guide for Excel 2016 password setting.
Step 1. On your computer browse for the Excel file you want to password protect and open it. After that click the 'File' option and then tap 'Info' from the list.
Step 2. After that you need to click the 'Protect Workbook' tab here. You will be prompted to key-in a password here. Remember this password would be your key to unlock the file.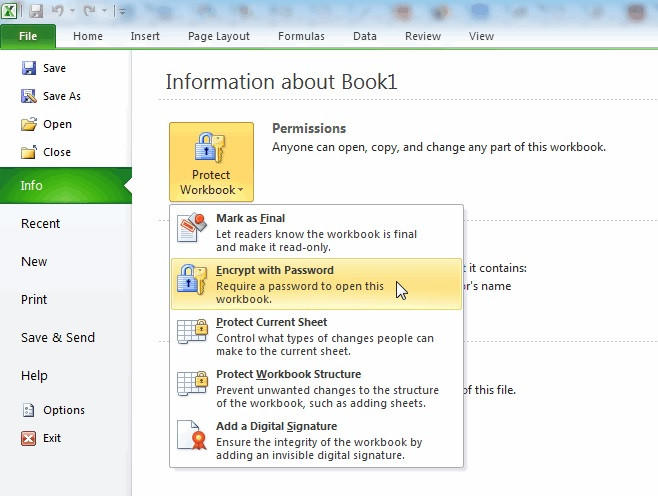 Step 3.After entering the password close the document. You have successfully set password on Excel file.
Note: There is no way to lock multiple documents at one. Each password is exclusive for that specific Excel workbook only. Tap the "Info" tab anytime to make sure the Excel workbook has been locked properly.
Set Password for Excel 2007
Excel 2007 is one of the most reliable and user-friendly versions so far. So, knowing how to set password for an Excel 2007 workbook will prove beneficial for you, if you are currently using it. In this part we are going to explain the step-by-step guide.
Step 1. Search the desired file you want to set password for on your computer. Right click and 'Open' the respective workbook.
Step 2. One you open the file, click the 'Review' tab and then hit the 'Protect Sheet' or 'Protect Workbook' option as per your choice.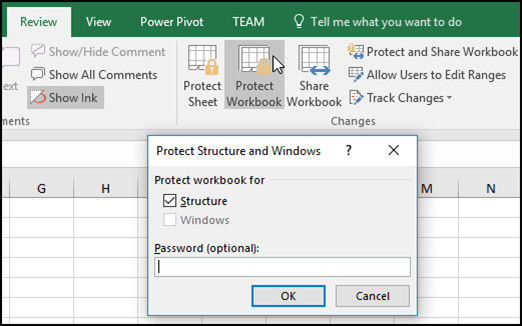 Step 3. When the popup appears asking for your desired settings, enter all the details here. Enter the secure password you want to protect this Excel file with.
Now that you have set the password for this Excel workbook, nothing can go wrong with your data.
Extra Tip: How to Reset Forgotten Excel File
There are chances that you might forget the Excel workbook password, as there is a long list of accounts whose passwords you need to memorize. Jotting down your password somewhere is unsafe as it makes the file or any account vulnerable to threat or data loss. PassFab for Excel comes in handy for such trying times and helps you reset password for your Excel file. It recovers password for Excel workbooks when you have forgotten/lost or the password becomes unresponsive to open the document (all Microsoft Excel versions). You can set a new password on Excel file after that.
Here comes the complete guide to reset the Excel password.
Step 1: From the official website of PassFab for Excel, download and install the software on your computer. As soon as you install and launch the program, make sure to click 'Add' button over the PassFab interface. This will import your Excel file once you choose it through the interface window.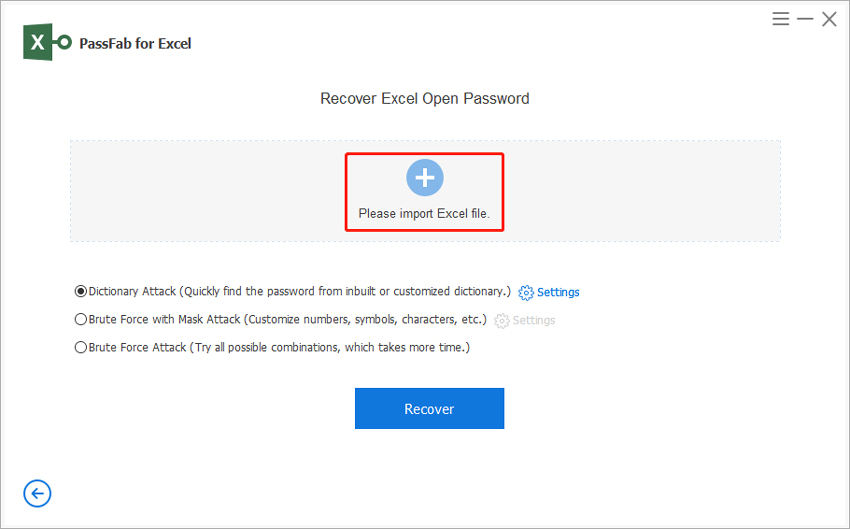 Step 2: Now, you need to choose the most suitable password attack type mentioned in 'Select a Password Attack Type' section. Fill the details in the 'Settings' tab against the option you have chosen.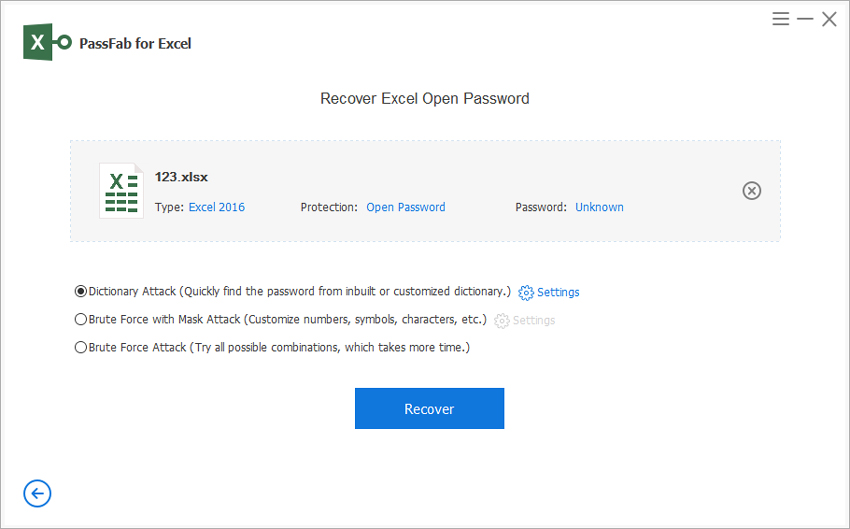 Dictionary Attack – you need to choose this when you have a password dictionary to pick the password from.
Brute-force attack (default Excel spreadsheet password recovery option) – it verifies the characters one by one and finds the password.
Brute-force with Mask attack – it provides the password, when you partially remember it by verifying the customize symbols, characters, and numbers.
Step 3: You need to hit the 'Start' button soon after filling in the settings and options. It will recover the password of your Excel file.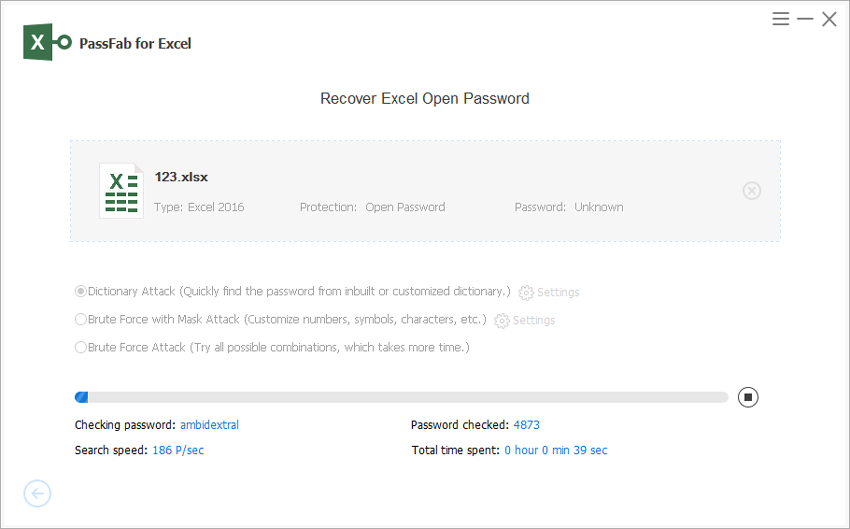 Step 4: This time your Excel password will be displayed in a pop up window.
Conclusion
From the above article it is evident that PassFab for Excel is a pro at Excel password recovering and resetting. It can quickly recover Excel passwords if they are lost or forgotten. It's multi-core GPU acceleration helps in cracking passwords for Excel 2016 files without consuming much time. The easy to use intuitive interface makes the process of setting the password on Excel files a cake walk. The traditional methods are not of much help, when you forget the password. But, this password cracking tool can easily resolve the issue, within no time.