The successful removal of Google Account Lock (FRP) requires a stable connection between the Samsung device and the computer.
You can try to:
Change another USB port or USB cable to provide a stable connection between the SAMSUNG device and your computer.
Upgrade the operating system of your computer to obtain a better communication method.
Exit or uninstall the computer manager and anti-virus software tools to prevent the program from being blocked.
And try again.
For very few SAMSUNG devices, jumping to the Settings is not supported. You can install the Screen Manager to bypass the Google Lock.
Note: This can not remove the Google Lock thoroughly. Your device will be locked again after a new restart.
1. Use PassFab Android Unlocker to send the noticfication to the SAMSUNG device.
2. Follow the instrutions to type and open the URL.
3. Download the "Settings.apk".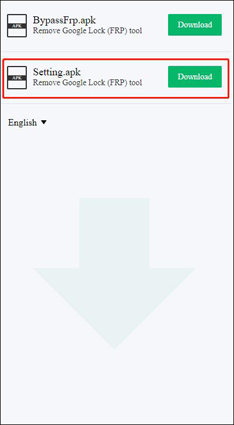 Then you can bypass the Google Lock successfully.
We want to remind you that the two functions in PassFab Android Unlocker, removing the screen lock and Google lock(FRP), will lose all data. But if your phone belongs to Samsung early devices, you can remove screen lock without data loss with PassFab Android Unlocker.
With the current technology, as long as the device is locked without you knowing the password or totally disabled, it's impossible to secure the data whatsoever. That's the kind of reality we are confronted with. We are working really hard to keep up with the technology and will waste no time to deliver as soon as the option is available.
Basically supports all existing Android phones and tablets on the market. Support 60000+ Android phones and tablets, including Samsung, Google, Motorola, LG, HTC, Huawei, Xiaomi, etc.
Some android unlocking tools on the market need to enter the phone model before unlocking, but PassFab Android Unlocker does not require it. As long as you can successfully connect the device, the program can unlock your screen lock with just one click.
1. Connect your computer to a cable network instead of Wi-Fi.
2. Quit the VPN or SS if you are using one.
3. Restart PassFab Android Unlocker and run the unlock from scratch.
If the issue persists, you can provide the following data to our professional technical support.
* What's your phone model, android version?
* Screenshot of the error messages you came across.
* The logs file, you can find it in the main folder of PassFab Android Unlocker. Right-click the desktop icon of PassFab Android Unlocker, tap Open file location, you'll see a folder named logs, you can send all files under logs to us.
We will help you analyze and give professional solutions in time.
You can find the answer here.If you have other issues that are not being addressed, you can come to our support center for help.