Dell laptops have earned quite a reputation in the market, and many users trust Dell when buying computers and laptops. But, recently, some users have reported that Dell laptop stuck on restarting screen on Windows 11. Getting stuck on a restart screen may sound strange, but it is a common issue many users face worldwide.
When Dell laptop keeps restarting, it causes a major inconvenience to the users because they are unable to use their PC and do any troubleshooting to solve the issue. Out of frustration, many people take their laptops to repair shops despite of issue being 100% resolvable byself.
Are you looking for the answers to "why my Dell laptop is stuck on restarting"? If yes, you will get all your answers in this article, including the best ways to resolve Dell laptop stuck on restarting.
Part 1: The Root Causes of Dell Laptop's Restarting Issue
Stucking on the restarting screen is not the fault of the Dell laptop. Instead, the operating system or some hardware is causing the problem. Here are some major culprits due to which Dell laptop not shutting down or restarting:
Pending Windows Updates: If you have not installed the latest feature updates on your Windows system, it can cause several problems.
Hardware Failure: If some hardware device that contributes to starting up the computer fails, you can get stuck on restarting the screen.
Malicious program or virus attack: When your computer catches a virus or malware, it starts functioning abnormally.
Outdated Drivers: If you have outdated device drivers, your computer stops working properly.
Corrupt System Files: The corrupt system files can get you stuck on a restart loop as they are critical for starting the computer.
Incorrect shutdown procedures: If you do not shut your computer down properly, you can face different problems because the PC is still processing certain processing, which can get damaged if closed suddenly.
Part 2: Symptoms of a Dell Laptop Stuck on Restarting
How would you know if you are stuck on a restart loop? Here are some symptoms you should look for:
Unresponsive Screen: You move your cursor or press buttons on the keyboard and see no response from your computer.
Restart Loops: When your computer restarts automatically and repeatedly as soon as it starts up.
Frozen Boot Process: This means that you see restarting written on the screen but see no progress in the process.
When a Dell laptop keeps restarting, it can lead to many critical problems such as data loss, damaged system memory, corrupt operating system, etc. To avoid any further issues with your computer, you must try to resolve the restart loop issue as soon as it appears.
Part 3: Troubleshooting Dell Laptop Stuck on Restarting
Solution 1: UsePassFab FixUWin
The PassFab FixUWin is the best, easiest, and smartest way to resolve Dell laptop stuck on restarting screen Windows 11/10. It is an amazing Windows repair tool that can eliminate any Windows error, such as a blue/black screen, being stuck on the boot loop, a PC crashing, and much more. PassFab FixUWin scans your PC for problems and resolves them automatically. It also has incredible features to perform various tasks in Windows.
Install and launch PassFab FixUWin on any accessiable PC.
Plugin a USB and click Create boot disk now.
Switch to the faulty PC, plug in the bootable device, and restart it.
Press the boot key, set USB on priority, and exit the boot menu.
Click Automated repair after entering into the interface.
After repair complete successfully, click Restart to reboot yoru computer.

Click Restart after repairing successfully.

After going through the above process, you will not get stuck on the restarting screen on your Dell PC.
Method 2: Force Shut Down your Laptop
The most common reason behind the Dell laptop being stuck on restarting is a typical boot glitch after the Windows feature update installation. If this is the case with you, you can perform a force shutdown and resolve the problem.
Step 1:Press and hold the power button for up to 60 seconds.
Your laptop may shutdown after a few seconds, but you should hold the power button for 60 seconds so that the power stored in the capacitors is drained.
Step 2:Remove the power cable (if plugged in) and remove the battery.
Step 3:Leave your laptop for some time and then plug everything back.
Step 4:Turn on your laptop.
If the boot glitch caused the issue, it must vanish after you perform the above steps. However, try the other solutions if you are still stuck on the restart loop.
Repeat the above steps to update all the outdated drivers you find.
Method 3: Use Startup Repair Feature
The startup repair feature is built into all Windows versions and helps you resolve the errors that occur upon startup. You will need Windows Installation Media to use this method.
Step 1: Turn off your computer and insert Windows Installation Media.
Step 2: Choose Language and keyboard settings and click Next.
Step 3:Click the Repair your computer link.
Step 4:Click Troubleshoot -> Advanced options and then Startup Repair.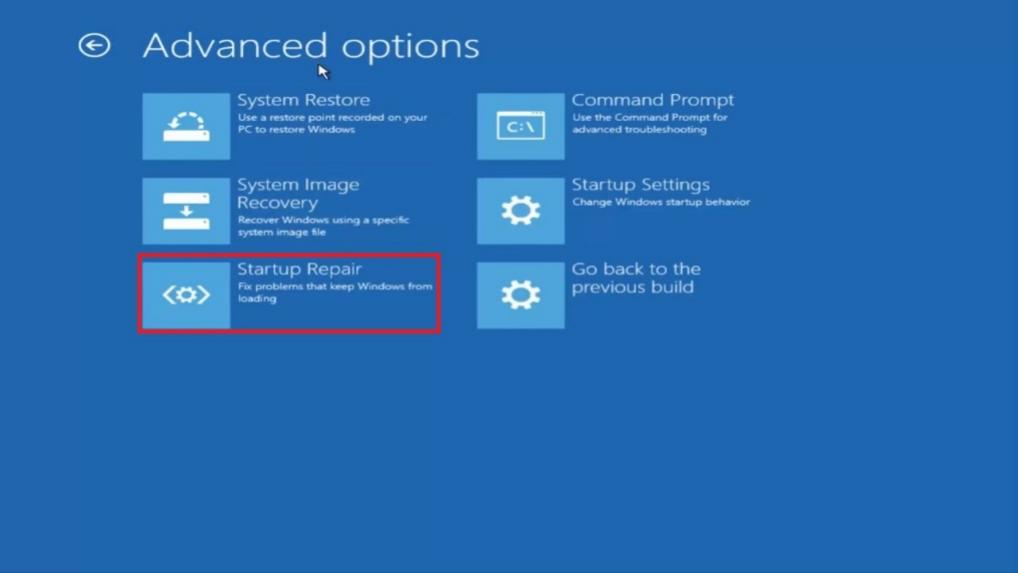 The startup repair tool will start fixing the problem. If it succeeds, your computer will restart automatically; otherwise, you will see a message on the screen.
Method 4: Perform a System Restore
If the Dell laptop stuck on restarting screen Windows 10 problem appeared after you installed updates or some program, restoring your system to a restore point can undo all the changes and eliminate the problem,
Step 1:Boot your computer through Installation media.
Step 2: Choose Language and click Next.
Step 3:Click the Repair your computer link.
Step 5:Choose System Restore.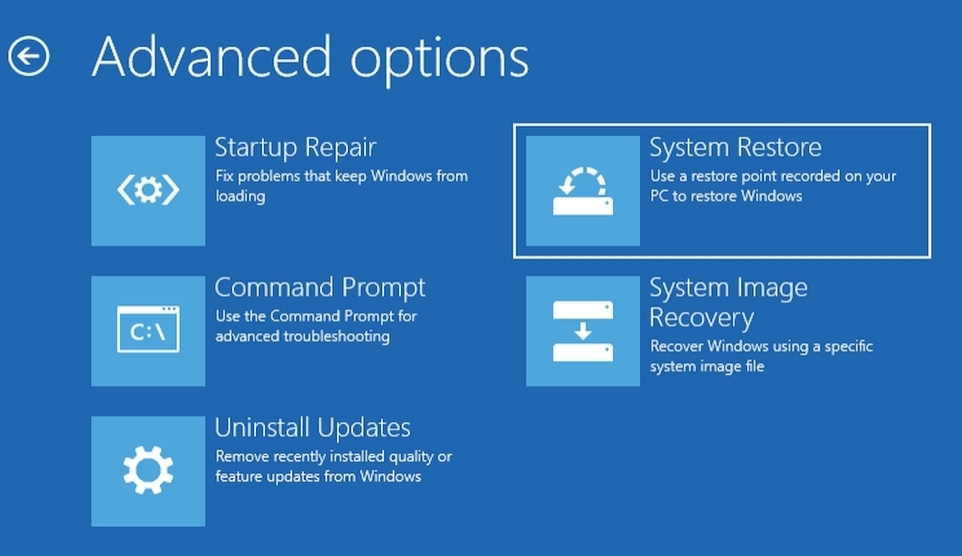 Step 6:Choose a restore point and click Next.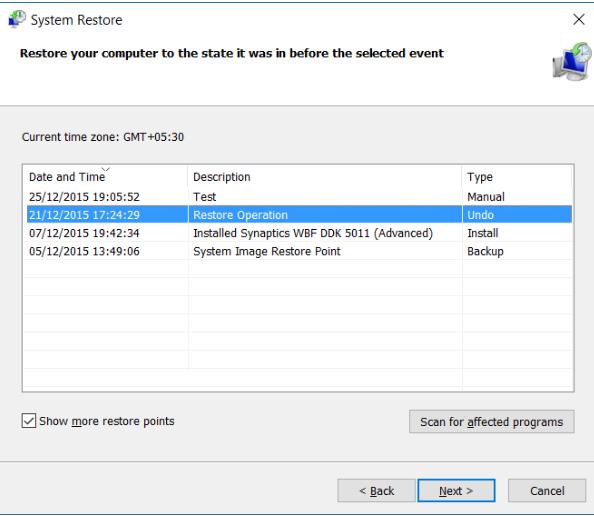 The system will restore automatically to the chosen restore point. All the recent changes and installed programs and updates will be removed.
Method 5: Reset the Operating System
If you doubt that the Windows operating system has got corrupted, you can reset the operating system while keeping your personal files intact as follows.
Step 1:Shut down your computer and restart it.
Step 2:When you see the Windows logo, restart your laptop by pressing the power button. Repeat this for at least three times.
Step 3: Click Troubleshoot -> Reset this PC and choose to keep my files option.
Step 4: Choose your user account and enter your password if asked.
Step 5: Click the Reset button.
Now, the current version of Windows will be removed and reinstalled automatically. Note that any software and programs installed on your PC will be removed during the process.
Method 6: Run SFC and CHKDSK Commands
The SFC and CHKDSK commands can determine the corrupt system files or a damaged hard disk. You can run these commands without getting into the PC.
Step 1:Boot from Windows Installation Media.
Step 2:Choose Language and click Next.
Step 3:Click the Repair your computer link.
Step 4:Choose Troubleshoot -> Advanced options -> Command Prompt.
Step 5:Type sfc /scannow. Hit Enter.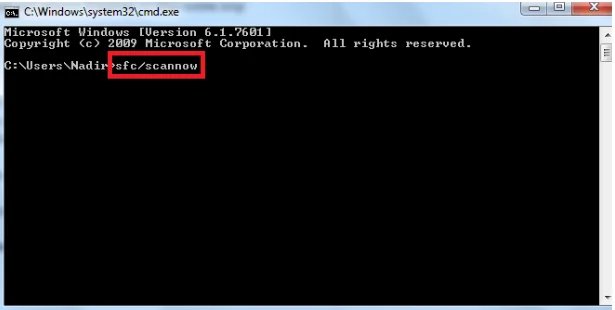 After the SFC command completes, run the CHKDSK command as follows:
Step 6:Type CHKDSK /f and press Enter.

Step 7: Close the Command Prompt and restart your PC.
If the issues were being caused due to damaged system files or some bad sector in the hard disk, the problem would be fixed by running the SFC and CHKDSK commands.
The scan will start, and the tool will fix any damaged files automatically. After scanning, you can use your PC with no PFN_LIST_CORRUPT issue.
Method 7: Factory Reset your Laptop
Resetting your laptop to factory settings will remove all the data and applications from your computer. Use this method only when everything else fails and you have no other options. When you perform a factory reset, the PC becomes new with no custom software or settings.
Step 1:Boot through installation media.
Step 2:Select Language, click Next.
Step 3:Click the Repair your computer link.
Step 4:Click Troubleshoot -> Reset this PC -> Remove Everything.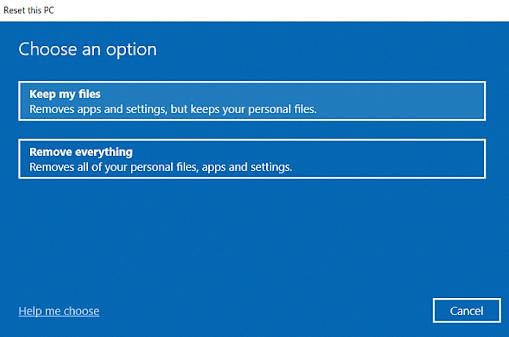 Follow the instruction that displays on the screen to complete the process. Your computer will restart after it has been reset to factory settings successfully.
Part 5: How to Prevent Dell Laptop from Getting Stuck on Restarting?
Prevention is always the best way to avoid any critical issues with your computer. Here are some tips for preventing Dell laptop stuck on restarting screen Windows 11:
Backup your data regularly
Update device drivers and other software frequently
Install Windows updates as soon as available.
Use reliable antivirus software to protect your PC from malicious programs and viruses.
Shut down your computer properly after closing all the programs.
Monitor system performance and use disk-checking tools to track your PC's functioning.
Part 6: Extra Tip: How to Recover Data from the Dell Laptop Stuck on Restarting?
For a dead Dell computer, most of people may worry about their data in the pc. But even you do not have access to the Dell pc, you can still get you lost data from your dead Dell with PassFab FixUWin. Equipped with advanced algorithms, it will scan your computer's hard drive and locate any recoverable files, such as photos, videos, documents, and more. Once the scan is complete, you can preview the files to ensure that they are the ones you want to recover.
Step 1: After launching the PassFab FixUWin, click the Recover now button under the Data Recovery panel.
Step 2: Choose the types of data to recover. Click Scan All File Types.
Step 3: Choose the files you want to keep and click the Recover button.
Summary
Although Windows OS has gained much popularity among its users, Microsoft has failed to eliminate the bugs and issues fully. These problems occur every now and then. Some of the issues occur after installing a feature update in Windows. One such problem is the Dell laptop stuck on restarting. In this article, we have learned about different methods to resolve Dell Xps, Dell Inspiron 15 3000, Dell G15 stuck on restarting problems. The methods proposed can be used on any other Windows PC. The best and most recommended of all the proposed methods is by using the PassFab FixUWin.