Update error 0x800f0805 while updating Windows 10 Version 1809 to Windows 10, Version 1909. Please help!
Microsoft releases different updates regularly, and installing them on your computer as soon as they are released is important for the smooth functioning of your computer. However, sometimes, these updates fail to install due to various reasons. Whenever there is some problem during the update, Windows returns an error code. Different error codes indicate a different problem. One such code is 0x800f0805. In this article, we will explore error 0x800f0805 and learn how to fix it. All the fixes in this guide are tested; you can try them all without much effort.
Part 1: What is Windows update 0x800f0805 Error and How to Identify it?
Error 0x800f0805 is a Windows update error that occurs when upgrading your Windows to a higher version. Some users have reported encountering this error while activating the Windows product key to upgrade to a newer version, i.e. Home to Professional, Professional to Enterprise, etc. It indicates that the target version is undetected; hence, you cannot upgrade your system.
When this error is triggered, you see error code 0x800f0805 with a prompt on your screen.
Another error message with error code 0x800f0805 is "The Windows edition was not detected…". When you see such errors on the screen while updating your Windows system, you must resolve them to complete the installation successfully.
Part 2: What Causes Error 0x800f0805 windows 10/11?
The 0x800f0805 Windows update error is triggered due to many factors, but the most common cause is a non-functional Windows installation key or the Windows Update feature. However, here is the list of other possible culprits behind this error.
Poor Internet Connection
Low disk space
Corrupt, damaged or missing system files
Buggy updates
Background application interference
Outdated drivers
External hardware
Part 3: How to Fix Error 0x800f0805 windows 10?
Fixing download error - 0x80f0805 may seem complicated, but you can try the following solutions to fix it.
Solution 1: Smart Repair by PassFab FixUWin
PassFab FixUWin is a tool for you if you want to eliminate any Windows error in no time or effort. It is an amazing Windows repair tool designed to scan your computer system for errors and resolve them automatically, and it guarantees problem resolution with high success rate. This tool is applicable in various situations such as blue/black screen, boot loop, restart loop, PC crashing and much more. As mentioned earlier, error 0x800f0805 in Windows 10/11 can be caused by corrupt or damaged system files, so you can use this tool to fix this error.
Download PassFab FixUWin from the official website and install it on a working computer.
Connect a USB/CD/DVD drive to the computer and launch PassFab FixUWin. And then click on "Create Boot Disk Now" and select the USB drive to create a bootable USB drive with the necessary repair files.
Once the bootable USB drive is created, insert it into the problematic computer and restart it. During the restart process, press the boot key (usually F2, F10, F11, or Delete) to enter the BIOS setup menu.
In the boot menu, set the bootable USB drive as the first boot device and save the changes before exiting the menu.

The computer will boot from the USB drive and launch PassFab FixUWin in the Windows Recovery Environment.

Select "Automated Repair" and wait for the tool to detect and fix any issues.
Once the repair process is complete, click "Restart" to reboot the computer without the bootable USB drive.

After performing these steps, you will be able to resolve any Windows error.
Solution 2: Try Windows Update Troubleshooter
Windows Update Troubleshooter is a built-in tool that can help resolve common issues related to Windows updates. While it may not be effective in all cases, it's worth trying before seeking further assistance. Here are the steps to run Windows Update Troubleshooter.
Step 1: Open Settings and navigate to the following path: Update & Security -> Troubleshoot.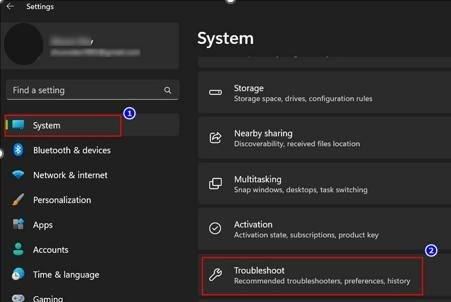 Step 2: Click Additional Troubleshooters link.

Step 3: Choose Windows Update and click Run the troubleshooter button.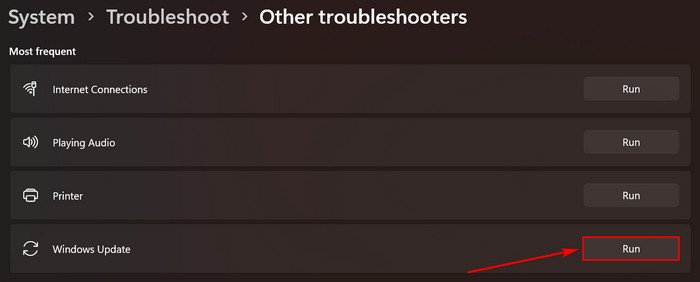 Step 4: When the troubleshooter has run successfully, close it and restart your PC.
Let Windows install the selected frameworks. Once done, restart your computer and check if the 0x800f0922 error is resolved.
Solution 3: Initialize Windows Product Key via CMD
Sometimes, the background update utility stops the upgradation causing error 0x800f0805. This happens especially when the Windows License Product key is initialized manually, i.e. Settings -> Update & Security -> Activation. However, to prevent this error, the product key should be activated through the command prompt.
Step 1: Open the Start menu, search "cmd", and run it as administrator.
Step 2: Type DISM /Online /get-targetedition and hit Enter.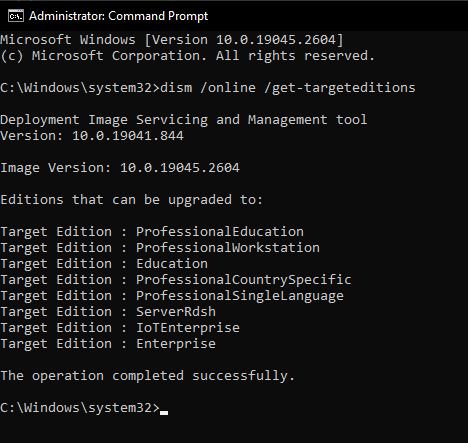 This command lists the Windows versions to which you can upgrade your system from the current version. If you see the version for which you have the product key, you do not have to install Windows from scratch.
Step 3: Now, initialize the Windows product key by typing slmgr.vbs /ipk <25-digit activation code> and hitting Enter.

Step 4: Restart your system and try upgrading again once the above command completes.
Running the above commands will activate your Windows License key, and you can use it to upgrade to the newer Windows version.
Solution 4: Try Resetting Windows Update Components
Windows Update Components are required to install updates or upgrade your system to newer versions, but if any of these components get corrupt, Windows Updates will fail. The Windows update components contain update-related files, temporary files, log files, cache and other information. Many users have reported getting error 0x800f0805 resolved after resetting Windows update components. This's also a method that worth trying.
Step 1: Open Command Prompt with elevated permissions.
Step 2: Run the commands: net stop wuauserv and net stop crypt.

Step 3: Exit the command prompt and restart your computer to restart these services again.
Hopefully, the Windows update will not throw errors when the services restart.
Solution 5: Use Batch File to Reset Windows Update Service
Windows update 0x800f0805 errors sometimes occur when Windows Update database or other services corrupt. This error has been reported to be resolved using a batch file containing instructions to reset all the services and Windows updates. You can run this batch file to eradicate error 0x800f0805
Step 1: Download the batch file from here: Batch File.
Step 2: Locate the downloaded batch file and run it as an administrator.
Step 3: After all the commands have been completed, restart your computer to implement changes and upgrade Windows.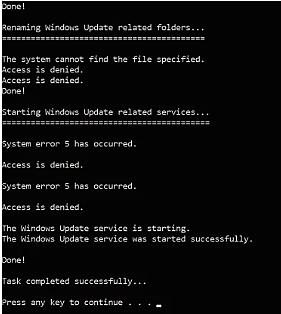 Solution 6: Download and Install Windows Updates Manually
Besides the auto-install option, Microsoft also allows you to download any Windows updates and install them manually on your computer. This utility comes in handy when facing issues with Windows Updates, and it fails to install updates for you.
Step 1: Visit Microsoft's Official Download page.
Step 2: Click Update now to download the latest Windows updates.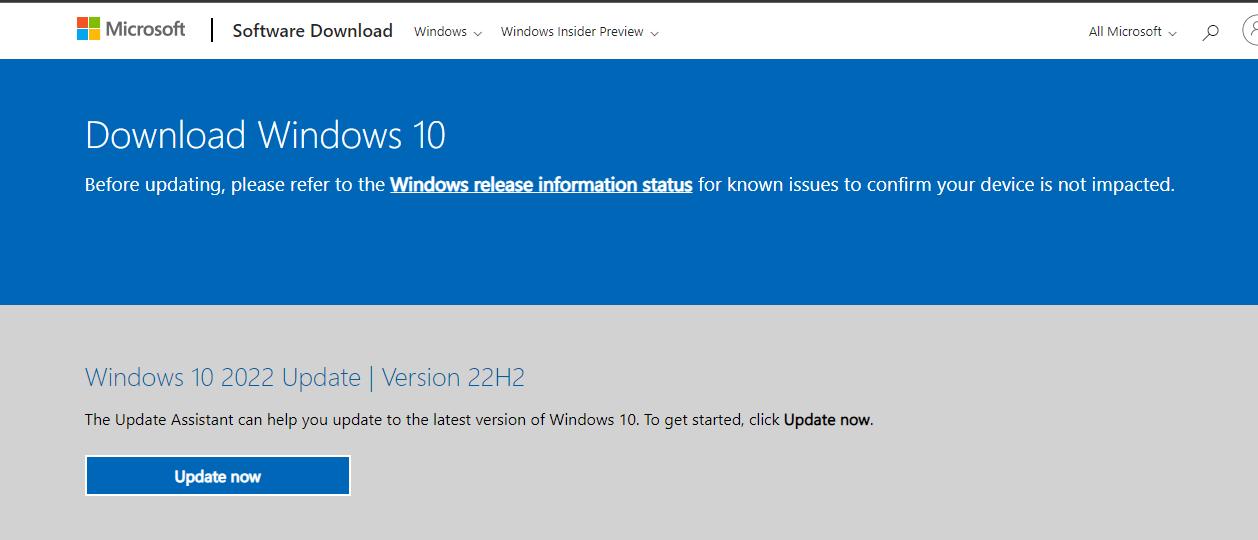 Step 3: Execute the downloaded file and click Yes when asked to confirm the action.
Step 4: Accept the license terms by clicking Accept.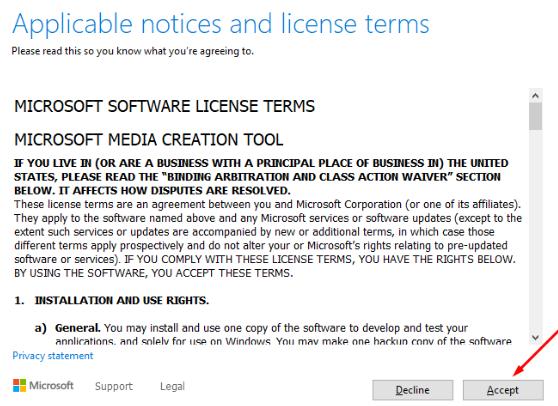 Step 5: Choose the Upgrade this PC now option, click Next.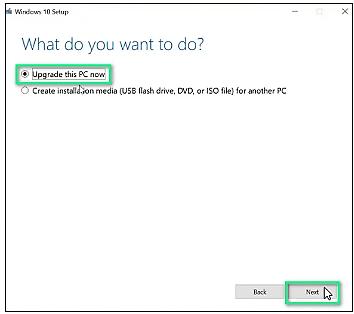 Step 6: Again, accept the license terms.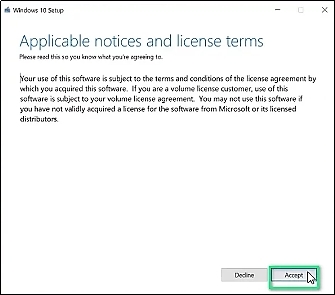 Step 7: Step 7: Click Install.
Let the update install completely. Make sure not to turn your computer off during the process. Your PC will restart again automatically after the update installation.
Solution 7: Run SFC Command
The corrupt system files are one of the potential causes behind error 0x800f0805. To repair these corrupt system files, Windows provides you with SFC (System File Checker), a built-in tool that looks for corrupt files and repairs them automatically.
Step 1: Open elevated Command prompt Window.
Step 2: Type sfc /scannow. Hit Enter.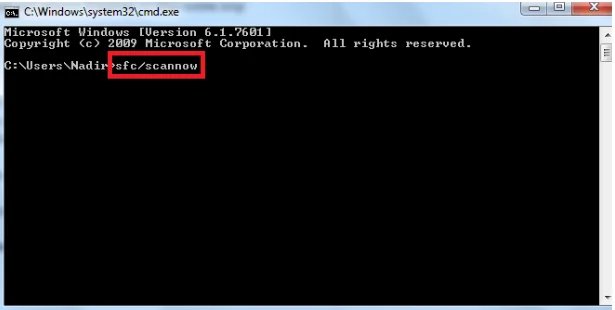 The SFC tool will check the system directory for damaged files and recreate them to resolve corruption.
Solution 8: Run DISM Tool
The Deployment Image Servicing and Management (DISM) tool is designated to resolve more complex file corruption errors. This tool checks the system image file for corruption and recreates a new system image to get it fixed.
Step 1: Open the elevated Command Prompt Windows.
Step 2: Type DISM /Online /Cleanup-Image /RestoreHealth. Hit Enter.

Solution 9: Create and Run wufix.bat File
The Wufix.bat file is set up by Microsoft to fix Windows update-related errors by running various commands simultaneously. This file performs multiple tasks, including SFC and DISM scans.
Step 1: Open Notepad.
Step 2: Type in the commands as they are shown in the image below: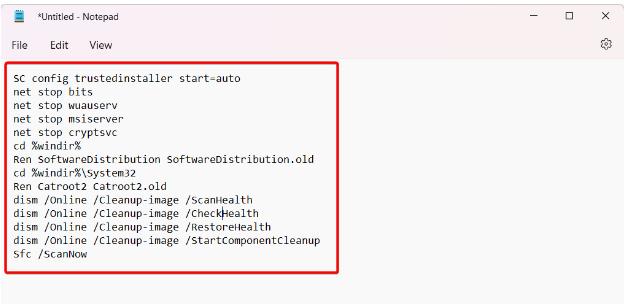 Step 3: Click the File menu and then Save As.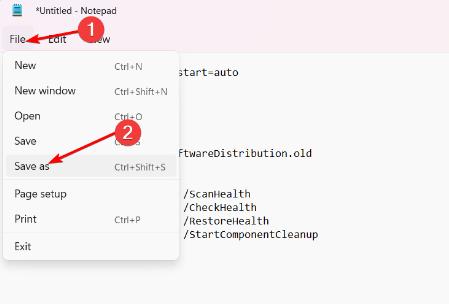 Step 4: Choose a location and set the file name as Wufix.bat.
Step 5: Choose All Files in the Save as type option. Click Save.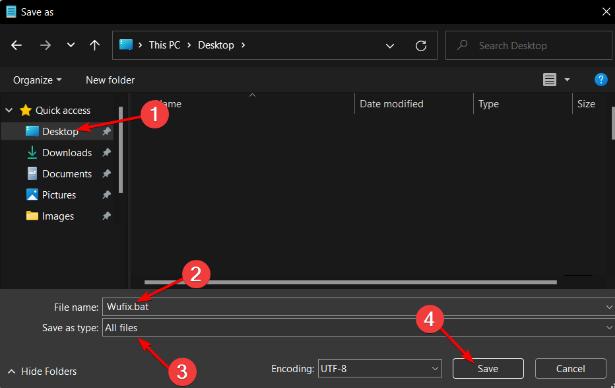 Step 6: Right-click on the saved file and choose the Run as Administrator option.
Solution 10: Reset your PC
Resetting your PC is the last resort to get Windows update 0x800f0805 error fixed if all the above solutions fail. Resetting your PC will remove all the settings and changes that you made in your PC and will set it to factory settings.
Step 1: Open Settings -> System -> Recovery.
Step 2: Click Reset PC.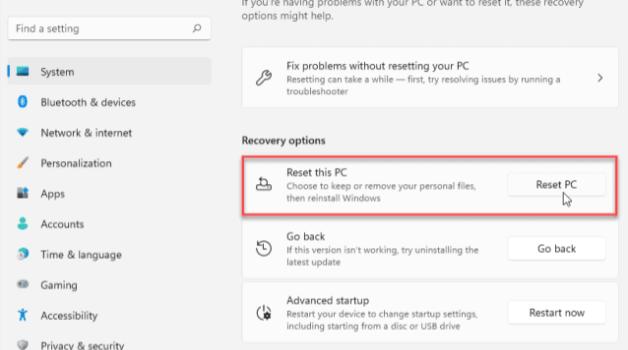 Step 3: Choose Keep my files.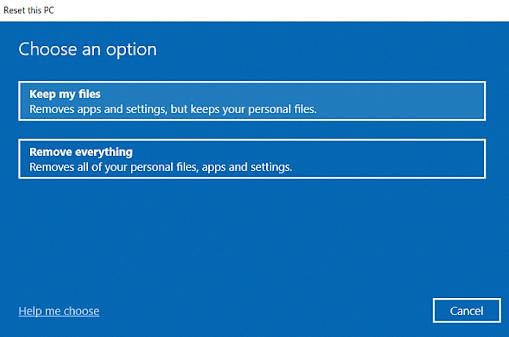 Proceed by choosing the preferred options and let Windows reinstall. Please note that this solution will remove all the programs and data stored in the system partition, and you will have to reinstall everything after Windows has been installed successfully.
Part 4: How to Prevent Download error - 0x800f0805 in Windows 10/11?
Prevention is always better than cure, so here are some tips that you can follow to prevent error 0x800f0805 from recurring in future:
Keep Windows, drivers and other software up-to-date
Avoid installing unknown programs from unknown publishers
Avoid downloading files from unknown sources
Perform maintenance tasks regularly
Scan PC for viruses and malware
Avoid using incompatible software or hardware
Final Verdict
If you do not install the latest Windows updates on your PC, it starts malfunctioning, stopping you from performing specific tasks. But what if you encounter an error while installing the updates?
In this article, we have discussed error 0x800f0805, one of the most common Windows update errors. You have also seen the 10 best ways to eliminate this error. However, we recommend using PassFab FixUWin to resolve 0x800f0805 windows 10 update or any other Windows error.