Encountering an error while installing a Windows error is quite common and is faced by many Windows users worldwide. Various factors usually cause such errors; thus, they are frustrating to resolve. The errors that you face when you try to install Windows update include error 0x800f0831. When this error occurs, you fail to install any cumulative feature, security or other updates on your computer.
In this article, we will discuss the 0x800f0831 windows update error and learn the 10 best ways to fix it.
Part 1: What Causes Windows update error 0x800f0831?
Many Windows 10 and 11 users have reported error 0x800f0831 while installing a cumulative update. This error indicates some problem while downloading and installing the updates, and various factors can contribute to its occurrence, such as:
Corrupt or damaged system files
Missing files from older updates
Misconfigured Windows Update component
Windows Update Service is unavailable
Antivirus or Windows Firewall interruption
Low disk space
Part 2. How can I Fix Error 0x800f0922 in Windows 11?
When you face issues with Windows updates, you may ignore them and leave the update pending, but in the long run, your computer will start malfunctioning due to the pending Windows updates. Microsoft releases different updates to improve performance, security and functions in your computer, and if you do not install them timely, you face different issues with your computer. Although the install error - 0x800f0831 is common, here are some of the best fixes to get rid of this annoying error.
1. Use Windows Repair Tool - PassFab FixUWin
Using a third-party tool will be the best option if you are looking for a simple, efficient and quick way to eliminate error 0x800f0831. PassFab FixUWin is an amazing Windows repair tool using which you can bypass any Windows error, including blue/black screens, PC crashing, stuck on boot loop, etc. This incredible tool performs a complete scan of your computer to identify the root cause behind the error and attempt to repair it automatically.
Install and launch PassFab FixUWin on the problematic PC.
Plug in a USB, click Create boot disk now.

Let PassFab FixUWin create a bootable media.

Restart PC and press the boot key upon startup. And then set your USB on priority and exit the boot menu.
Click Automated Repair after the interface shows.
Click Restart when the screen show that automatic repair is complete successfully.

When your computer restarts, the issue you are facing will surely be gone.
2. Run DISM Command
The DISM command helps you repair the Windows image file if it gets damaged or corrupted. This command checks for issues and resolves them automatically when run. You can use DISM scan to resolve 0x800f0831 as follows.
Step 1: Open the Run dialog, type CMD and press CTRL + Shift + Enter to open it as Administrator.
Step 2: Type DISM /Online /Cleanup-Image /ScanHealth. Hit Enter.

This command will scan the system image file for corruption.
Step 3: Type DISM /Online /Cleanup-Image /RestoreHealth. Press Enter.

This command will repair the system image file.
Step 4: Close cmd and reboot the computer.
After restarting, try to install the Windows update again. Hopefully, you will succeed in installing it.
3. Manually Repair through Partially Installed Component
Microsoft allows you to install the updates manually by downloading them from Microsoft Update Cataog. This Catalog contains all the system, feature, cumulative and quality updates, and you can easily install them by searching the update number as follows.
Step 1: Visit Microsoft Update Catalog.
Step 2: Type the Package ID in the Search box.
Step 3: Look for the updates that comply with your PC specifications and download them.
Step 4: After downloading the update, close Microsoft Update Catalog and open the location where you saved the downloaded package.
Step 5: Double-click the package to install the update.
Let the update install on your computer. Restart your computer once it has been installed successfully.
4. Turn off Proxy Settings
If the proxy settings in your PC are on, they will interrupt Windows updates, and you will not be able to install them. In such a case, you can try disabling these settings.
Step 1: Open the Run dialog, type inetcpl.cpl. Hit Enter.
Step 2: Type appwiz.cpl and click OK.
Step 3: Switch to the Connections tab.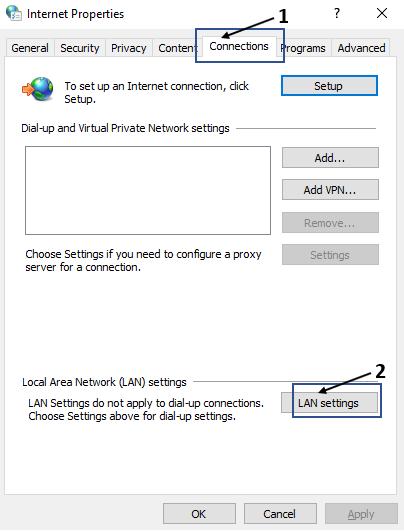 Step 4: Click on LAN Settings.
Step 5: Uncheck the Proxy server box. Click OK -> OK to save changes.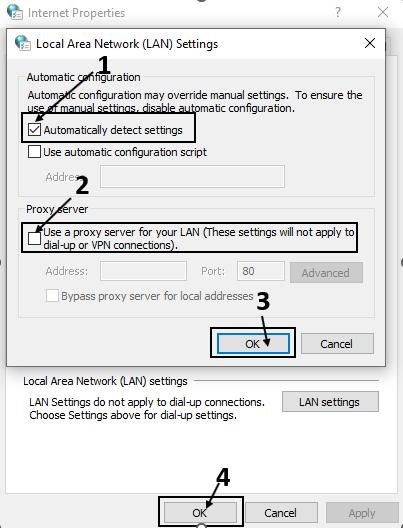 You can now install the pending Windows updates without facing error 0x800f0831.
5. Manually Download the Missing KB Package
When you get a new Windows update, you might have noticed that every update comes with a number starting with KBxxxxxxx. This is called the KB Package number. If the required KB package to install an update is missing, you come across error 0x800f0831. However, you can download it manually from Microsoft's official website.
Step 1: To identify the missing package, open Windows Explorer.
Step 2: Navigate to C:\Windows\Logs\CBS and open the CBS log file.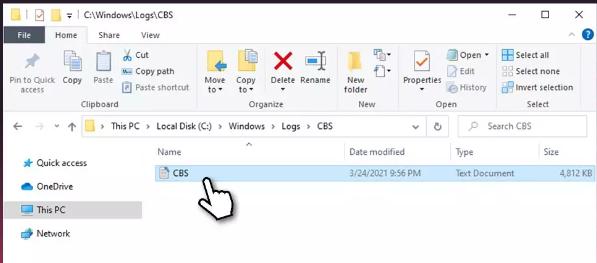 Step 3: Now, press CTRL + F and find 0x800f0831 in the file.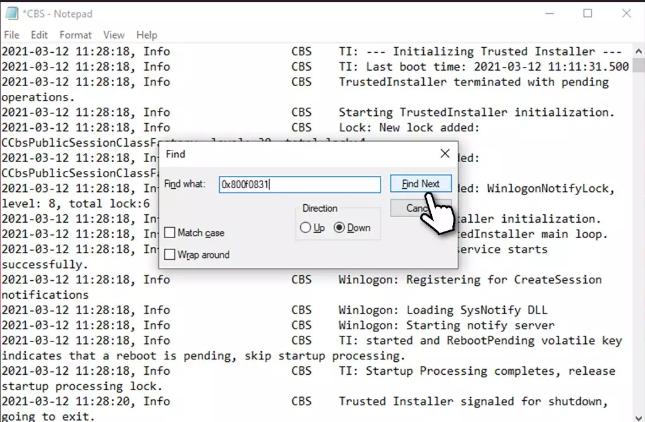 Step 4: Note down the missing package number when you see the following line:
Store corruption, manifest missing for package: [package_number]
Step 5: Open Microsoft Update Catalog.
Step 6: Type the missing package number in the search box, and download and install it.
Step 7: Restart PC.
After manually installing the missing KB package, you will be able to install all the Windows updates without error.
6. Run Windows Update Troubleshooter
Windows update troubleshooter is a built-in tool to deal with Windows update errors. This tool automatically resolves the issues that occur during the update installation. Here is how you can run it to get rid of the 0x800f0831 error in Windows.
Step 1: Open Settings App.
Step 2: Click Troubleshoot in the left navigation panel.
Step 3: Click Additional Troubleshooters link.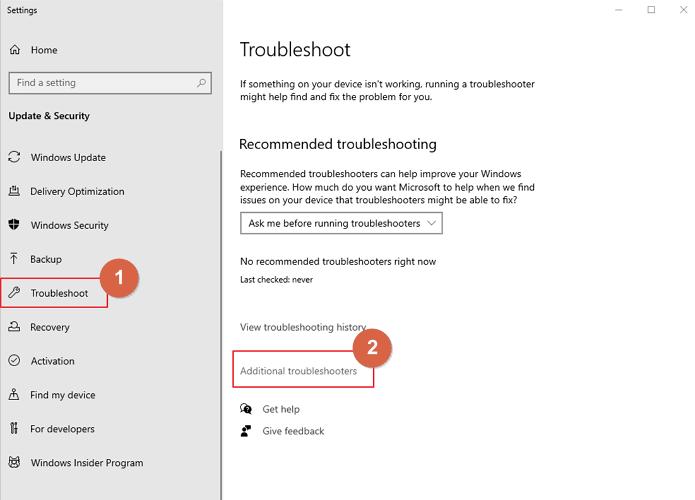 Step 4: Choose Windows Update and click Run the troubleshooter.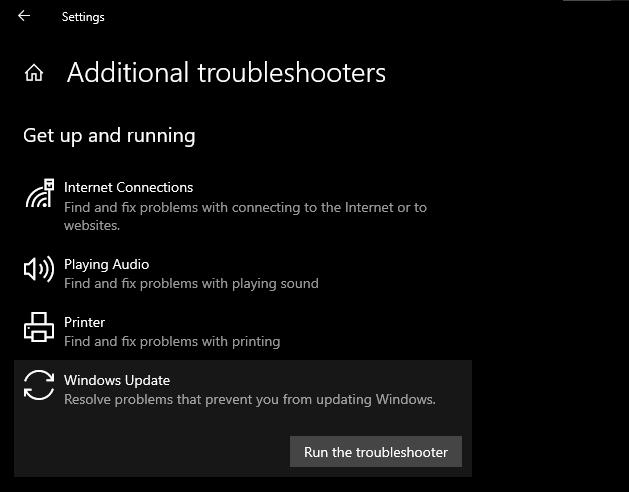 The troubleshooter will fix the issue with Windows updates. However, you can move on to the next solution if it fails.
7. Reset Windows Update Component
Windows Update component plays a vital role in Windows update installation; if it gets corrupted, it causes several errors, including 0x800f0831. However, you can try resetting it to resolve the addressed issue as follows:
Step 1: Open Command Prompt (Admin).
Step 2: Enter the following commands and run them:
net stop wuauserv
net stop cryptSvc
net stop bits
net stop msiserver
Step 3: Now, type ren C:\Windows\SoftwareDistribution SoftwareDistribution.old and run it.
Step 4: Again, type ren C:\Windows\Catroot32 Catroot32.old and run it.
Step 5: Type the following commands and press Enter respectively:
net start wuauserv
net stop cryptSvc
net stop bits
net stop msiserver
Try to update Windows after you have run the above commands successfully.
8. Restart BITS service
The Background Intelligent Transfer Service (BITS) in Windows 10 is a critical service required to be turned on to install any Windows updates. When any Windows Update Service stops working, the BITS displays an error message without taking any action. If the problem with the corresponding Windows Update Service is not resolved, you will face Windows update error 0x800f0831.
Step 1: Open Run dialog and type services.msc, hit Enter.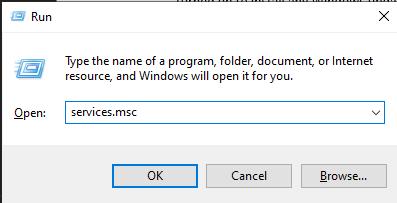 Step 2: Look for BITS and double-click on it to open Properties.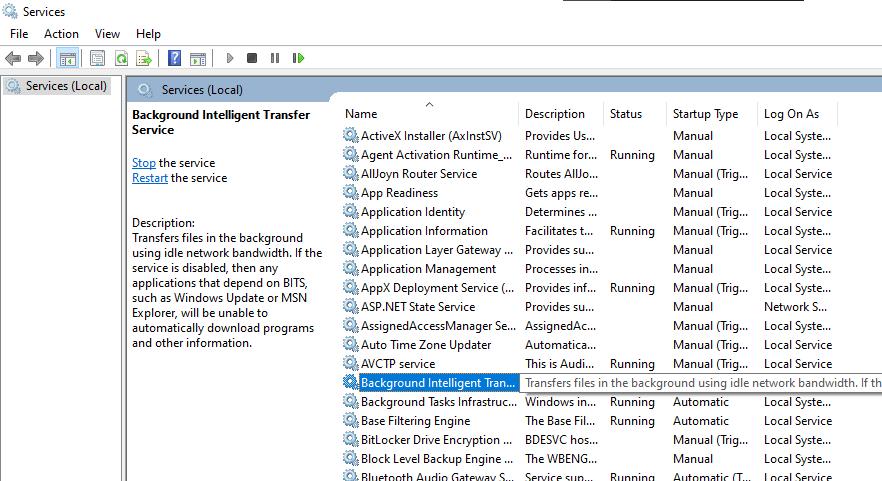 Step 3: Check if the BITS service is running. If not, click Start button.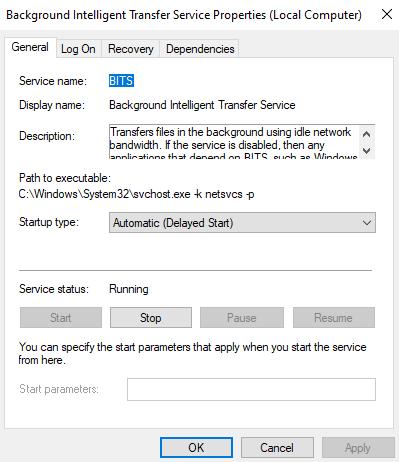 Step 4: Switch to the Recovery tab and set the first and second failures to Restart the Service.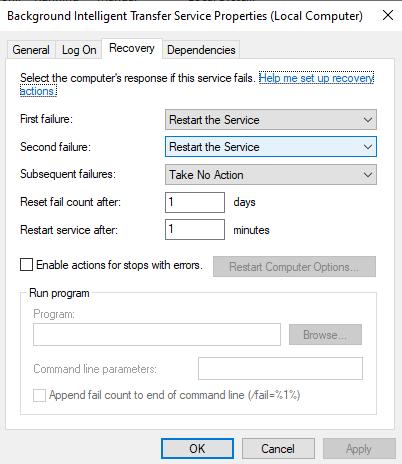 Step 5: Click OK to implement changes.
9. Reconfigure Network Settings
When your computer fails to connect to a network, you cannot download or install certain Windows updates. However, reconfiguring network settings may resolve the issue.
Step 1: Open Run dialog, type "cmd", press CTRL + Shift + Enter.
Step 2: Type all of the following commands one by one, press Enter after each:
type netsh winsock reset
netsh int ip reset
ipconfig /release
ipconfig /renew
ipconfig /flushdns
Step 3: Exit the Command Prompt and restart the computer to check if the Internet issue is resolved.
10. Perform a Clean Boot
Many unnecessary services run in the background when many programs are installed on your computer. Sometimes, these services interrupt system routines causing various problems. You can perform a clean boot of your system by stopping all such services upon startup.
Step 1: Press Windows + S key to open the Search bar and type MSConfig. Press Enter.
Step 2: Switch to the Services tab and mark the "Hide all Microsoft services" checkbox.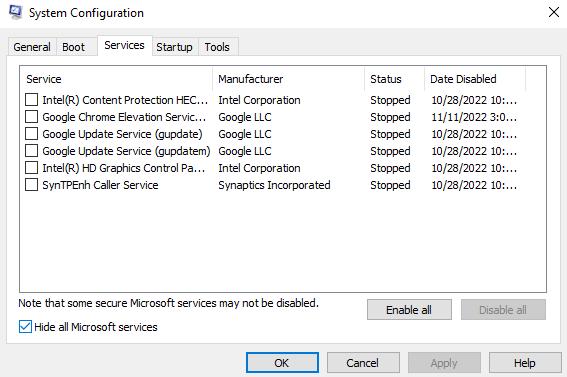 Step 3: Now, click Disable All button to stop all the third-party services.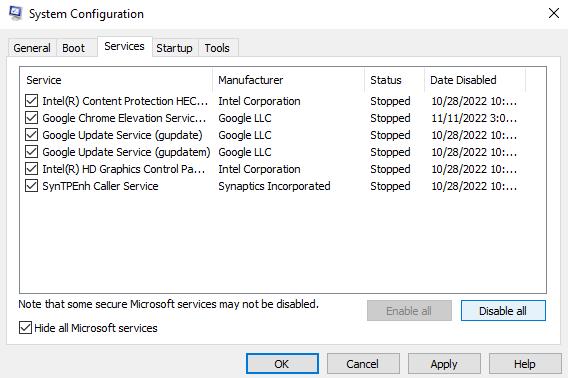 Step 4: Go to the Startup tab and click the Open Task Manager link.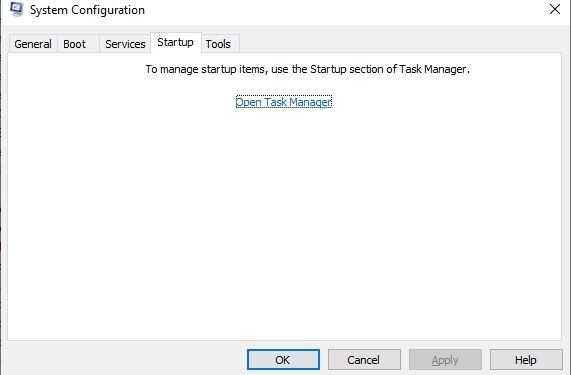 Step 5: Choose one service and click Disable.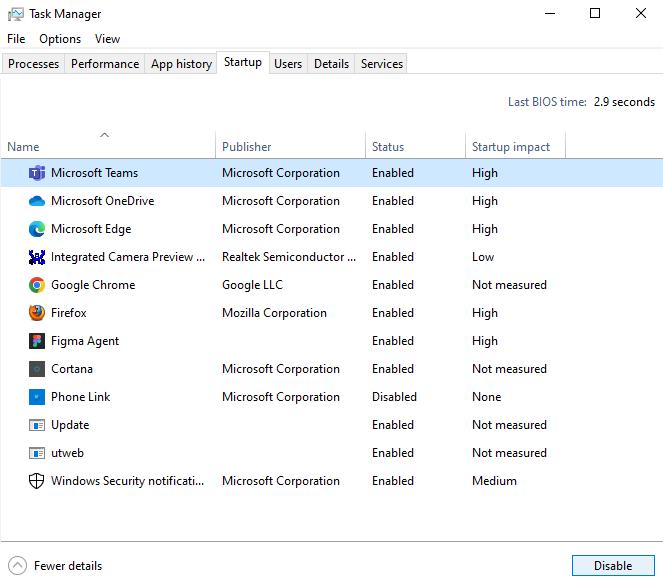 Step 6: Repeat Step 5 for all the running services.
Now, restart your computer and check if the update error 0x800f0831 is resolved.
Part 3: How to Avoid Error 0x800f0831 in Future?
Expectantly, you have gotten rid of Windows update error 0x800f0831 with the help of one or more fixes mentioned above and you would like not to see this error again. So, here are some tips that will come in handy for avoiding such errors from recurring:
Keep your system updated. Try to install all the updates as soon as you get them. If you skip one update and try to install a later update, you may face an issue with it. It is always recommended to install all the updates, as one update might depend upon the previous update.
Do not download or install files from unknown sources. There is a high chance of getting a virus or malware by downloading such files. Always use authentic sources to download any programs or files.
Run an antivirus scan regularly.
Do not mess up with system settings if you do not fully understand what you are doing.
Keep your hard drive defragmented to make more space on it.
Final Verdict
We hope that you benefit from this article. We have proposed several ways to resolve the 0x800f0831 windows update error, out of whom the best is PassFab FixUWin.