You may have heard that you should keep your Windows PC up-to-date for smooth functioning but have you ever faced error 0x800f0922 while installing an update?
Windows offer several cumulative updates to keep your OS updated and out of bugs. But these updates come with many additional features as well as numerous bugs. When we update our system to Windows 11 from an older OS, we face error 0x800f0922.
In this article, you will explore the 0x800f0922 Windows update error and learn how to fix it.
Part 1. Overview of install error-0x800f0922 Windows 11 kb5012170:
The number of bugs reported has increased with an increase in Windows 11 users. Many Windows 11 users have reported encountering Windows update error code 0x800f0922 while installing a cumulative update. This error was not so common in previous versions but has become common in Windows 10 and 11.
What is Windows 11 install error 0x800f0922?
The Windows install error 0x800f0922 occurs when installing a cumulative update on Windows. This error code is technically interpreted as CBS_E_INSTALLERS_FAILED, indicating that the advanced processing of installers required to implement the updates failed. Due to an error code 0x800f0922, you may not be able to finish installing updates. The following image shows what this error looks like:
Every error in Windows has a reason behind it. So, here are some reasons why you may face error code 0x800f0922:
Disabled App Readiness Service
Disabled .NET Framework elements
Corrupt system files
Inaccurate Windows Updates
Corrupt cache data
Less space in the system reserved partition
Antivirus blocking the updates
Outdated BIOS
Part 2. How can I Fix Error 0x800f0922 in Windows 11?
The following ways help you to fix the windows update error 0x800f0922:
Fixing error 0x800f0922 is not a big deal, and you can try out the following fixes to get rid of it.
1. Use Smart Repair by PassFab FixUWin:
PassFab FixUWin is an outstanding Windows repair tool that automatically scans your computer for the possible reason behind an error and repairs it without requiring additional downloads or actions from the user. This amazing tool can fix any Windows error, including blue/black screen, stuck on boot or restarting loop, PC crashing problems, and other errors, including 0x800f0922. Here is how you can use this incredible tool to fix Windows update errors:
Install and launch PassFab FixUWin.Insert a USB/DVD/CD.
Click Create boot disk now.
Restart the computer, press the boot key. Set bootable USB on priority, save the changes, and exit the boot menu.
Click Automated Repair when you see the interface.
Click Restart after repair complete.

After using the above method, you will not encounter error 0x800f0922 while installing any Windows updates.
2. Run SFC and DISM command
The SFC(System File Checker) is a built-in Windows tool that scans for corrupt system files and repairs them automatically when run.
Step 1: Open the Run dialog, and type cmd.
Step 2: Type sfc /scannow, hit Enter.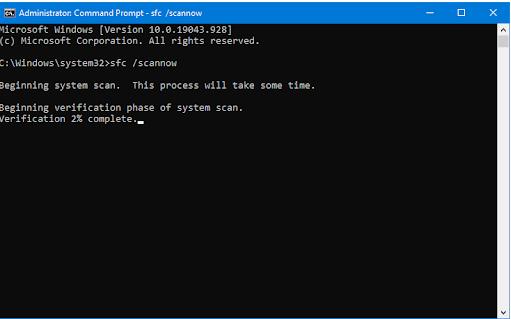 Step 3: Restart your PC after closing the command prompt.
If the SFC command does not resolve your issue, you can also run Deployment Image and Servicing Management (DISM) Scan that repairs Windows image file:
Step 1: Open the Run dialog, and type cmd. Press CTRL+SHIFT+ENTER to open Command Prompt.
Step 2: Now type DISM /Online /Cleanup-Image /RestoreHealth and hit Enter.

Now restart your PC and try installing the Windows updates.
3. Reset Windows Update Components
Sometimes the Windows Update Feature itself can create issues when you install updates. In such a case, you can resolve the 0x800f0922 Windows update error by resetting the Windows update components as follows.
Step 1: Launch CMD with Administrative privileges
Step 2: Type ipconfig /flushdns to clear the DNS record from the cache.

Step 3: Run the following commands one by one to stop BITS, Windows Update service, cryptographic service, and MSI Server, respectively:
net stop wuauserv
net stop cryptSvc
net stop bits
net stop msiserver
After stopping the four services, run the below commands to rename the SoftwareDistribution to SoftwareDistribution.old:
oul>
ren C:\Windows\SoftwareDistribution SoftwareDistribution.old
Rename catroot2 as catroot2.old:
ren C:\Windows\System32\catroot2 catroot2.old
Step 4: Restart the services that you stopped by running the following commands:
Now to reinstall Microsoft Edge manually, go through these steps:
Step 5: Open Run Window by pressing Windows+ R.
net start wuauserv
net start cryptSvc
net start bits
net start msiserver
Lastly, restart your computer to implement changes and install Windows updates.
4. Enable .NET Framework
To install the latest Windows updates, .NET Framework 3.5 is required. So, when the .NET Framework is disabled, you may face a 0x800f0922 Windows update error. Therefore, you can resolve the error code problem by enabling the .NET framework 3.5.
Step 1: Open the Run dialog by pressing Windows + R key.
Step 2: Type appwiz.cpl and click OK.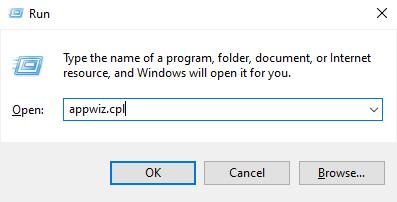 Step 3: Now click the Turn Windows features on or off link.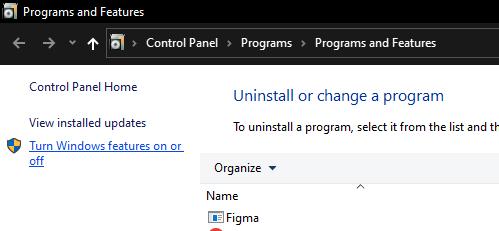 Step 4: Under the Windows Features window, click the checkbox before .NET Framework 3.5 (includes .NET 2.0 and 3.0). Click OK.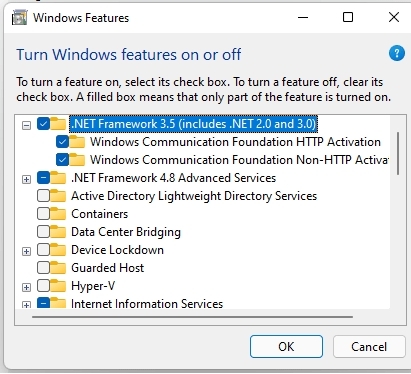 After installing.NET Framework 3.5, restart your PC. Hopefully, you will no longer face the 0x800f0922 Windows update error.
5. Perform a Virus Scan:
If any malware in the system creates an error code while updating, you can perform a full antivirus scan to determine and remove it.
Step 1: Open Settings and navigate to Privacy and Security.
Step 2: Now go to Windows Security -> Virus & threat protection.
Step 3: Click on the Scan options link.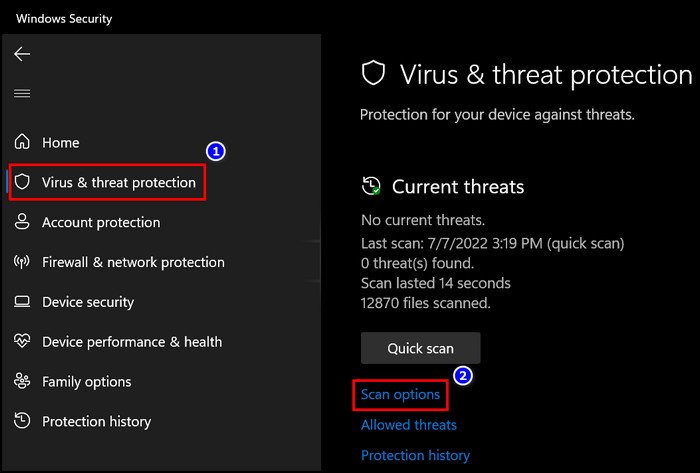 Step 4: Select Full scan and click Scan Now at the bottom.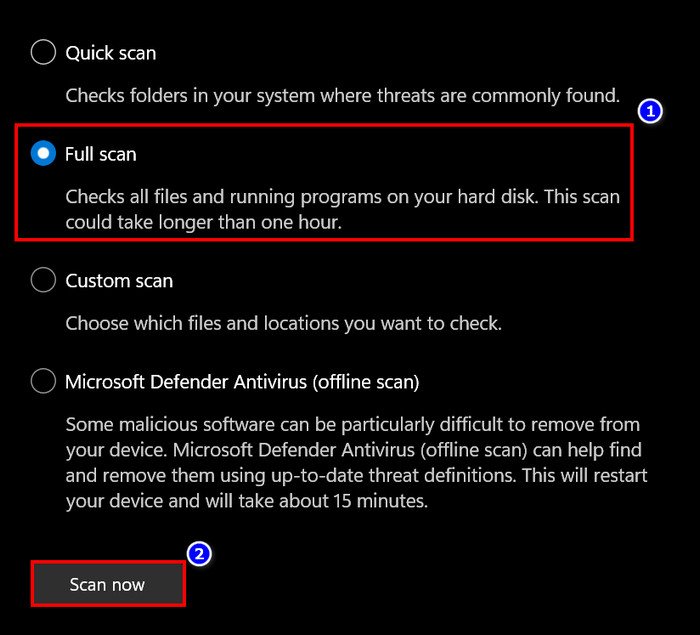 The Full scan will take some time to complete scanning. You will not be able to use your computer during this scan, so saving all the unsaved files and data is recommended before running it.
6. Run the Windows Update Troubleshooter:
The Windows Update troubleshooter will repair the 0x800f0922 error because it is a collection of automatic repair strategies. To run Windows Update Troubleshooter, follow these steps:
Step 1: Open the Settings app, go to System settings, and scroll down to select Troubleshoot.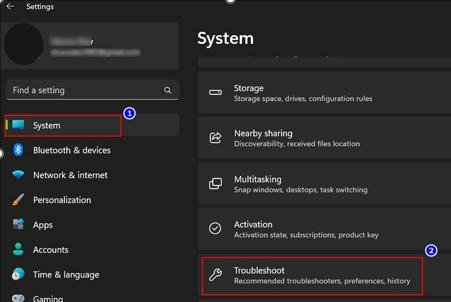 Step 2: Click Other troubleshooters.

Step 3: Now look for Windows Update troubleshooter and click Run.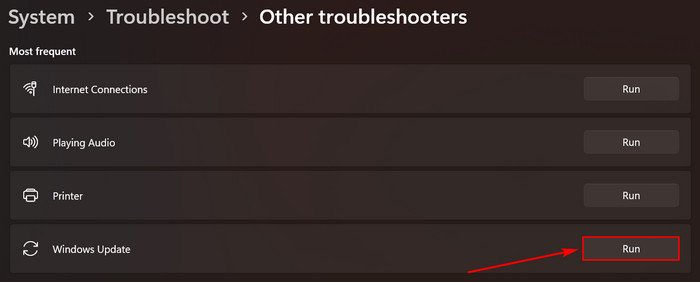 The troubleshooter will start repairing your PC and display a message upon completion.
7. Turn App Readiness Service On
The App Readiness Service creates and maintains Windows update installation logs. Some or all pending updates may not be installed if this service is disabled on your PC. You can fix the error code 0x800f0922 by enabling the App Readiness Service:
Step 1: Open Run Window by pressing Windows+ R simultaneously.
Step 2: Type services.msc and click OK.
Step 3: Locate App Readiness in the Service Window, right-click on it, and select Properties.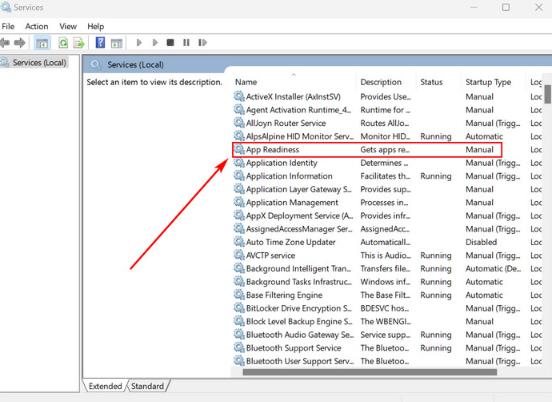 Step 4: Select Automatic under the Startup type drop-down menu.
Step 5: If App Readiness is not running, click Start.
Step 6: Click Apply and then OK to implement changes.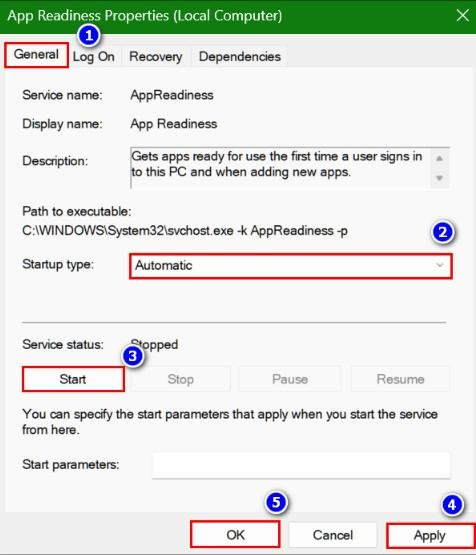 Check for the updates again after restarting your PC. If the disabled App Readiness Service were causing the error, you would not see the error code 0x800f0922 again.
8. Disable Windows Firewall
Windows Defender Firewall is a built-in antivirus program that prevents your computer from installing suspicious files. It sometimes prevents Windows updates from being installed due to the same reason, and temporarily disabling it may help you to fix the install error-0x800f0922 Windows 11 kb5012170.
Step 1: Open Settings and go to Privacy & Security settings.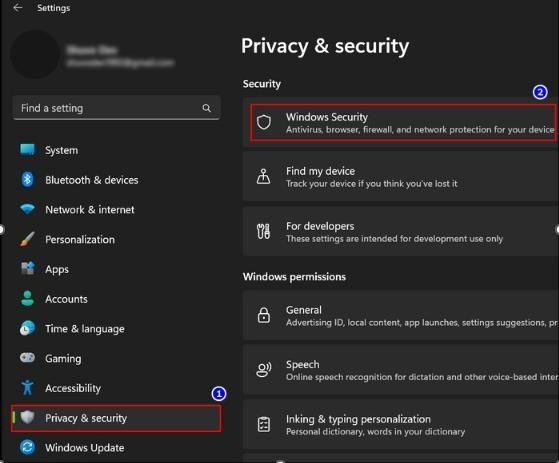 Step 2: Select Windows Security and click the Open Windows Security link.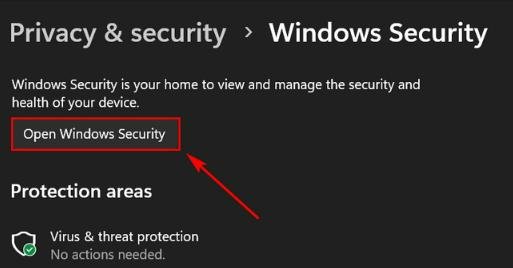 Step 3: Navigate to Firewall and network protection settings.
Step 4: Look for the active network and click on it.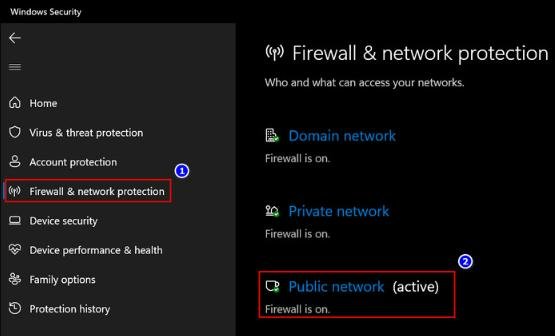 Step 5:
Turn off the firewall by toggling the button.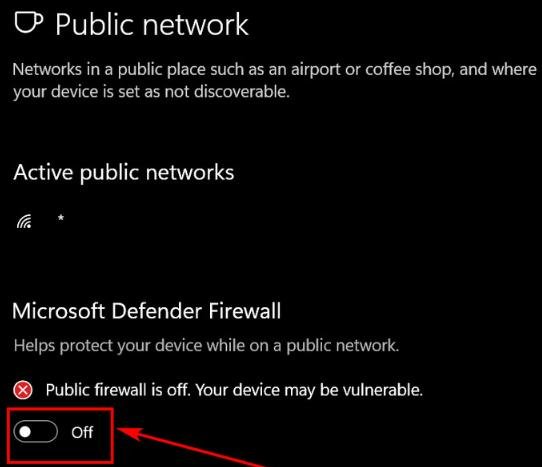 Now attempt installing the updates, and if they install successfully, it means that Windows Defender was interrupting it.
9. Install Troublesome Update Manually:
Over the unmetered connection, the system receives updates automatically in Windows 11 and 10. When some network error occurs during this process, you may end up installing the broken setup files, and the system may get faulty. You can also get error 0x800f0922 in such a situation. To get rid of it, you can try downloading the updates and installing them manually.
Step 1: Open Settings and click Update & Security.

Step 2: Click the link that says View Update history.
Step 3: Note the KB number you are facing an issue with.
Step 4: Visit Microsoft Update Catalog.
Step 5: Type the KB number you noted down in the search bar of the web page. Press Enter.
Step 6: Find the update that is compatible with your PC specifications. Click Download.
Step 7: Now click the link that ends with .msu, and choose a location to save the file on your PC.
Step 8: Now, open the downloaded MSU file and click Yes to install the downloaded Windows update.
Now, you will not face any errors, and Windows updates will install successfully.
FAQs:
1. What is Windows 11 .NET Framework 3.5 error 0x800f0922?
.NET Frameworks power Windows features, requiring different versions for different Windows builds. For Windows 10 and 11 updates, at least .NET Framework 3.5 is needed. Error 0x800f0922 occurs if this framework is absent or disabled. To fix this error, enable or install .NET Framework 3.5. This is essential for successful updates and resolves error code 0x800f0922.
2. How to reset Windows Update on Windows 11?
Resetting Windows Update components in Windows 11 is the same as that of Windows 10. All you need to do is run a few commands in the command prompt with the administrator account and restart your PC. Please refer to Reset Windows Update Components for a detailed demonstration of the process.
3. How can I download and install Windows 11 Updates manually?
You can manually download/install any Windows updates from the Microsoft Update Catalog website. Here are straightforward steps:
Open Windows Update Settings and note the KB build number of the failed update.
Now go to Microsoft Update Catalog, type the KB number in the search box, and look for the compatible update.
Download and install the MSC file manually.
The Windows Update Catalog provides an alternative way to download and install updates manually. It contains the updates for all Windows versions, including Windows 11.
Conclusion
We tackles the frustrating error code 0x800f0922 that can occur when updating Windows 11 with kb5012170. We provide practical solutions to fix the issue, including the highly recommended PassFab FixUWin. Don't let this error hold back your system updates, take action now to keep your PC up-to-date and running smoothly.