Receiving error code 0x8024a105 when attempting update of Windows 10 using automatic update. This update has failed every day for the last 2 weeks. Tried shutting off anti virus and firewall, but has no effect. Restarted the computer several times and still no success. Not a tech expert so don't want to work in the registry- any other idea?
Microsoft updates Windows 10 continuously to make it more stable and introduce new functions and features. Sometimes, users face the error code 0x8024a105 when some updates fail to download and install. When this error code appears, the installation stops immediately, and you cannot download the updates. If you are facing the 0x8024a105 error and you see the "there were some problems installing updates 0x8024a105" message on the screen, you will find the best solutions to this problem in this article.
Part 1: What Causes Windows update error 0x800f0831?
Error Windows update 0x8024a105 occurs when you try to install a cumulative, quality, or other Windows update. The error code appears when the Automatic Updates component is not working properly. When this error is triggered, it is accompanied by the message, "There were problems downloading some updates, but we'll try again later."
The primary reason behind this error is a malfunctioning Windows Update Component, but this error can have multiple culprits behind it, such as:
Corrupt system files
Outdated or non-functional antivirus program
Malware or malicious software
Damaged Windows image file
Part 2. How to fix Error Code 0x8024a105?
Method 1: Restart the system
Sometimes, you can resolve the error code 0x8024a105 by simply rebooting the PC. The following steps will help you to reboot the PC.
Step 1: Press the Windows key and then the Power button.
Step 1: Click Restart.
If Windows updates have been downloaded already, they will be installed after rebooting, and you will resolve the error.
Method 2: Exchange your Internet Connection:
If your Internet connection is not good, you may face Windows update 0x8024a105. In this situation, if you use a LAN connection, it is better to use WIFI. However, if you use the Internet over WIFI and still face this error, you can try switching to a wired connection. Try to initiate Windows Update again after this.
Method 3: Smart Repair by PassFab FixUWin
PassFab FixUWin will help you resolve the Windows update 0x8024a105 error because it is a wonderful tool that scans your PC automatically, detect the errors, and resolve them most securely. You can use it to resolve any blue/black screen, get stuck on a boot or restart loop, PC crashing, and any other Windows-related errors. As mentioned earlier, the error could be caused by damaged or corrupt system files; you can try to fix it using PassFab FixUWin as follows:
Download PassFab FixUWin in any working pc.
Plug in a USB, and click Create boot disk now to create a boot disk.
Restart your PC and press the boot key continously in the following screen. Set the bootable USB on priority, save changes, and exit boot menu.
Now, click Automated Repair. PassFab FixUWin will scan the problematic part automatically.
Press the Restart button when the repair poocess complete.
Method 4: Run the Deployment Image Serving and Management (DISM) Command
You can also fix the 0x8024a105 windows 10 update error by using the DISM command, as it will eliminate the chances of a damaged Windows image file by recreating it.
Step 1: Open Command Prompt and choose to run it as Admin.
Step 2: Type DISM/online/Cleanup-Image/RestoreHealth, press Enter.
Restart your system and check whether the error code 0x8024a105 is resolved.
Method 5: Perform a System File Checker (SFC) Scan
You can resolve the 0x8024a105 windows 10 update error by performing a System File Checker (SFC) Scan.
Step 1: Right-click the Start button.
Step 2: Open Command prompt (Admin).
Step 3: Type the "sfc /scannow" command, press Enter.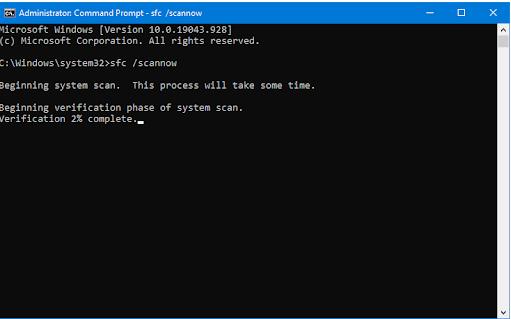 Now, try installing the Windows Update again to ensure the error is resolved.
Method 6: Enable Windows Modules Installer Service
Enabling Windows Modules Installer Service may help you get rid of this error. This service ensures modification, smooth installation, and removal of Windows updates. If this service is not working correctly, you may face an issue while downloading and installing updates.
Step 1: Press the Start button and click Computer Management.
Step 2: Double-click the Services and Application option in the left navigation and choose Services.
Step 3: Scroll to the Windows Modules Installer service and right-click on it.
Step 4: Select Properties.
Store corruption, manifest missing for package: [package_number]
Step 5: Choose Automatic on the Startup Type option and click OK.
Step 6: Check Service Status section below, and if it is stopped, click the Start button.
Method 7: Delete the Software Distribution Folder:
When we download Windows Update files, the Software Distribution Folder holds those files temporarily. If some files are corrupted, you may face the 0x8024a105 windows 10 update error.
Step 1: Type "cmd" in the Run dialog, and hit CTRL + SHIFT + ENTER.
Step 2: Type the following commands, pressing Enter after each.
net stop bits
net stop wuauserv
net stop appidsvc
net stop cryptsvc
Once you have stopped Windows Updates and related services, continue with the steps below to delete the file:
Step 3: Open the Run dialogue again, type C:\Windows\SoftwareDistribution\Download, and click OK.
Step 4: Now, Delete all the files present in the folder.
Now, restart the Windows Update and other services as follows:
Open Command Prompt Window-> Run as Administrator. Type the following commands, hit Enter:
net start bits
net start wuauserv
net start appidsvc
net start cryptsvc
Restart the PC, and you will probably resolve the 0x8024a105 update error.
Method 8: Use Media Creation Tool to Install Updates
You can also resolve the error code 0x8024a105 by installing the updates by deploying the Windows Media Creation Tool.
Step 1: Get the Media Creation Tool and set up the Windows 10 installer.
Step 2: Click Accept to agree to license terms.
Step 3: Choose Upgrade the PC now, hit Next.
The installer will keep personal files and install the latest Windows updates.
Method 9: Try Resetting Catroot2 Folder:
Step 1: Run Command Prompt with administrator access.
Step 2: Type and execute the following commands:
net stop cryptsvc
md%systemroot%system32catroot2.old
xcopy%systemroot%system32catroot2%systemroot%system32catroot2.old/s
Step 3: Open Run dialog and type C:/Windows/System32/catroot2
Step 4: Delete everything from the Catroot folder.
Step 5: Open Command Prompt; enter the following command:
net start cryptsvc
Update your Windows once again and check if the issue has vanished.
Method 10: Reconfigure Services to Start Automatically
When certain services fail to start and operate in the background, they can prevent you from installing the updates.
Step 1: Type "cmd" in the Run Prompt. Hit Ctrl + Shift + Enter.
Step 2: Type the commands in Command prompt and hit Enter after each entry.
SC Config wuauserv start=auto
SC Config bits start=auto
SC Config cryptsvc start=auto
SC Config trustedinstaller start=auto
Method 11: Re-register BITS and Windows Updates Files
When some Windows Update and Bits Files are not properly registered on your PC, they cause different errors.
Step 1: Type "cmd" in the Run Prompt and press Ctrl + Shift + Enter.
Step 2: Type the commands shown in the picture one by one and hit Enter after each entry to execute them:
The process is a little bit complicated. After all the commands have run successfully, install the Windows updates.
Method 12: Manually Reset the Windows Update Components
Despite trying all the solutions mentioned above, if you still face the error code 0x8024a105, try to resolve the error by manually downloading and installing the Windows update components.
Step 1: Type cmd in the Windows search bar and choose Run as Administrator.
Step 2: Type the commands given below each at a time and run them.
net stop wuauserv
net stop cryptSvc
net stop bits
net stop msiserver
ren C:\Windows\SoftwareDistribution SoftwareDistribution.old
ren C:\Windows\System32\catroot2 Catroot2.old
net start wuauserv
net start cryptSvc
net start bits
net start msiserver
Step 3: Close cmd and reboot the PC.
Part 3. How to Avoid Error 0x8024a105 in the Future?
Avoid visiting any untrusted website
Do not download or install apps from unreliable sources
Try using the original copy of Windows
Install a robust antivirus application
Part 4. FAQs about 0x8024a105
Q1: Is it necessary to reinstall Windows when I get the 0x8024a105 error code?
No, you do not have to do that. The solutions above are enough to resolve the error. After trying everything, you may have to reinstall Windows if the issue persists.
Q2: What if I use pirated Windows?
Using pirated Windows is not recommended at all. Using a genuine copy of Windows is strongly advised because it allows you to get technical support from the Customer Care Team and protects you from any legal issues. The genuine copy of Windows is obtained directly from Microsoft, so there is no chance of getting a faulty OS.
Q3: What if I don't install any Windows updates?
Installing Windows Updates as soon as they are available is very important because your system may be susceptible to crashes and reveal to viruses. This may also cause your data to be corrupted or stolen. As Microsoft regularly checks the distortions that other users face, it evolves patches necessary to fix the errors, and these patches are spread out in the form of Windows Update.
Summary
Error 0x8024a105 is a frustrating error that hinders the Windows updates installation and does not let you install or download any new updates. Corrupt or damaged Windows Update Components commonly cause the issue. However, the issue is 100% resolvable, and in this article, we have addressed the error and proposed the best solutions. We recommend using PassFab FixUWin because it resolves all the errors most securely.