"Error 0x800701B1 - how to fix it? Having problem with external hdd drive and after scanned and fixed, problem keeps appearing. Furthermore another error message when transferring files Error 0x800701B1. Kindly advise how to fix it."
Are you facing error 0x800701B1? Do you want to know why it appears and how to fix it? Many people face this issue when there is something wrong with their HDD. However, it can be caused by various factors and be resolved in many ways. In this article, you will learn about error code 0x800701b1 and find different ways to fix it.
Part 1: What is Error 0x800701B1?
Error 0x800701B1 may appear when you copy/paste folders and files. This error commonly happens when DLL files get corrupted. When the computer fails to transfer data to the destination folder/ drive, it shows this error.
This error occurs with an error message stating, "A device which does not exist was specified".
Part 2: What are the Causes of Error 0x800701B1?
Here are some basics checks that you should perform Before troubleshooting the error 0x800701b1, you can perform the following basic checks to make the
Incompatible driver: Using a generic driver for the external drive connected to the PC.
Incompatible USB port: Using a USB port lower than 3.0 can cause this error if you use a high-speed HDD or SDD.
Transferring very large files: If the copied files or folders are larger than 4GB and you are trying to copy these folders or files to a FAT32 partition, you will face this error.
Insufficient PSU output:This error may occur when your power source is insufficient to support every device connected to your computer.
A Write-protected disk: You will encounter the error code 0x800701B1 if the destination disk is write-protected or set to read-only.
Part 3: What are the Symptoms of Error 0x800701B1?
Here are some symptoms to identify error 0x800701B1:
Slow performance
Recurring PC crashes
Sudden data loss
An error message while copying/pasting the files
In the screen, you will read "error 0x800701B1: A device that does not exist was specified".
Part 4: Prerequisites for Troubleshooting Error 0x800701B1:
Below are some fundamental checks that you should conduct before proceeding with troubleshooting the error 0x800701b1.
The destination device has enough space.
The data you are copying is not encrypted.
The destination disk does not have security restrictions.
Ensure that the amount of copied data is not too large. If so, try copying it in small chunks.
You do not have any other external drive connected to the computer.
No simultaneous data transfer is taking place to the same or different drive.
Ensure that your hard drive is properly connected to the computer and that the port or cable is not damaged.
Create a Backup of your Data
Before resolving the error 0x800701B1, you'd better back up all the data stored on your hard disk, as some troubleshooting methods may lead to data loss. To secure your data from loss, we recommend using PassFab FixUWin.
PassFab FixUWin is an amazing Windows repair tool that allows you to back up your data in the simplest yet most secure way. Using its Data Recovery feature, you can export your data from the faulty PC without worrying about privacy or loss. You can use this incredible tool by installing PassFab FixUWin on your PC.
Part 5: How to Fix Windows Error 0x800701b1?
Fix 1: Change USB Port
Connecting the device you face the error with to a different USB port is the simplest way to resolve the issue. Try to connect the USB 3.0 port instead of the 2.0 port. Doing this will ensure data transfer at the maximum possible speed.
Fix 2: Remove Unnecessary Peripherals
When the drive under question does not get enough power, you should try removing all the unnecessary devices connected to your PC. If the drive starts working fine after doing so, it indicates that your PC is underpowered and you are connecting too many devices.
Fix 3: Transfer Data in Small Chunks
Large files can be difficult for some systems to handle if the system does not have a decent configuration. So try to avoid transferring large files, e.g., more than 4GB.
Fix 4: Change Destination File Format
When you are transferring data to another storage media, such as a USB or an SD card, they might have different file formats. By changing the destination format type, you can also fix the Error 0x800701B1 Windows 10 and 11 as follows.
Step 1: Open File Explorer, right-click on the destination drive and click Format.
Step 2: Choose NTFS in the file system and click Start.
Note that all the data will be removed while formatting the drive.
Fix 5: Perform a Disk Rescan
Rescanning the disk using Windows Disk Management is another way to fix windows error 0x800701b1.
Step 1:Open Disk Management.
Step 2:Click on Action menu.
Step 3:Click on Rescan disks.
The rescanning will start automatically. Once it completes, restart your PC. Now, try to copy the data again. Hopefully, you will not encounter the Error 0x800701B1.
Repeat the above steps to update all the outdated drivers you find.
Fix 6: Reinstall the Device Drivers
Faulty or outdated device drivers are a major reason behind disk errors. By reinstalling the device drivers, you can also fix the error.
Step 1:Go to Device Manager by typing it in the Windows Search.
Step 2:Click on Disk Drives and select the device that caused the error. Uninstall it.
Step 3:Click on Scan for hardware changes to reinstall the driver.
Fix 7: Upgrade your Power Supply Unit (PSU)
PSU is responsible for supplying power to all the devices connected to your PC. Diagnosing your power supply unit may help if you use a desktop computer. To do so, disconnect all the unnecessary components. If doing so eliminates Windows error 0x800701b1, your PSU is not powerful enough to provide power to all the components. In that case, you should upgrade your PSU.
Fix 8: Check Drive's Security Settings
When you have set security on your drive, it becomes inaccessible for other devices. To access such a drive, you will have to change its security settings as follows:
Step 1:Open the File Explorer, right-click on This PC, and select Properties.
Step 2:Switch to Security tab, click Advanced.
Step 3:Click Change.
Step 4:Click Advanced.
Step 5: Click Find now.
Step 6: Choose your username, and click OK.
Step 7: Mark "Replace all child object permissions entries with inheritable permission entries from this object".
Step 8: Apply changes by clicking OK.
Once done, check whether the "device does not exist" error is gone.
Fix 9: Check Driver Compatibility
The external devices fail to operate on a computer due to driver incompatibility. So, you can ensure driver compatibility as follows:
Step 1:Open Device Manager and look for the problematic USB drive.
Step 2:Under USB controller, select the USB drive, right-click on it, and choose Properties.
Step 3:Switch to Driver tab and note down the driver version.
Step 4:Click on Update driver button.
Step 5:Choose Browse My Computer for drivers, followed by "Let Me Pick from a list of Available Drivers on My Computer".
Step 6:Choose the driver from the list except for the one installed previously. Click Next.
Step 7: Type sfc /scannow. Press Enter.
Fix 10: Run a Virus Scan
If you doubt that Error 0x800701B1 is occurring due to a virus, scan your system to remove it. It is recommended to run a virus scan regularly to avoid attacks from viruses and malware and keep your computer secure. You can use Windows Defender or install some reliable antivirus software to do so.
Fix 11: Use CHKDSK Command
If your USB has a logical file error, you may need to perform a CHKDSK scan:
Step 1: Open Start menu, search "cmd".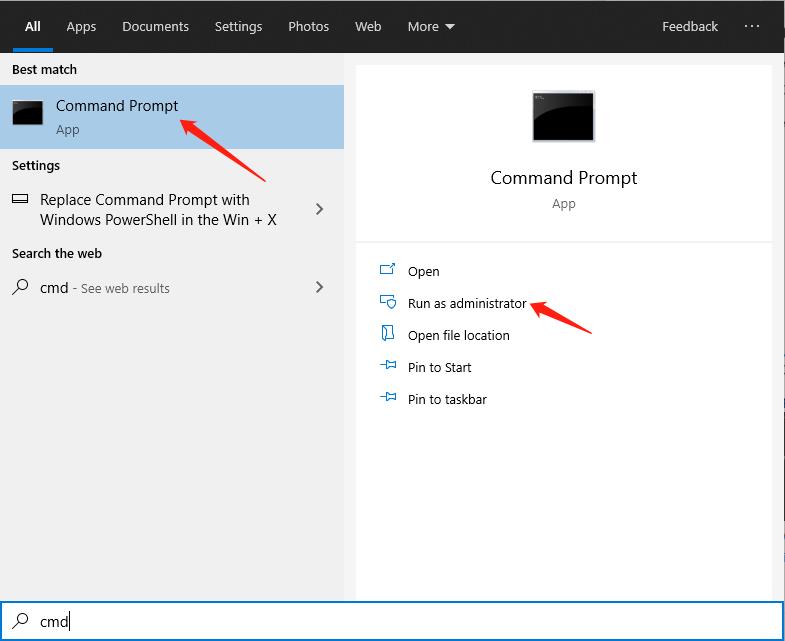 Step 2: Type CHKDSK *: /f. Hit Enter.
Note: Use your USB drive letter in place of *.

Step 3: After the command completes, restart your computer.
Fix 12: Change the Hard Drive Format from FAT32 to NTFS
If you are using the FAT32 file system, changing it to NTFS may help. You can change your hard drive format as follows
Step 1:Click File Explorer and right-click on the drive.
Step 2:Click Format.
Step 3:Choose NTFS under File System and press the Start button.
When the formatting completes, restart your system. Please note that any data in the selected drive will be deleted during this process.
Fix 13: Turn Off Read-only Mode:
If your drive is read-only, you cannot add or remove data. So, you can turn the read-only mode off.
Step 1:Open the Run dialog and type cmd.
Step 2: Press Ctrl+ Shift + Enter.
Step 3:Type Diskpart, hit Enter.
Step 4:Type list disk, and press Enter.
Step 5:Now, type Select disk 1 (1 represents the drive letter). Press Enter.
Step 6:Lastly, type attributes disk clear readonly and hit Enter.
The system will restore all the settings and applications to the selected point. When your computer restarts, you may observe some changes in it.
Fix 14: Create a New Partition
If all the fixes mentioned above fail, you can try creating a new NTFS partition:
Step 1: Open Command Prompt, type diskpart, hit Enter.
Step 2: Enter the following commands respectively and press Enter:
List disk
Select disk 1
Create partition primary size=71680
Assign letter A
Note: You can change the partition size and the letter assigned. Also, do not forget to back up your files and folders to a different location.
Part 6: What to do if You face Other Windows Stop Code Errors?
If you frequently face different Windows errors and they are not fixed permanently, you should try the best Windows repair tool, i.e., PassFab FixUWin.
PassFab FixUWin is an incredible tool that automatically scans your computer for errors and resolves them quickly. This amazing tool can fix the blue/black screen, PC crashing, being stuck on the boot loop, or any other issue. Here is how to use it to get rid of other Windows errors:
Install PassFab FixUWin and plug in a USB/CD/DVD.
Click Create boot disk now.
After boot disk created successfully, switch to the problematic pc and press the boot key continuously. When seeing the following screen, set the bootable USB on priority, save changes, and exit boot menu.
And then you will see PassFab FixUWin's interface. Click Automated Repair. This tool will scan your pc and locate the problematic place and fix it automatically.
After repair complete, click Restart to reboot the computer. And you'll find out your pc runs well.
Part 7: How to Prevent Error 0x800701B1 in Windows 11/10?
Here are some tips following which you can avoid Error 0x800701B1 from recurring:
Perform regular system maintenance.
Run Virus and Malware scan frequently.
Avoiding suspicious downloads and opening unknown links.
Keep antivirus/drivers and OS up-to-date.
Conclusion
Error 0x800701B1 is an error that occurs while transferring files from one location to another. This error seems difficult to resolve, but we have proposed the best ways to eliminate it in this article. If you suffer from other blue/black screen error, Windows stuck on prepairing automatic repair, try PassFab FixUWin! It also provides an easy way to back up your data to avoid any data loss.